If you're here searching for the best day trip from Amsterdam, look no further: I have a list of 16 beautiful Dutch cities from which you can choose!
One of the best things about visiting the Netherlands is that — given the small distances and the well connected public transport system — you can basically do a day trip to anywhere in the country. Buses and trains will take you to any major city and, once in the train, you can relax and watch the green fields from your window while you are safely brought to your destination. You can even take your bike with you in the train if you want to!
In this article I gathered all the beautiful Dutch cities that worth a visit. My list would have been bigger so I selected only the cities that have a population over 100.000 people, keeping the smaller ones for another article. Since I moved to the Netherlands I wanted to discover the country, to see what each province has to offer and what kind of people I meet there, which meant many day trips along the years. There is still more of the Netherlands I yet have to see, but that's good, it means there are still beautiful places I haven't discovered yet!
My favourite thing about most of the cities listed in this article is the quiet pace, that laid-back atmosphere that you can't easily find in Amsterdam anymore.

The cities are ordered by the time it takes to get there from Amsterdam Central Station. I also mentioned the province, for each of them, to help you make plans if your starting point is not Amsterdam. If you live in the Netherlands I'm sure you already use the 9292 and NS websites and apps, but if you are a tourist, add them to your agenda and don't hesitate to use them to plan your trips. Now let's start with the list.

1. Haarlem: 15-20 min by train from Amsterdam. Province: North Holland.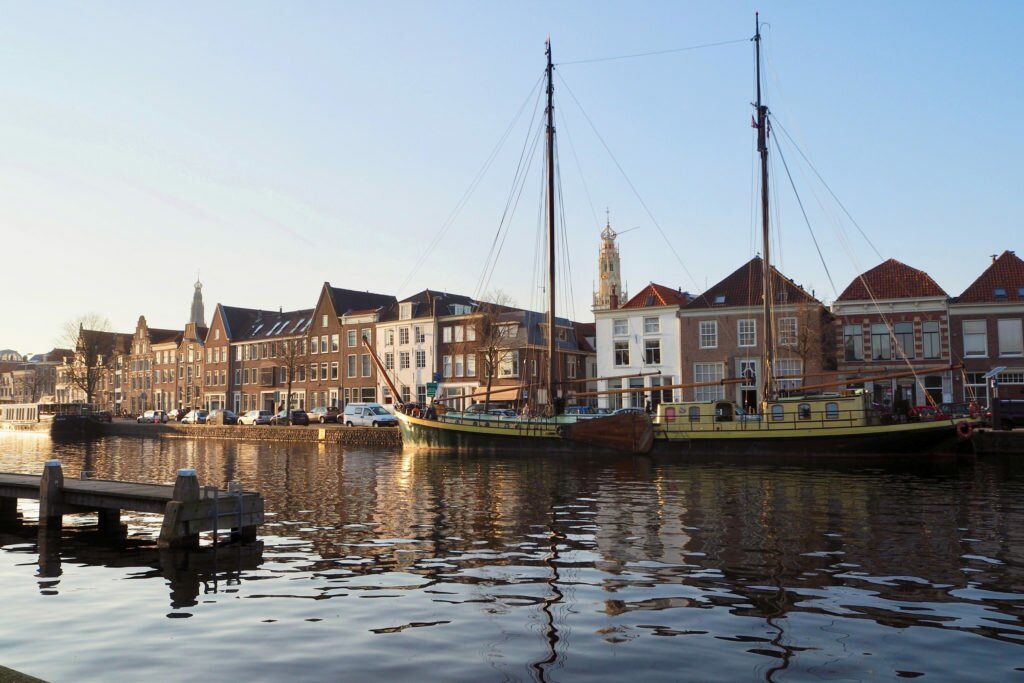 You won't even notice when the time passed and the train arrived at the beautiful old station in Haarlem. You could even do just a half-day trip to this city, but if you want to get to know it better, a full day is recommended. The medieval city of Haarlem is a charming destination with its cobblestone streets and historical buildings, canals and windmills. I love the relaxed pace of the city which is only changing on Saturdays: it's market day! The main square is covered with stalls and the streets are buzzing with people. The Spaarne river runs through the city of Haarlem and you could do a cruise, if you'd like, or just walk along it, looking for the perfect café to have a drink.
To see: Grote Markt and Grote Kerk (a 14th century cathedral), De Adriaan Windmill, Frans Hals Museum, Teylers Museum, The Dolhuys (the museum of Mind), Amsterdamse Poort (the old city gate).
To do: Stroll the cosy streets and make sure you don't miss Spaarnwouderstraat, a little street with art galleries. Shopping is also a good idea, if that's your thing, because Haarlem has a few unique shops that you'll want to visit. Head for de Gouden Straatjes (the Golden Streets – shopping district) and discover everything they offer!
Getting around: on foot.
Fun fact: the local newspaper, Oprechte Haerlemsche Courant, is one of the oldest newspapers in the world that are still being published.
2. Alkmaar: 35 minutes by train from Amsterdam. Province: North Holland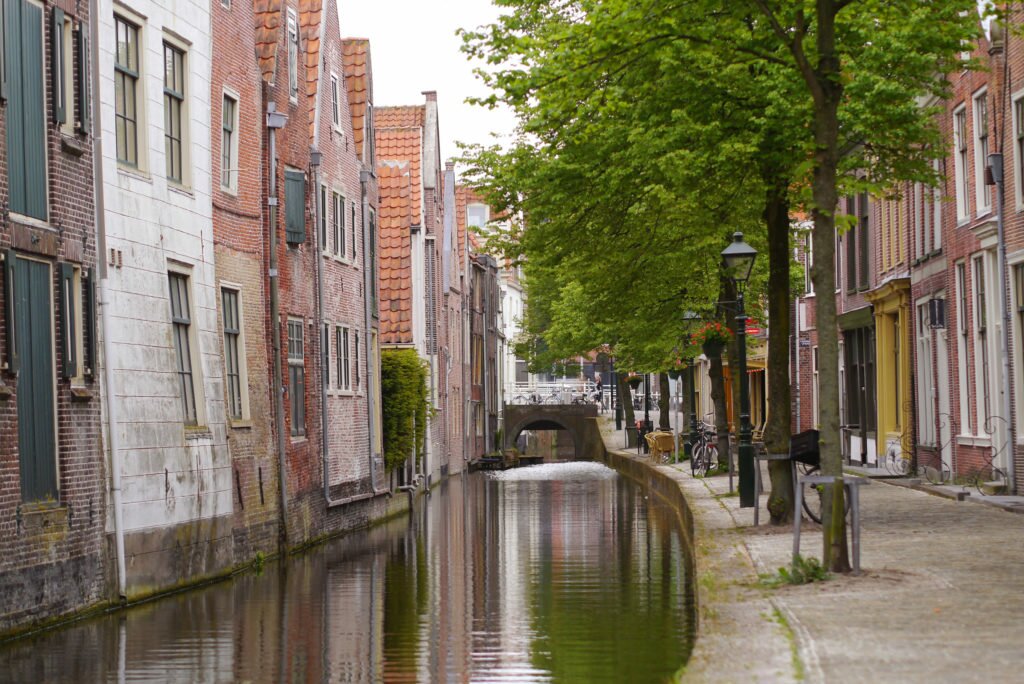 This pretty city is most famous for its traditional cheese market, which takes place on Fridays, from March till September. Yes, visiting the cheese market is a very touristy thing to do, but they put on a special show that worth a visit. And if you are a fan of good cheese, this is the place for you! After the market you can stroll through the city, which is a typical Dutch city with cobblestone streets and gingerbread houses. You can totally skip the market and only visit the city; there are plenty of cheese shops around to buy your cheese. There are also many cute shops where you can find interesting stuff, including lots of vintage design and antiques. Don't miss "Sweets" Oudhollandse Museum Winkel, a shop that will take you back to 100 years ago. It's incredibly pretty and cosy and you can have a delicious cake with hot chocolate there.
To see: Stedelijk Museum Alkmaar, Cheese Museum and Beatles Museum, if you have enough time to spend in Alkmaar.
To do: take a boat tour or a guided walking tour.
Getting around: on foot.
Fun fact: the people who live in Alkmaar are called "kaaskoppen", which means "cheese heads", and it's a reference to the cheese market of Alkmaar.
3. Utrecht: 40-50 min by train from Amsterdam. Province: Utrecht.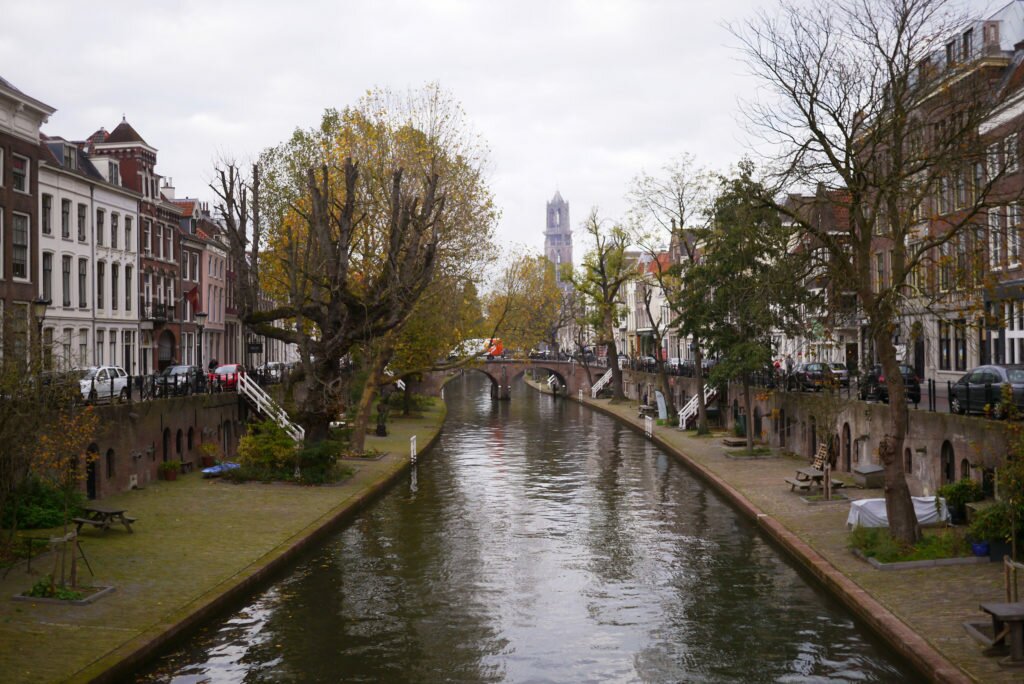 Utrecht is perhaps my favourite place for a day-trip. I fell in love with the city on my first visit there and I always go back with pleasure. Utrecht is a mix of quiet and lively streets and has a certain refreshing feel to it. The canals are something special: they differ from the Amsterdam ones, in the sense that they are on two stories, dug deeper into the streets. Little antiques shops pepper the city and you can spend hours browsing through them, looking for lost treasures. Many cafés and restaurants are tempting you at every corner, but make sure to get acquainted with the rich history and contemporary culture too, by visiting some of the many attractions.
To see: visit Dom Toren and Dom Kerk (St. Martin's cathedral), to see the city from above; the Pandhof garden (which was part of the old monastery garden), Speelklok Museum (the museum of automatically playing musical instruments, a delight for adults and children alike), The Museum Catharijneconvent (museum of religious art), Nijntje Museum, Railways museum, DOMunder (an underground route to discover the city's past).
To do: walk along the canals (Oude Gracht is the most beautiful), climb the Dom Tower, have a boat ride and dinner at the restaurants next to the canals.
Getting around: on foot.
Fun fact: Residents of Utrecht are unsure if they should be referred to as Utrechters or Utrechtenaars.
4. Leiden: around 40 min by train from Amsterdam. Province: South Holland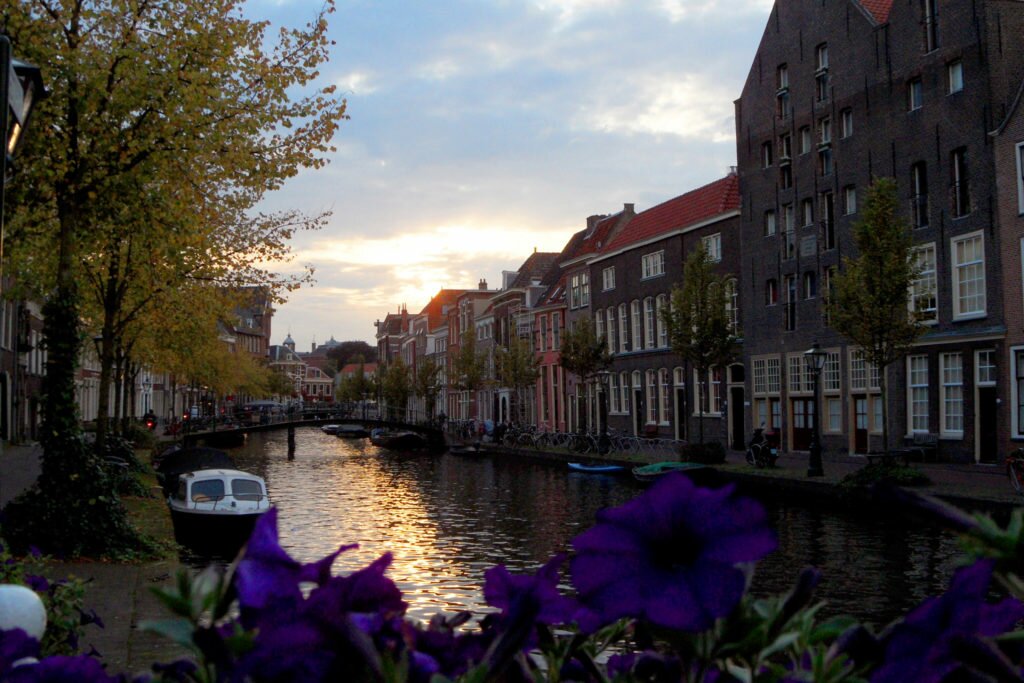 Leiden is a university city, packed with historical buildings and monuments. It's a lovely and peaceful place. Few tourists venture here so you can be the only one around holding a camera, marvelling at the poems on the walls, discovering hidden courtyards and gardens. The old canal system, all six kilometres of it, is still intact and a pretty sight to look at. And if you visit Leiden in spring, you can very well plan a trip to outside the city because it's sitting right in the middle of the tulip fields area!
To see: Burcht van Leiden (the "Citadel", a medieval fortress which offers a view over the city), Zijlpoort (old city gate), National Museum of Ethnology, the Botanical Garden, The Walls Poems (Poems painted onto buildings), De Valk Windmill.
To do: have a drink on the boat platforms.
Getting around: on foot.
Fun fact: it is said that the first Dutch tulip that started the tulip mania was planted in Leiden, at the Botanical Garden.
5. Rotterdam: 40 min with the intercity direct/ 1,15 min with regular train from Amsterdam. Province: South Holland.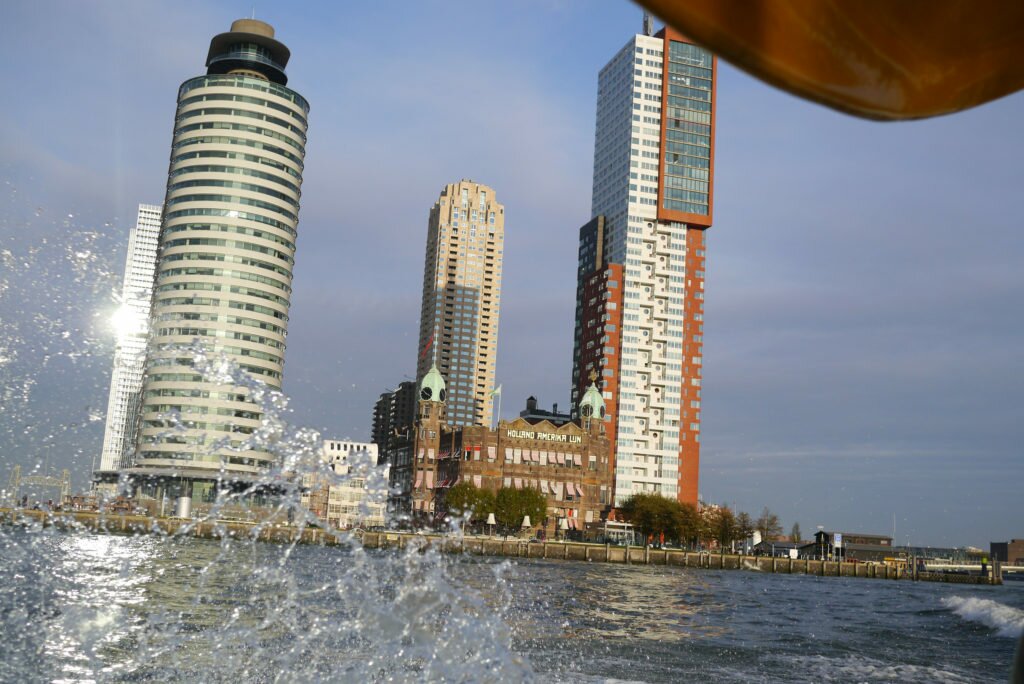 To see something different, go to Rotterdam, the largest port in Europe. This is a modern city, almost entirely rebuilt after it was destroyed in the war, and it's a display of contemporary Dutch architecture at its best. Tall, modern buildings form Rotterdam's skyline and there's a large river running through the city. It's not the typical Dutch city, no brick houses and little canals (apart from Delfshaven, the only part of the old city that survived WWII bombardments), no hoards of tourists roaming around (although their number is increasing every year). It's more suitable for a weekend trip, to get a proper image of the city, but if you don't have that time, one day-trip is enough for a sneak peek into the life of this rival of Amsterdam. Innovation is a defining word for Rotterdam, with the municipality designing exciting projects like the floating green islands.
There's art and architecture to discover, harbour and ships, and historical heritage all around. Here you can see the New York Hotel, the place from where the European immigrants used to sail to America (I have a soft spot for places like this).
To see: The Nederlands Fotomuseum, Museum Boijmans Van Beuningen (contemporary art museum), Erasmus Bridge and the river Maas, the Old Harbour, the Cube House, the old district of Delfshaven.
To do: take the water taxi, visit the amazing Markthall (covered market hall), have lunch at a restaurant on the hip Witte de Withstraat.
Getting around: buy a day pass and use the public transport to move between the landmarks, because, unlike other Dutch cities, Rotterdam is big and you can't easily walk from one place to another.
Fun fact: Rotterdam has a statue that was nick-named "The Buttplug Gnome", which is actually supposed to represent Santa Claus with a Christmas tree, by artist Paul McCarthy.
6. The Hague: around 50 min by train from Amsterdam. Province: South Holland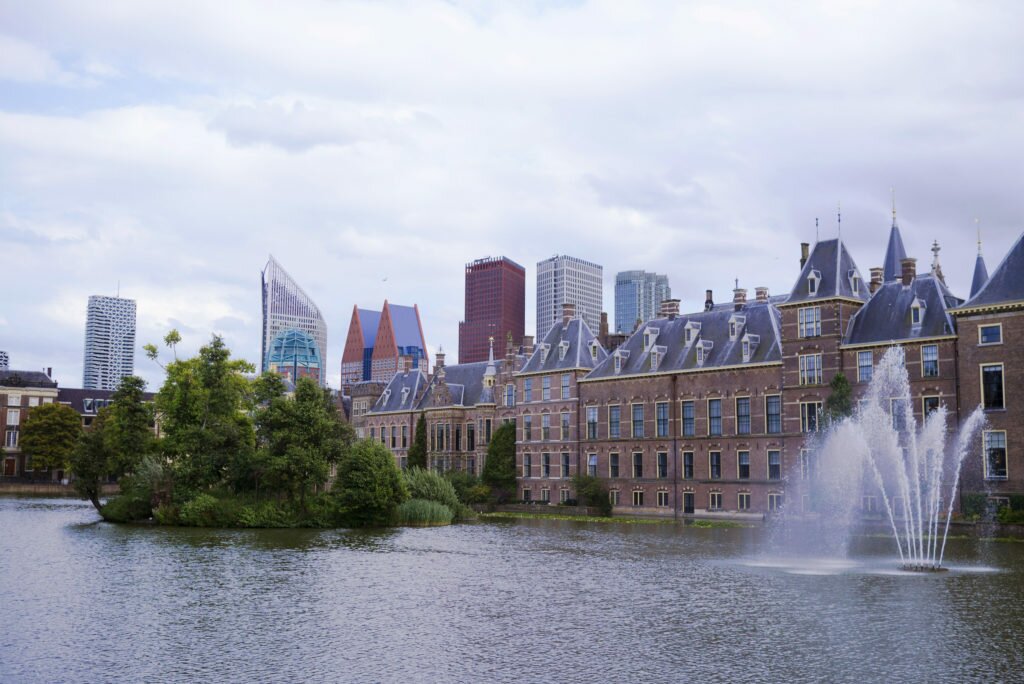 Located by the North Sea, The Hague (or Den Haag, in Dutch) is the seat of the Dutch parliament and government, and also the King's residence. The city has quite a different feel to Amsterdam or the other typical Dutch cities: there are almost no canals, replaced instead by wide streets. The architecture is different, more inclined towards a baroque or classic style. It's a beautiful city, with a residential feel to it and featuring a beautiful large beach: the nearby sea resort Scheveningen (which is a must see, if you visit The Hague). One day is not enough to see everything, you'll have to choose what appeals to you the most, or visit multiple times, if you live in the Netherlands.
To see: Mauritshuis (art museum, the place where you can see the famous Girl with a Pearl Earring by Vermeer), Fotomuseum Den Haag, The Escher Museum, Gemeentemuseum, Peace Palace, The Binnenhof (Inner Court), Madurodam, Palace Noordeinde.
To do: Go to the Schevening beach, or go shopping.
Getting around: on foot in the centre, but there are some points of interest that require taking the tram (for example when going to the beach).
Fun fact: The Hague is where the government meets, but it's not the capital of the Netherlands.
7. Delft: 1 hour by train from Amsterdam. Province: South Holland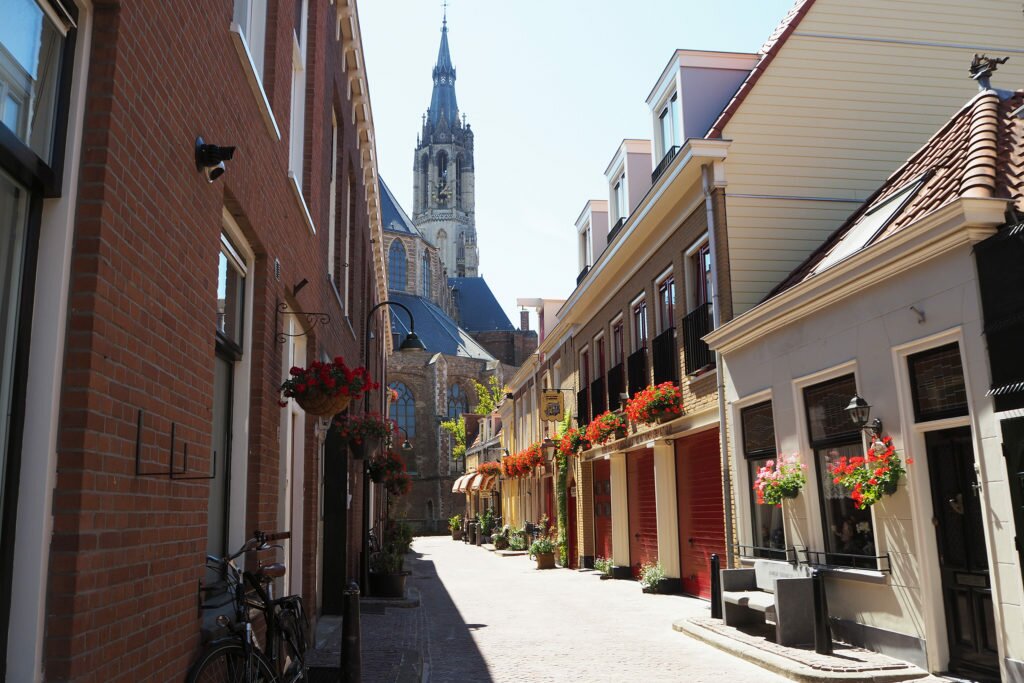 Famous for its porcelain, university and its blue heart, Delft is truly a special place. Another one of my favourites, I recommend it wholeheartedly. As in most of the Dutch cities, you should start the visit in the Grote Markt (Central Square), visit the church, take a few photos with the blue heart (I guess this is what you call an instagram worthy spot) and then wander the streets. Delft is the birthplace of the famous painter Johannes Vermeer. You can follow his footsteps around the city, visit the Vermeer Center to learn about his life and work, and find his grave in the Oude Kerk (Old Church) or see the place from Vermeer's "The little Street" painting, which was identified only a few years ago.
Delft will charm you for sure with its narrow streets, beautiful canals looking like straight out of a painting, and many cosy shops.
To see: The Vermeer Centrum or the Museum Prinsenhof, Oude Kerk and Nieuwe Kerk (Niew Church), The Blue Heart (close to the Oude Kerk), Prinsenhof Museum.
To do: Visit Royal Delft to witness the production of the blue Delft porcelain; hunt for antique ceramic shops, get lost on the cobblestone streets and admire the old city and make sure you don't miss the Oude Canal.
Getting around: on foot.
Fun fact: there's a tram between Delft and The Hague, and if you are in no hurry you can take the tram from Delft straight to Scheveningen beach.
8. Breda: 1 hour by train from Amsterdam. Province: North Brabant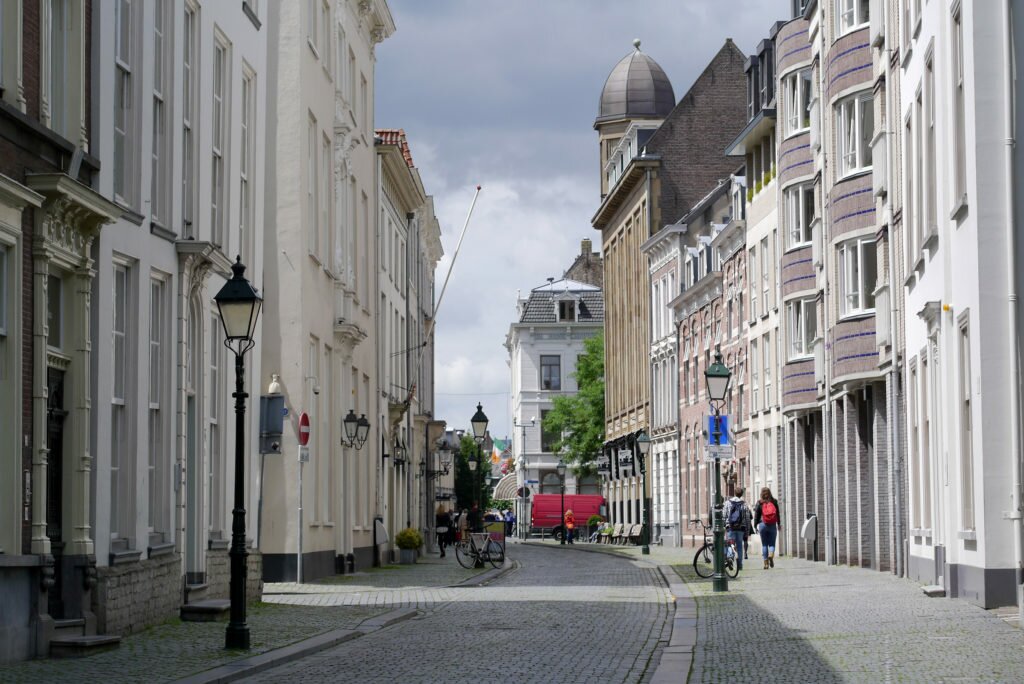 Breda is a lovely city in the southern province of North Brabant. It's not a big city, thus being the perfect destination for a relaxed day trip. Shopping included, because there are a few interesting shops in the city. It the past, Breda used to be a fortress and you'll find some signs of that past here and there, in buildings like the Castle of Breda or The Spanjaardsgat. The rest of the architecture is mostly southern Dutch style, with pretty façades in pastel colours, cosy streets and impressive churches. Breda is also known as the Nassau Stad, because it was the official residence of the Orange-Nassau family for several centuries (the current Dutch king, Willem-Alexander is a descendant of this family.)
To see: Breda Castle, a UNESCO heritage, the ancestral home of the Counts of Orange-Nassau, Grote Kerk (Onze-Lieve-Vrouwekerk), Vincent Van Gogh's House, Breda's harbour, Begijnhof and the Beguines (with a lovely interior herb garden).
To do: shop, relax, walk around.
Getting around: on foot.
Fun fact: for some unknown reason, Breda is the city with the highest density of shoe shops in the Netherlands.
9. Zwolle: 1 hour by train from Amsterdam. Province: Overijssel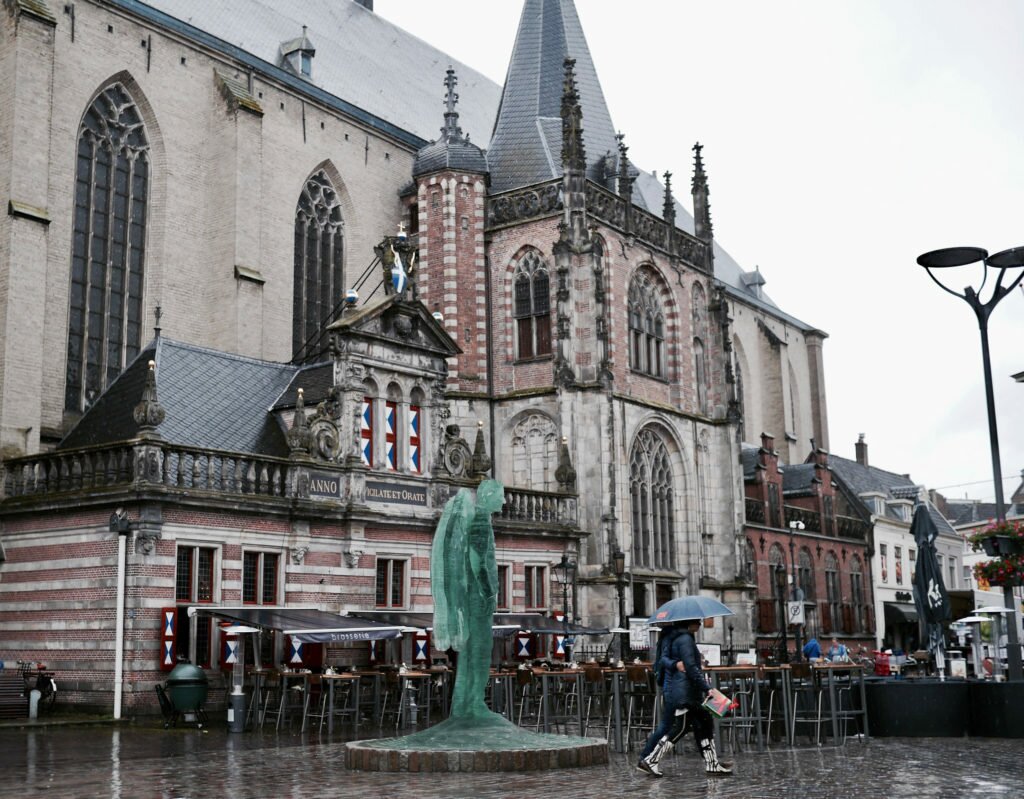 Zwolle is a lovely city, often overlooked by the people looking for a day-trip. This is the place where you can visit a fantastic bookstore, built in a 15th century cathedral: Waanders in de Broeren. The city definitely worth a visit, to get away from the crowds; you can walk the quaint streets, enjoying the slow pace of life, the romantic feel of the area.
To see: Waanders in de Broeren bookstore, Grote Kerk, Museum de Fundatie (visual arts museum) and Kasteel Het Nijenhuis, Sassenport (the gate house in the city wall).
To do: Walk around to see all the squares, narrow streets, historical monument; shop, sample the restaurants, have an apple pie at the bookstore.
Getting around: on foot.
Fun fact: Zwolle's city walls are star-shaped (a specific feature of the Hansa Towns).
10. 's Hertogenbosch: 1 h by train from Amsterdam. Province: North Brabant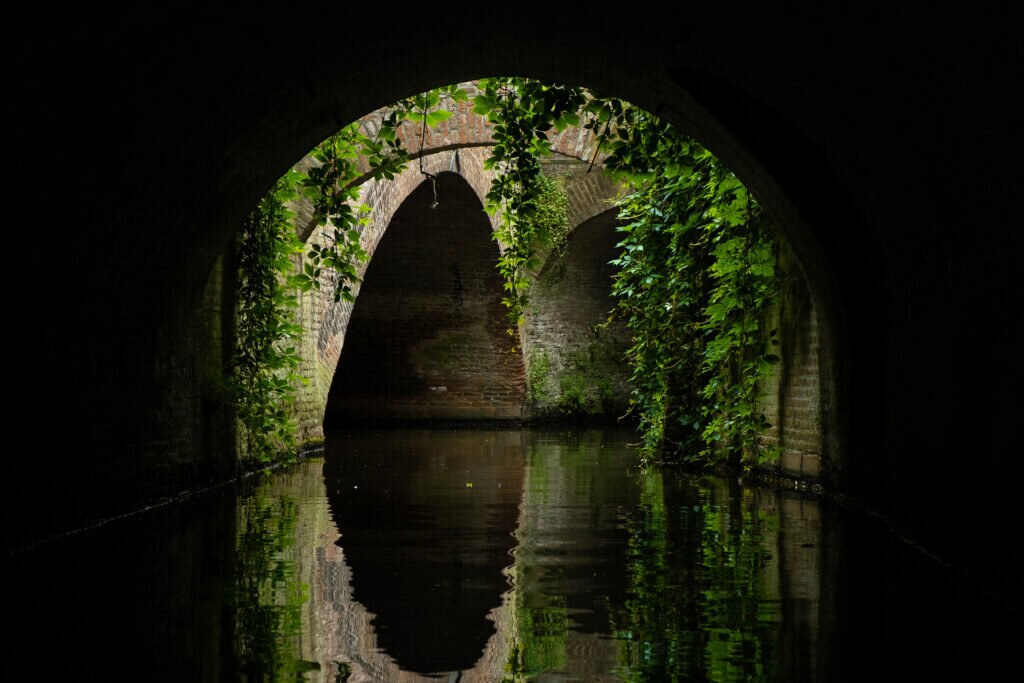 's-Hertogenbosch, also known as Den Bosch for the ones who twist their tongue pronouncing this city's name, is a lovely place in the south of the country. It's very picturesque and some say it should be a must on your visiting list. There are a few museums to visit but the main attraction is the city itself. Do an organised walking tour or a food tour if you want, or just let yourself wander the streets and discover it at your own pace. And make sure to consider a boat cruise on the Binnendieze river (it's like your regular canal tour with a twist: the boats take you under the medieval buildings in certain spots).
To see: Jheronimus Bosch Art Center, Saint John's Cathedral, Noordbrabants Museum and Stedelijk Museum.
To do: boat tour ; eat Bossche Bollen (traditional pastries).
Getting around: on foot.
Fun fact: the oldest brick building in the Netherlands is located in Den Bosch, in the Market square: The Moriaan building.
11. Eindhoven : 1,20 h by train from Amsterdam. Province: North Brabant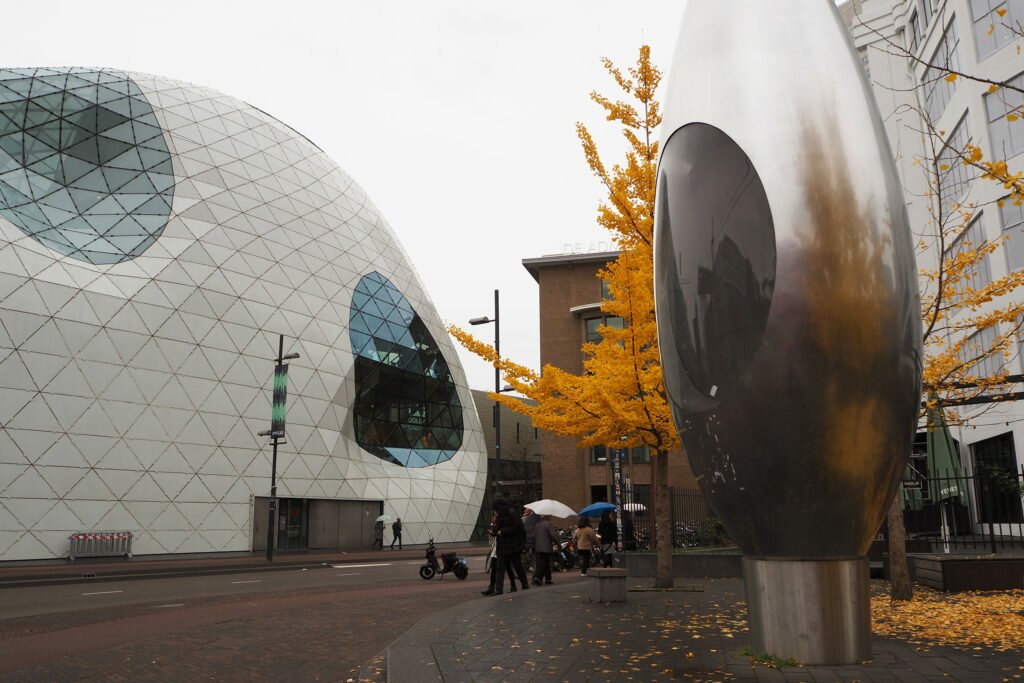 Whenever I talk to people about Eindhoven, they all tend to say the same thing: "it's not a beautiful city, but…". That is true, this is not what you would ever call a beautiful city, but cities are not interesting only for their beauty, are they? With an important industrial heritage, Eindhoven is now reinventing itself as a cool city. Former factories have been transformed into hip bars, restaurants, art exhibitions. Creativity is the defining word for this place, and a day-trip to Eindhoven might surprise you by bringing a much needed fresh perspective. Old Dutch architecture tends to be roughly the same in every city and village, and one can have enough of it at some point. Even if you're not a fan of industrial inspired design you might still find this place fascinating, with some of its areas looking like coming straight out of a steampunk movie.
To see: Van Abbe Museum (modern art), the DAF museum (former truck factory), Philips Museum, Stadswandelpark, St. Catherine's Church, Philips Stadion (for football fans).
To do: visit Strijp-S area (for cool looking bars, shops and restaurants), see the GLOW festival, look for any interesting art or tech exhibition, see the UFO shaped building of Evoluon.
Getting around: on foot.
Fun fact: Eindhoven is home to the Van Gogh Bicycle Path — a bike path glowing in the dark, inspired by "The Starry Night" painting.
12. Dordrecht: 1.25 h by train from Amsterdam. Province: South Holland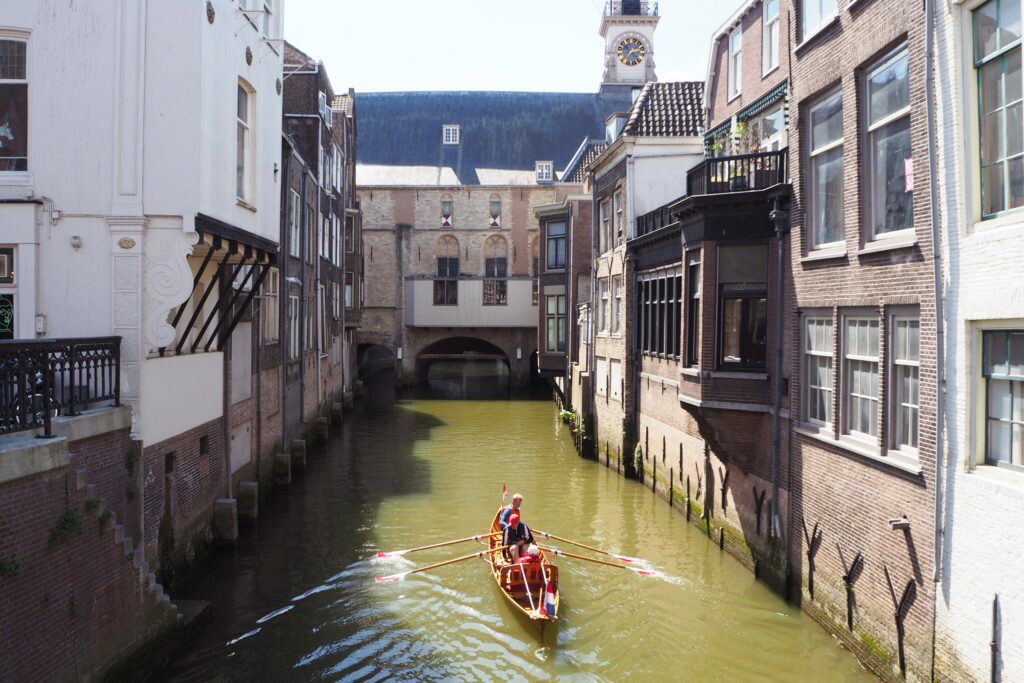 One of my favourite Dutch cities, Dordrecht is located close to Rotterdam and right next to the national park De Biesbosch (another beautiful place worth seeing). Also known as Dordt, this is the oldest official city in the Netherlands. In the past, Dordrecht used to be an important trading power, given the perfect location at the confluence of a few rivers. It also held an important position in the country's defence, up to the WW2 (you can learn about this at the Museum 1940-1945).
Nowadays, Dordrecht is a charming, relaxed place, perfect for a short trip. The historic city centre is gorgeous, with narrow streets and canals. The canal houses are right next to the canal's water, with no borders, like in Venice. The harbour area is very beautiful and must not be skipped if you go there. Old houses, many boats, old and new, and an impressive collection of special bridges, they are waiting for you to do a trip back in time.
To see: the Grote Kerk, Dordrech Museum and Huis van Gijn, Museum 1940-1945, the former city gate — Groothoofdspoort.
To do: take a boat tour, visit the harbour area, visit a distilery.
Getting around: on foot.
Fun fact: The Japanese battleship Kaiyō Maru was launched at Dordrecht in 1865. She was the largest wooden warship ever launched from a Dutch yard and one of Japan's first modern warships.
13. Deventer: 1.30 h by train from Amsterdam. Province: Overijssel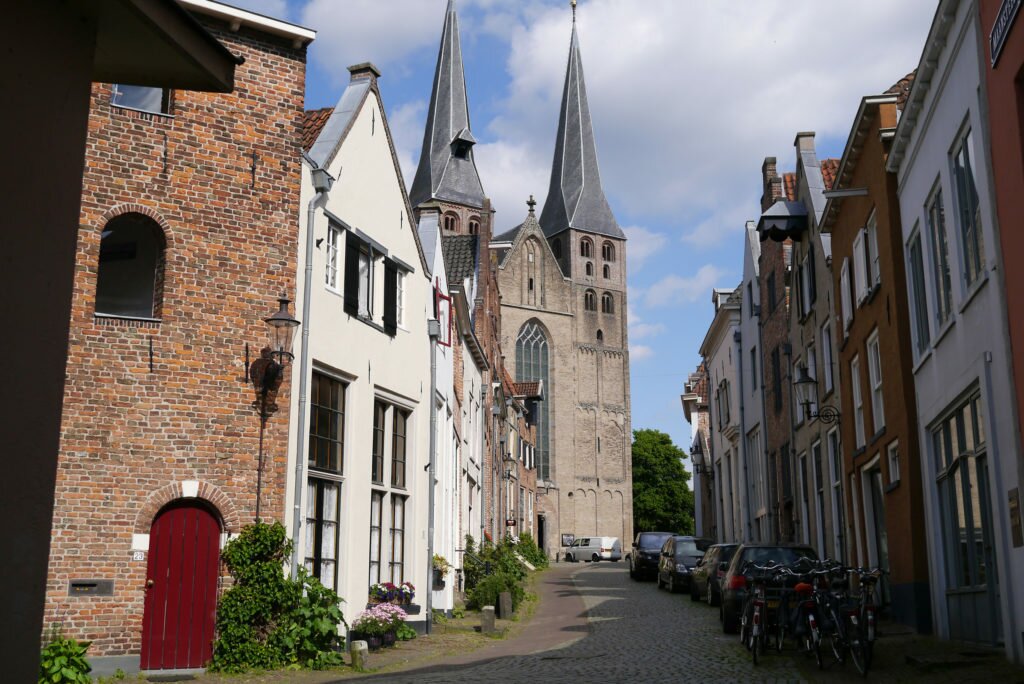 Deventer is a charming, laid-back city, situated on the river Ijssel. It has a rich history and its heritage can be seen everywhere around the place, in the architecture and well preserved historical artefacts. I consider it a well hidden jewel of a city, often overlooked by tourists (but I don't mind having the streets only to myself!), where I would like to go more often. You can visit Deventer during one of its festivals, to get an impression of the liveliness of the city, or on a Sunday if you want to enjoy the very quiet pace of a provincial city.
To see: Saint Nicholas Church (The Bergkerk, situated on a small hilltop, surrounded by a charming area), Lebuïnus Church, Speelgoedmuseum (Toy Museum), Kloostertuin (a small garden), The Worp park (to see Deventer's skyline).
To do: visit the old bookstores, sit on a terrace along the river, visit the book market in August (6 km of books) and the outdoor theatre festival 'Deventer Op Stelten' in July.
Getting around: on foot.
Fun fact: Every August, Deventer hosts Europe's largest book fair (about 125,000 visitors).
14. Nijmegen: 1.30 h by train from Amsterdam. Province: Gelderland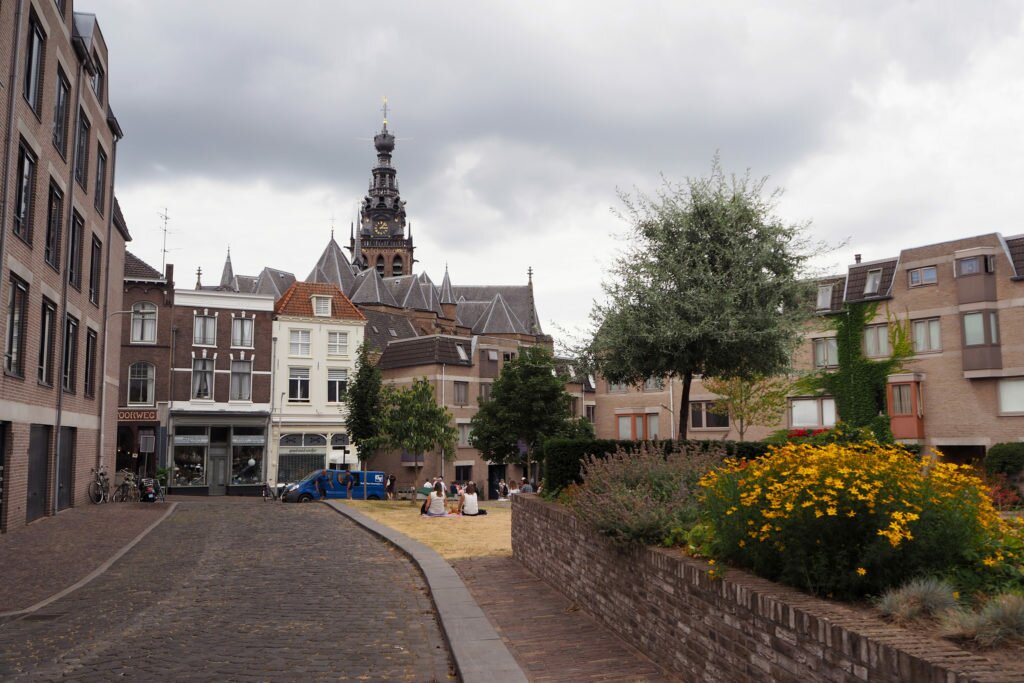 Nijmegen claims to be the oldest city in the Netherlands, its origins going back 2000 years, to the Roman occupation. However, don't expect it to look very old (apart from a small area in the centre), because a big part of the city had to be rebuilt after the war and that changed its appearance to a more modern city. It has a young vibe, almost certainly from the large number of students living here. In the centre there's an impressive shopping area, buzzing with people, but there are also quiet streets and green parks. The city is located on the river Waal, and the river promenade adds to its charm. Here and there, in the parks and in the city, you can see remains of the city walls and its towers.
To see: Valkhof Museum (archeology museum) and Valhof Park, muZIEum (Venue recreating the experience of the blind or visually impaired), Kronenburgerpark, Grote Markt, Stevenskerk, Velorama (bicyle museum).
To do: walk on the river Waal's promenade, have lunch or a drink watching the boats and clouds passing by; have a local beer at De Hemel brewery.
Getting around: on foot.
Fun fact: Nijmegen is famous for its annual Four Days Marches, the largest multiple day marching event in the world, an event promoting sport and exercise.
15. Groningen: 2.05 by train from Amsterdam. Province: Groningen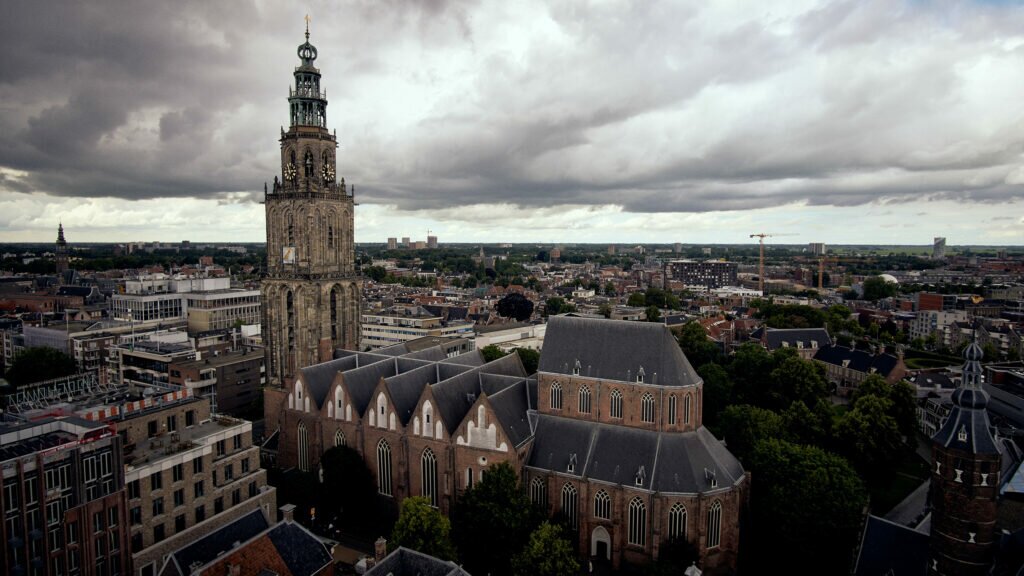 A student city in the far north of the Netherlands, Groningen has a rich history and a vibrant present. With over 50.000 students living here, this is a definitely old city with a young vibe! There are of course pretty streets and canals around, but also many attractive vintage and concept stores and an effervescent night life.
To see: Groninger Museum (art museum), Northern Maritime Museum, Prinsenhof garden, Reitdiephaven (Colorful buildings near water), Groningen University.
To do: climb the Martinitoren (Martini Tower), explore the city.
Getting around: on foot.
Fun fact: The most leaning tower in Europe is in Bedum, one of Groningen's satellite towns, at the St. Walfridus church.
16. Maastricht: 2.20 h by train from Amsterdam. Province: Limburg.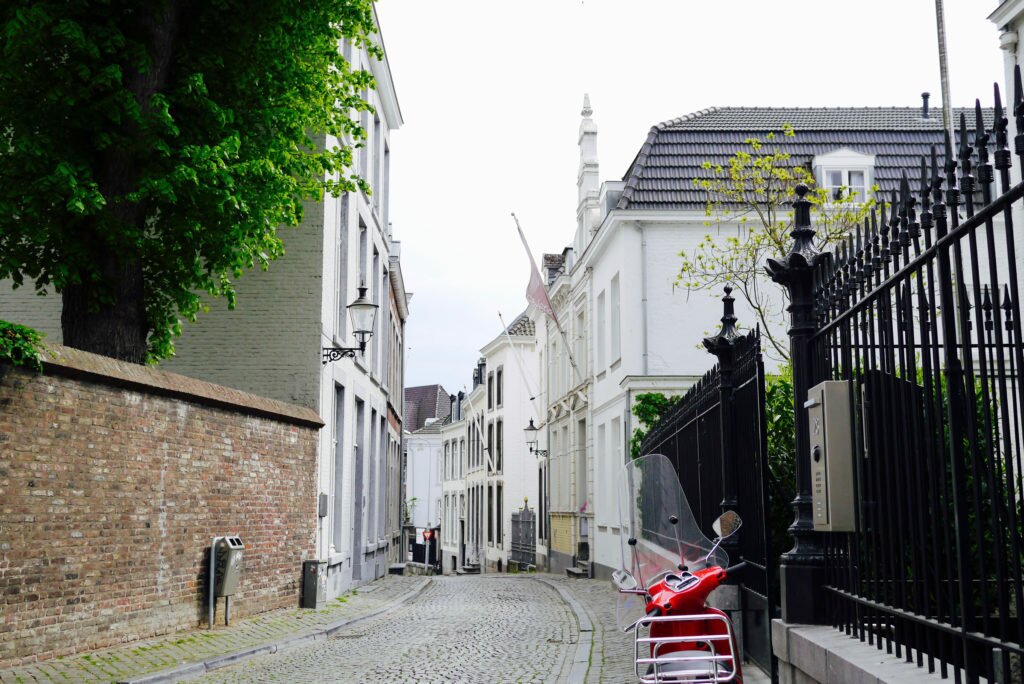 "A city to fall in love with" — is the official slogan of Maastricht's tourism website. And you will fall in love with the vibrant life, the cobblestone streets and the pastel colours of Maastricht. This lovely city, situated in the south of the Netherlands, in the tri-state area between the Netherlands, Germany and Belgium. It deserves more than a day trip. A weekend break would be more appropriate, to really feel the charm of the Limburg province, have time to see the historical sites, churches and museums, to sample the local cuisine, and to go shopping.
There are even some great day trips that can be done from Maastricht, like the white village of Thorn.
To see: Bonnefantenmuseum, St. Peter's Caves, Sint Janskerk, Wilhelminabrug and St. Servaasbrug (bridges over the River Maas).
To do: a cruise on the river Maas, explore the area around Vrijthof Square, explore the ruins of Lichtenberg Castle, shopping, or just enjoying the good life while sampling the local cafés and restaurants.
Getting around: mostly on foot but sometimes you can use the public transport.
Fun fact: St. Peter's Caves are a labyrinth of around 9000 passages, but they're not actually natural caves, they are mining tunnels dug along the centuries, with some of them dating back to the Roman times.
So, are you in the mood for travelling already?
Stay tuned for more and follow Amsterdamian on Instagram and Facebook for daily stories about life in the Netherlands. Please share this post if you liked it!

Check out my photo book: Amsterdam Through the Seasons!

For prints and other cute objects, visit our store on Society6.