Only one hour by train from Amsterdam, Delft is a great choice for a day-trip. Well known for its blue porcelain, which indeed can be found in numerous shops around the city, it has much more to offer to its visitors. It's a charming, compact and cosy city, with beautiful architecture, old buildings and impressive churches, canals and shopping streets. Delft breathes history through all its pores — I almost felt like I went back in time during my visit (thanks to the small cobbled streets, the antique shops, the houses, and probably the autumn rain!)
An interesting fact: Delft is the birthplace of the famous painter Johannes Vermeer. You can follow his footsteps around the city, visit the Vermeer Center to learn about his life and work, and find his grave in the Oude Kerk (Old Church). Something else that stood out for me was how friendly the people are, eager to practice their English and tell you stories about the city. I didn't have time to see everything in one day, of course, but I'm lucky to live so close and I will return to see the city again, maybe this time in spring.
(This article was originally written in 2015 and updated in 2022)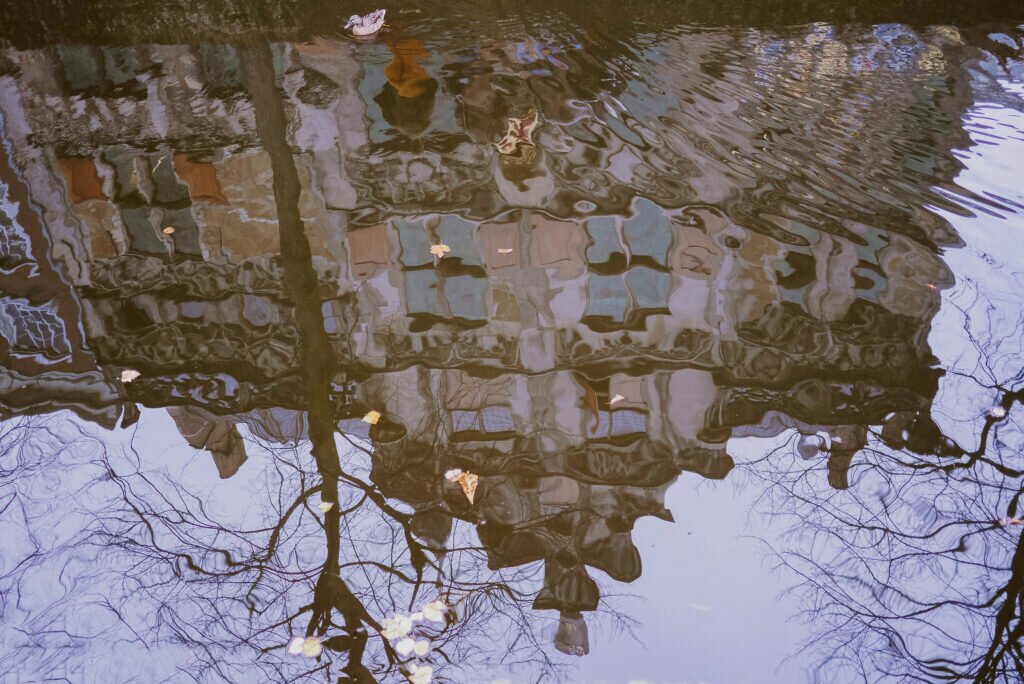 What to see and do in Delft:
Walk around as much as you can, admire the streets and the houses — there's no need to take any public transportation from the railway station, the centre is easily reached on foot. Don't miss the Old Canal (Oude Delft)
The Vermeer Centrum or the Museum Prinsenhof
The Lambert van Meerten Museum –an important collection of applied art, as well as period furniture, paintings, and an extensive display of Delftware
Oude Kerk and Nieuwe Kerk (New Church) — you must see these beautiful churches. Don't miss the blue heart next to the Nieuwe Kerk
Visit Royal Delft to witness production of the blue Delft porcelain
The Botanic Garden of TU Delft
Hunt for special shops or for antique ceramic shops (these were my favourites)
The Stadhuis (City Hall) — a beautiful building rebuilt in the 17th century, on the site of the original 13th century city hall
The Oostport (the Eastern Gate), part of the old city defences
A canal boat trip
Have a beer at the Beestenmarkt — a beautiful square packed with restaurants.
What to see around Delft
The Hague — you can combine a visit to Delft with one to The Hague, but I would make sure to have a full day for each of these cities.
Cycle around Delft, in the Abtswoudse Bos — an area covered in forests and swamps, water and cycling routes.
Gouda. This pretty old town can be a great day-trip from Delft.
There are many things to do in this small city and around it. You will have to decide which ones are for you. Maybe you'll stay over night, to have more time to visit. In any case, put Delft on your list, if it's not there already!
Here are some photos to show you how beautiful Delft is on an autumn day:
Stay tuned for more and follow Amsterdamian on Instagram and Facebook for daily stories about life in the Netherlands. Please share this post if you liked it!
Don't forget to check out my photo book: Amsterdam Through the Seasons!
If you want to buy prints and other cute objects, check out our store on Society6!
Subscribe to our newsletter!