If Amsterdam is "the Venice of the North", then Giethoorn is "the Venice of the Netherlands" – when there are a lot of canals, there are a lot of little Venices as well.
This amazing little village, situated in the northeastern Dutch province of Overijssel, has a car-free centre, where you can go only by boat, on bike or on foot. Actually, it's not even a bike-friendly zone, on my opinion, but if you really want to, you can try. Giethoorn is an idyllic place, taken straight out of a fairytale. If you go, be prepared for an explosion of green, and for an overdose of pretty houses and canals. Also, be prepared for many tourists, especially during the summer.
Last week I had a friend visiting and she really wanted to visit Giethoorn, or "the village without roads", as it is known. The village can be reached by train or by car, and the trip from Amsterdam is about two hours (train to Steenwijk and then Bus 70 to the centre of Giethoorn). It can be a day-trip, if you want, but we choose to stay in Giethoorn overnight, so we could enjoy it more. This proved to be a great idea, since the place was quite busy during the day and we only had the village for ourselves after 5 pm, when (almost) all the tourists left. We arrived there around lunch time and we checked in to our pretty apartment, then headed towards the centre. The idea was to rent a small boat and then sail through the canals, but when we saw the crowds and the traffic jam generated by boats, we got a bit scared, so we decided to go with a big cruise boat instead (it didn't feel as lovely as it could have been in a small one, but at least it felt safe).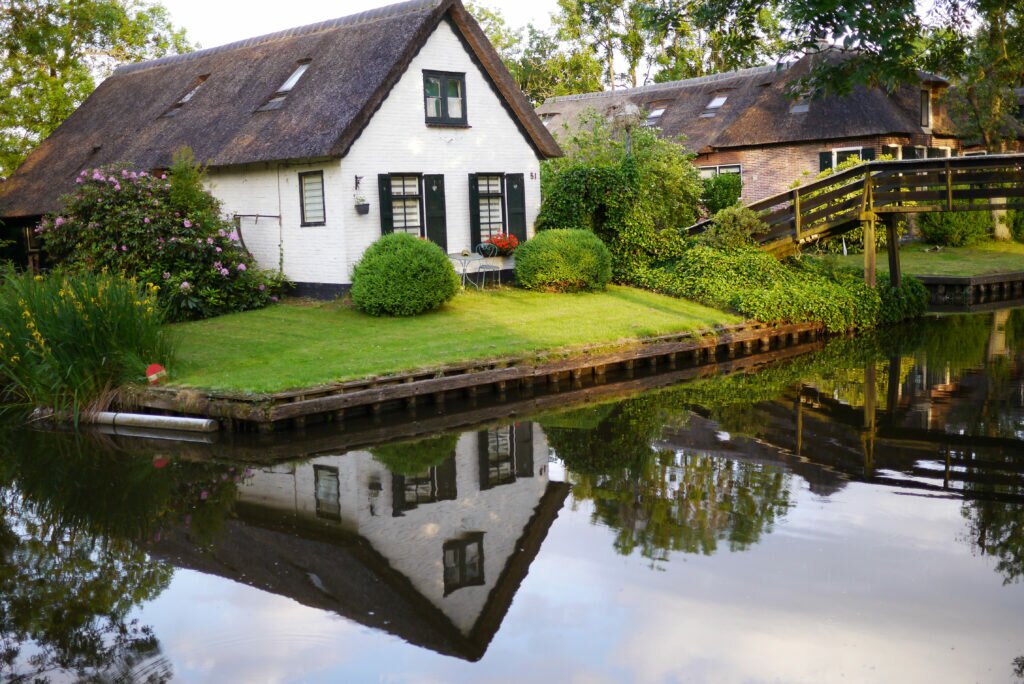 After we were done with the boat ride, we just wandered through the whole village on foot, stopping to admire every cottage house we passed by – they are all so beautiful, with their thatched-roofs and perfect gardens. We sat in a queue next to the museum, where a few ladies dressed in traditional costumes prepared Dutch sweets. We sat on the grass next to a canal, watching the boats passing by, soaking up the sun. In the evening we enjoyed Dutch pancakes and then a beer while watching the sunset. We slept very well in the cosy apartment situated in Giethoorn's marina and the next morning we had our coffee outside, looking at the canal and even enjoying the rain.
I'll come back with more details on different parts of our trip, but, for now, here's the first batch of pictures. Enjoy!
Stay tuned for more and follow Amsterdamian on Instagram and Facebook for daily stories about life in the Netherlands. Please share this post if you liked it!

Check out my photo book: Amsterdam Through the Seasons!

For prints and other cute objects, visit our store on Society6.