Den Bosch, the picturesque city in Noord-Brabant, is the birthplace of the painter Hieronymus Bosch, considered one of the greatest artists of the Northern Renaissance and known for creating imaginative works rich in religious symbolism and fantastical elements. Bosch was born Jheronimus van Aken, but he signed some of his paintings as Jheronimus Bosch, borrowing the name of the city. For the rest of this article, I will call him Jheronimus, to not confuse you any further. He was born around 1450 in a family of painters: his grandfather, his father and a few uncles were painters.
There's not much that is known about Jheronimus's life: starting from his date of birth, which couldn't be clearly determined, and continuing with his life, his personality or his vision regarding art. What we know is that he lived most of his life in and around den Bosch, and he became a successful painter in his city, but also receiving commissions from abroad. He painted mostly oil on wood and produced quite a few triptychs, from which the most famous is The Garden of Earthly Delights. His images make us gasp when we look at them even today, so one can only imagine the effect they must have had on Jheronimus's contemporaries.
If you've ever admired his Garden of Earthly Delights and marvelled at his imagination, then you will want to follow in Jheronimus Bosch' footsteps when visiting Den Bosch. There are a few ways in which you can do that.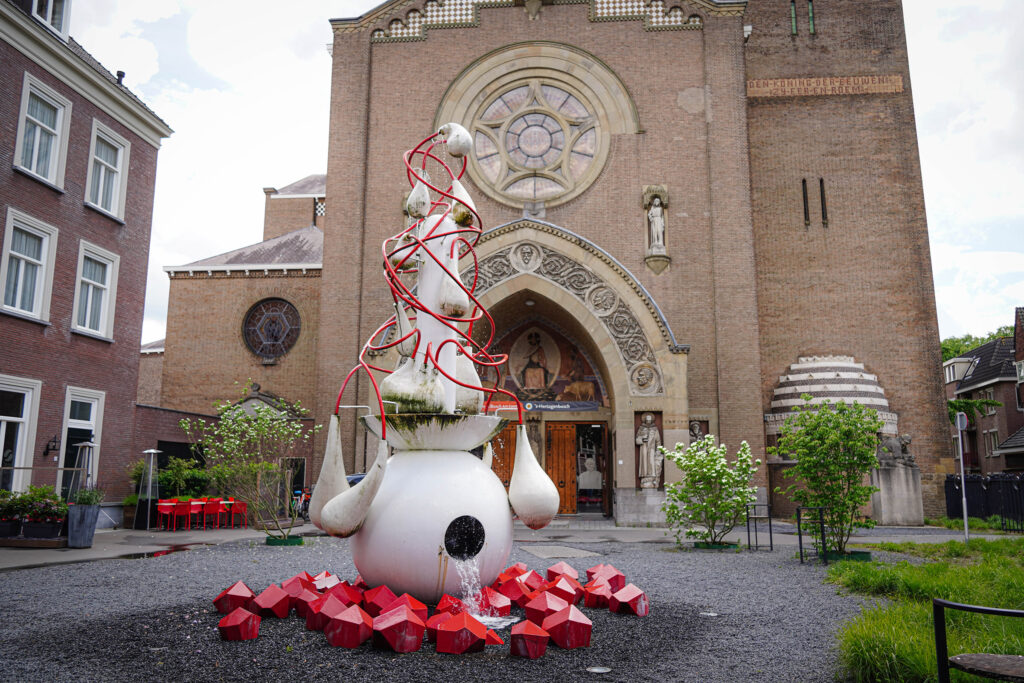 Jheronimus Bosch Art Center. Since 2007, this art centre shows the complete works of Bosch in the form of high-quality reproductions. There are no more original paintings of Bosch in the Netherlands, because many if them were taken to Spain as spoils of war during the Eighty Years' War. The exhibition is completed with a good collection of drawings and many 3D figures – fantastic beasts coming straight out of his paintings, floating above your head or lurking in the corners. It couldn't have been better located than in a former church, New St. James Church, built in 1907. I loved walking around the church, admiring Jheronimus' work. There's an elevator that you can take to go to the tower, for a view over the entire city and surroundings, but that stops also at different levels, where you can admire more local art (or more Bosch).
The 3D figures around the city. When you walk in den Bosch, you will stumble upon some weird statues, here and there, some on the canals or close by, or in the parks. They are 3D representation of images from his paintings.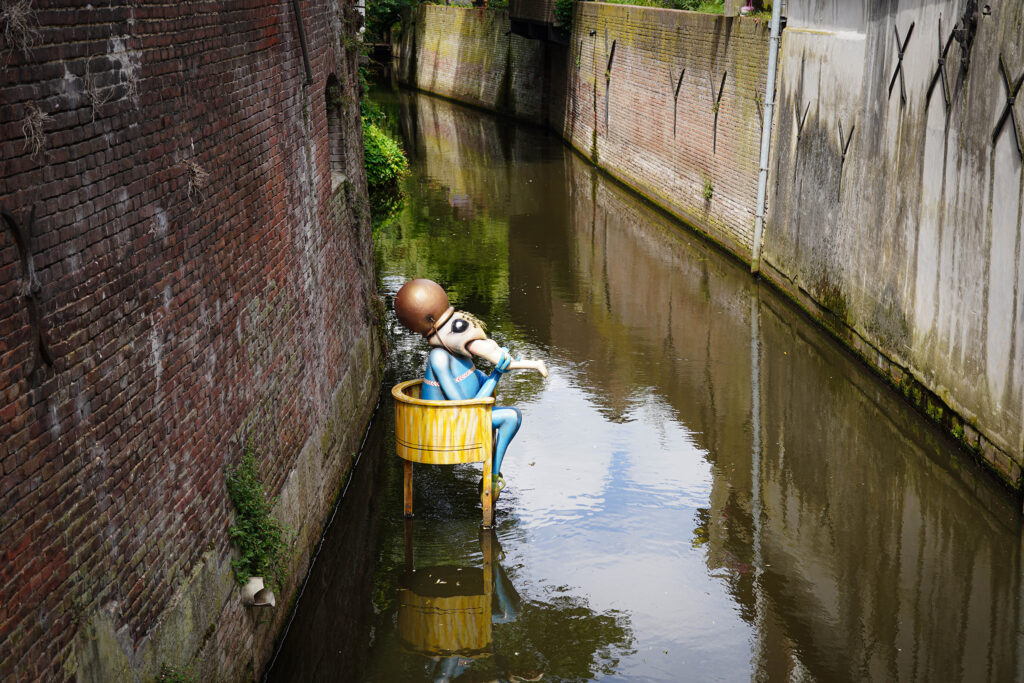 The House of Bosch. You can now (starting spring 2022) visit the old residence of Jheronimus Bosch, see where he lived and worked. Old architecture mixes with modern media in an immersive experience.
Jeroen Bosch Garden. What better spot to place some art inspired from Jheronimus Bosch than a garden? It's a green area in the city centre, with a playground for kids and works of art all around it.
Noordbrabants Museum. Noordbrabants museum hosts an exhibition: From Bosch to Brueghel, where you can learn about three masters from the South: Bosch, Brueghel and Knip. Their work was diverse, but they all had something in common: they worked in a family studio.
Visiting Den Bosch was a lovely experience and following in the footsteps of Jheronimus Bosch was particularly interesting for me, being a fan of his work. Next time I will paint something, I might paint something inspired from his work (minus the religious symbolism) and my dreams 🙂
Stay tuned for more and follow Amsterdamian on Instagram and Facebook for daily stories about life in the Netherlands. Please share this post if you liked it!
Don't forget to check out my photo book: Amsterdam Through the Seasons!
If you want to buy prints and other cute objects, check out our store on Society6!
Subscribe to our newsletter!