Which are the most beautiful beaches in the Netherlands? This question took me by surprise a few years ago when friends who were visiting Amsterdam asked me. They wanted to see one or two beaches during their trip to the Netherlands, maybe even spend a few days in a seaside resort. That was a hard question to answer, because when I think about the beaches in this country, I consider the entire western coast to be one long sandy beach. And I'm not far from the truth. Netherlands has many beaches, all of them beautiful: wide, sandy beaches, bordered by sand dunes. It's hard to decide which ones are the best. As a rule of thumb, every beach in the Netherlands is worth visiting. You just have to make your choice based on: how long you want to travel to get to it, the transport means you have, if you want to surf or just swim, if you want a more wild beach or one with all the facilities.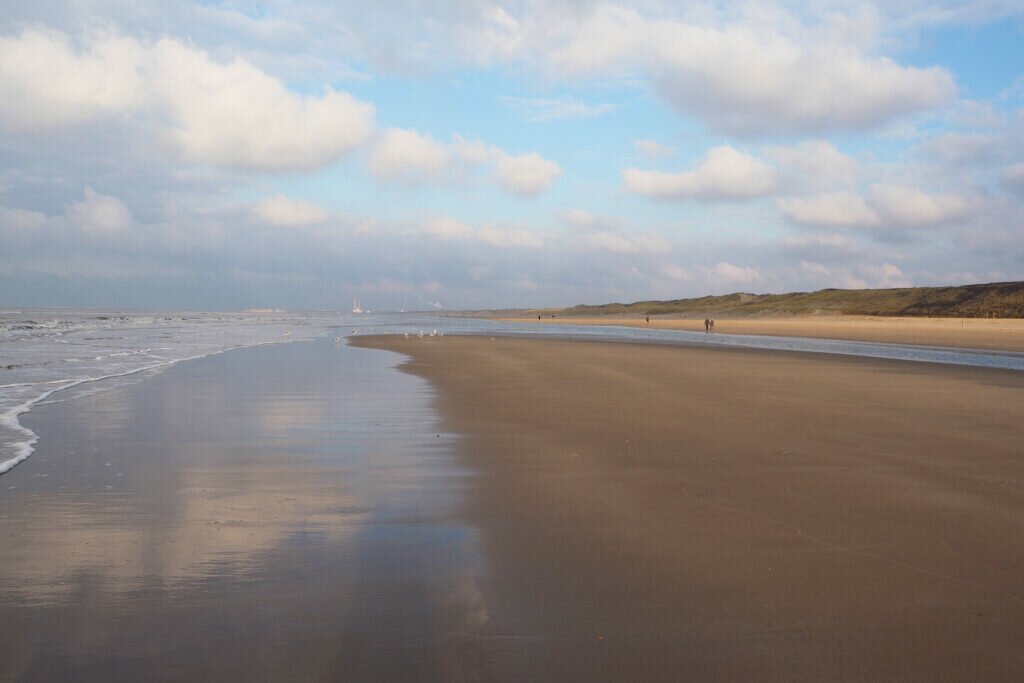 In this article I'm going to focus on the beautiful beaches of the North Holland province, because these are the ones I visited the most. I only mention a few, but have a look at Holland boven Amsterdam's list of beaches in North Holland, arranged by categories, to find more (in Dutch).
Even during the pandemic, when travel is not advised, the beach can be a refuge. Dutch beaches are wide so there's enough space to keep your distance and enjoy the nature in a safe way. You can take your dog with you (although you should check the rules for each beach in advance), or even your horse. You can ride your bike on the beach if you are a hardcore cyclist, or just walk along the kilometres of never-ending beaches. For me, being able to cycle to the beach was life saving last year, when everything closed down and I couldn't travel by public transport. I could just hop on my bike and go to the beach to breathe the salty air. There is only a short period when you can actually sunbathe and swim, because we're talking about the Netherlands here, not south of Spain, but the long beaches are perfect for a walk in any weather. Even when it's snowing.
12 beautiful beaches to visit in North Holland
Zandvoort and Bloemendaal
Zandvoort, sometimes mentioned in tourist guides as the "Amsterdam beach", is the closest beach to Amsterdam. It's very popular and easy to get to: a short train ride will take you there straight from Amsterdam Centraal (in the summer months these trains are every half hour or so, and till late in the night). Zandvoort is bordered by the dunes of Zuid-Kennemerland National Park, a beautiful area worth visiting. The beach itself has a lovely vibe — especially in the summer when the train is full with people wearing flip-flops and beach bags. You feel on holiday yourself, even if you are only going to the beach after work to see the sunset.
From Zandvoort aan Zee you can walk on the beach to Bloemendaal aan Zee. Both places are well known for the summer club parties they used to host before the Corona time. Both beaches are close to Haarlem, a beautiful city where you can make a stop.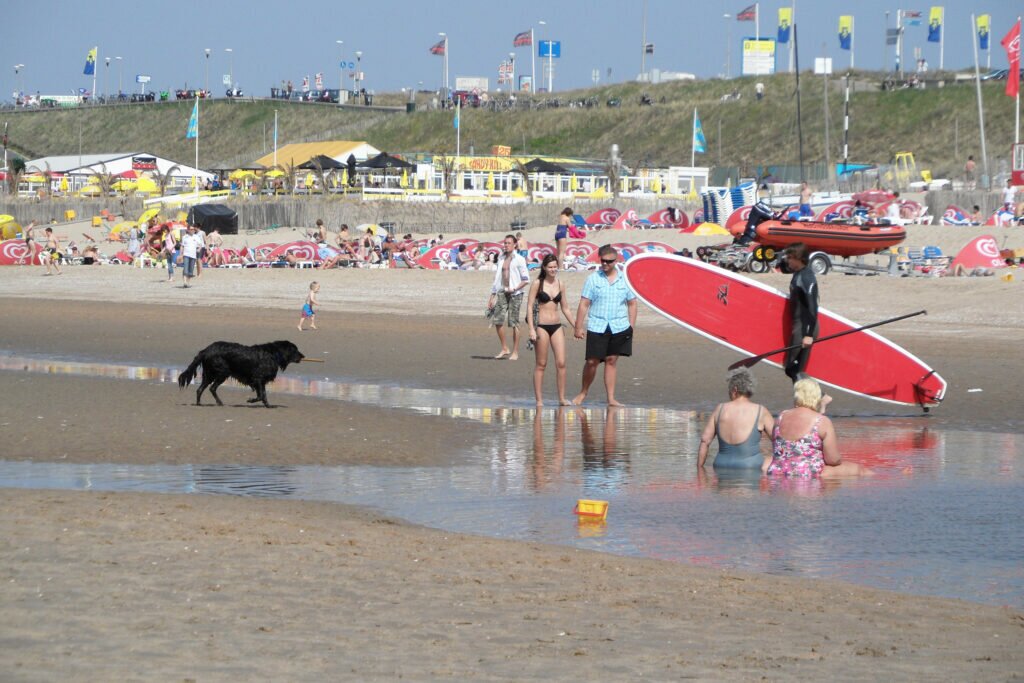 Castricum aan Zee is a lovely beach near Castricum. You can go to Castricum by train and then walk or cycle to the beach (there's a road going straight from the train station, through the forest and dunes). You can also go by car – there's a big parking lot next to the beach. For those who feel they want to expand their knowledge regarding the history of this area, there is an interesting museum in Castricum — Huis van Hilde, an archeological museum for the North Holland province. I'm yet to visit this museum — since I moved to Alkmaar everything was closed because of the pandemic.
There's a surf school in Castricum aan Zee, for people who want to learn how to surf or to practice their skills; and for the rest there's just endless sand stripes and dunes to enjoy.
Another amazing beach is Egmond aan Zee, close to Alkmaar. This is my beach since I moved to Alkmaar a year ago. I can cycle from my home to the beach in 45 minutes, and the road takes me through a forest and the flower fields in the spring. Egmond aan de Hoef, the village close to Egmond aan Zee is a pretty village as well, worth visiting. An attraction in this village is Slot op den Hoef, the ruins of what once was the Egmond Castle.
Egmond aan Zee is a family beach resort, very popular with German tourists in the summer. While the beach can be crowded during the season, you can still find quiet spots if you walk a bit further from the main entrances. The dunes bordering the beach are gorgeous, looking like hills. If you're hungry, you can find delicious food and ice cream at the beach restaurants or in the village. You can get here by bus or car.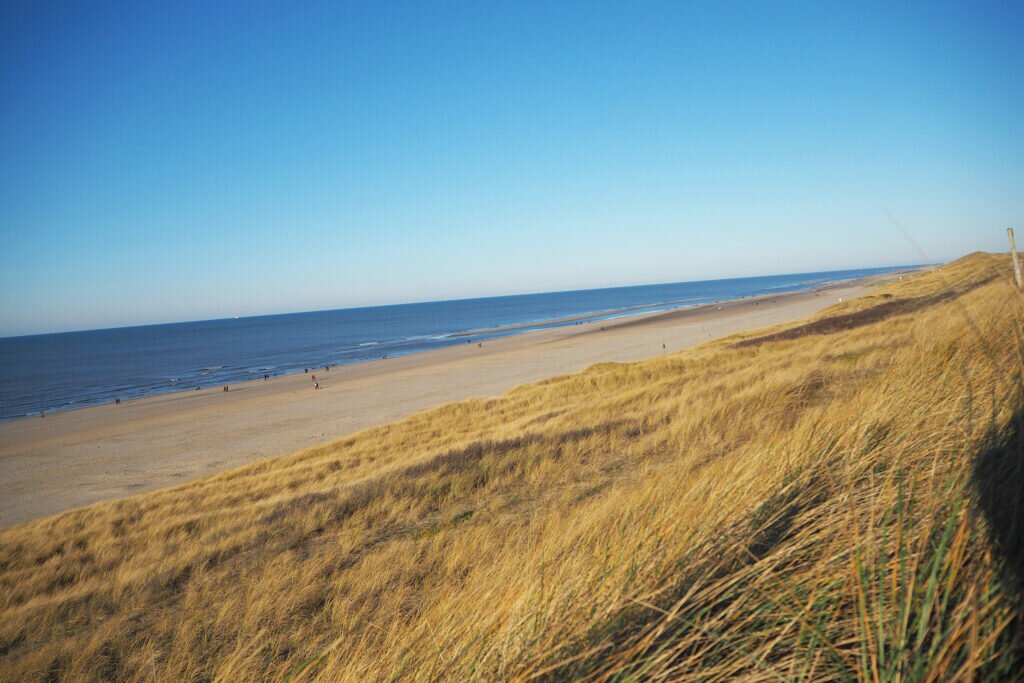 Bergen beach is in the village Bergen aan Zee, only three km further down from the Bergen village (a small village worth visiting). The route from Bergen to the beach is one of the most beautiful I've seen until now in the Netherlands. Bergen means "mountains" in Dutch, and the dunes in this area are quite high, doing a good job of creating the illusion you are riding through the mountains. It's a great place for mountain biking. From the forest you enter straight into the small Bergen aan Zee village. The beach is beautiful, usually less crowded than the neighbouring Egmond aan Zee.
Bergen used to be known as the sea destination for artists around 1900, and it was so popular that an art movement known as "de Bergense School" (the Bergen School) started here. We can admire works created by this art movement at the Stedelijk Museum in Alkmaar or Kranenburgh Museum in Bergen. Nowadays, Bergen keeps this art spirit alive by organising arts and crafts fairs in the summer.
You can get to Bergen aan Zee by bus or even walk or cycle through the dunes from Egmond aan Zee.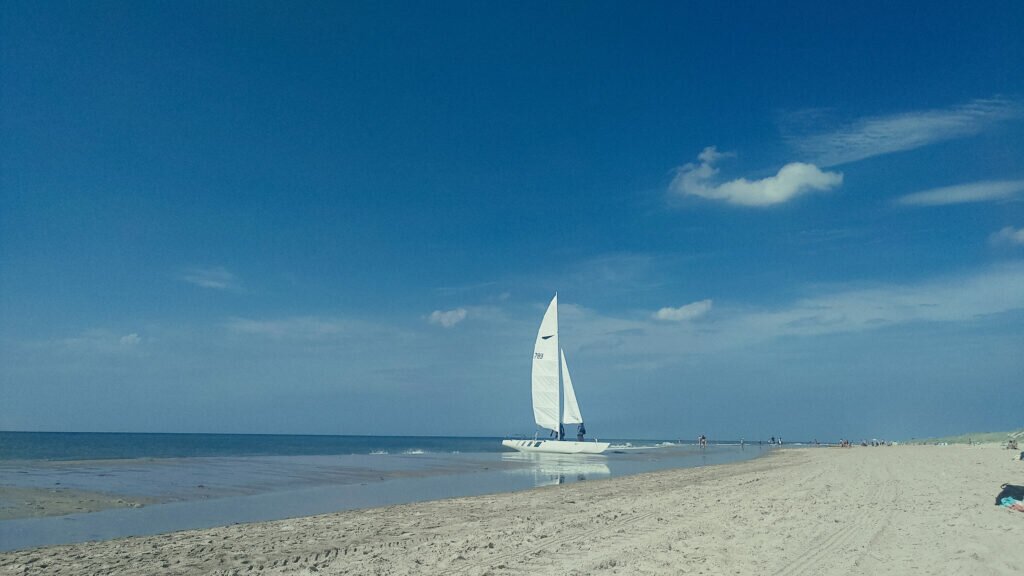 I'm combining these two because they are close to each other. Hargen aan Zee and Schoorl aan Zee are quiet beaches, where you can relax or cool down after a bike ride or a hike through the Schoorlse Duinen (forest and dunes). Or maybe you want to take a few surfing lessons – there's a surf school in Schoorl.
Hargen can be reached by taking a car or a bus to Camperduin and then a bit of walking to get to the beach. You can get to Schoorl aan Zee by walking along the beach from Hargen or coming through the dunes from Schoorl. This is quite a great hike, but can be a bit long and tiring under the sun, so make sure to be prepared.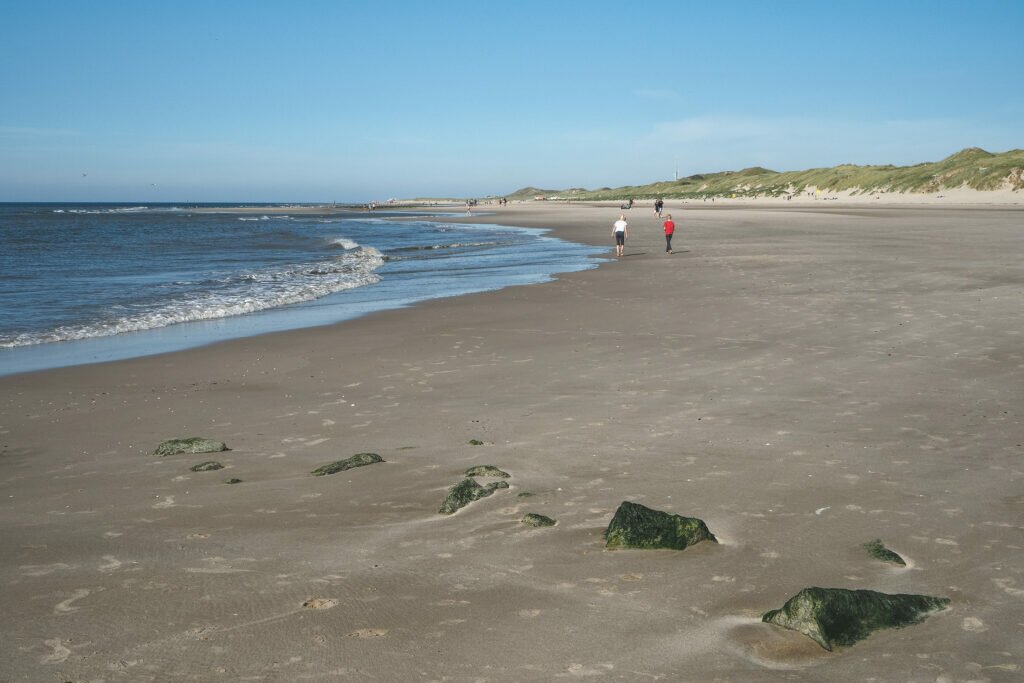 Petten and Sint Maartenszee
Again, two that I feel the need to combine, given that they are so close to each other. These beaches are less crowded, but the dunes surrounding them are not as spectacular as in other places we've talked about. That's not to say they don't have their charm! On the Petten beach there's a beautiful monument made of wooden poles: Het Palendorp (The Poles Village). The monument was built there to remember the village that was completely engulfed by the sea in 1792. Between two of these poles hangs a swing; a great place to take pictures or simply enjoy gliding above the water.
Callantsoog is one of the blue flag beaches, meaning the water is very clean. It's a family beach resort. They say there are more sunny days in Callantsoog than in the rest of the country and there's less rain. Maybe that's why you can find here the longest nudist beach in the Netherlands (2,5 km).
On the Callantsoog beach you can sometimes watch seals being released into the wild (seals that were injured and rehabilitated at the Seal Sanctuary in Pieterburen). The Zwanenwater natural reservation is right next to Callantsoog, and it's a lovely place for nature lovers.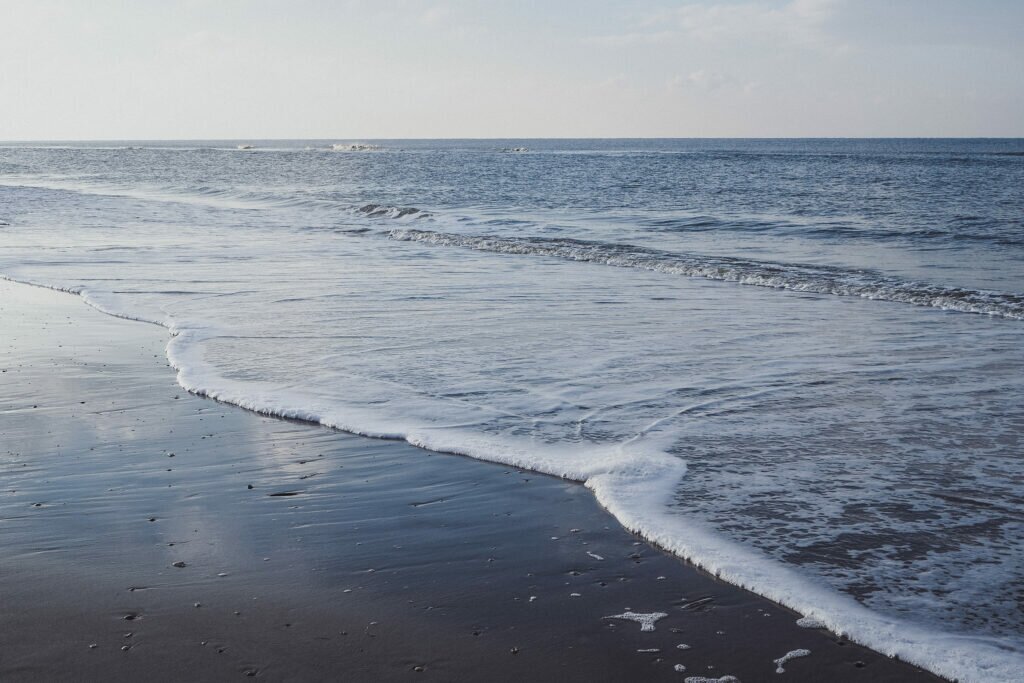 Julianadorp aan Zee is known for the flower fields you have to cycle through in the spring, on your way there, and for being a great place to spend summer holiday. There are many accommodations in the village, B&Bs, bungalows and campings. You can go there by car or public transport (but it's going to be a longer route than usual if you come from Amsterdam or further south).
Texel, the biggest of the Wadden Islands (islands in the North of the Netherlands), is my favourite when it comes to Dutch beaches. With over 25 km of sandy beaches, Texel is the place where you will never feel crowded, because there is always a place further down (or up) the beach where you can be alone. However, when you visit Texel beaches, pay attention to the flags: there are a few places where swimming can be dangerous, there are some protected beaches and special areas for water sports. Sandy dunes border all the beaches in Texel, and in some places you have to cross the forest to get to the beach. So beautiful!
You can get to Texel by taking a ferry from Den Helder, then cycle or take the bus towards one of the villages. The other Wadden Islands, like Terschelling or Schiermonikkog, have great beaches as well, but technically they are in the Friesland province, so I can't include them in this list 🙂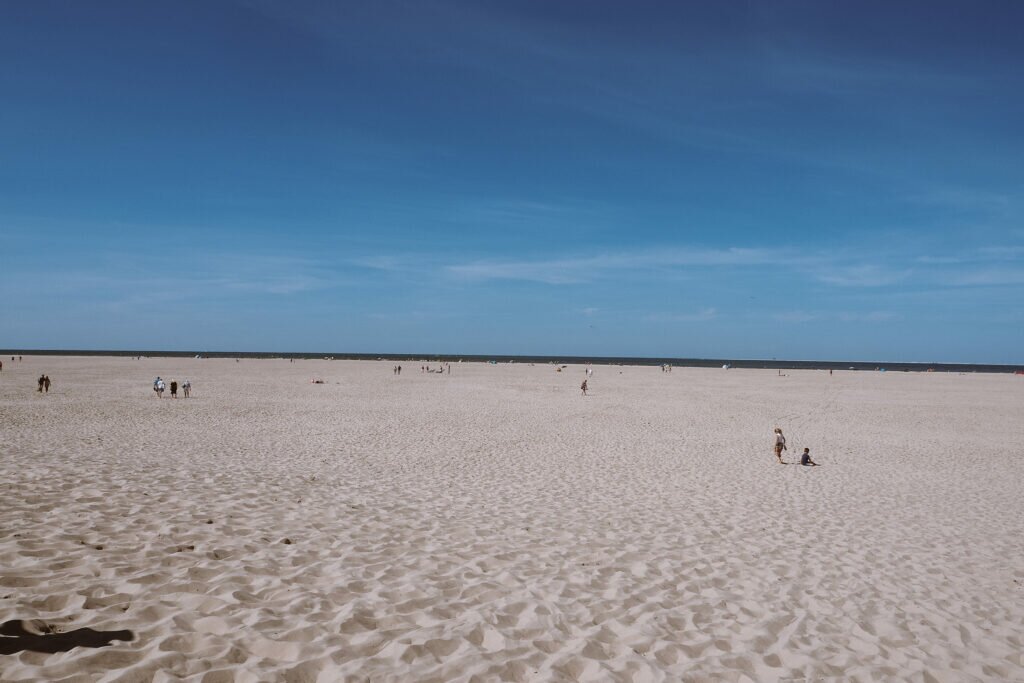 I hope I gave you enough inspiration for when the weather is getting better or for the coming weekend! As you can see, there are enough places to choose from. And if you don't feel like going to the sea beaches, you can always go on the other coast of North Holland province: some villages and towns on the Markermeer and Ijsselmeer have their own small sandy beaches (for example Monnickendam, Hoorn or Volendam).
Stay tuned for more and follow Amsterdamian on Instagram and Facebook for daily stories about life in the Netherlands. Please share this post if you liked it!

Here you can find my photo book: Amsterdam Through the Seasons!

If you want to buy prints and other cute objects, check out our store on Society6!