If you walk the main shopping streets of a Dutch city in the weekend, chances are that you will encounter a barrel organ. You can't miss it, as it produces very loud music and the owners walk around it jingling their metal boxes to collect coins.
These street barrel organs seem a bit out of place on the modern streets, like a reminiscence of the past (which they are), but a very charming one, even if their loud music can annoy sometimes. The street barrel organ, or draaiorgel in Dutch, is a traditional Dutch entertainment instrument. Its history goes back to the 18th century and it's quite an interesting one.
There's a place in the Netherlands where you can learn about street barrels history and have some fun at the same time: the Speelklok Museum in Utrecht (speelklok means musical clock). This fun museum is amazing! It has an impressive collection of automatically playing musical instruments, from musical clocks to automatons, barrel organs and orchestrions (self-playing orchestras). The instruments, centuries old, still function and will delight you with their music.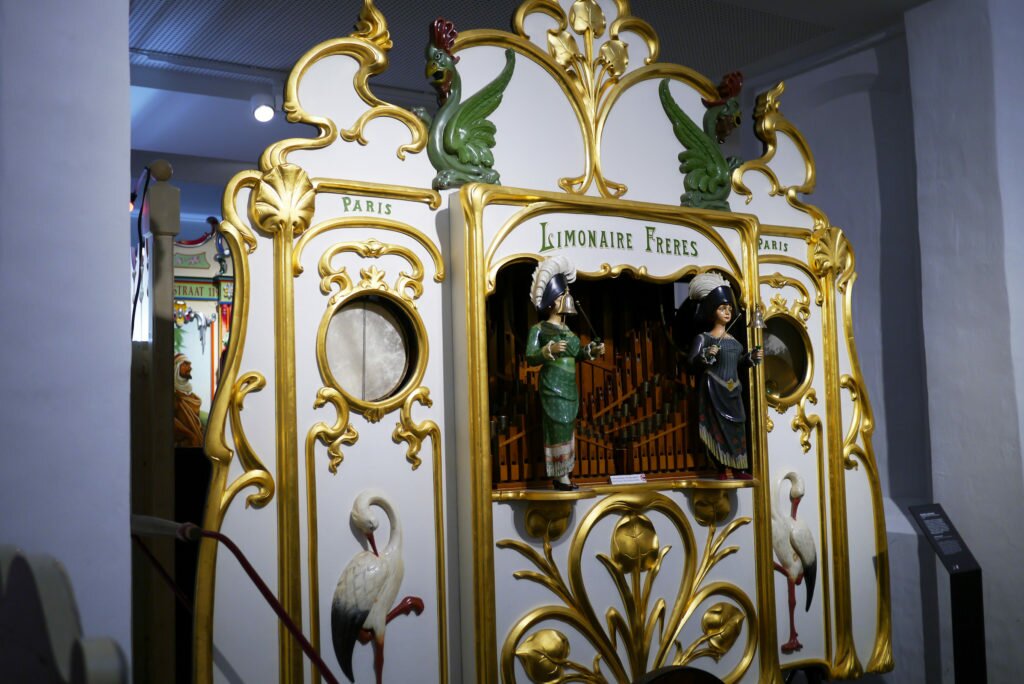 Nowadays we can play recorded music from a multitude of devices and from everywhere, and we have access to a huge collection of songs. But think about the people living in the 15th century, who could only entertain themselves with live music when a musician was present (or when they would sing themselves, but if they were as talented as I am, I don't think they did that too often!). When the first mechanical instrument that could play music by itself was invented, it was a huge thing! The first self-playing instruments were very expensive and limited in what they could play, but they were still a prized possession and a means of entertainment. Because in the modern world we are so spoiled with choices, we would find these instruments totally boring if they were to sit in our living room, playing over and over the same songs. But imagine what a delight they must have been for their owners in the past centuries or for the people listening to them on the streets!
The street organs function is similar to the one of computers, even if in a primitive way: they have a perforated cardboard book (it works as the zeros and ones in computers) attached to the organ's keyboard. This presses down the row of pins on the keyboard. These pins are connected by valves underneath the various organ pipes. When there's a hole in the organ book, the pin will rise and the corresponding valve underneath an organ pipe will open and the air will flow through. If there's no hole in the book, no pin will rise, no valve will open and no sound will be made (description provided by the museum).
But organs are not the only self-playing instruments out there; they vary in shape, size, sounds. Their programmes with the melody can be on cylinder, metal disc, paper roll or cardboard book. Speelklok Museum's collection is showcasing all of them, including automatons. The museum has a few tours that you can take, starting at fixed times, so make sure to ask before you enter! Take the Musical Tour or follow the Museum Expedition to discover all the wonderful instruments that will transport you to another century. The most beautiful room is the Dance Palace, where the biggest organs are — the ones that used to perform in public dance rooms.
In the Technical room you have the chance to see how instruments function and test some for yourself. Everyone spends a lot of time in that room, from children to grandparents. It's one of the most interesting in the museum.
So, next time you are in Utrecht, maybe you won't overlook this museum that is almost hidden on a small shopping street, and you'll stop for a visit. You won't regret it!
Stay tuned for more and follow Amsterdamian on Instagram and Facebook for daily stories about life in the Netherlands. And share this post if you liked it!