This article is part of the project: Discover the Netherlands, Province by Province. Read the collection of articles here: Dutch Provinces: a Complete Guide.
Population of over 3.7 million as of October 2021 and a total area of 1373 square kilometres (of which 585 is water).
After a break in March, to recover from Covid, I'm coming back to the discovery of the Dutch provinces! We will dedicate April to South Holland (Zuid-Holland), a province rich in beautiful cities, nature, beaches and tulip fields. In April, I will take you with me through this beautiful province and we will visit cities, beaches and flower parks; hopefully some museums as well.
On the western part of the country, along the North Sea coast, lies this beautiful province which used to be part of the County of Holland (separated in 1840 into North Holland and South Holland).
The provincial capital is The Hague (Den Haag in Dutch, which is the Dutch seat of the government), and the largest city is Rotterdam. The oldest city in the province is Dordrecht, which received city rights in 1220. South Holland has a high population density (yeah, it's crowded!), being the country's most populous area and one of the most densely populated areas in the world. The western part of the province is more urbanised, while the east is dedicated mostly to agriculture.
South Holland is divided in the following regions: Bollenstreek (Bulb Region), Groene Hart (Green Heart) – a rich agricultural area, Haaglanden – including the Hague, Rijnmond – the area around Rotterdam, Alblasserwaard-Drechtsteden, South Hollandic Islands.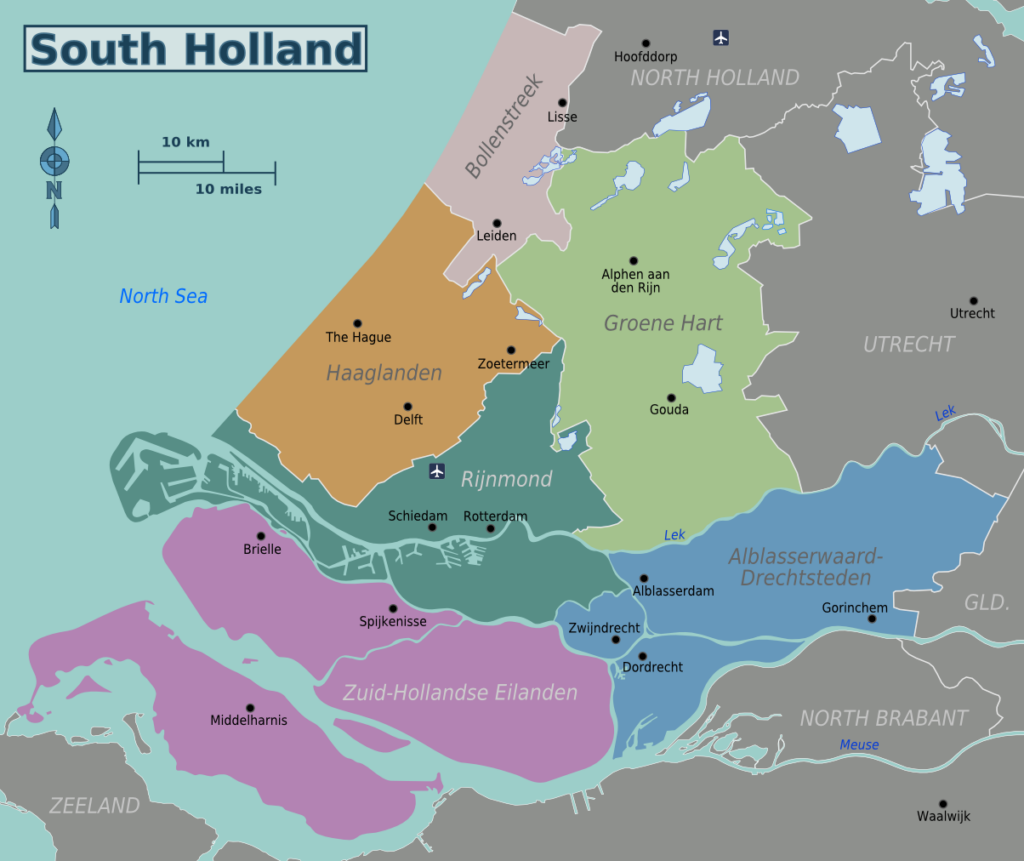 What to visit in South Holland
South Holland has a rich offer of sights and attractions , being home to many old cities, the Bulb region, the coastal dunes and green areas. This province, like the neighbour North Holland, is well known in the international tourism circuit. Probably the most famous areas are the Bulb Region and the Keukenhof Gardens, visited by over 1 million people every year.
Notable cities, towns and villages in South holland: The Hague, Rotterdam, Leiden, Dordrecht, Delft, Gouda, Alphen aan de Rijn, Scheveningen, Schiedam, Brielle, Warmond, Wasenaar, Maasluis, Ouddorp, Schoonhoven. All these are easy day-trips from Amsterdam, by car or by public transport. It's hard to choose which one to visit first: Leiden for the oldest university in the country, Rotterdam for its unique architecture, Gouda for its cheese and history, or Delft, for its porcelain, culture and cosiness?
The area named the Bulb Region is home to the largest flower fields in the country and it's very popular in the spring. Colourful spring flowers cover the fields from late March to May. On the coast, large beaches and spectacular sand dunes attract people all year round, for water sport, swimming or nature walks. There are a few islands part of the South Holland province — Voorne-Putten and Goeree-Overflakkee, which are a great destination for beach trips and biking trips.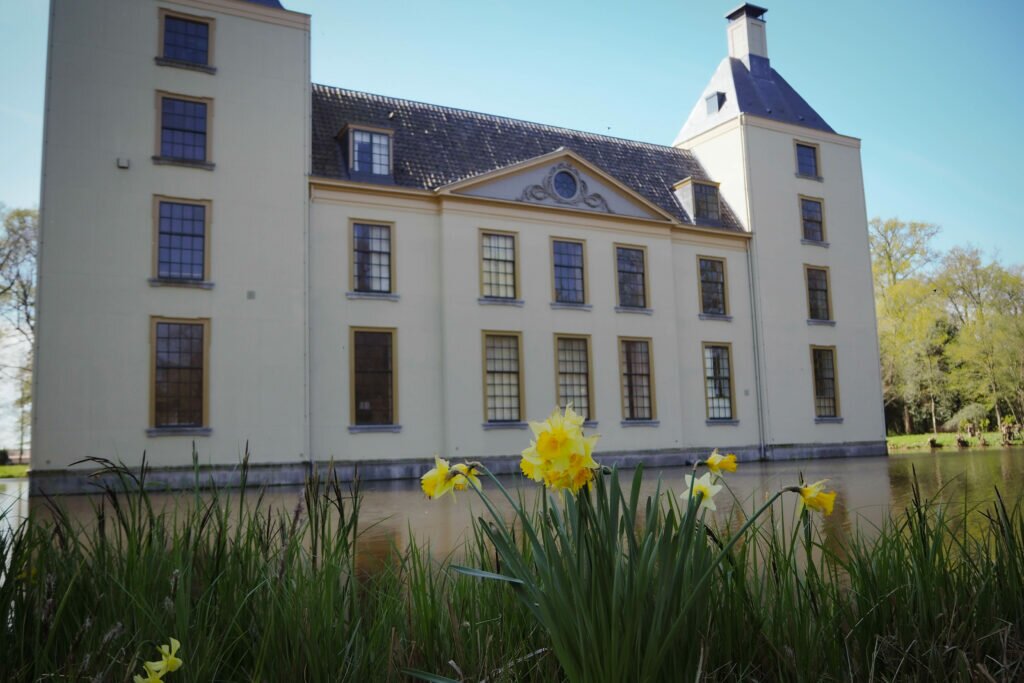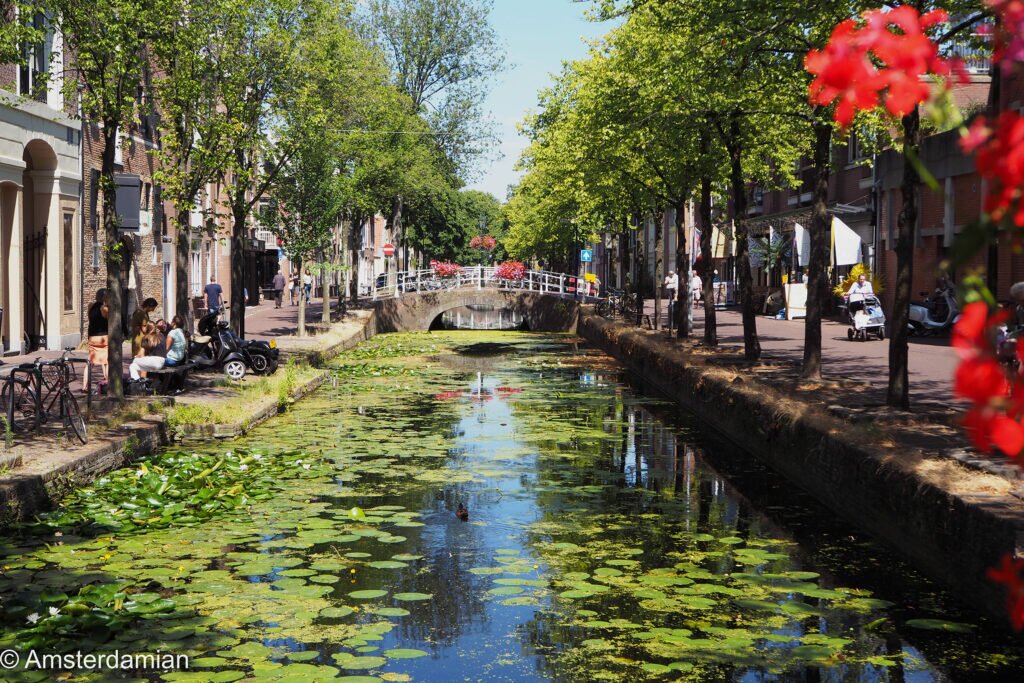 Attractions in South Holland
With so many old cities and villages and a rich cultural heritage, South Holland has plenty to offer. To mention only a few: Keukenhof Garden and Keukenhof Castle, Tulip Fields, Mauritshuis Museum, Kijkduin, Madurodam, The Binnenhof (The Hague), Scheveningen Beach, Royal Delft, Vermeer Centrum Delft, Maritime Museum Rotterdam, Erasmus Bridge, Cube Houses Rotterdam, Europort, Cheese Market Gouda, Burcht van Leiden, Hortus Botanicus Leiden, Kinderdijk windmills, Duivenvorde Castle. These are the well-known attractions, but there are plenty more in each town and village, giving visitors the opportunity to learn and discover the history of the area, as well as the today's treasures. Leiden alone has an impressive collection of 13 museums!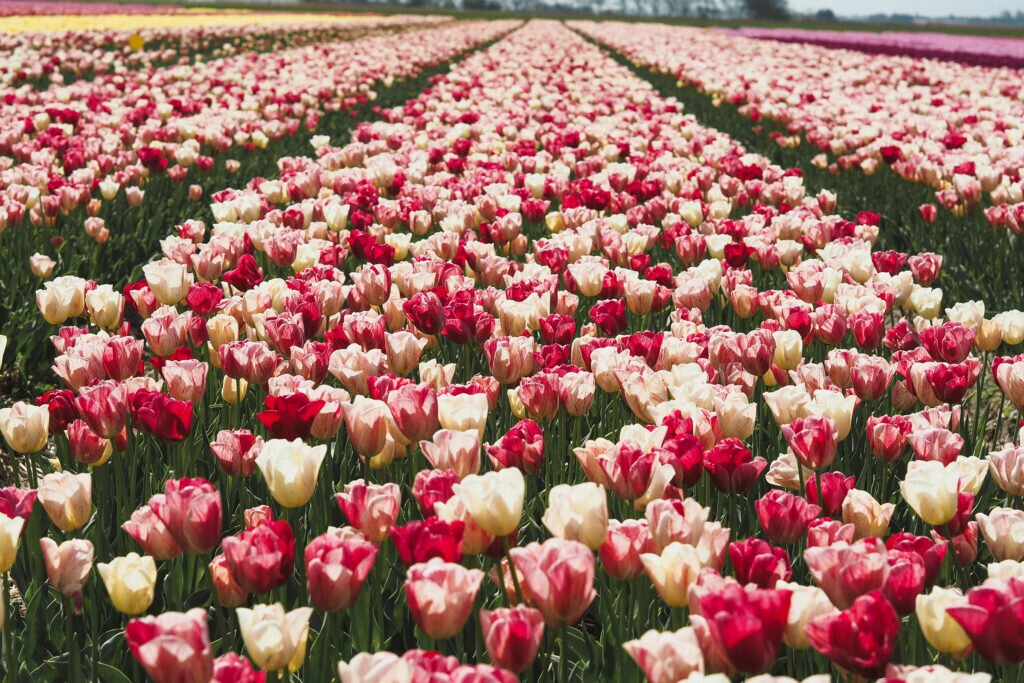 Nature in South Holland
While South Holland is mostly known for its urban areas and bustling cities like The Hague and Rotterdam, it also boasts several areas of natural beauty and diverse landscapes. There's a long stretch of beach and nearby dunes, plenty of small forests and reservations, and a lot of water. One of the larges natural reserves is the northern part of the National Park de Biesbosch. This expansive wetland area consists of a network of rivers, creeks, and lush marshes and it's home to numerous bird species. You can explore the park by boat or by walking, immersing yourself in the serene atmosphere and observe the rich flora and fauna.
Other natural area in South Holland are Voornes Duin, The Hague Forest, Goudse Hout (forest near Gouda), the dune area stretching from Scheveningen to Katwijk, including Dune Reservation Meijendel-Kievietsduin, Reeuwijkse plassen, Tiengementen, Zwanburgerpolder, Polderpark Cronesteyn.
A few links where you can read more about South Holland:
Hot to get there
To plan your trip, use Google Maps, NS train schedule and 9292.nl.
After reading this I think you can understand why South Holland is one of people's favourite province to visit. For tourists, it's easier because they are mainly traveling from Amsterdam, and for locals because it's a great destination for a weekend. If you want to read more about the Dutch provinces, check out my other articles about the Netherlands.
This page includes affiliate links. If you click and purchase, I may receive a small commission at no extra costs to you.