If you like Amsterdam and you never get tired of seeing pictures from this beautiful city, I have a treat for you: a collection of photographers to follow on Instagram for daily updates from the city! If you follow my Instagram account, you know that I don't post only Amsterdam pictures. As a blogger, I approach a multitude of subjects and lately I found myself drifting away from pictures of the city. But these people I picked for you are very dedicated to Amsterdam (most of the time, especially that in the past year the lockdown forced all photographers to work with what they have at hand, and travel photography wasn't an option).
Some are photographers who make a living out of this art, selling prints or offering workshops, others are doing it more as a side hustle or as a hobby. However, each has something interesting to offer when it comes to Amsterdam photography, so I hope you will find some inspiration in this list. These accounts are only a handful and this is obviously not the complete list.
If you don't have an Instagram account, you can check which ones of the photographers are on other social media and follow them there.

I also asked them for a bit of insight into their artistic life, to tell me what drives their passion and what inspires them. Here they are, in no particular order. Enjoy!
1. @Dutchie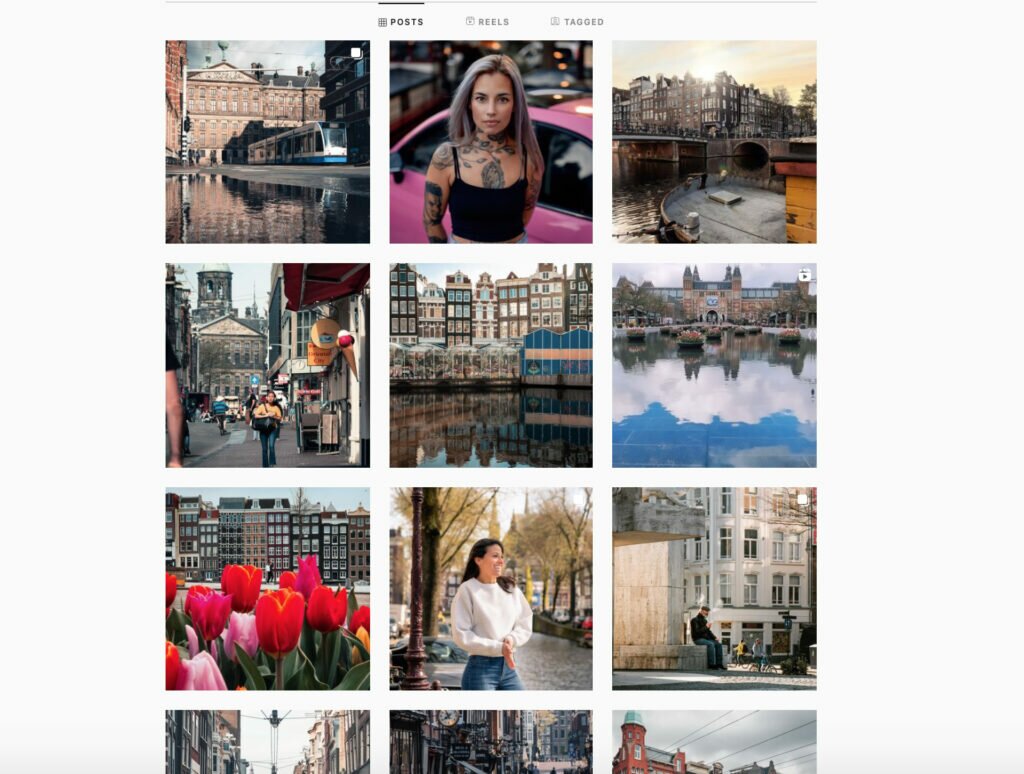 Dennis seems to always be around the city with his camera, capturing the streets of Amsterdam, bikes, festivals, flowers or architecture. He sells prints and also offers photoshoots on his website.
" I'm a freelance natural light (mainly landscape, street & portrait) photographer born & based in Amsterdam. I aim for my work to be more authentic rather than perfect. As a photographer I'm inspired by (new) places, people and other creatives I look up to, whether it's someone from Instagram, a pro / well known photographer or for example a commercial. What I love most about Amsterdam is that it's a city of two faces: the normally crazy busy tourist side and the locals side. People always complain it's sooo crowded in Amsterdam, but that only really is true if you never leave the few places everyone goes to. If you wander away from the tourist streets (its truly only a few) this city has a lot of calm about it. I'm pretty sure that if you walk on a street that's crazy busy, the one parallel to it, will be nice and quiet. My favourite time to get out and shoot is during the morning. The city is calm and peaceful at that time. The morning light is beautiful and less harsh than during the day and the crowds are still at home. Making for much more authentic, storytelling scenes."
2. @pictorlux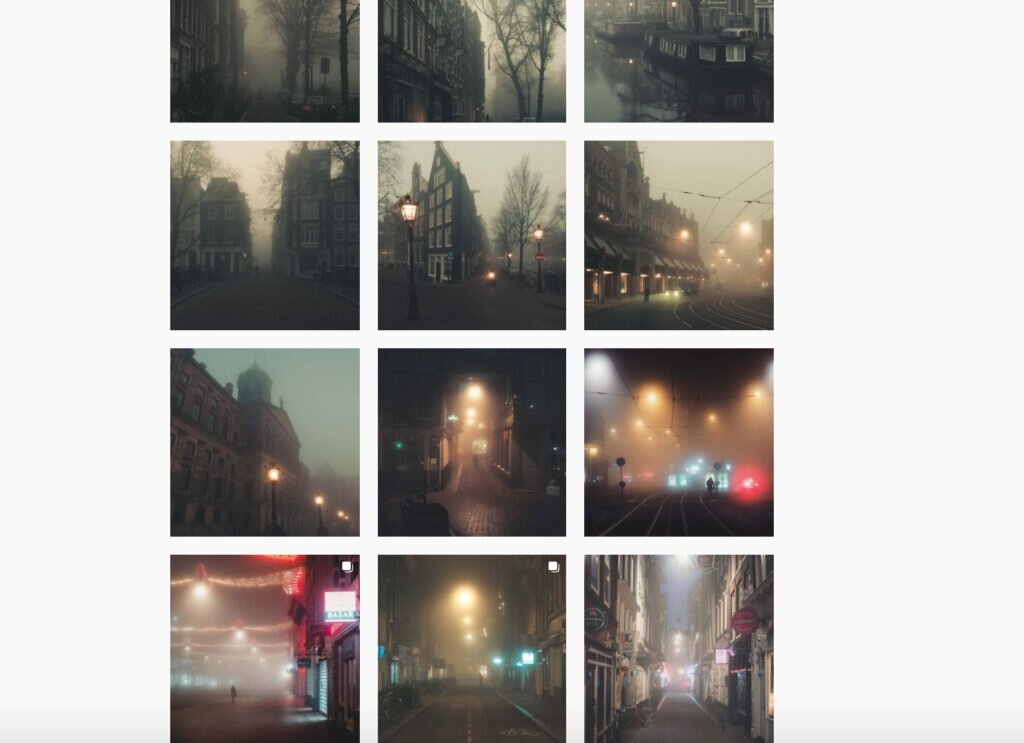 I found Roger's account while looking for cinematic pictures of Amsterdam. He's doing a lot of night photography recently and I love his photos of Amsterdam streets in the fog; so mysterious!
" I am Roger Janssen, Dutch, living in Amsterdam for almost 20 years. My day job is in IT as a software developer / consultant. I am married and I enjoy good food and drinks, travel, scuba diving and photography. I started with photography as a little kid when I got a box camera, that probably wasn't intended to be actually used, but I got a roll of film somehow and snapped my first 12 images. From that moment on I was sold on photography.

I like images that grab me, somehow evoke an emotion, make you feel a certain way. It can be anything, from urban shots to street shots of people, to documentary style shots. Even a landscape can evoke some emotion. I often like a bit of grittiness in the images. They don't need to be technically perfect. Some noise, a bit of flare, it can add character to an image.

What I love most about Amsterdam is the combination of old architecture, the canals, the busyness – according to Dutch standards of course because you can't compare it with the madness in NYC – and the vibe I get just roaming the streets. Amsterdam makes it easy to get a good shot. There is always something of interest to shoot. The light changes throughout the day and you can roam around from location to location. And that is easy to do since the whole centre is pretty small so on a bike you can cover a lot of ground! And of course the people you meet, especially in the early hours: people that can't find their hotels, asking you for directions and just showing you a blank white key-pass, or when you are setting up a shot, canal side at 6AM and you feel someone passing you and before you know it you see that person flying butt naked through your viewfinder taking a dive.

In summer I like sunrises (and the blue hour before) especially because you need to get up early so you can shoot (almost) empty streets and canals. With a bit of luck there will be no wind and you'll have perfect reflections. And the one passer by already roaming the streets is a perfect subject for my urban style of shooting. And it is not cold! I also like summer sunsets / golden hours especially on hot humid days. There will be a slight haze in the air that with a longer lens can create some amazing atmosphere.

In winter I often go out after dark to roam the streets at night for night street shots. Looking for colorful lights, interesting shadows, and so on. Of course a bit of rain will add to the atmosphere here a as well: people with umbrellas, streets becoming reflective, puddles… I love it. And then you have the special circumstances like this year's snow blizzard. We had a curfew and the blizzard started at night during the curfew, but I wasn't gonna miss it!!! So I got up at 4AM, packed my stuff and left my house on the bicycle on 4:30AM, the second the curfew had ended… in the blizzard, wind force 8, windchill -15ºC, snow — it didn't matter!"
3. @gosse_bouma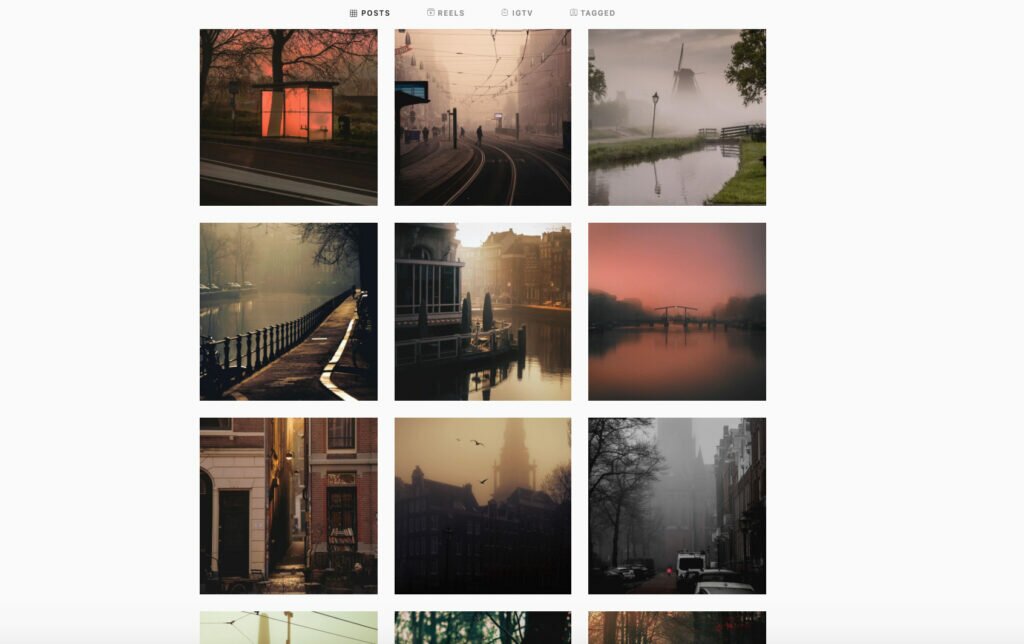 Gosse Bouma is a photographer and videographer whose pictures are very cinematic and moody. Sunsets and sunrises, foggy days and chill nights enveloping the streets of Amsterdam, an interesting light at the corner of a street — they are all in his photos. You can browse his Instagram or also check out his website where he sells prints.
"As a photographer I am always looking for moments of serenity and calmness. Finding those in a crowded city like Amsterdam requires me to get up very early in the morning or roam around late in the evenings. The soft light at those times of day emphasise the peaceful scenes I try to capture. I love those moments.

I am infinitely inspired by the city, people and nature. Amsterdam is like a living entity. Forever changing, there's always a new scene to discover. What I find most satisfying about photography is being able to capture moments that would otherwise fade away."
4. @rcx.moment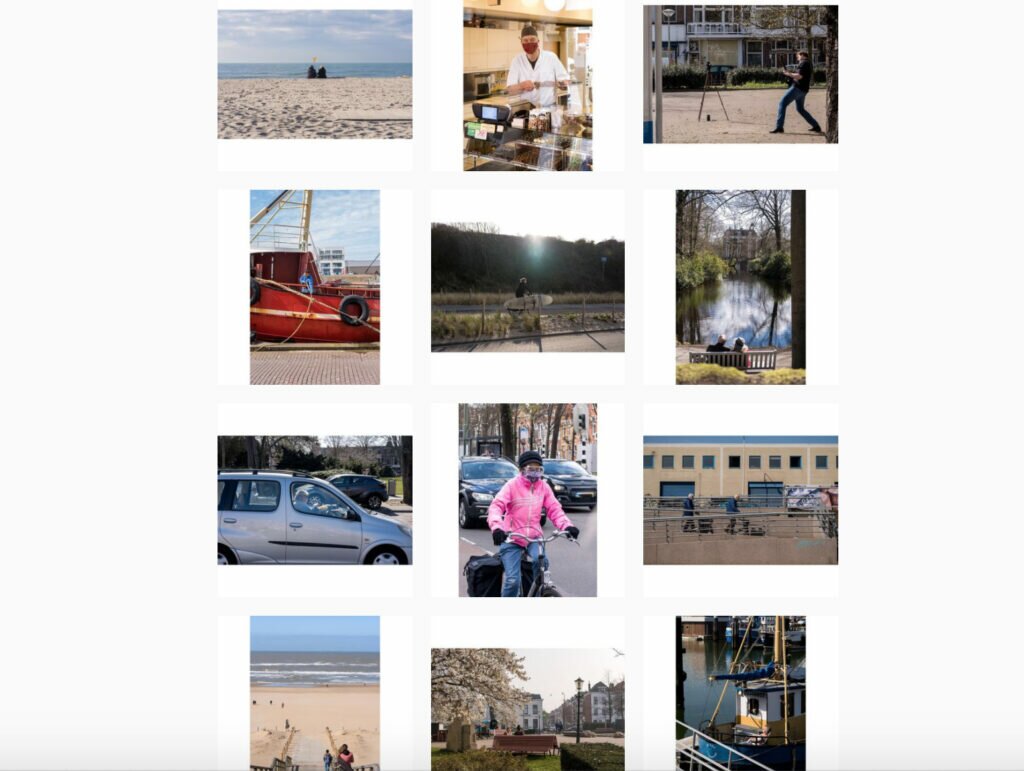 "I wish my eyes could take pictures" says Robin on his about page. How poetic is that? Robin shares street stories on his account, from all areas of the city, capturing mundane moments that are full of humanity. Sometimes he shares photos from beyond Amsterdam. You can see the people he meets in his walks, through his lens, and he creates a nice image of the city that comes to complete the multitude of pictures (that you find on Instagram) where buildings and places are in the spotlight.
"Ever since I remember, I love to explore, observe and capture what's happening around me. How people move, behave, interact, it just fascinates me and also makes me smile. And since the pandemic and being in lockdown, I've made it my daily mission to actively share these 'moments' though photography, to also make others more aware of what's happening around them. There's so much content produced and shared every day, but many of it with a lack of idea or storyline, and at times too "created".
I feel inspired to share a moment as it is, a story which is real, sincere and pure. An occurrence that makes you smile. The different authentic characters, wherever you go. Around every corner you might bump into someone remarkable. Plus, since Amsterdam is a village, after a while, you meet the same people all over. Especially when you're stuck in your own neighbourhood for a while lol.

The most satisfying part about being a photographer is the connection with reality and humanity. We all know those days that you're stuck behind your computer, thinking we're connected. Going out everyday to photograph is the real connection with the world for me. And to come back with a great finding is so fulfilling, it's addictive. I like to shoot at times where most people are out & about. During lunch breaks, where people take their walks through the parks and streets. Same as at the end of the day, when citizens commute home from work."
5. @koennemans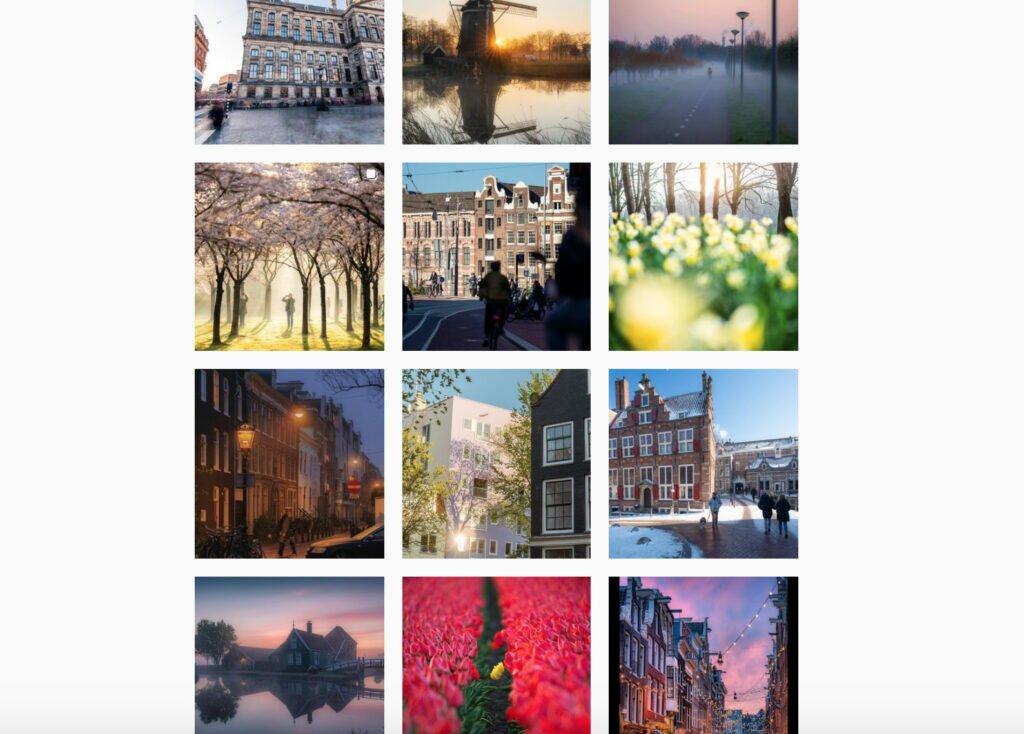 Koen Smilde plays with angles and light in his photography, bringing the beauty of Amsterdam (and some parts of the Netherlands) on his Insta account and his website, where you can check out his portfolio and the prints shop.
"I'm a 33 y/o Frisian Dutchman and I've been photographing professionally since 2009. Photography is not my main job, rather part-time and on freelance basis. And that is how I like it the best. I have a personal challenge to raise the bar every time and make better work. That's my source of inspiration. What I love most about Amsterdam is the variety in neighbourhoods it offers. From the beautiful canals to raw Noord and vibrant East. My favourite time of the day to go photographing is during blue hour with clear skies: the lights indoors and on streets provide beautiful contrast against the perfect gradient of blue in the sky. A good second-best is during sunrise: especially in spring/summer when everyone is still asleep and the birds make up all what's making noise outside."
6. @ebruvdploeg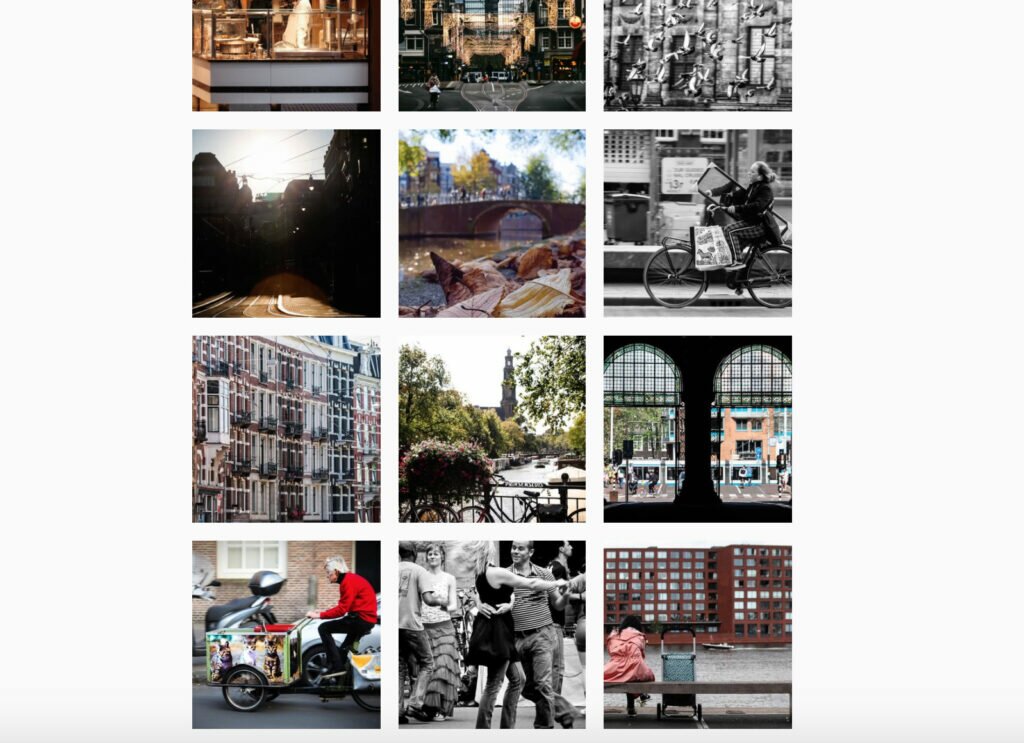 Ebru is mainly a street photographer, capturing moments and faces that transport us to the streets of Amsterdam. Her images are always so well timed that you'd think she walks around with her finger on the shutter button all the time.
"I'm a self-taught photographer. I started my photographic journey on the streets of Amsterdam almost 11 years ago. Next to that I've worked for a local newspaper as a photojournalist for 6 years. As a street photographer, my passion is capturing the genuine and raw emotions in real moments.

What I love most about Amsterdam is that I'm walking with my camera around one of the most photogenic and inspiring cities in the world. Photographing its beauty and everyday life on streets. Amsterdam has its geographically uniqueness and as a part of Dutch way of living. But at the same time still a very international city!

Best thing about being a photographer? There is nothing like capturing or "stealing" a moment which taught me into the visual storytelling that I'm fascinated by."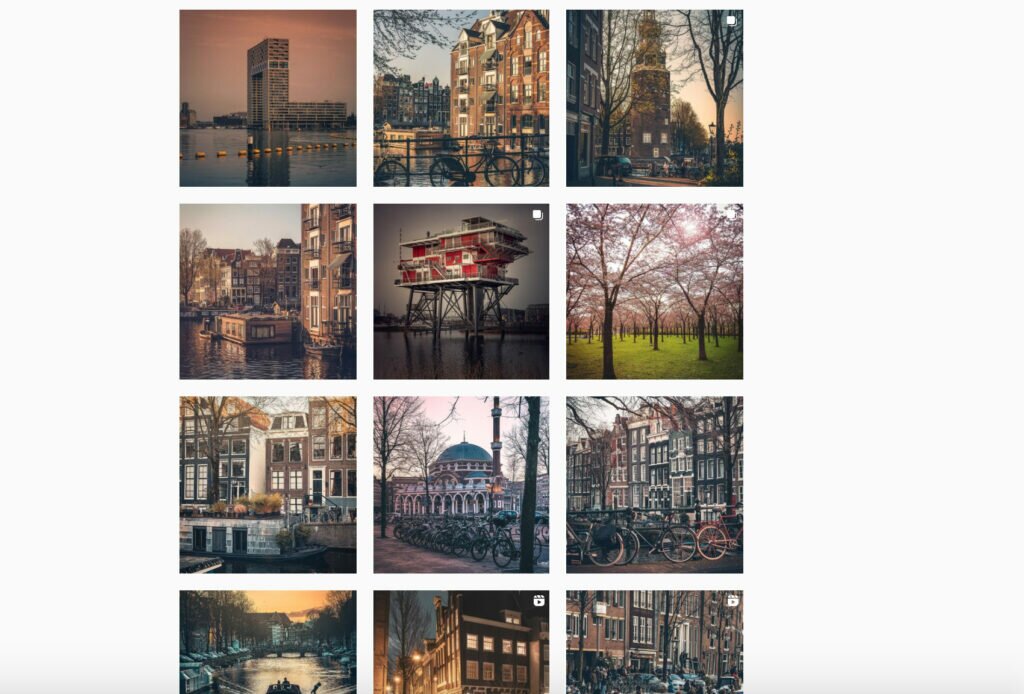 Ryan captures the city throughout the seasons. His pictures are very postcard-like, with warm colours and pretty views.
"I've always been a creative person but I never really got into photography seriously until I moved to Amsterdam a few years ago. It's such a picturesque city. I really love capturing the unique architecture and postcard views. I love finding new interesting places that I've never shot before. Even though Amsterdam is quite small there are lots of interesting places to see. It's also a great place to walk around, I find it very relaxing. Recently I've been doing more portrait photography in the city which is a new challenge for me but very rewarding when your client loves the result."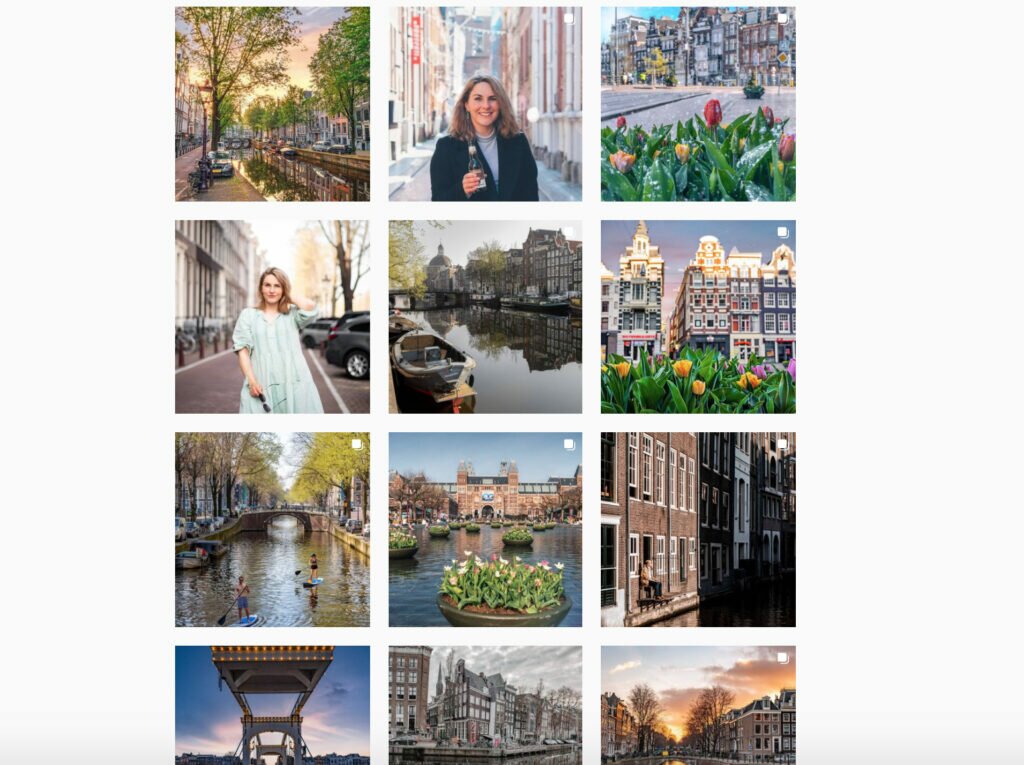 Nora has a colourful account where she shares beautiful images of the city, playing with light and the weather. She also has quite a few beautiful reels that you shouldn't miss! She is inspired by Amsterdam's beauty and likes to go out for photos early in the morning. On her website she sells prints and posters; she also offers photoshoots and a photography workshop.
"I am a 28 year old photographer who likes to capture the beauty of Amsterdam. The essence of the city and the pureness of it without the prejudgement some people might have about it. I have a web shop and sell my work there. Besides this, I also offer photography workshops and photoshoots in the beautiful city. What I love most about Amsterdam is that is has so much to offer. It looks beautiful in every weather condition, season, time and I can take the same photo of the same place ten times but on different days in the year and different times and they will all look amazing and so different. The most satisfying part about being a photographer, for me, it has been the fact that I can earn money with doing what I love. It doesn't feel like work as I enjoy it so much. Another very satisfying thing is that I have met so many amazing people through photography that I now call my friends."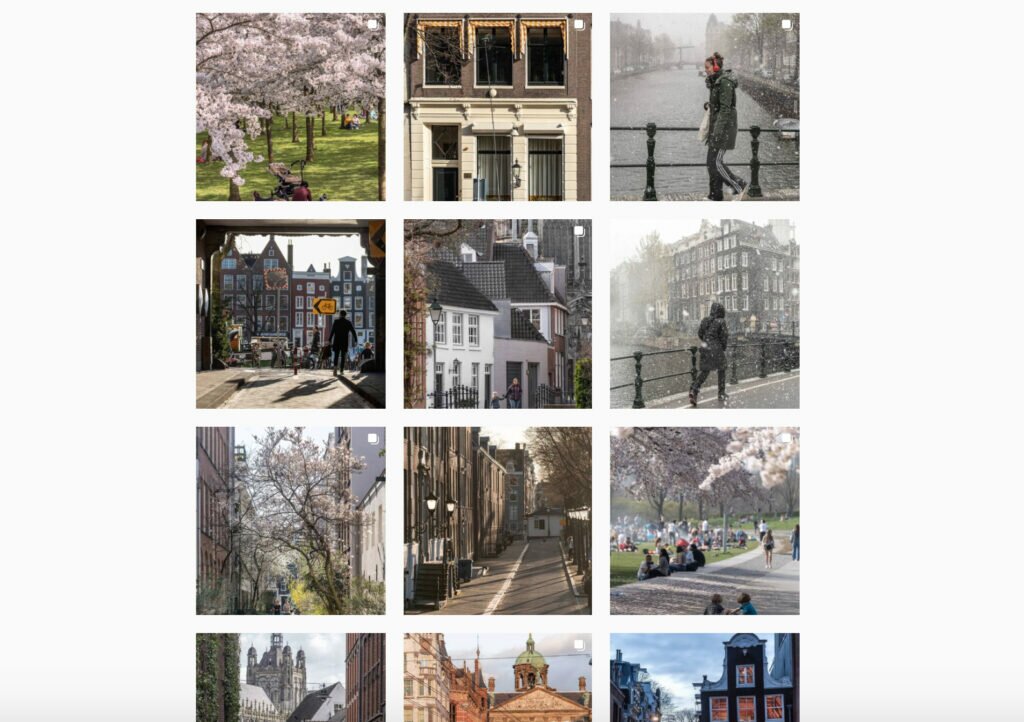 Jan captures Amsterdam's street life as it is: you will see many candid and sometimes funny street scenes on his account. It's just people going about their life, cycling, laughing, walking their dogs.
"My name is Jan and I'm a street photographer living in Amsterdam. I travelled a lot and loved to document my travels by train through Europe and Asia. As always with travel you miss al lot of beautiful moments. Sitting in a train or restaurant and seeing life enfolding before your eyes behind the window and missing them because you can't rush out with your camera. This made me think what if I would take photography a little bit more serious (my journey started five years ago) and document life around me in the Netherlands. The typical Dutch stuff. Little moments. That's how it started. I loved photography for a long time but more as a visitor at exhibitions.

I am inspired by all the great photographers from the past (and contemporary ones). People like Elliott Erwitt, Lars Tunbjörk and Martin Parr. And in the Netherlands people like Bernard F. Eilers, Henk Jonker or Merel Schoneveld. I'm nowhere near their skills, but I would love to have a documentary feel or ironic touch to my street shots.

What I like the most about Amsterdam is that it's a small village with all the possibilities of a city. Not too extensive and expensive like NY, London or Paris. But with enough decent museums, an opera and Metro lines to get a city feel but on the other hand no long travel or commuting times within the city. I did a lot of night/evening photography in the past. Hour before and half hour after sunset. But at the moment I like every moment if the day. Finding slices of city life and capture them in flat broad daylight is even more satisfying than with a beautiful spectacular evening sky."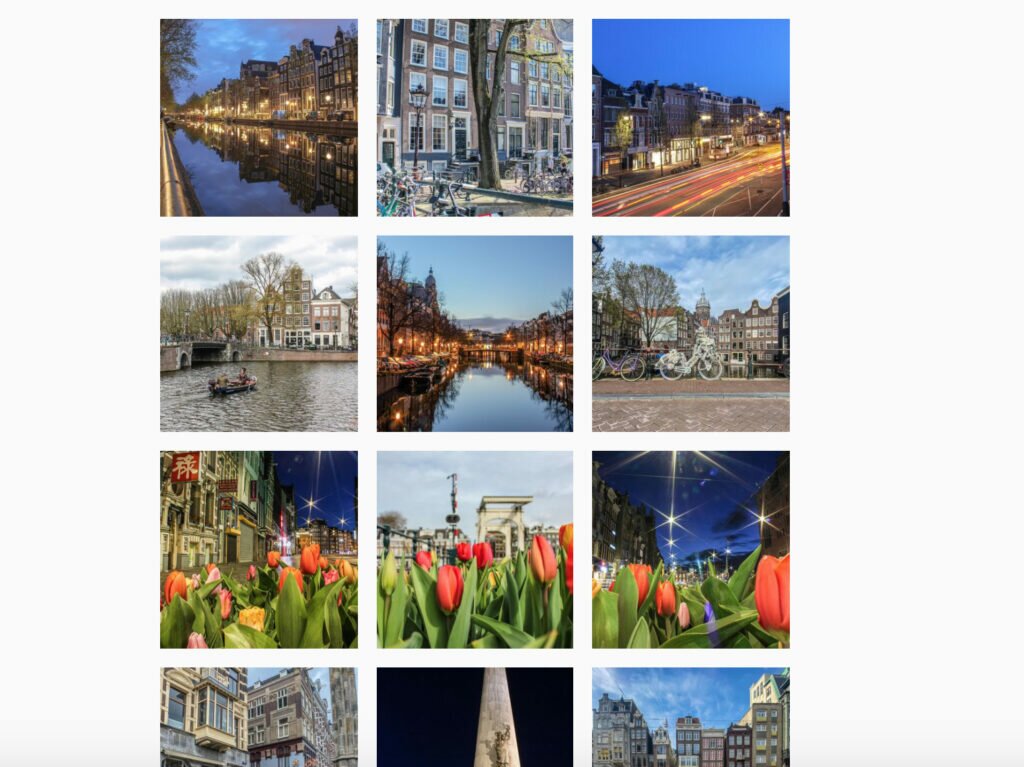 Jerry started his account by sharing only pictures he was taking with his phone, and later he decided to move to a camera. He is a very prolific Instagrammer, posting very often, and he covers mostly the city centre.

"I love the beautiful architecture from Amsterdam; every canal house is different and it looks like a film decor.
My favourite time to go out shooting is in the summer around 6 am, when Amsterdam is still a sleep and you see the day begin with the beautiful sunrise between the canals."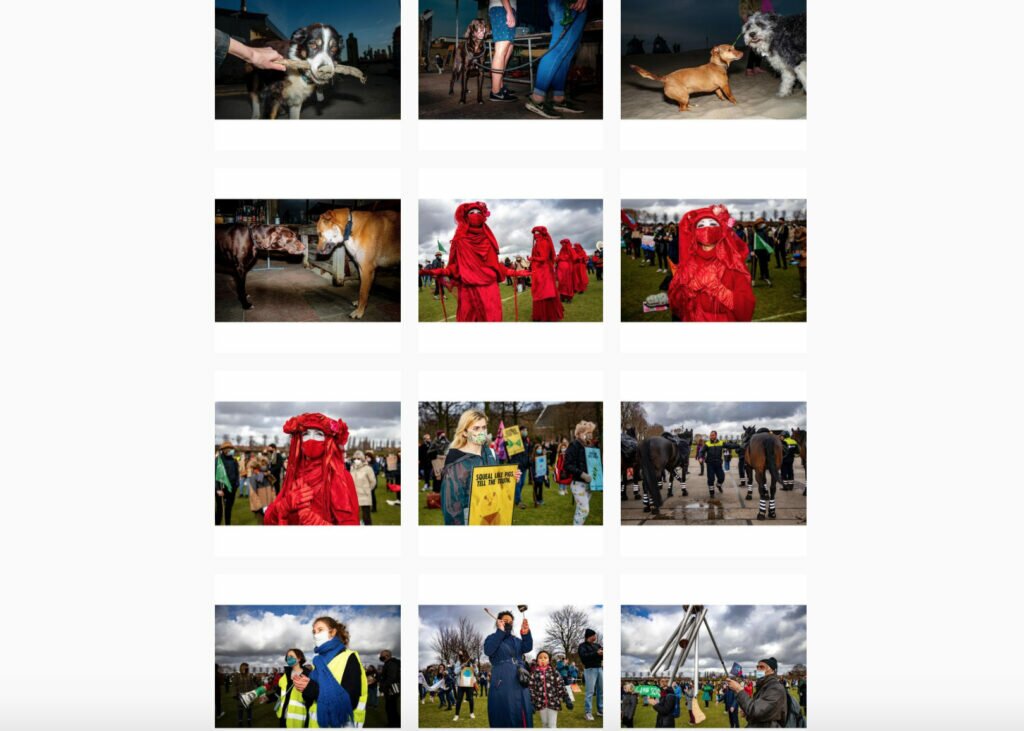 Ilse experiments with documentary and street photography. The streets of Amsterdam come to life on the phone screen when you check out her account. Faces are staring at you, people are protesting, dogs are playing. Make sure to check her website too, for her portfolio and to find out more about her.
"I studied anthropology and human rights. My fascination and love for people is the red line throughout my career, and inspires my photography as well. I find people beautiful – their diversity, their creativity, the scale of emotions visible on their faces as they move through the everyday activities of life – walking down the street, talking to friends, going shopping. Expressions can reveal so much soul in the most ordinary of moments. My street photography is generally less about the setting than about the people in it; it is about documenting that "soul".

When much of the city closed during the lockdown, I started photographing demonstrations. I'm very moved by the determination in people's eyes as they stand up for what they believe in. No matter how different we all are, those emotions are universal, relatable, they're what make us human. I find capturing that humanity incredibly rewarding. The great thing about Amsterdam is that there is always something going on. The city's backdrops are as diverse as its people – from world heritage sites to more modern settings like the NDSM Werf and the Zuid-As. It's hard to imagine every getting bored of photographing here."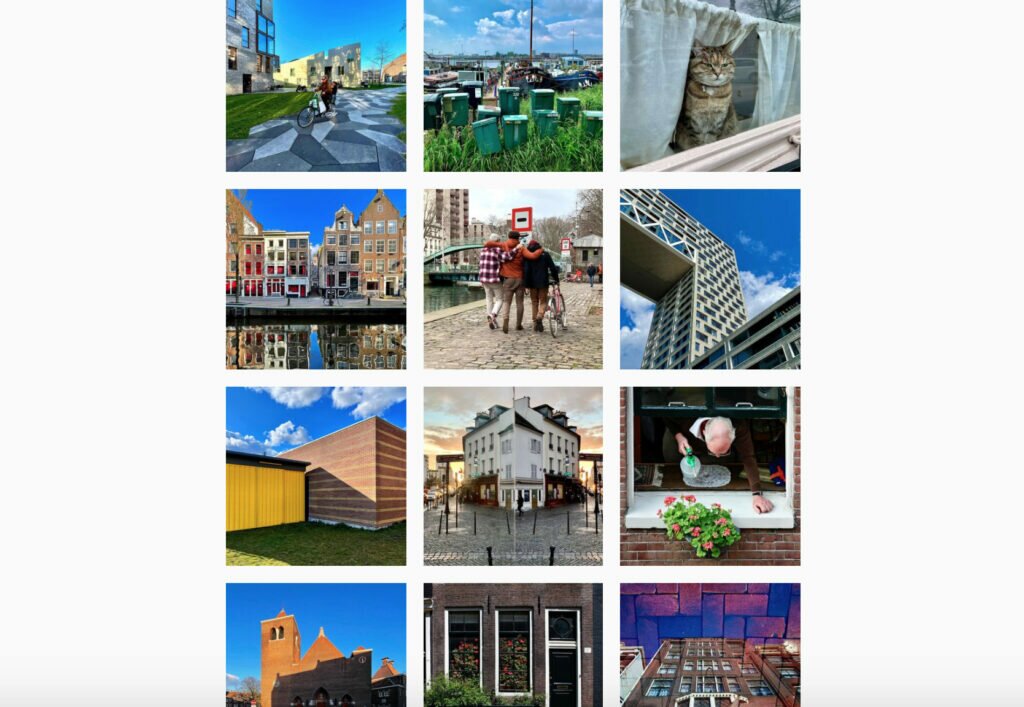 Michiel's street photography style is sometimes minimalistic and detail oriented. A shadow, a bird, shapes aligning, an old man watering plants on a windowsill. I find his photos honest and refreshing.
"I moved to Amsterdam in 1996, so after 25 years in the city I think I am allowed to call myself an Amsterdammer. I started doing photography in 2002. Before that I made short videos together with a friend. But after seeing my boss busy with his camera I got curious and wanted to experiment with photography. Since that time I learned a lot about what interests me and what is a good photo according to my own standards.

I love going about the city and focus on things that most people don't see or just walk past. So I often look up or look down. I always try to find something special in our daily surroundings. It is easy to create a spectacular image in a spectacular surrounding. I like to find something interesting next door. I am particularly fond of reflections, shadows and graphic lines and structures. Perhaps because I am a graphic designer.

I love the diversity of the city and the hustle and bustle. If you go out there, there's always someone to chat with, something new to discover. I have always loved that there are a lot of different people living here. I hope this will stay the same, but I am afraid Amsterdam will become more and more "elite" and uniform, which to me isn't a good thing. Wealthy and well educated people are not always the most interesting to talk to."
13. @aboutamsterdam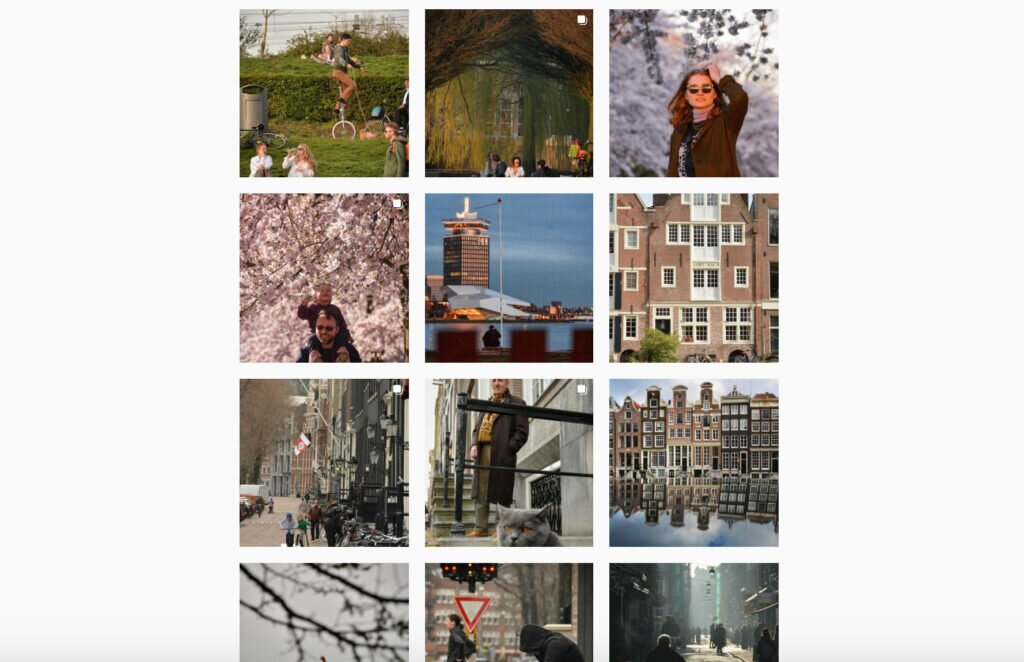 Mathilde is a prolific photographer who captures Amsterdam in many beautiful pictures: people, streets, architecture, golden hour and fog. She brings a smile on my face many times and it's always a pleasure to look at her work. She's also a life coach, and you can check out her website to find out more.
I am Mathilde Lawalata, 43 yrs old and I live in Amsterdam. My father learned me all the tricks when I was a kid. He and my grandfather inspired me to become a photographer.

My photography is inspired by the quiet side of the city, little details, see throughs, the light, city nature, a face or funny situation. It can be a lot of things. It is an intuitive expression of my connection with the city, people and nature.

What I love most about Amsterdam is the feeling of freedom, the possibility of being who you are. The most satisfying part about being a photographer? I enjoy the city and see so many beautiful things, I can clear my head, express myself and being able to share it with people. Also it is nice to cycle through the city with my camera and just see where I go without a destination.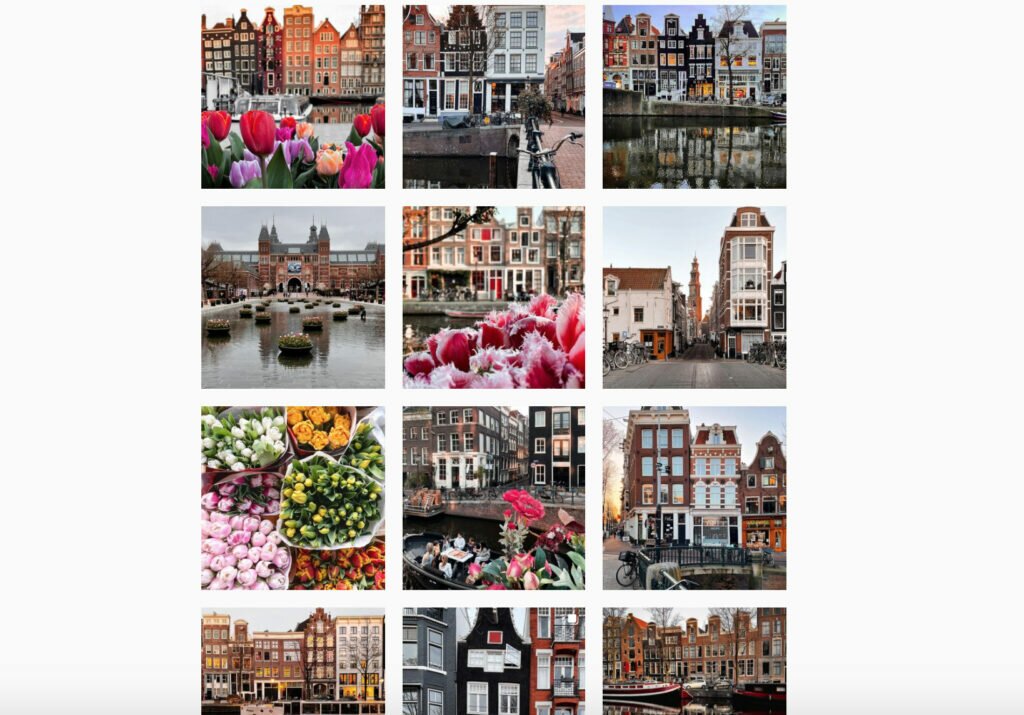 The mysterious Velvet Boulevard has a thing for façades and flowers. There are not many posts on her account yet but we're waiting for more.
"I am just a regular girl with regular job that sees photography as a creative escape from everyday world. I love traveling and capturing architecture, old buildings and hidden little spots is my favourite activity while exploring new places. Unfortunately, traveling is not what it used to be, but I am so lucky to be "stuck" in Amsterdam during this pandemic, as it is perfect picturesque city with so much charm and history. I love how inviting and cozy Amsterdam is and you can really feel at home just walking around canals – especially during evenings as evenings here are just magical.
My favourite part about photography is how it can take people to places they cannot experience otherwise. So many people reached out to me saying my captures inspire them to visit Amsterdam and it is so special to be able to do that and to witness people falling in love with this beautiful city through the photos."
15. @wickedwy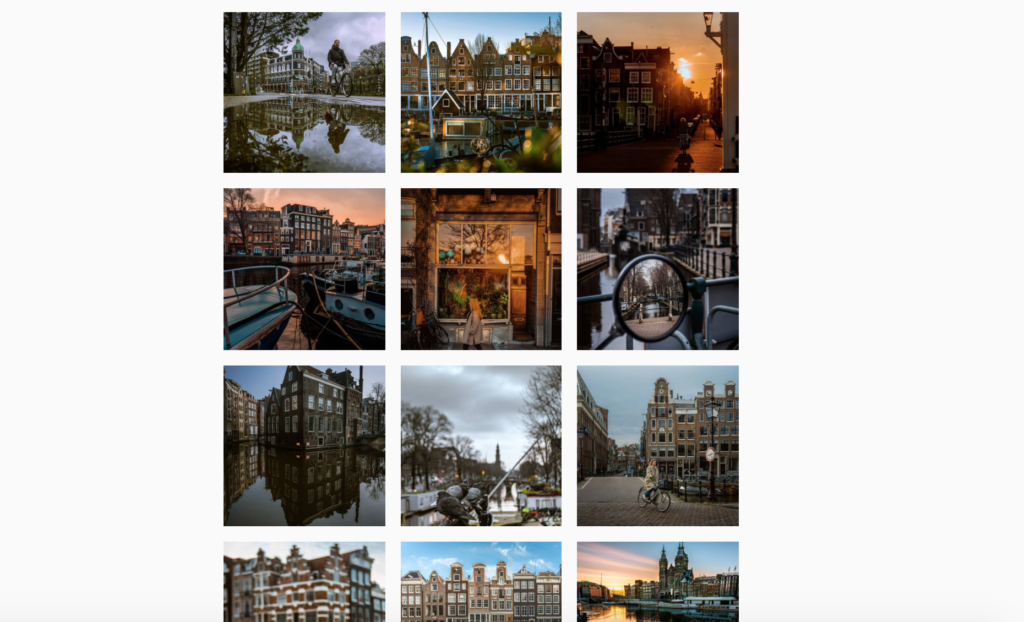 Wyatt shares pictures of Amsterdam in vibrant colours, capturing architecture, streets, gorgeous sunsets and sometimes people. It's nice to follow him around the city and through the seasons.
"Hi! My name is Wyatt, a photography enthusiast based in Amsterdam — a constantly changing city. Every time I walk around the city I see something new; whether it be a cosy looking corner or a newly opened hotspot. Even after all those years this place is still able to surprise me.

That's why I like to work with whatever Amsterdam gives me. Mostly, I don't plan on going on certain times. There are days I come home with dozens of useful shots but usually it's only a handful. If I had to choose, I'd choose a morning photoshoot. I love it when the streets and canals are peaceful and calm, to catch that one person cycling their way to work when the sun rises and then the city slowly wakes up.

I love that by holding a camera you can easily talk to strangers or that they are less afraid to approach you. I have met so many inspiring and creative people (some I can call friends, by now) just because of that camera. Hanging around with a fellow photographer is the best, however, because you're able to directly see their creativeness.

That's why Instagram is so awesome! I love scrolling around the 'Gram and seeing photos of the places that I've seen a hundred times before, but then there is that one picture that catches my eye. Maybe it's taken from another angle or with a different lens or at another time of day. It inspires me to do better and it reminds me that my photography will never be perfect because there are many eyes out there that put everything in a different perspective."
This concludes my list of Amsterdam photographers. Please leave a comment to let me know if you follow any of them or tell me your favourite accounts that I've missed.
Stay tuned for more and follow Amsterdamian on Instagram and Facebook for daily stories about life in the Netherlands. Please share this post if you liked it!

Check out my photo book: Amsterdam Through the Seasons!

For prints and other cute objects, visit our store on Society6.