Schoorl Dunes (Schoorlse Duinen) area is a nature reserve in Noord-Holland, one of the widest and highest dune areas in the country.
Before moving to the Netherlands, I thought dunes mean only piles of sand in the desert. But the Dutch dunes scenery is varied: forests of pine trees and perennial trees, areas covered in bushes (like the purple heather), lakes and the fine sand dunes with spiked grasses crashing into the beaches. The sand in Schoorl is whiter than what I've seen in the rest of the country, and it looks amazing. There are over 60 km of walking paths (11 routes, from 5 to 23 km) and a few routes for horses and mountain bikes. A great destination for a day of hiking, sea, and quality time outdoors.
One of the first places to visit recommended to me when I moved to Alkmaar was Schoorl. If you look it up on Google, you'll find mostly this image of a very high dune (over 50 metres), which will immediately get your attention since there are few high altitude places in the Netherlands. Here, a small hill becomes a mountain! Looked like I needed to see this place and climb the famous dune! Spoiler alert: I went to Schoorl and I didn't even get a glimpse of it!
I kept postponing my trip to Schoorl because I had to take the bus there; I couldn't go by bike, walk a few kilometres, then bike back. I'm not that fit. It is also possible to bike through the dunes, but I prefer to walk and notice all the little details. This month it was finally time to visit Schoorl Dunes. Waking up not very full of energy one Saturday morning, I decided it was a good idea to climb some dunes. There was also another reason to push myself that day: it was the last time I could see the heather fields in bloom.
There's an information centre at the entrance to the dunes park, so I asked there for directions to the heather fields. It seemed simple: take the blue arrow trail to the left and keep going till the number 19, then follow the blue to come back where you started. I decided not to take a map with me — my friend Google Maps was there to the rescue if I needed. So I set on my journey on the blue route, which goes through the forest. There was no sign of the very tall dune. I walked and walked; I passed lots of the little direction poles and noticed they were not numbered. I didn't worry.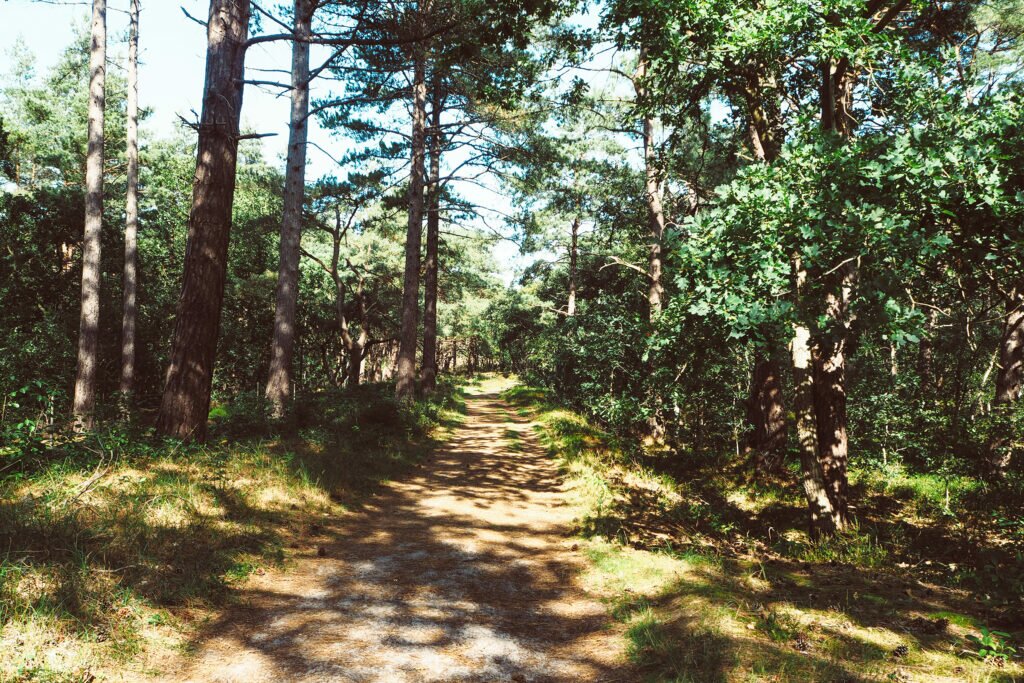 After a while I reached the pole number 18, but, to my surprise, the next one was 17. It was obvious that I did a wrong turn on my way there (or so I thought), but I kept going because I had no wish to go back. Also, I was still hoping to see that heather. Google Maps couldn't help me at that point as there was no signal in the area and I had no offline maps because who would have thought there are places in this country where there is no signal? I guess you are already impressed with my hiking skills by now, but please don't judge, I'm new at this nature thing. The blue arrow took me further through the forest and at some point I started seeing heather bushes here and there in between the trees, a sign that I was on the right path after all. The only worrying sign was that all these bushes were dried; not a drop of purple colour left in them. As it turned out, it was the case for the entire heather field that I found a few minutes later. It was a sour sight.
It would have been the time to take the trail back to the starting point, not that I had any idea which way that was. Also, suddenly, the idea to go towards the sea seemed like a very good one. Trying to find some directions, I found a nice guy to ask and he took me to a biking routes map. We established which was the right direction and I set on my way. To my surprise, that was still marked with blue. I was reluctant: from the indications I had, that should have taken me back to my starting point. But I kept going. At that moment I was already tired, hungry, and ran out of water. When the forest ended and I entered the sandy trails, I knew I was on my way to the sea. That part of the journey seemed to be never ending. I felt like a contestant in a survival TV show. Will I make it to the finish line or will I have to call the crew to bring me home by helicopter? But there was no helicopter waiting to save me. In what seemed like half a day later, I saw the blue sea between the sand dunes. It was a glorious moment! I still had to struggle to get over those dunes, but soon I could cool off my feet in the cold water of Schoorl aan Zee, so I can still be able to walk the rest of the day.
Arriving at Schoorl aan Zee was not the end of my adventure. There is a bar where you can get drinks and food, but there is no bus to take you home from there. To go back the same route wasn't an option, so I walked towards Hargen aan Zee, and from there to Camperduin, from where I could take the bus. All this happened in about 4 hours, but it seemed to me it was a full day. Was is worth it? Definitely. Will I go back? For sure. I still need to see that tall dune. But next time I'll go prepared, with maps and more energy.
If you decide to go for a visit at the Schoorl Dunes, there is a website (in Dutch) where you can find maps and info for hiking trails in the Netherlands.
How to get there by public transport: from Amsterdam (or wherever you are in the country), take the train to Alkmaar and from here the bus 151 to Schoorl, station Idenslaan. From there, you can walk to the visitor's centre and start the adventure.
Stay tuned for more and follow Amsterdamian on Instagram and Facebook for daily stories about life in the Netherlands. Please share this post if you liked it!

Here you can find my photo book: Amsterdam Through the Seasons!

If you want to buy prints and other cute objects, check out our store on Society6!