This page includes affiliate links. If you click and purchase, I may receive a small commission at no extra costs to you.
If you search for "Amsterdam gardens" in a browser, you'll find many results telling you about Keukenhof Gardens and the tulip fields. But neither Keukenhof nor the tulip fields are in Amsterdam. You would think, judging by those results, that Amsterdam doesn't have gardens and parks, but, trust me, that is certainly not the case! Amsterdam is one of the greenest cities I've seen (like many other Dutch cities, because Dutch people love their flowers). The parks are plenty and beautiful, and the streets are green: everywhere you look there's a sidewalk garden, a few potted plants, trees surrounded by bee-friendly flowers. Every available soil spot is used. In the spring, flower lovers and photographers wander through the city searching for the roses, wisteria and hydrangea. It feels like micro-festivals, and I enjoy so much looking for the best flower spots (I have a mental map by now), visiting my favourite ones and sometimes discovering new ones.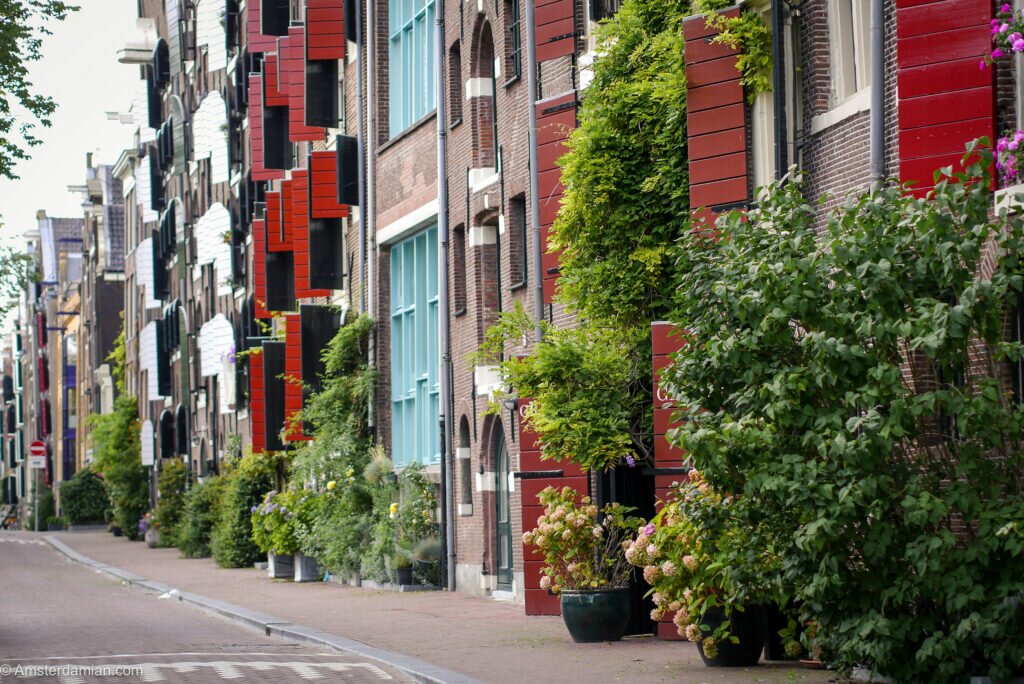 However, because of its architecture, most of Amsterdam's private gardens are hidden to the public. You might not know, but behind every house facade there's an interior courtyard, which can be a genuine work of art sometimes, if the owner has green fingers! Some of the most famous gardens can be visited during the Open Garden Days festival, but they are not usually open to the public. Today I want to introduce you to a few gardens that are accessible all year round and can be visited for free. Grab your book and head towards one of these gardens to spend your summer days!

The Rijksmuseum Gardens
The wonderful Rijksmuseum is surrounded by gardens that are accessible to the public (you don't have to buy a museum ticket to see them). These gardens are exquisite, featuring tulips, summer flower beds and fountains and decorated with sculptures. I love going there for people watching or for a bit of silence when the garden is empty.
Address: Museumstraat 1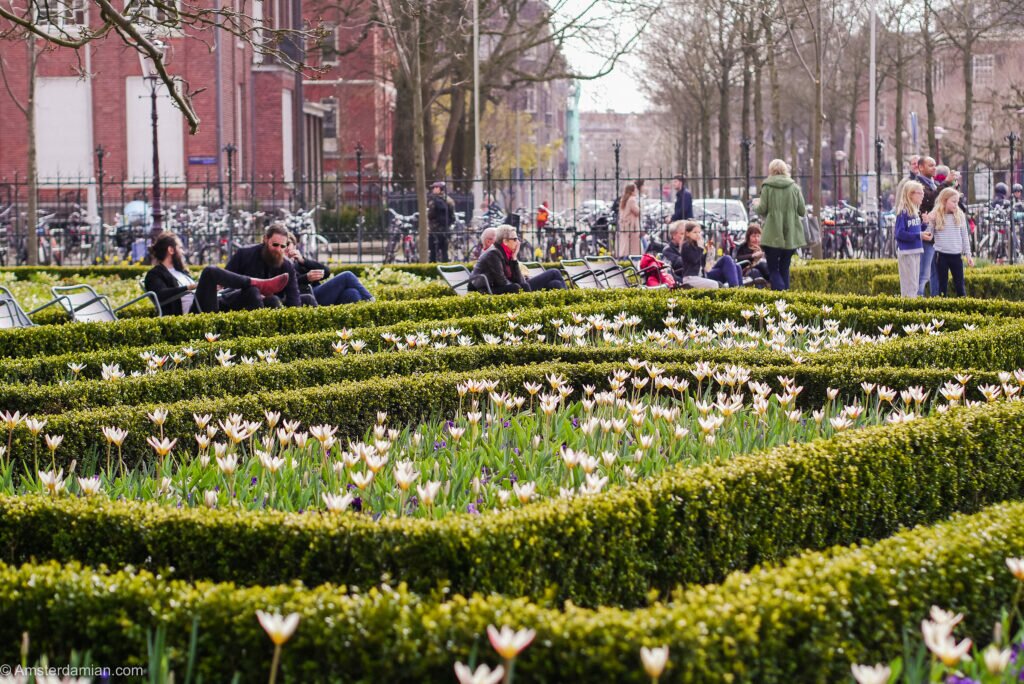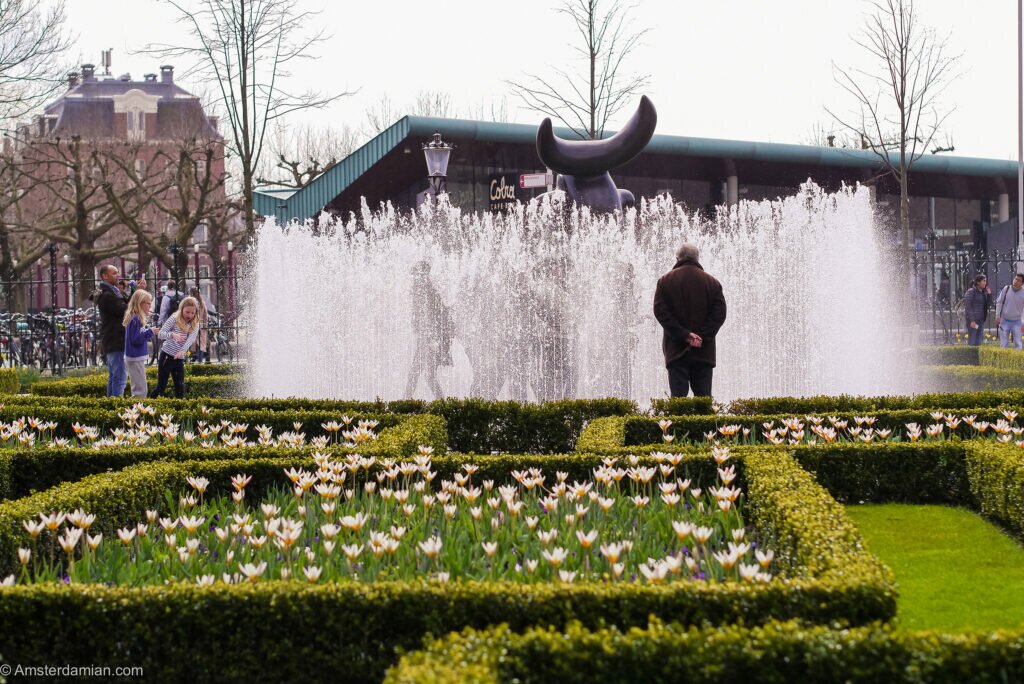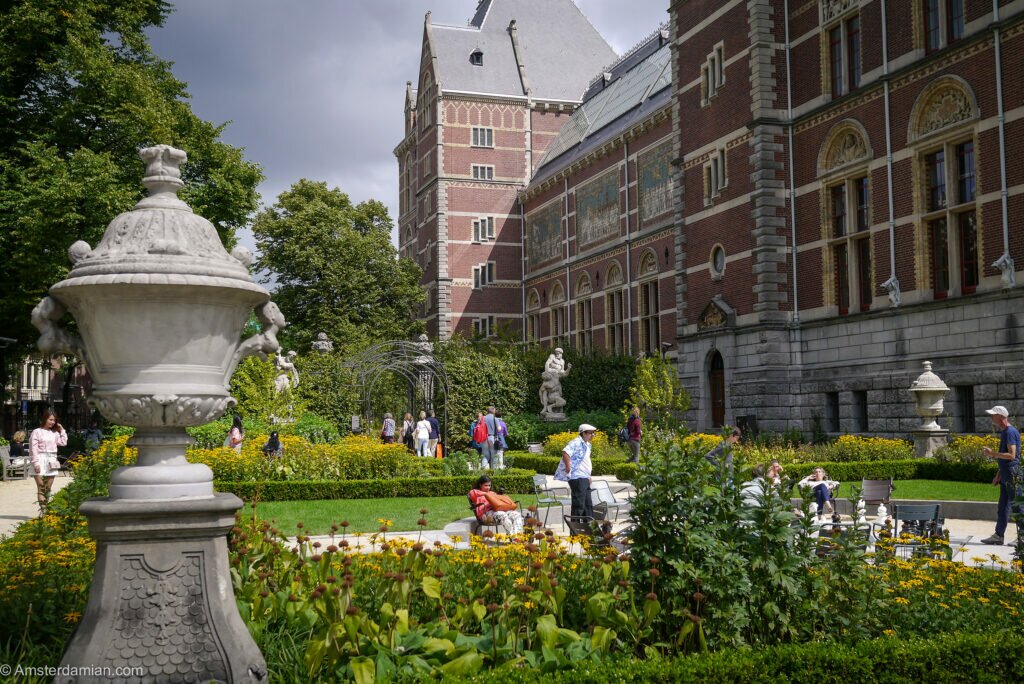 Begijnhof
In the centre of Amsterdam, one hidden courtyard that is not very secret is the Begijnhof. You will find this included in many city tours, but that doesn't mean it's not worth a visit. Hidden behind a door, it's a peaceful oasis where you can just pop in for a look around and a bit of green. Begijnhof was founded in the 14th century as a home for Beguines, an order of nuns who educated the poor and cared for the sick. Today, the houses are still residences (so you have to keep quiet when you visit), but there are no more nuns. You can also visit here the Houten Huys, one of the two remaining timber houses in Amsterdam, and the Begijnhof Chapel.
Address: Nieuwezijds Voorburgwal 373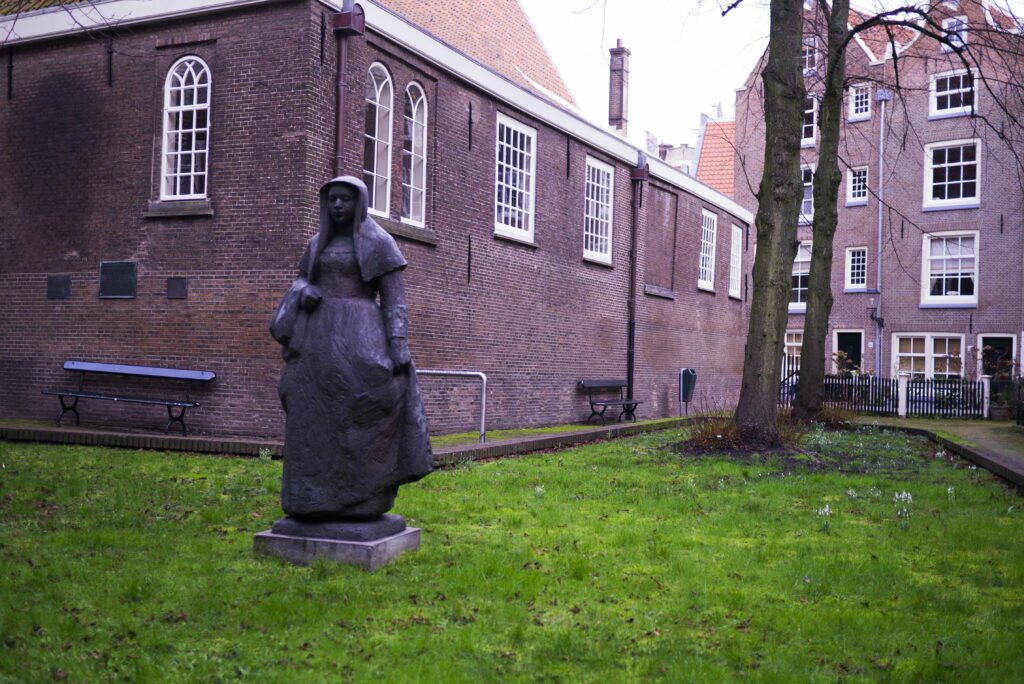 Karthuizerhofje
Another of my favourite hidden gardens is this hofje in the Jordaan, where you enter through a little corridor. It's not a place to stay for long: you can enter, have a quick look around without disturbing the residents and be on your way. You can also rest on a bench, as long as (again) you don't produce any nuisance but I find it a bit weird to stay there, in someone's courtyard. The street itself is one of my favourites in the Jordaan neighbourhood — very green and quiet.
For more hofjes in Amsterdam, check out the Amsterdam Hofjes website and Solo Sophie's blog post for more pictures and info in English.
Address: Karthuizersstraat 61-71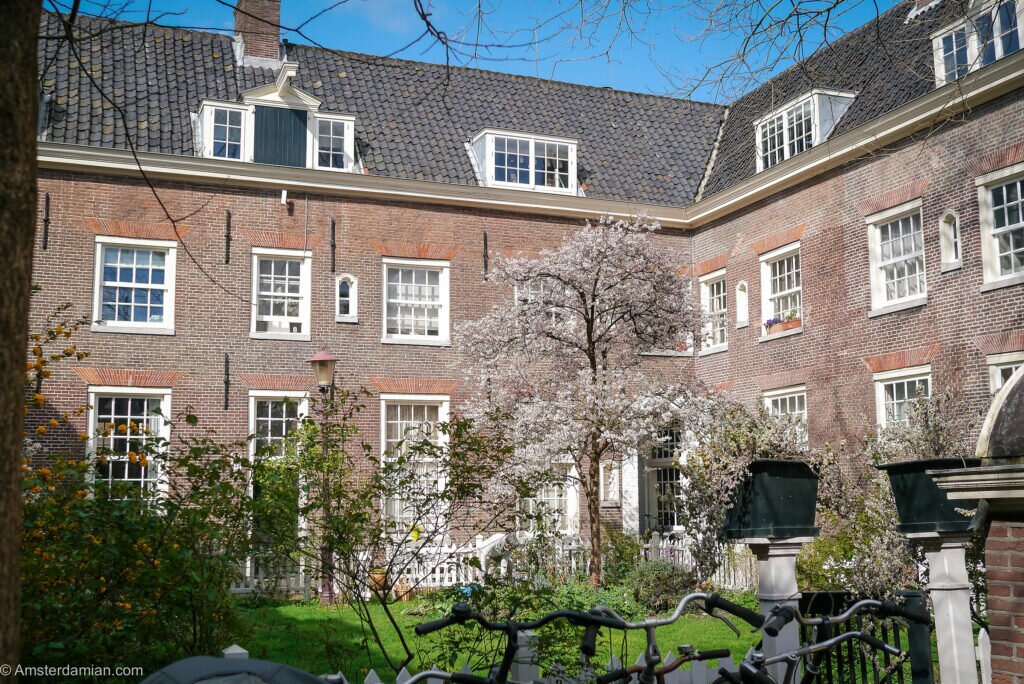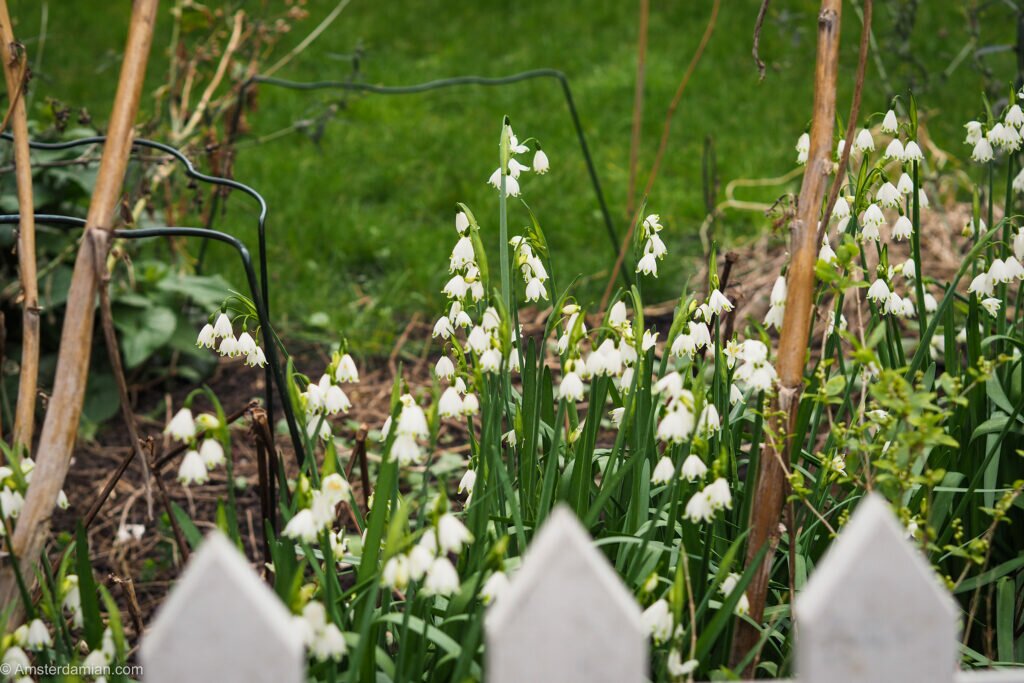 Frankendael Park gardens
Frankendael is one of my favourite parks in Amsterdam. It's small, compared to other parks, but it has so much to offer! From flower meadows to a herb garden, a walk in this park is always a treat for a garden enthusiast. The beautiful garden at the Merkelbach restaurant is a place where you can sit and relax on a bench, admire the cherry tree (you don't need to go to the restaurant, you can just enter the garden). Also in this area there are a couple of gardens maintained by volunteers from River of Herbs, with wild and medicinal plants.
Address: Middenweg 72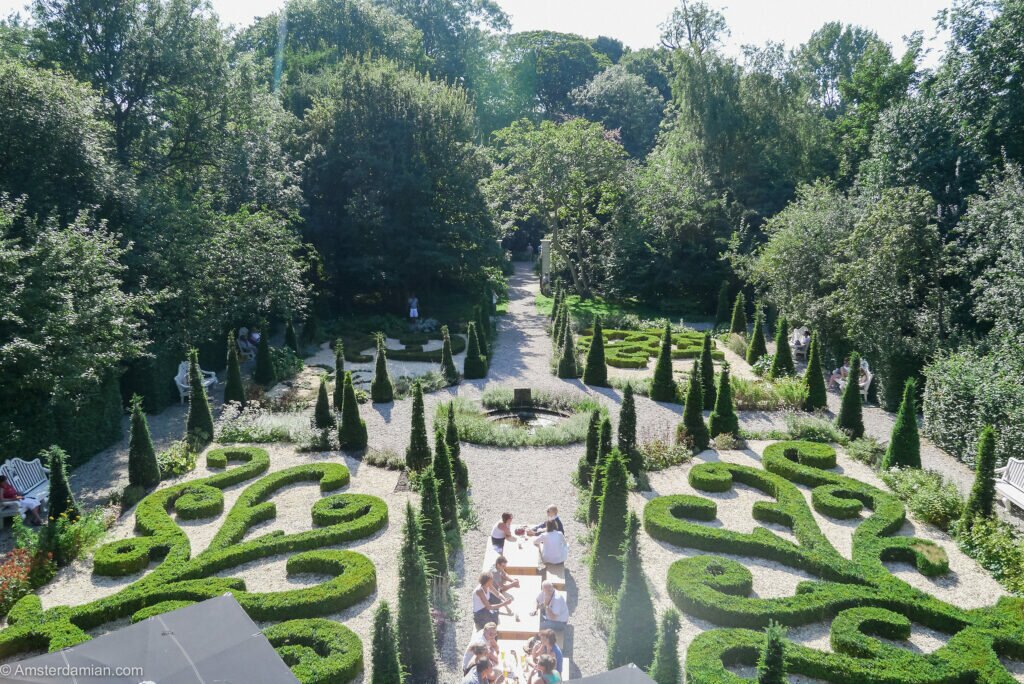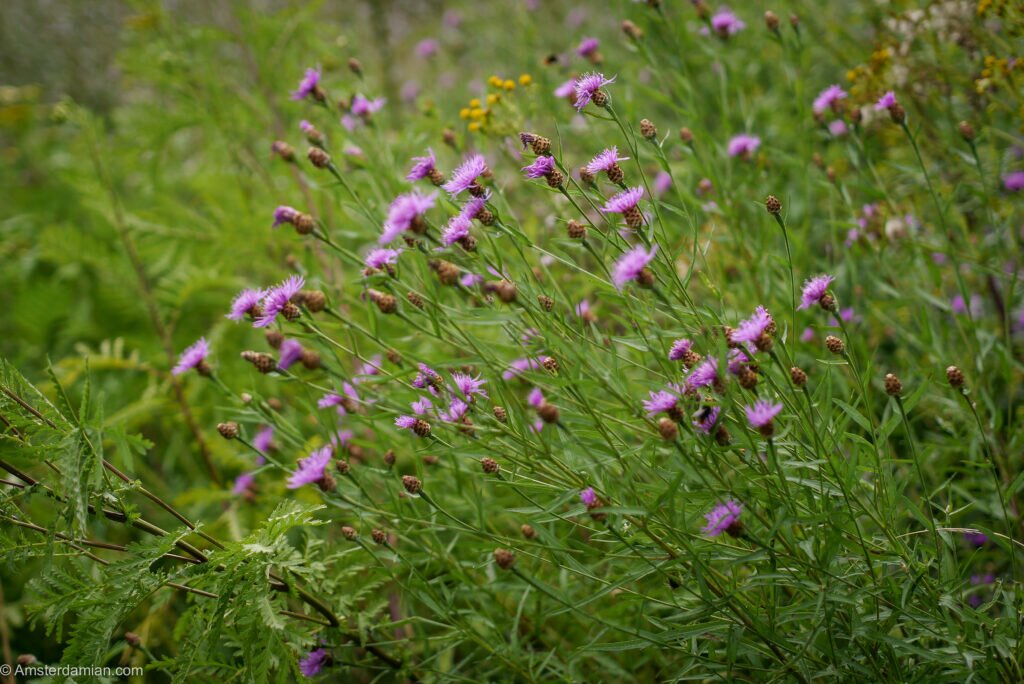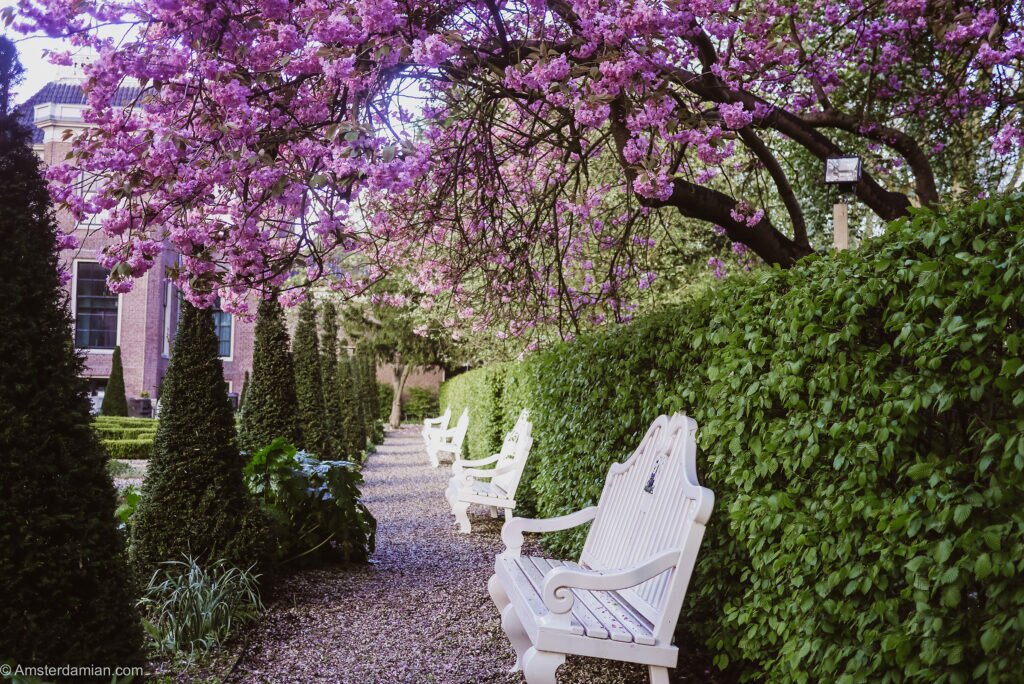 The volkstuin in Frankendael Park
Volkstuinen are popular in Amsterdam. A volkstuin is an allotment or a community garden, where individuals grow fruits and vegetables, flowers and trees. This one in Frankendael is very pretty, although not very big. You can walk around the alleys and admire the gardens and the tiny houses, but you may not enter the gardens. This was the first volkstuin I discovered in Amsterdam, and it really felt like I had my own secret garden.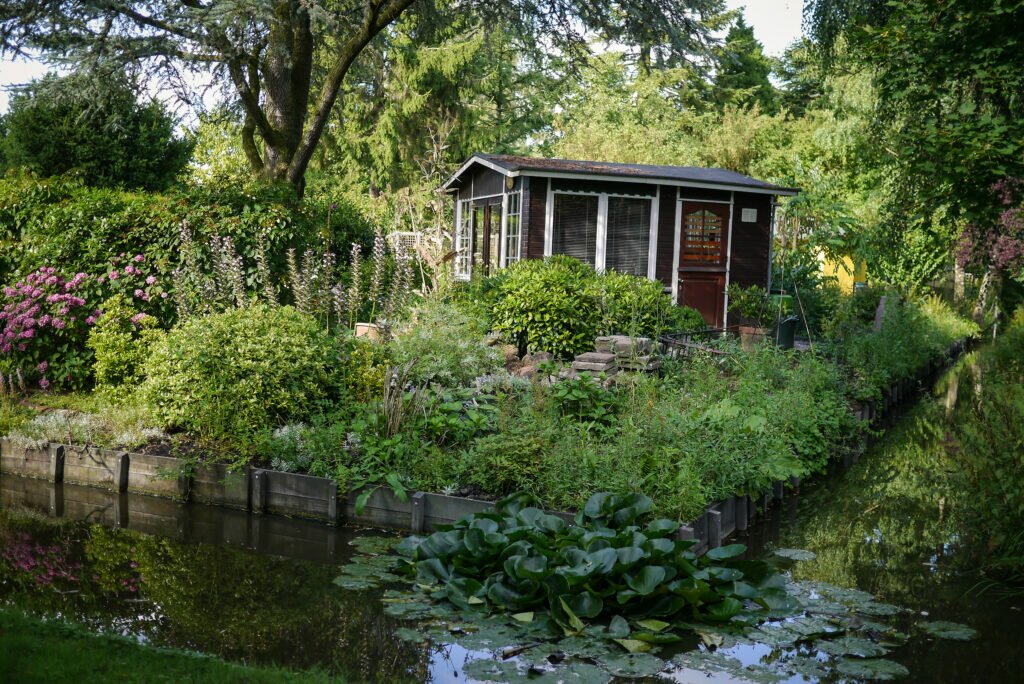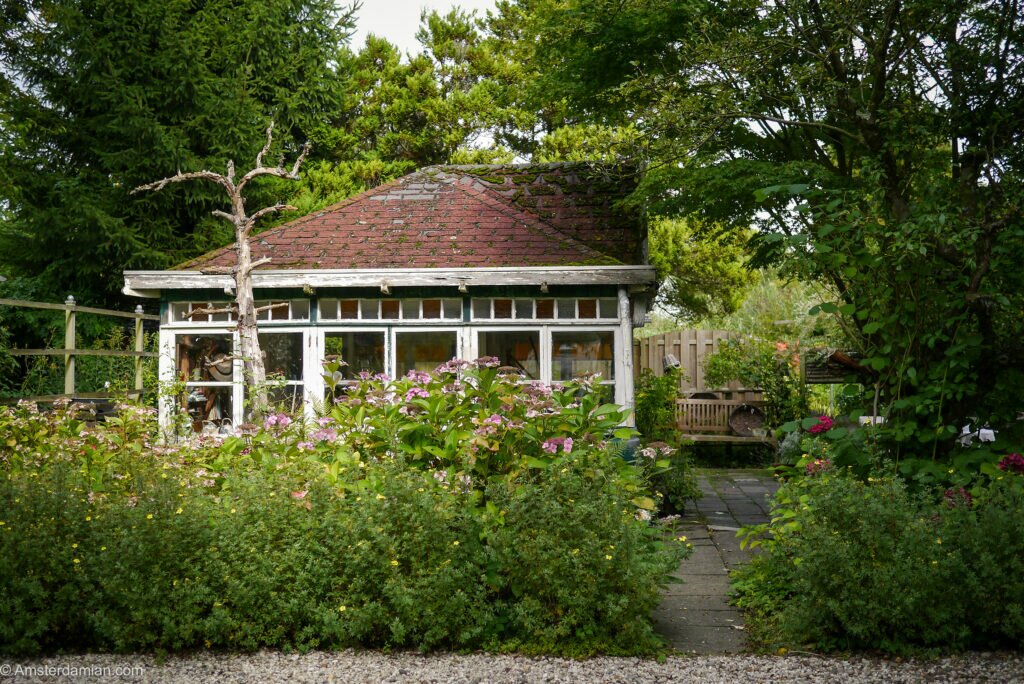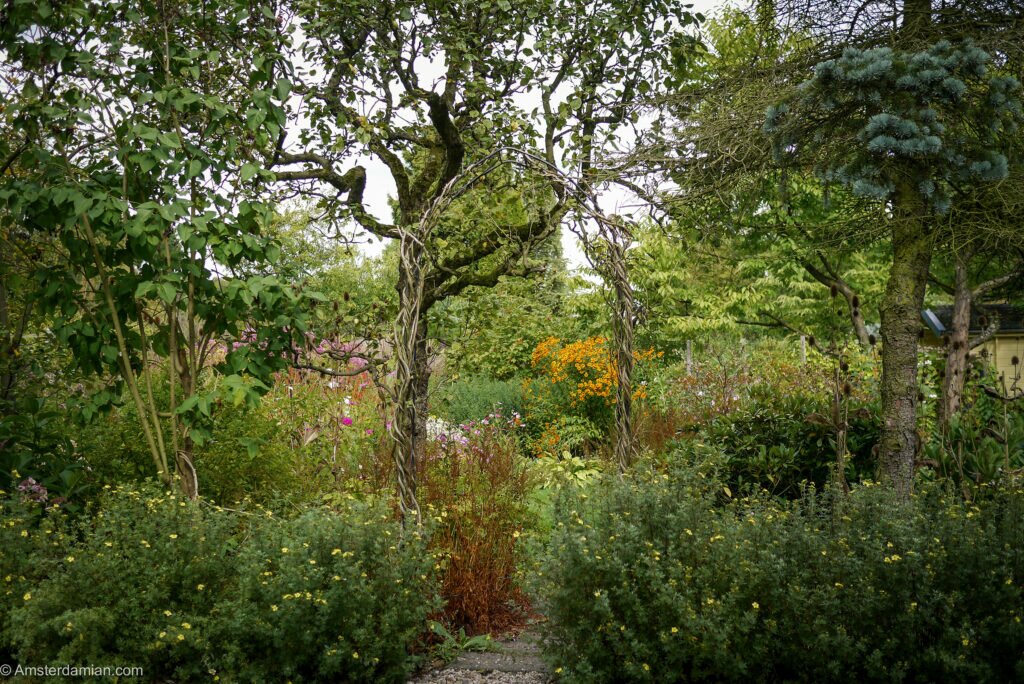 The volkstuin in Westerpark
This one is a larger allotment, with a labyrinth of alleys and beautiful gardens. Tuinpark Nut & Genoegen and Volkstuinvereniging Sloterdijkermeer are sharing this space. Entering the gardens is not permitted, but staring at them is totally fine (unless there's someone working in there), as is walking around the green alleys. I think the owners are in a contest with each other for the most beautiful garden; so much thought and work was put into those gardens that you almost feel at Chelsea Garden Show! Flowers, bushes and trees blooming all year round, little canals and ponds, birds singing and a bench here and there for you to sit down and enjoy: amazing!
Westerpark also has a cherry tree garden, a magnolia and rhododendron garden, a Japanese style river bed and a pond witch is covered in lilies in the spring.
Address: Westerpark, all the way to Sloterdijk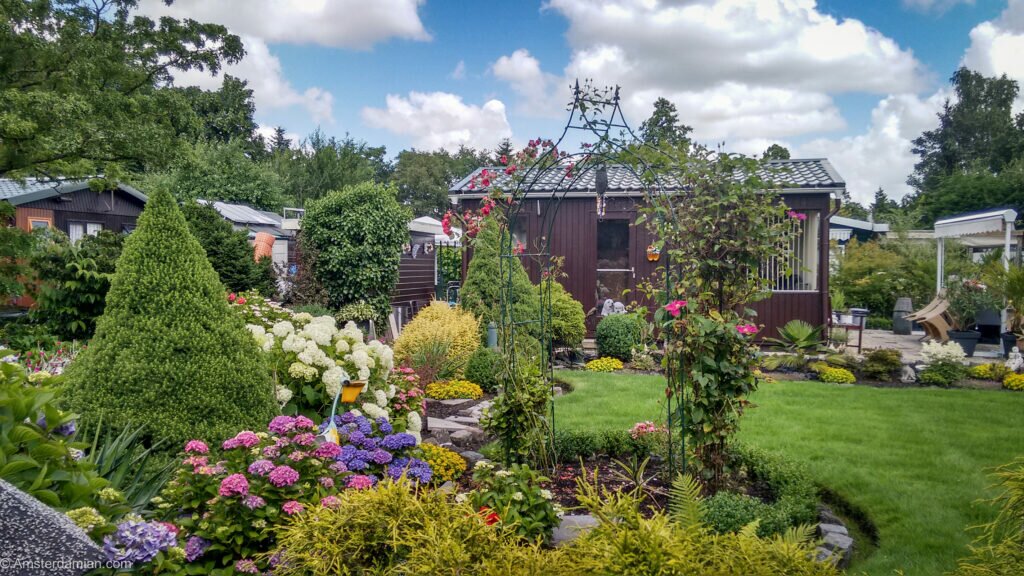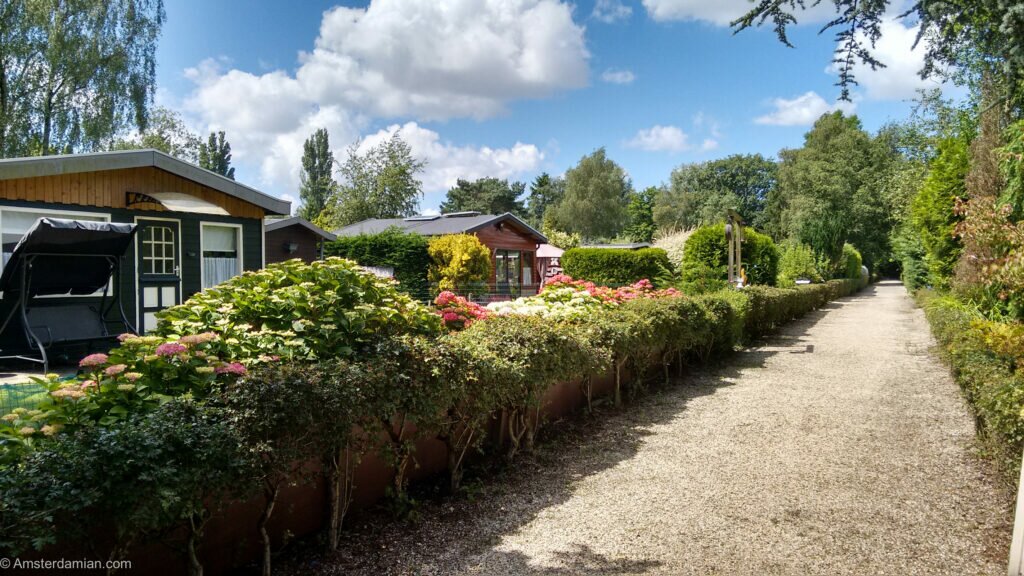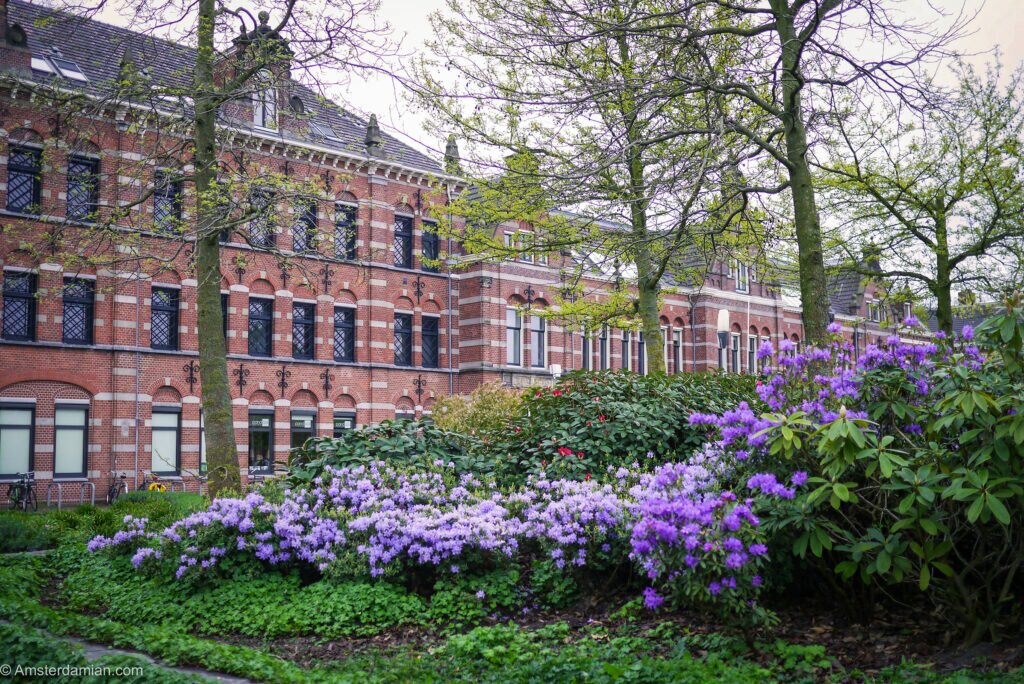 Zentuin
On a little corner of Bickersgracht, a beautiful little street on Prinseneiland, you will find a green oasis next to the water. This garden is maintained by the people living on that street and they are doing a great job! This is the spot where the yellow submarine is anchored and it was my favourite lunch spot for years, when I used to work close by. When I wanted to be alone and have a break from my colleagues, I would take my lunch and sit on a bench here, next to the water. This garden is popular during summer with people sunbathing and swimming in the canal, but most of the time it's empty and quiet.
Address: Bickersgracht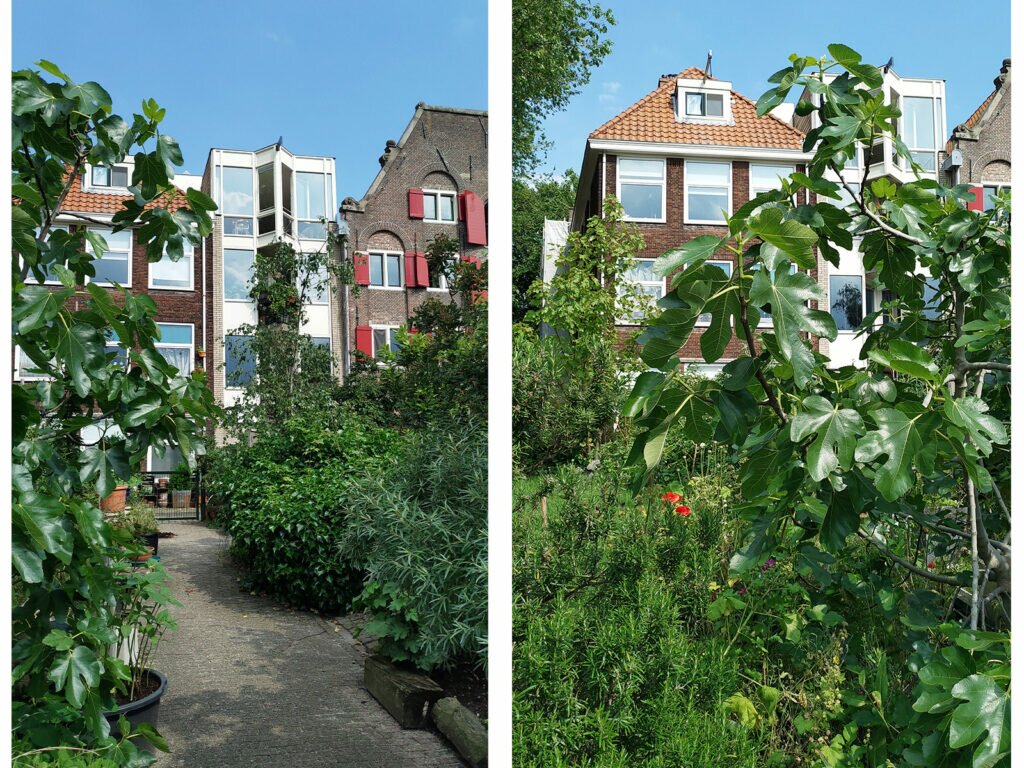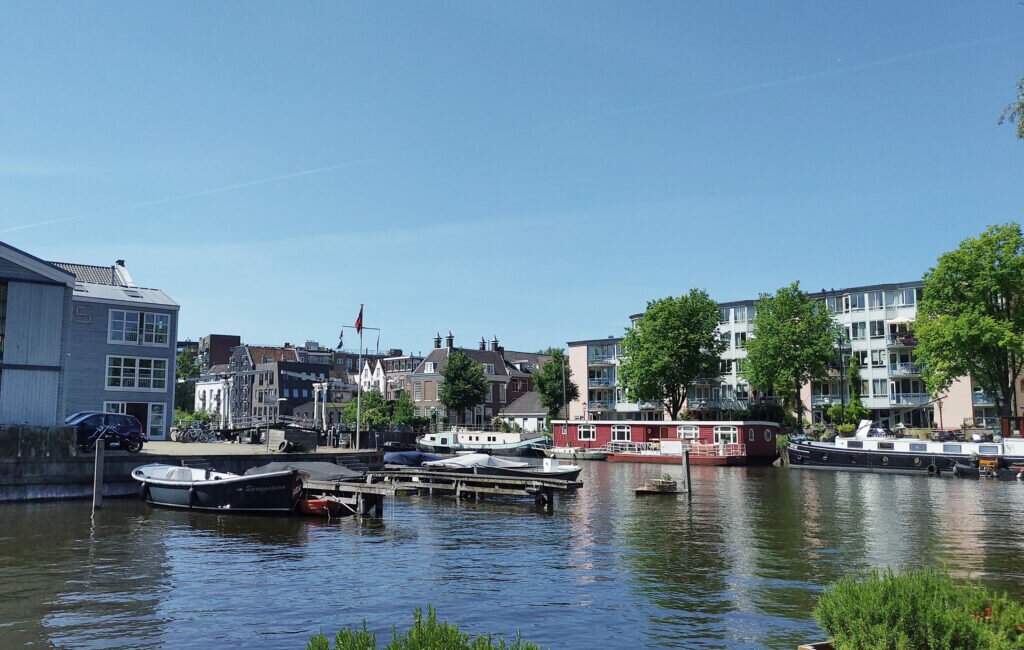 The Miracle Garden in Erasmuspark
The Miracle Garden is a unique flower garden in Amsterdam West, initiated and designed by the Amsterdam-based visual artist Elspeth Diederix. This is an art project: both for the art of gardening and the art of photography.
Address: Erasmuspark, Amsterdam West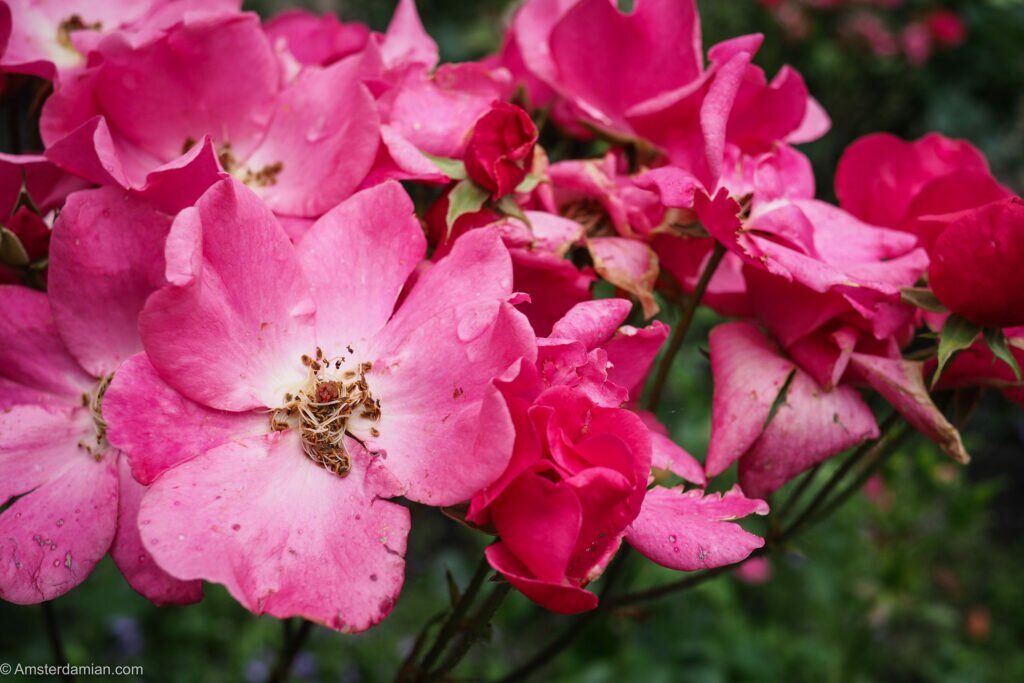 Amstelpark
Amstelpark has a few gardens to delight the visitors, you can pick your favourite from dahlias, roses (the Rosarium), rhododendrons and more. Amstelpark has the advantage that is not a crowded park, therefore a walk here can be peaceful and you can enjoy your quiet time among the flowers.
Address: Amstelpark, Amsterdam South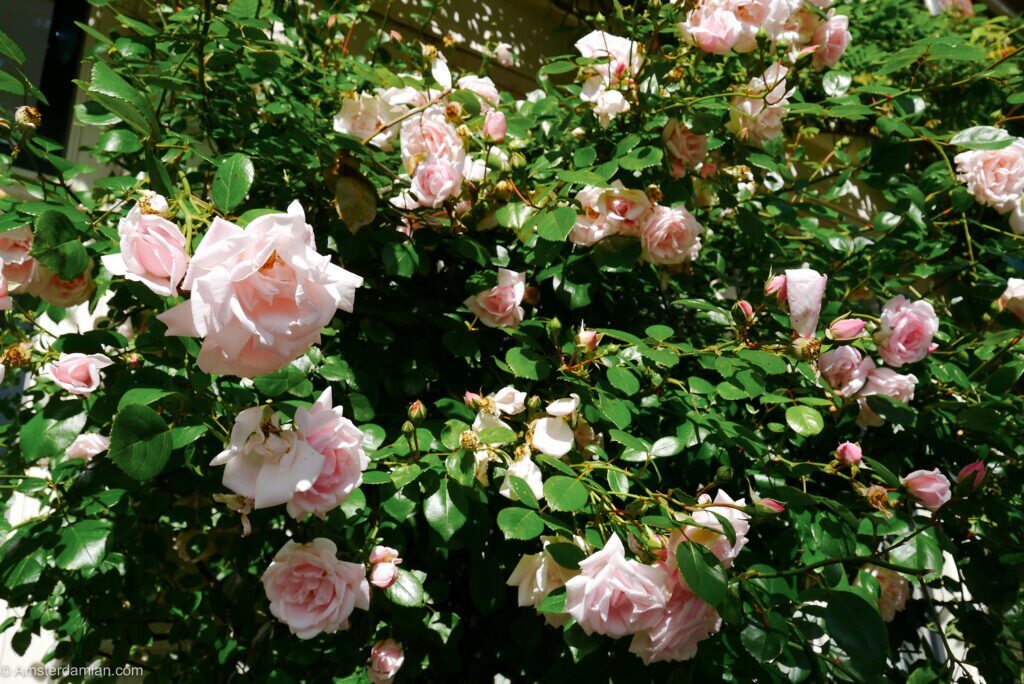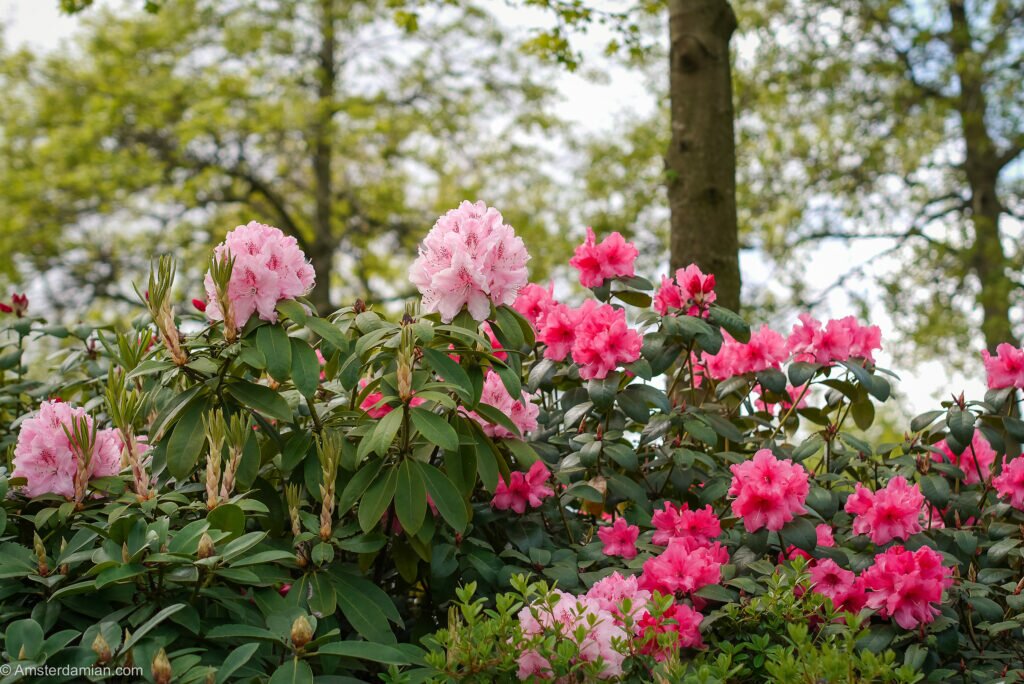 These are definitely not all the gardens in Amsterdam, but they are a starting point if you're looking for some. You probably have a favourite garden or green spot in your neighbourhood, if you lived in Amsterdam for a while. I have a few small ones that I decided not to include here because they feel too personal and I'm not ready to share them with the world yet, even if (or maybe more so because) they are not mine to share. I hope you enjoyed this garden hopping!
And here is a video from the Open Garden Days, by Amsterdam Calling, to show you some of the hidden gardens behind the canal houses:
Stay tuned for more and follow Amsterdamian on Instagram and Facebook for daily stories about life in the Netherlands. Please share this post if you liked it!

If you want to buy prints and other cute objects, check out our store on Society6!

And here you can find my photo book: Amsterdam Through the Seasons!