This page includes affiliate links. If you click and purchase, I may receive a small commission at no extra costs to you.
De Pijp is a charming, bohemian neighbourhood in Amsterdam, right outside the canal rings and neighbouring the famous Museumplein area; it's a part of the bigger borough called Oud-Zuid. It has a residential feel to it, but it's also lively, given the multitude of markets, shops and restaurants.
Famous for the Albert Cuyp market and the Amsterdam School architecture, De Pijp is also a popular destination for weekend brunches, boutique shopping and evenings out with friends. Streets in this neighbourhood are very green, with plants growing from every sidewalk "garden" or pots covering an entire corner of the street. There is a certain "messy" feeling in De Pijp that shows you this is a place to live in, not a museum: bikes and flower pots mixing on the sidewalks, the sidewalk restaurants, the many delivery trucks blocking the narrow streets in the morning. De Pijp is missing the perfection you see in Amsterdam's city centre, the impeccably decorated windows that the canal houses show off, and that creates a certain charm that you can only find here.
There are no canals in De Pijp, an unusual thing for an Amsterdam neighbourhood – but it is surrounded by water, including the Amstel River to the East. Although locals will argue that De Pijp is not what it used to be, because of the inevitable gentrification, I think you can still feel the mix of cultures when visiting this part of the city. It's one of my favourite neighbourhoods for a relaxing walk or a meeting with friends.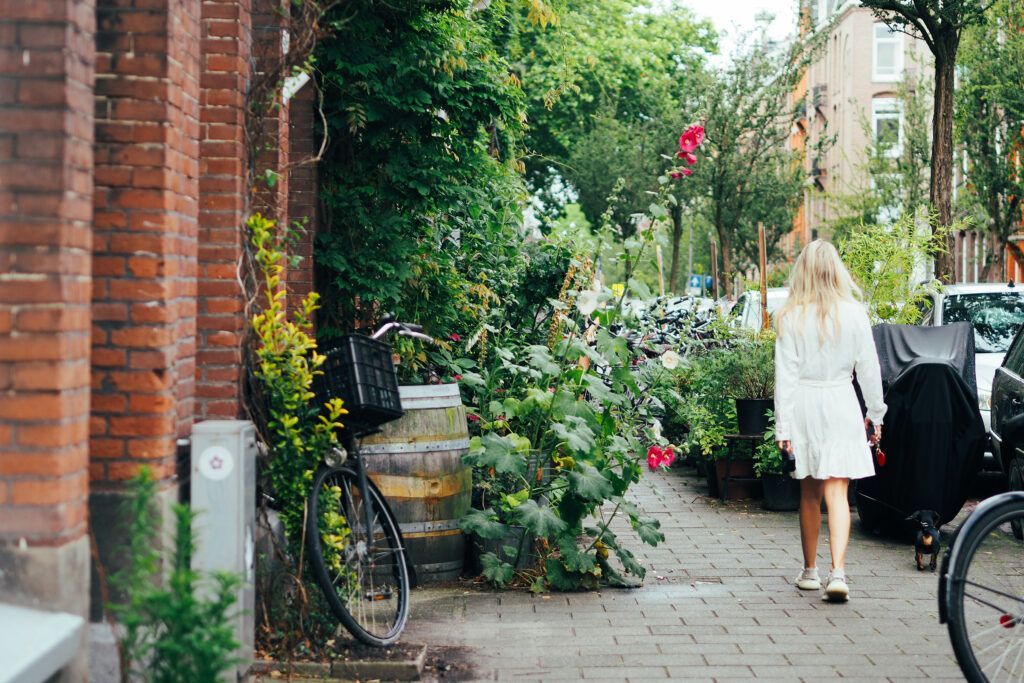 History of De Pijp
Let's start with the name: De Pijp translates as "The Pipe", and, although there are a few guesses as from where this name comes (a pipe that was going through the area, the streets that look like pipes, the funnel of people moving around daily, the gas company that supplied gas to the neighbourhood), no one knows for sure. The neighbourhood was built in the 19th century, to house the working class of the city and as an alternative to the overpopulated Jordaan. People from all cultures moved here, starting with Jewish and Spanish families and continuing with the waves of migrants from other countries. Many artists and students found a home in the cheap (at that time) neighbourhood, which got its name of Quartier Latin (Latin Quarter) of Amsterdam. Initially, De Pijp was only what we know today as Oude-Pijp, and it was expanded later with Nieuwe-Pijp and Diamantbuurt. Nowadays, De Pijp is not a cheap place anymore, but the bohemian spirit still lives on, and the mix of cultures is still visible in the variety of shops and restaurants.
Subscribe to our newsletter!
Things To Do in de Pijp – Like A Tourist
There are few touristy things to do in De Pijp, and that's what makes this neighbourhood so charming. When you visit De Pijp, you get to mingle with locals more than in other parts of Amsterdam's centre, and you focus more on enjoying the vibe than on checking off landmarks from your list. However, there are a few places that are on many tourists' list when visiting Amsterdam.
Albert Cuyp Market
Albert Cuyp is a street market on Albert Cuypstraat. It's the largest street market in Amsterdam and the cheapest (or so they say). The stalls have everything from fruit and veggies to fish, typical Dutch street food (like herring, stroopwafels, Vietnamese spring rolls) to clothes, cosmetics and flowers. The market entertains people since 1905, and it's still a very popular spot for locals and tourists alike. The side streets are packed with restaurants, perfect for a stop for lunch or a coffee, after you've finished shopping.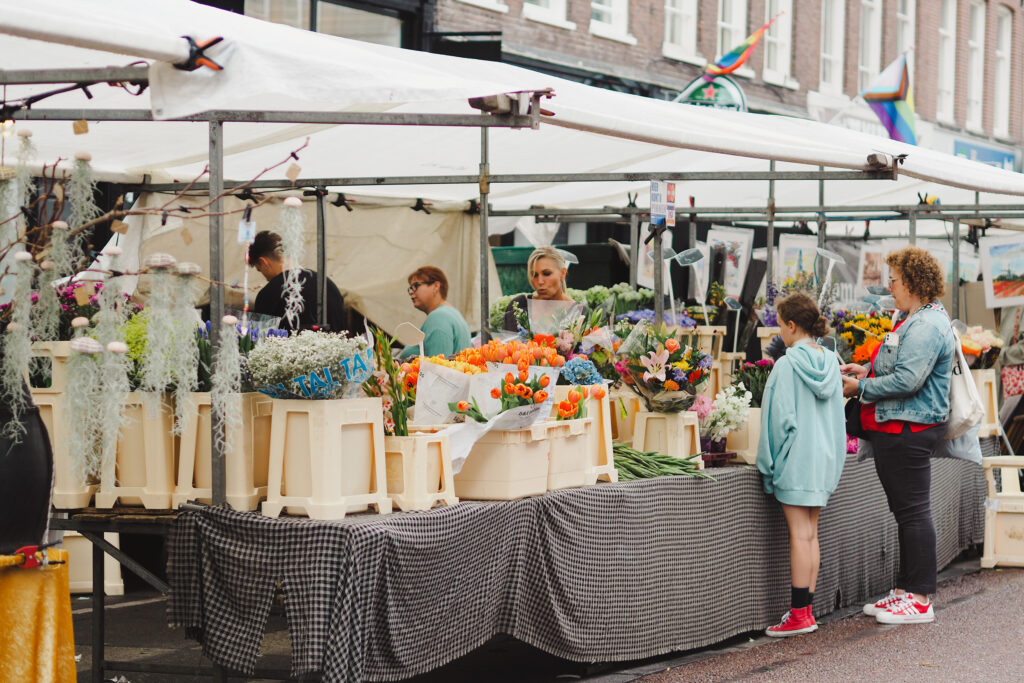 The Heineken Experience
This one is for beer lovers. An interactive experience in the first Heineken brewery in Amsterdam. The brewery is now a museum that welcomes over 800.00 visitors a year. You can learn about the history of the Heineken company, have a beer tasting and other fun activities. However, if you are more into artisanal beers than the traditional ones, there are a few other places in town (like Troost or 't Ij Breweries that will capture your interest more than this one.
Museum De Dageraad and the Amsterdam School architecture
The Amsterdam School movement (1910 – 1930) is rooted in Expressionist architecture and borrows elements from Art Nouveau and Art Deco. When the De Pijp neighbourhood expanded, the architects built social houses using this style. You can see the Amsterdam School style around the area, like in the Berlage Lyceum building (and you'll recognise it by the undulating shapes of the buildings), but the most famous building is De Dageraad, which nowadays hosts a museum where you can learn more about Amsterdam School movement.
De Pijp Like a Local
When you visit De Pijp, you will have the feeling of immersing yourself into the neighbourhood's life. The streets have a residential feel to them; you can hear children's laughter coming from playgrounds or schools. You'll meet the locals coming back from the market with their bikes full of shopping bags; you might even think you're the only tourist around – although that wouldn't be true.
Explore the neighbourhood on foot to discover your favourite shops or restaurants. When you are in the mood for shopping, check out Gerard Doustraat and Ceintuurbaan for cute boutiques and bigger shops. After a coffee break, you can pass by the Sarphatipark to clear your head, and walk further on the intricate streets, for more discoveries.
Sarphatipark is a lovely, small park that features English-style gardens with ponds and meadows. It has a playground for kids, an area to relax on the grass and a few ponds where you can watch the ducks. Even if it's in a busy area, it's well isolated and offers a refreshing break from the hustle and bustle of the close-by Albert Cuyp market.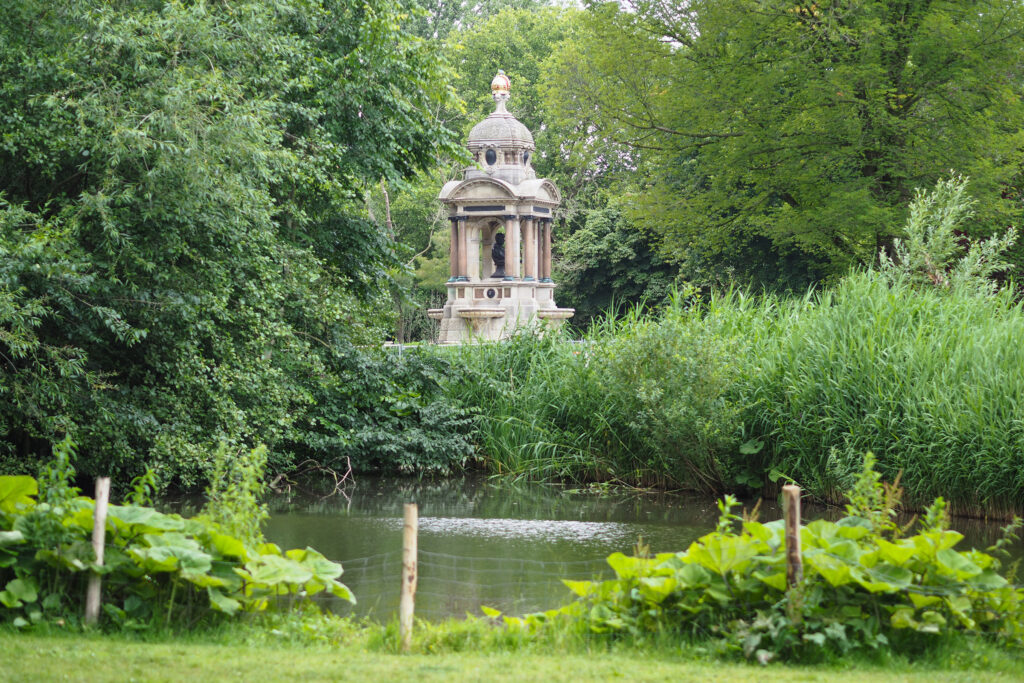 To feel like a local, go to the cosy Rialto cinema, which is screening independent movies from around the world. Mondays are the days when every movie has an English subtitle – good to know if your movie of choice is not in a language you understand.
A street I like in the area, for the beautiful canopy created by the trees is Karel du Jardinstraat.
If you reach Ruysdaelkade in your walks, know that you might stumble upon the other Amsterdam's Red Light Disctrict (the more local one), so don't get confused when you see it.
Another street with all kinds of shops, which might be more interesting if you are a local, not a tourist, is Van Woustraat. When I used to live close by, I found Van Wou too busy and avoided it most of the times, except for when I was out shopping, because it's that kind of street where you find everything you need.
If you are with kids, there's even a petting zoo in the area that you can visit, hidden somewhere behind Hotel Okura.
Talking about the hotel, I should mention there's a lovely bar on top of it, Twenty Third Bar, offering a spectacular view over the entire area (there are few of these in Amsterdam).
Diamantbuurt is definitely not a touristy area, and it's far from the heart of De Pijp — I wouldn't consider it as being part of the neighbourhood. But it is, according to the map. I like walking in this part of the city, which is green and peppered with buildings in the Amsterdam School architecture. I like to go on the Jozef Israëlskade, along the Amstelkanaal, watch the boats passing by, and then head towards Amstel River, for a lovely walk along the Amsteldijk.
Places to eat and drink in de Pijp
De Pijp is the king of brunch places. You will see this mentioned in most articles about the neighbourhood, and it's true. There are so many cool places for brunch, and, still, they are all so very crowded every weekend! For a delicious brunch in De Pijp check out: CT Coconuts & Coffee (my favourite), de Wasserette, the Avocado show (for avocado lovers), Bakers & Roasters, Little Collins, Omelegg (if you like eggs), Locals All Day Brunch, Factory Girl (for many vegan options), Le Pain Quotidien, Mr. Stacks.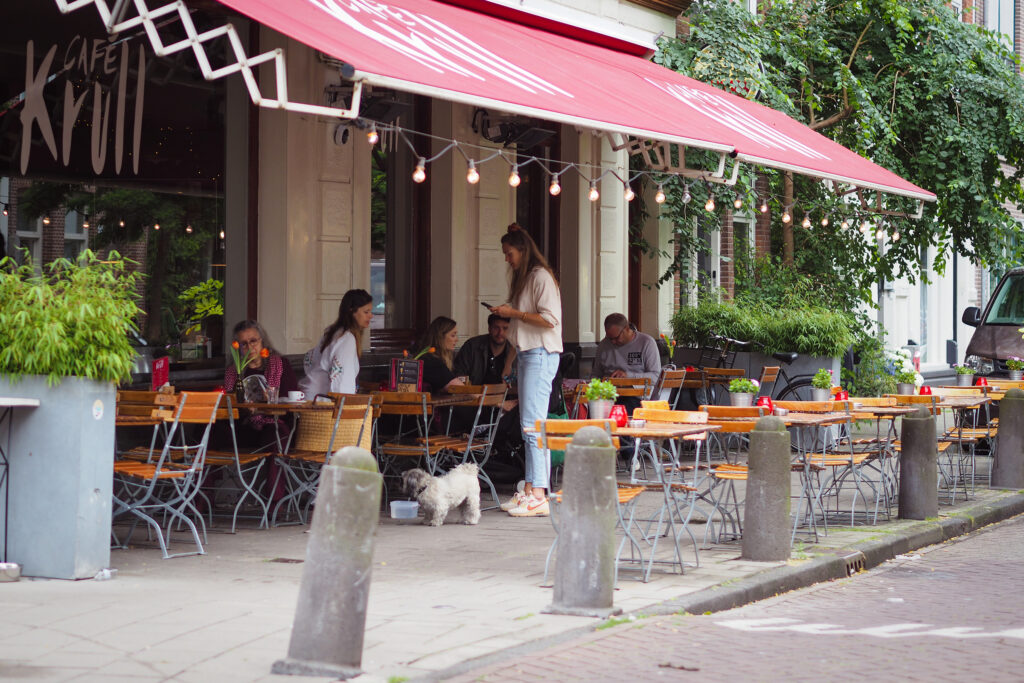 For specialty coffee, my favourites are Scandinavian Embassy and Badeta, but, of course, there are plenty of corner cafes scattered throughout the neighbourhood, where you can sit and enjoy coffee and a pastry. Oh, and if you are in De Pijp, don't miss the Massimo Gelato ice cream!
For dinner, I must say that I don't have many favourites in De Pijp, maybe because I am a vegetarian, and I haven't found many good options apart from the ones I loved and are now permanently closed (like Bazar restaurant). Luckily, the Vegan Junk Food Bar is still there (I am salivating only writing the name!), as are Mana Mana, Pho 91, Little Collins, Mastino Vegan Pizza.
Bakeries: there are a few good places to get your sweets from, like Bakhuys, My Little Patisserie, Kwekkeboom Banketbakkerij, Waldo, Sea Salt & Chocolate.
Bars and cafes: there are so many to try! Just walk around and see which one is more appealing to you. And to mention just a few: Brouwerij Troost, CaféGollem, Glou Glou (for wine lovers), Twenty Third Bar (for a rooftop bar), O'Donnell's, Café Flamingo, Bar Mokum, Café Ruis.
Shops in De Pijp
The boutiques are the best of de Pijp neighbourhood. Places like Anna + Ninna, All The Luck In The World, Things I Like, Things I Love, Parque are my go to every time I am in the area.
For food: Wild Sage for healthy food, Kelly's Expat Shopping (for British and Americans missing home food), and the many ethnic stores to try, for food that you don't find in your regular supermarket.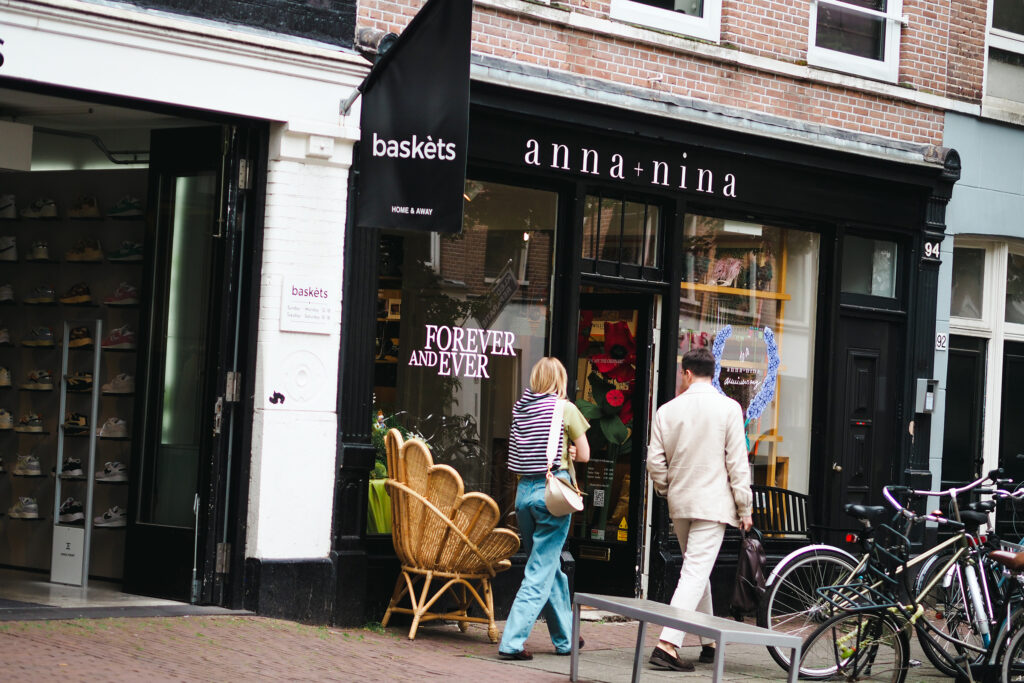 More than a place to visit, De Pijp is a place to experience. Not to miss when visiting Amsterdam, and not to avoid if you live here (but I'm sure you already know that!). If this article inspired you, make sure you save it and share it with friends!
Stay tuned for more and follow Amsterdamian on Instagram and Facebook for daily stories about life in the Netherlands. Please share this post if you liked it!
Don't forget to check out my photo book: Amsterdam Through the Seasons!
If you want to buy prints and other cute objects, check out our store on Society6!
Subscribe to our newsletter!