You can't talk about the Utrecht province without talking about the largest castle in the Netherlands: De Haar Castle (Kasteel de Haar in Dutch). Looking like a real fairy-tale castle, featuring gorgeous gates, drawing bridges, moats and towers, Kasteel de Haar sits in the middle of a large park, with lakes, rose gardens and forests.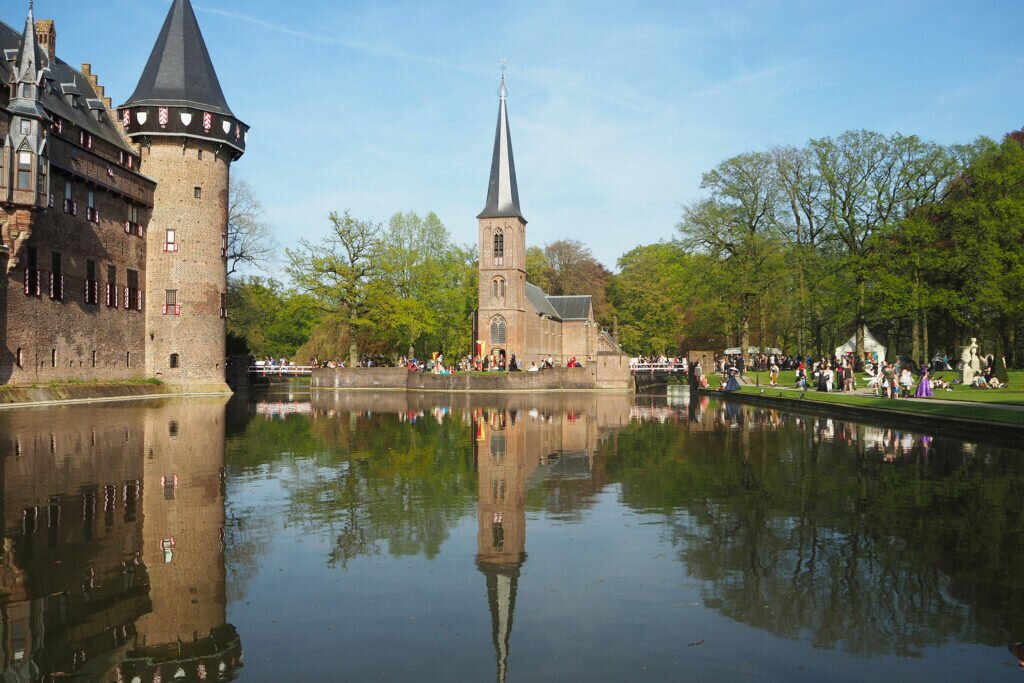 I discovered this beautiful castle a few years ago, when I went to the Elfia Festival. Elfia is a fantasy-themed festival, where you'll find all the possible fantasy characters out there. It's the heaven of cosplayers and photographers. But, most of all, is a celebration of imagination, a place where you can meet like-minded people and have fun for a weekend. The festival takes place on the castle grounds, taking up almost all the park area. The medieval look of the castle matches with the festival's theme, and the witches, elves and gnomes blend perfectly with the forest. But, if you are not interested in this festival, you can also visit Kasteel de Haar all year round. Close to Utrecht (the city), the castle can be reached by car or by public transport.
History of the castle
Kasteel de Haar was built around the 13th century, and, like all castles, had a tumultuous history. Changing owners from de Haar family to van Zuylen, being burned down in 1492, rebuilt in the 16th century, only to fall back into ruin somewhere around 18th century. The castle that we can admire today is the work of love of baron Etienne van Zuylen van Nijevelt van de Haar, who, after marrying Baroness Hélène de Rothschild, set out to renovate the castle with the help of his wife's money. The couple hired the famous architect Pierre Cuypers, known for his designs of the Rijksmuseum and the Central Station in Amsterdam, who did a splendid job of restoring the castle to its previous glory and beyond! Restoration work lasted 20 years, and was finished in 1912; it was an extensive and impressive work. Cuypers designed not only the castle but also the interiors, the gardens, the chapel and even the village of Haarzuilens (which is worth visiting as well).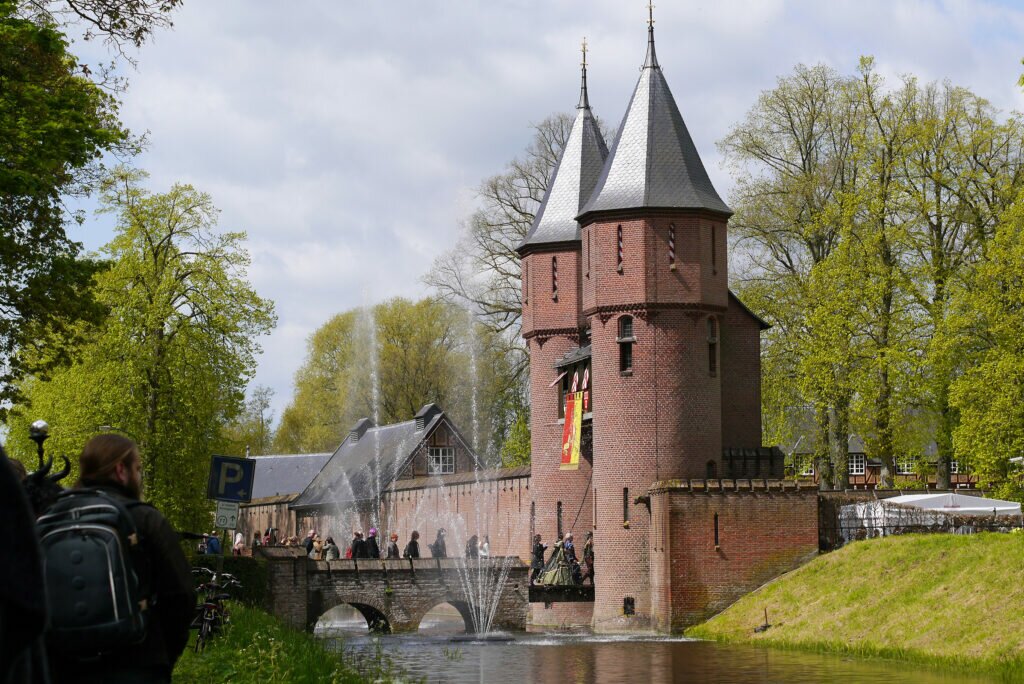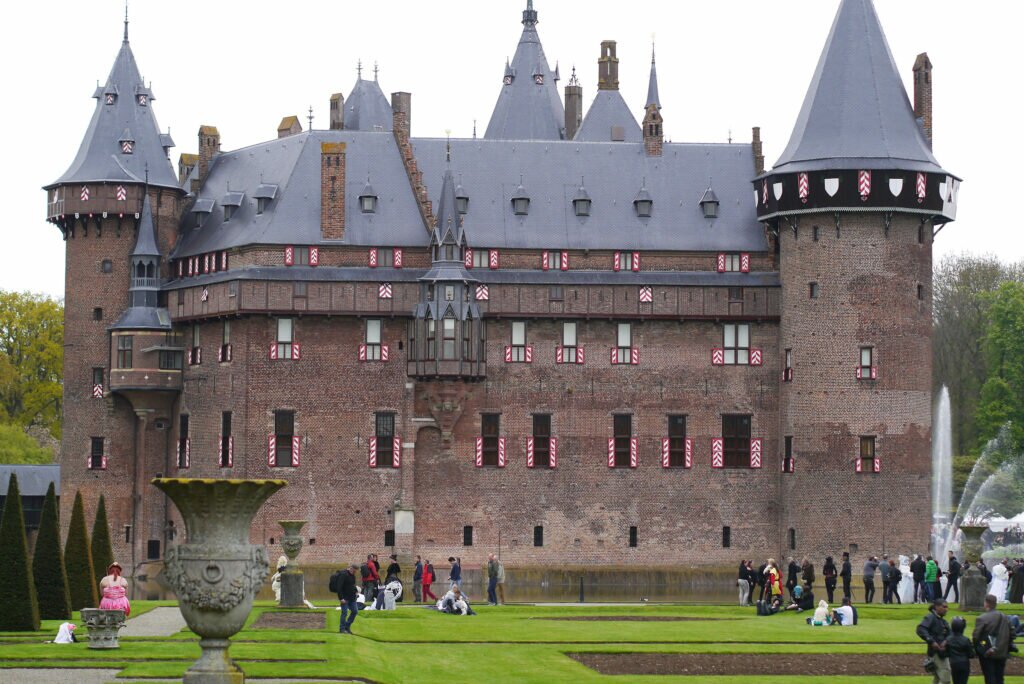 After that, Kasteel de Haar was a real hotspot in the Netherlands. Van Zuylen van Nijevelt van de Haar family lived a life of luxury (described by some as "very un-Dutch"), and hosted parties where they would entertain international celebrities like Coco Chanel, Maria Callas, Roger Moore, Yves Saint Laurent and Brigitte Bardot.
Becoming a museum
In 2000 the ownership of the castle was transferred to foundation Kasteel de Haar, which worked to transform the place into a museum and event center, so, today we are lucky to visit the beautiful interiors and parks. The castle has 200 rooms — although not all of them can be visited. A couple of rooms are arranged with realistic displays to show how the castle would have looked like in his days of parties.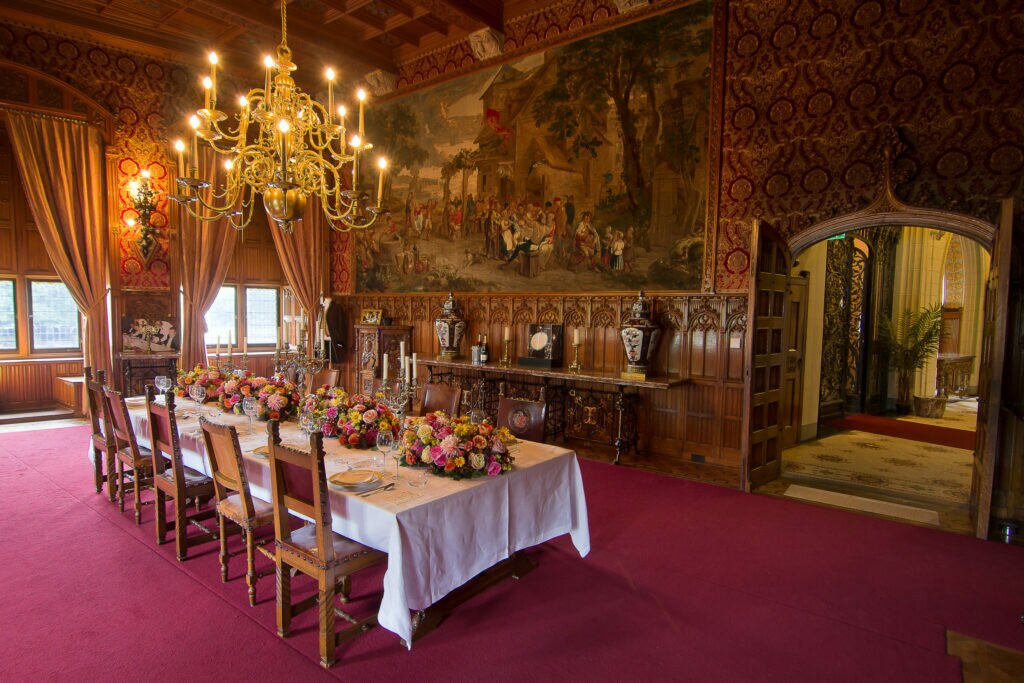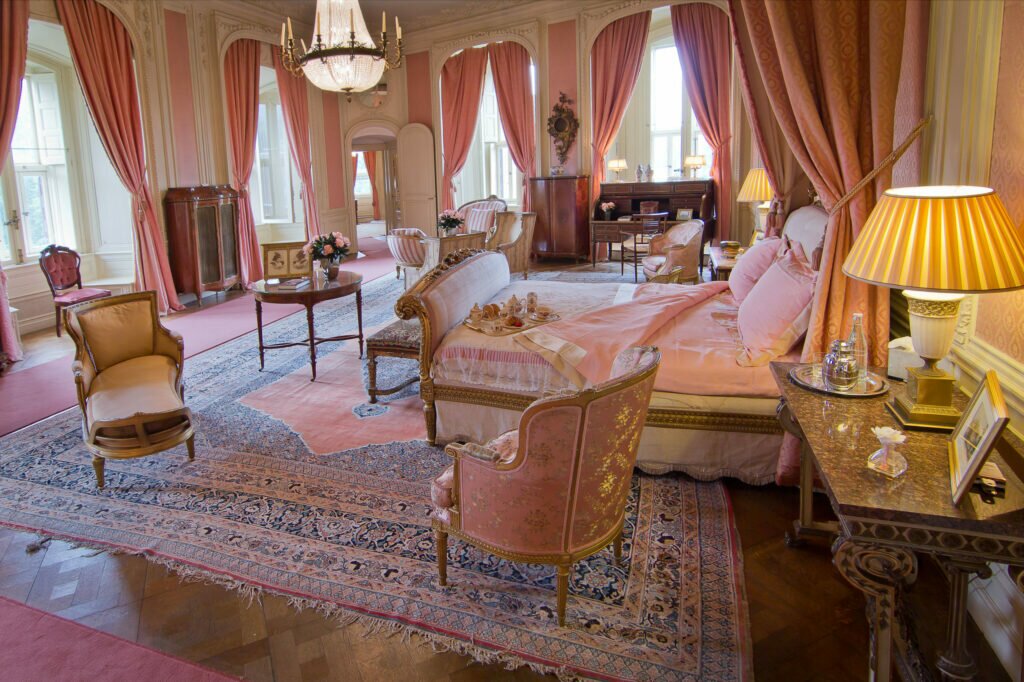 How to get to Kasteel de Haar
From Utrecht Centraal take the train to Vleuten, and from here, bus 127 to Breukelen and stop in Haarzuilens. You can use 9292 website to plan your route. You could also go by car, and there is parking space available.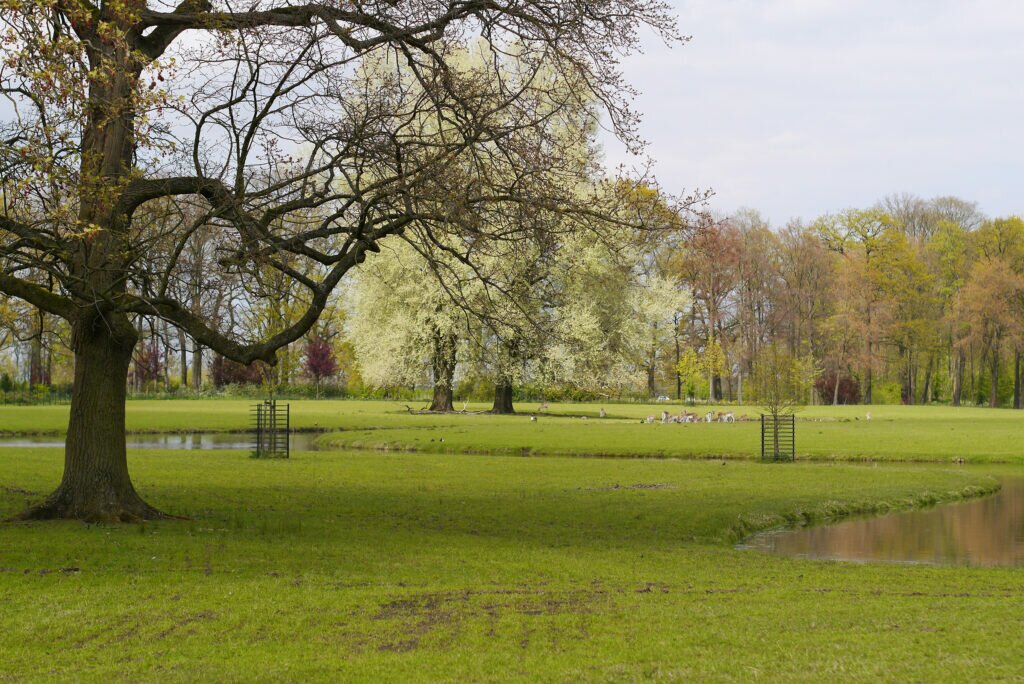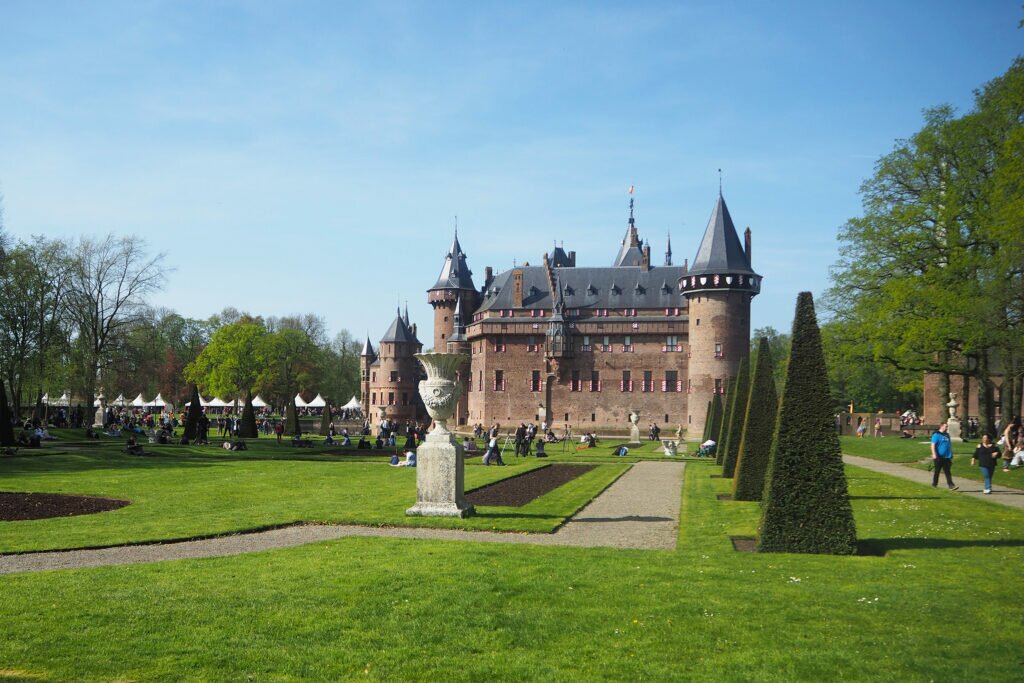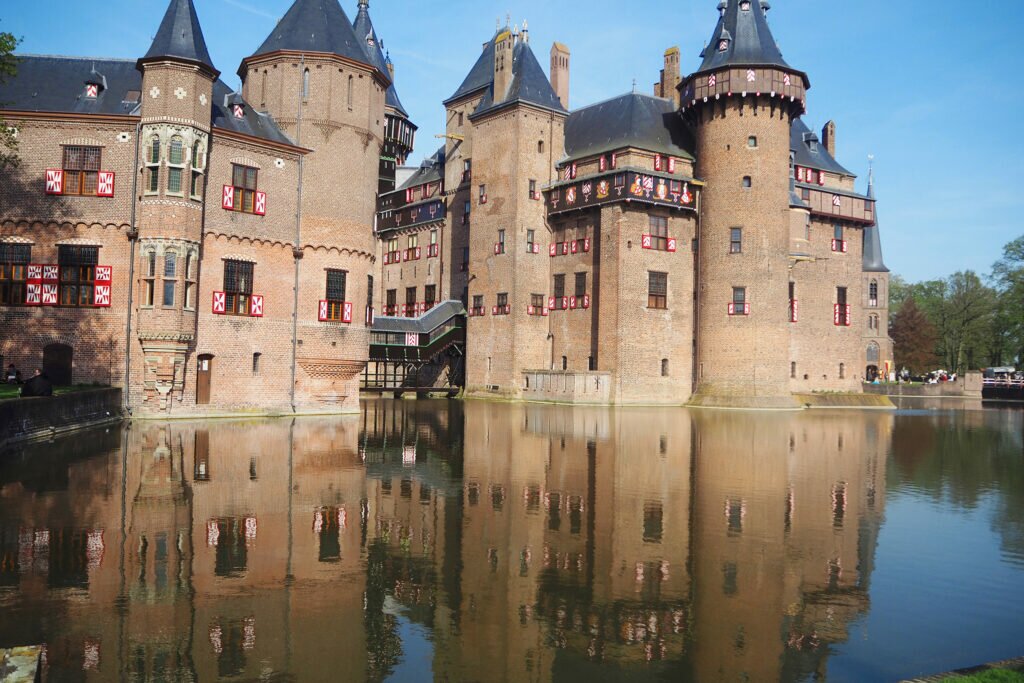 Castles and country estates in Utrecht
Utrecht province has many castles and country estates, like Kasteel Duurstede, Landgoed de Paltz, Kasteel Amerongen etc. Some of them are smaller than others, some might be just a few towers, but they are beautiful works of architecture and design. Most of the castles are surrounded by parks and gardens where you can walk and enjoy the nature. Some of these castles are private properties and cannot be visited, but many of them are open to the public. They are surrounded by beautiful landscape, and the most scenic way to visit them is by bike. Staying in a cosy B&B and biking around the region sounds amazing, if you can do it! You can even buy a Castles and Country Estates Passport, to have access to all of them.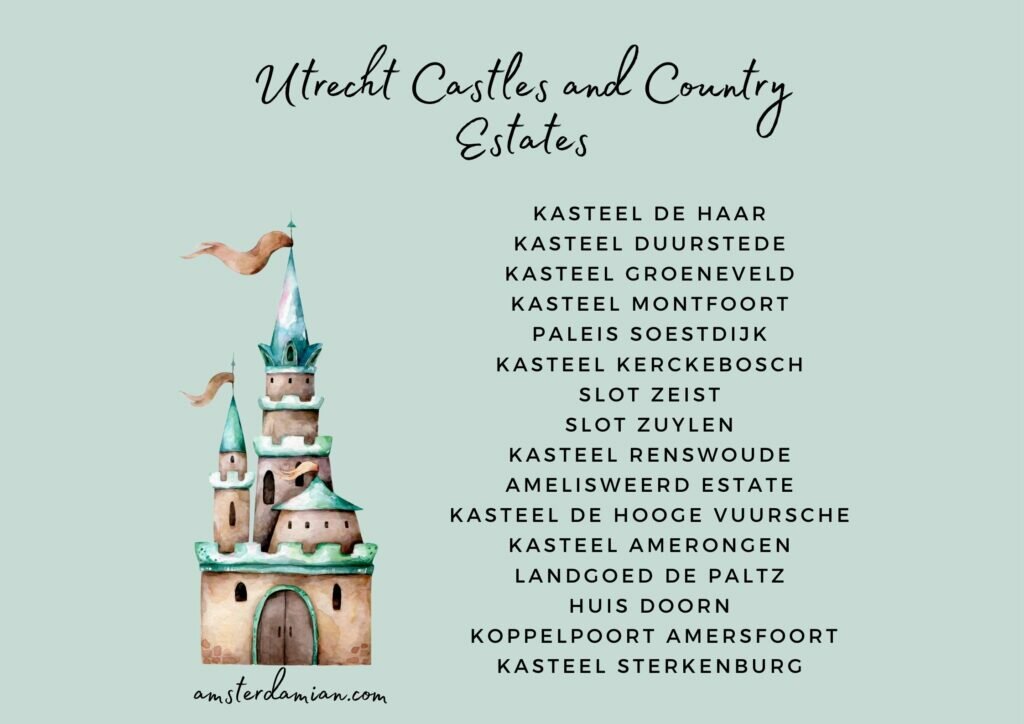 If this article made you dream about visiting castles, check out Visit Utrecht Region for the entire list (for Utrecht) and choose your favourite.
Stay tuned for more and follow Amsterdamian on Instagram and Facebook for daily stories about life in the Netherlands. Please share this post if you liked it!
Don't forget to check out my photo book: Amsterdam Through the Seasons!
If you want to buy prints and other cute objects, check out our store on Society6!