This page includes affiliate links. If you click and purchase, I may receive a small commission at no extra costs to you.
In the heart of the city, bordering the spectacular Grachtengordel (Canal Belt), you will find the cosiest and prettiest neighbourhood in Amsterdam: the Jordaan. If you could visit only one place in Amsterdam, this should definitely be it! Spending a day in Jordaan will help you experience the life in the city as a local, even if it's not a remote neighbourhood, like one would expect, but right in the city centre. Its charm is attracting tourists and locals alike, and, while it can be a crowded place during the weekends, if you go there in the morning, it's unbelievably serene. However, even when it's crowded, it has a different vibe compared to the one of Amsterdam's city centre. Jordaan has a residential feel to it; it's the place where locals go to the market on Saturday, where they go for a beer after work in one of the brown cafés, or for a dinner at one of the many restaurants. The streets of Jordaan are not packed with tourist traps and souvenir shops (like the ones surrounding the Dam Square); they are green and romantic and peppered with interesting boutiques, art galleries and local cafés.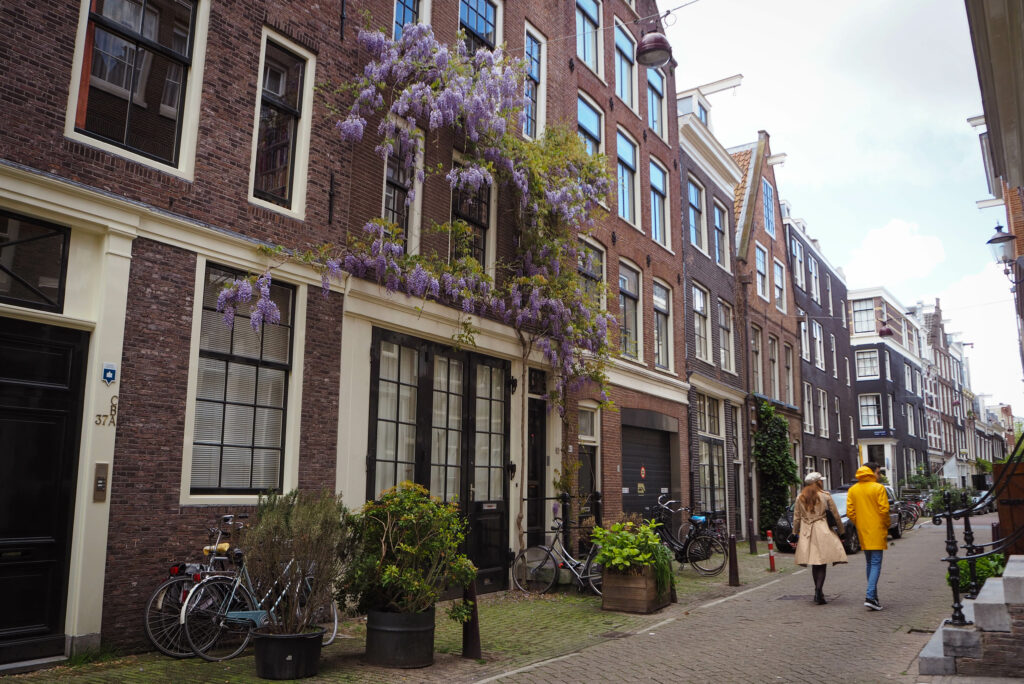 Jordaan History
The Jordaan neighbourhood was initially built for poor people, in the 17th century: workers and immigrants coming to the city found their home here. The housing conditions were not great, to say the least, with large families crammed in the small houses that we consider so charming nowadays. It was the place where many would find refuge, from poor artists to people who were leaving their country because of persecution. Along the years, the living conditions became worse in this part of the city, because of the lack of maintenance. For a bit of perspective, it was estimated that, in 1900, around 80.000 people lived there, in the tiny houses, without a sewage system. Nowadays it is estimated that only about 20.000 people live in the same area (and it still feels crammed!). After the World War II there were even discussions to demolish the Jordaan and build new houses there. Luckily, it was saved and transformed into the lovely area that is today. From a poor neighbourhood, it became a hip and expensive one. To find accommodation in the Jordaan is hard and very expensive. But, luckily, we can visit any time we want, for free!
Things To Do in Jordaan – Like A Tourist
From a tourist perspective, there are a few points of interest in Jordaan. There are museums and churches to visit, and you can choose the ones that are more appealing to you.
Anne Frank House. See where Anne Frank and her family were hiding during the WW II and where she wrote her famous diary. Book your ticket in advance for it and make an appointment for your visit, to avoid the long queues. You can combine this with an Anne Frank Walking Tour.
Noorderkerk. A 17th century Protestant church. The poor people in the neighbourhood attended it, while the middle and upper class were going to Westerkerk. Today you can visit it and attend one of the concerts that are regularly held here.
Westerkerk. Technically not in Jordaan, but given the proximity, I think we can count it in this article. It's a Reformed church within Dutch Protestant Calvinism. The bell tower is spectacular, and its carillon is the only one in the city chiming the entire twenty-four hours.
Houseboat Museum (Woonbootmuseum). If you're curious to see how a houseboat looks like on the inside, check out this museum. You'll get the chance to experience first-hand what it's like to live in a houseboat on an Amsterdam canal. The museum is located in the "Hendrika Maria", a former cargo ship built in 1914.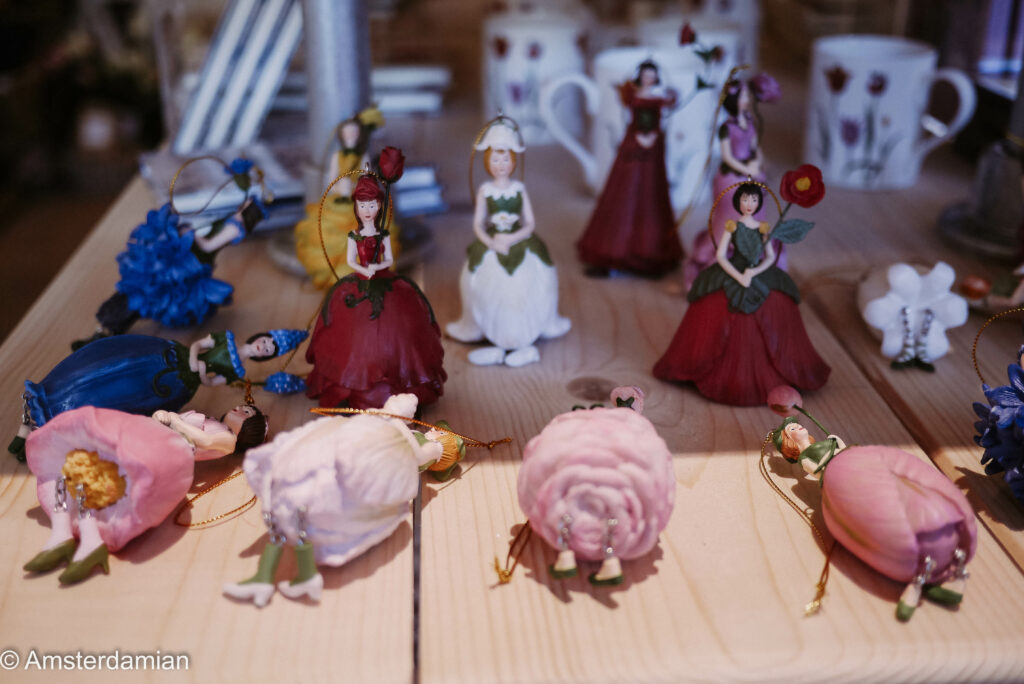 Amsterdam Tulip Museum. I would consider this more like a shop where you can buy tulip bulbs and other tulip related items, great for gifts. But there's a small museum here as well, showcasing the history of the tulip in the Netherlands.
Cheese Museum. The museum will teach you a bit about the Dutch cheese history, but I would go there mostly for the cheese tasting and buying gifts.
Pianola Museum – The smallest museum in Amsterdam, with a collection of automatic pianos and related objects. There are over 30.000 music rolls in the museum archive and nearly all of them can be played on the different instruments in the museum.
Jordaan like a local
The best thing to do in Jordaan is to walk around, soaking up the view and the atmosphere. I've been a local for many years, and I could never get enough of those streets and canals. Saturday morning at the Noordermarkt, coming back home with my arms full of flowers and groceries, was for me like going out for a baguette is for French people. The warm summer evenings, waiting in line on Tweede Anjeliersdwarsstraat to buy an ice cream from Monte Pelmo, then watching the sunset above the small canals, were magical moments as well.
When you go for a walk, you could start along the Brouwersgracht for one of the most beautiful streets in the city, then head towards Prinsengracht (don't miss the view from the Lekkeresluis Bridge), and then wander through the narrow streets and canals. Lijbaangracht is another gorgeous street, along a canal, with entrances bordered by roses and wisteria (as many are in the Jordaan) and piles of planting pots on the sidewalk.
The space might be scarce, but the locals' love for gardens is obvious on every street of this neighbourhood. Some say the name Jordaan comes from the word "jardin" — garden in French. That would make sense, seeing how green the place is nowadays. Although it's more likely that the name comes from the Jordan-river, because of the many Jews that fled to Amsterdam and lived in the area.
Egelantiersgracht and Bloemgracht are two of the most beautiful canals in Amsterdam. Stroll along these canals, admire the buildings, sit on a bench and watch the swans and boats passing by.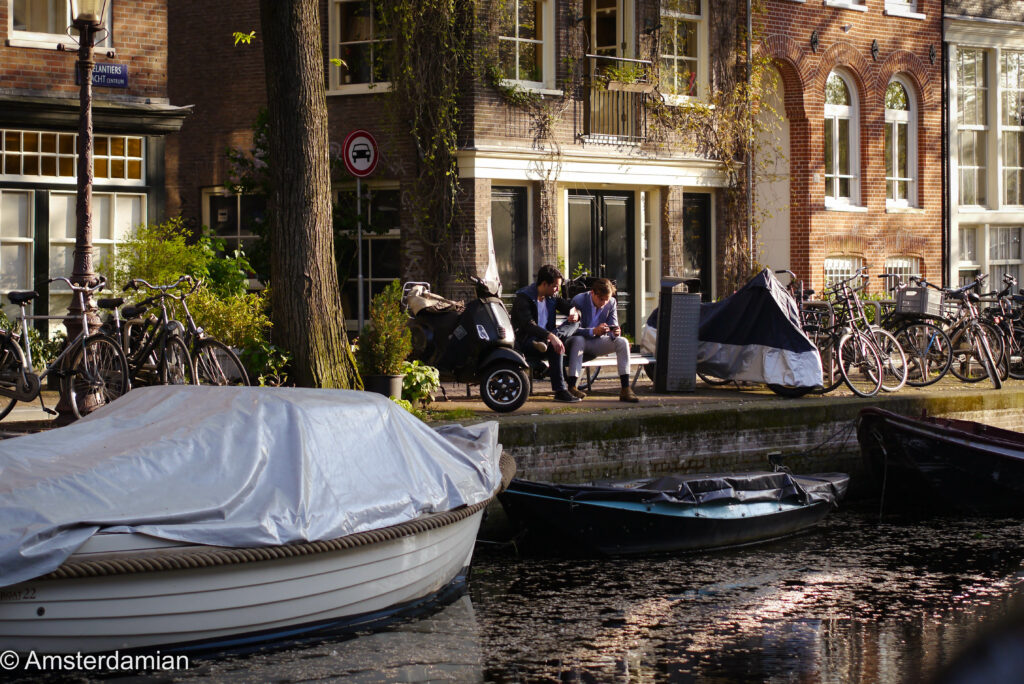 You should not miss the Karthuizersstraat either, a hidden street that is very green, and where you can find a hidden garden, a hofje, at number 61-71. There are many hofjes in Jordaan, but not all of them are open for visits (except during the Open Garden Days). If you have kids with you, you can then make a stop at the playing ground De Noorderspeeltuin, that is next to it.
Another hofje that is accessible is Het Raepenhofje on Palmgracht 28. And since you're in the area, check out the Driehoekstraat (Triangle Street), a beautiful hidden street where you will find an old distillery and you'll feel transported back in time. It's so well hidden that I only found out about it two years ago, when a friend took me there.
If you happen to be in Jordaan on a Saturday, you MUST visit my favourite markets in the city: the biological market at Noordermarkt and the neighbouring Lindengracht market. Here you will find some of the best vegetables and fruit in the city, fresh herbs, as well as bread and other produce. Even if you're not interested in groceries, you might be interested in some tasty market food, like mushroom sandwiches made on the spot, loempias or poffertjes. After that, you can browse the antique stalls looking for some old photos of the city or some other interesting objects.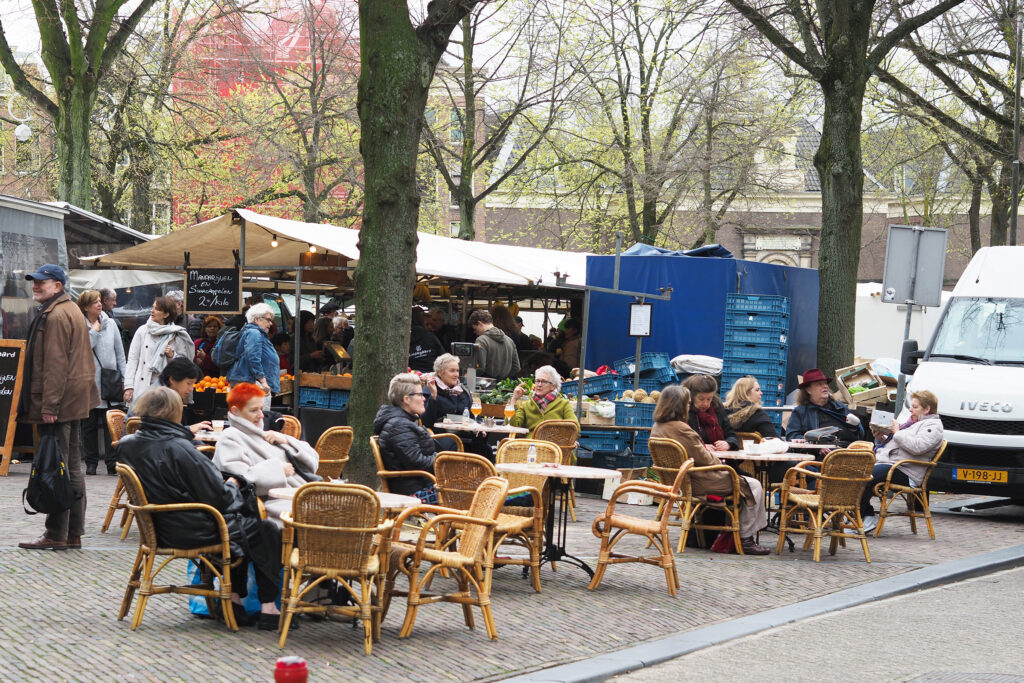 Many people who visit the market make a stop at Winkel 43, the café on the corner of Westerstraat, advertised as serving the best appeltaart (apple pie) in town. This is not a tourist trap, the appeltart is indeed one of the best you'll find in the city. You won't regret standing in line to get your piece of pie! But if you think the queue is too long, or you just have something against the (too) well-known places, you can have your coffee and appeltaart at the café on the other corner (with Boomstraat): Café Hegeraad, a typical brown café where locals stop for their drinks. The appeltaart is as delicious as it can be, and the ambiance is more authentic Amsterdam.
If you're in the mood for some art, check out the art galleries in the neighbourhood, like Keren de Vreede Art Gallery, Kahmann Gallery, Looiersgracht 60, Gallery WM, etc.
Places to eat and drink in Jordaan
There are many cafés and restaurants in Jordaan, but I'll mention here only my favourites.
For breakfast and lunch: there are way too many cafés to be able to mention them here. My advice is to find one that has outside sitting, because that's the best way to experience eating in the Jordaan.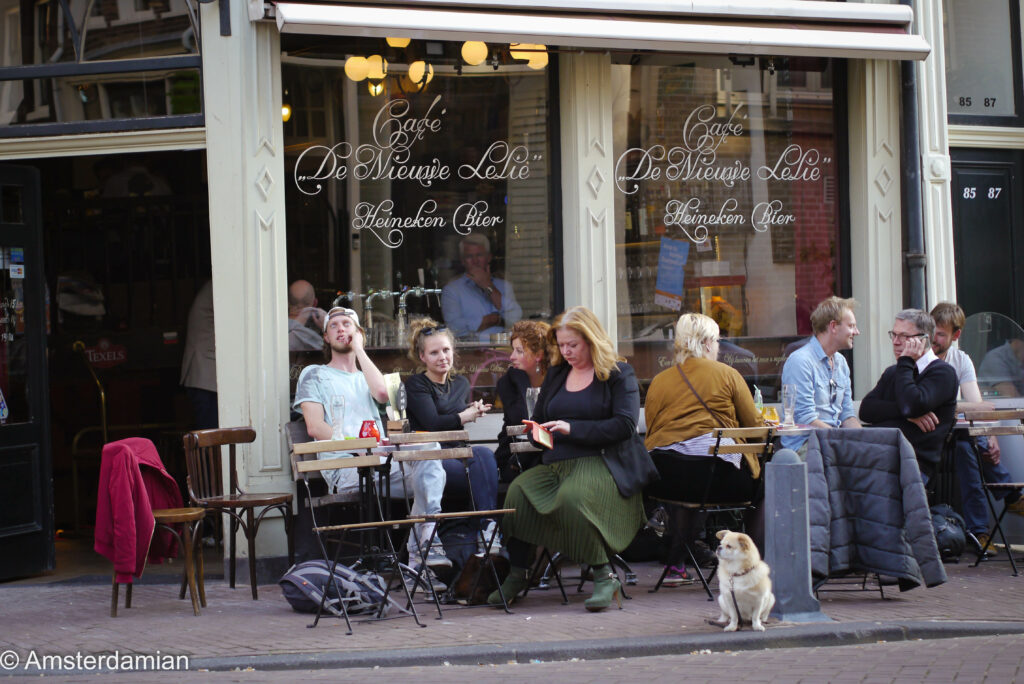 For coffee, I like to stop by Tazzina. For ice cream: Monte Pelmo.
One of the best pizza in Amsterdam: Pizzeria La Perla.
For dinner: Long Pura (Indonezian restaurant), Moeders (Dutch cuisine), Toscanini (Italian), Shah Jahan (Indian).
Brown cafés: Café De Nieuwe Lelie, The Papeneiland Café, Cafe Thijssen, Café Nol, Café Lowietje, Café Chris, De Twee Zwaantjes, 'T Monumentje, Festina Lente, to name just a few.
Various: Bar Brandstof (I have many lovely memories with friends from here, but I have yet to visit the new location), Waterkant (can become very loud), Soundgarden, Café George (fancy) and wine bar diVino.
Shops:
De Weldaad for antiques and interior design.
Moooi Amsterdam – spectacular brand store (it's pretty expensive, but because it has so many interesting items, a visit to this place is almost like a visit to an art gallery).
Terre Lente – a shop for Italian delicacies.
Lavendula – for organic cosmetics and body care products.
Pompom flower shop – for beautiful flower bouquets.
Urban Cacao for tasty chocolate and coffee.
La Savonnerie – for soap and gifts.
These were my recommendations for Jordaan, Amsterdam. If you enjoy this type of article, let me know, and I'll write about other neighbourhoods as well!
Stay tuned for more and follow Amsterdamian on Instagram and Facebook for daily stories about life in the Netherlands. Please share this post if you liked it!
Don't forget to check out my photo book: Amsterdam Through the Seasons!
If you want to buy prints and other cute objects, check out our store on Society6!
Subscribe to our newsletter!