Last time when I visited Delft it was autumn. This is a charming city and the cobbled streets looked romantic under the rain, the gingerbread houses looking as cosy and inviting as they could ever be. Also, autumn colours seemed to fit very well with the old city look and feel. Little did I know then that in summer Delft transforms into a colourful garden!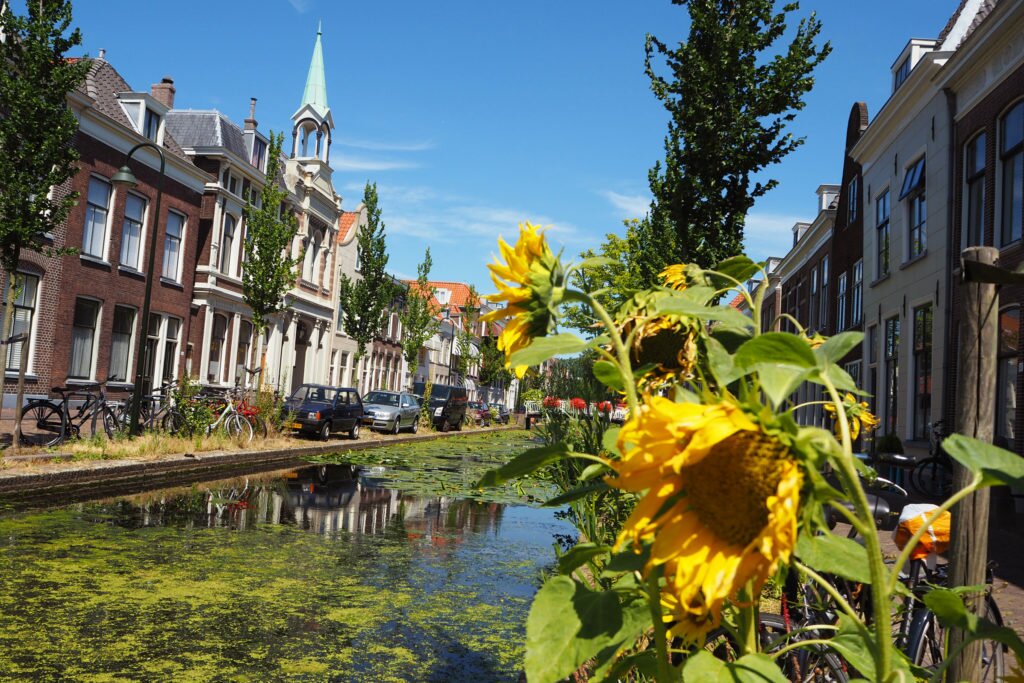 This year, on a hot July day, I went to see Delft again. I found a totally different mood: wild flowers thriving on every tree pit, bright red geraniums decorating the bridges, contrasting with the green canals covered in water lilies. The heat made Delft seem more like a Spanish city than a place in the rainy Netherlands. The city centre was crawling with people, tourists and locals alike. It was a market day, the Central Square being covered by a white carpet of tents which made impossible to get a proper picture of the Nieuwe Kerk or the Stadhuis (Town Hall). I made my way out on the side streets. I went to see the place from Vermeer's "The little Street", which was identified only a few years ago. The original houses are not there nowadays, but the passage between them still exists. A painting on the door makes the place easier to spot.
I visited a few porcelain and antiques shops — they are simply amazing! I want to buy everything when I find myself in of these! But I bought only handmade chocolate and strolled the streets, looking for shade on the edge of the canals, to cool down. I am not used with such a warm summer anymore, it's unusual for the Netherlands. Not complaining, though — I love it! Every little street I walked on looked just perfect, straight from a fairy tale. A father and daughter feeding the ducks, a group of teenagers eating ice cream on a bench along the canal, a posh old lady watering the plants. For the rest, only tranquility and flowers.