This page includes affiliate links. If you click and purchase, I may receive a small commission at no extra costs to you.
There are many places in Amsterdam where you can buy organic products, from the regular supermarket chains to fancy boutiques, but my favourites, by far, are the farmers markets! They are lively places, packed with fresh and local products, many of them organic. My favourite activity on Saturdays is to visit the market and browse the colourful stalls looking for the best vegetables, flowers and herbs. Sometimes I'll meet a friend for a short chat over a coffee and a freshly baked muffin. Going home with bags full of tasty and healthy products gives me big satisfaction, and I'm also happy that I don't bring back boxes upon boxes of plastic, as it is usually the case when shopping at the supermarket.
A big plus for shopping at the farmers markets is that here you can find products you don't find in the supermarkets, like certain types of heirloom vegetables or herbs. I love buying a huge bunch of fresh herbs that I will dry and use in my cooking months from now, and try new varieties of veggies.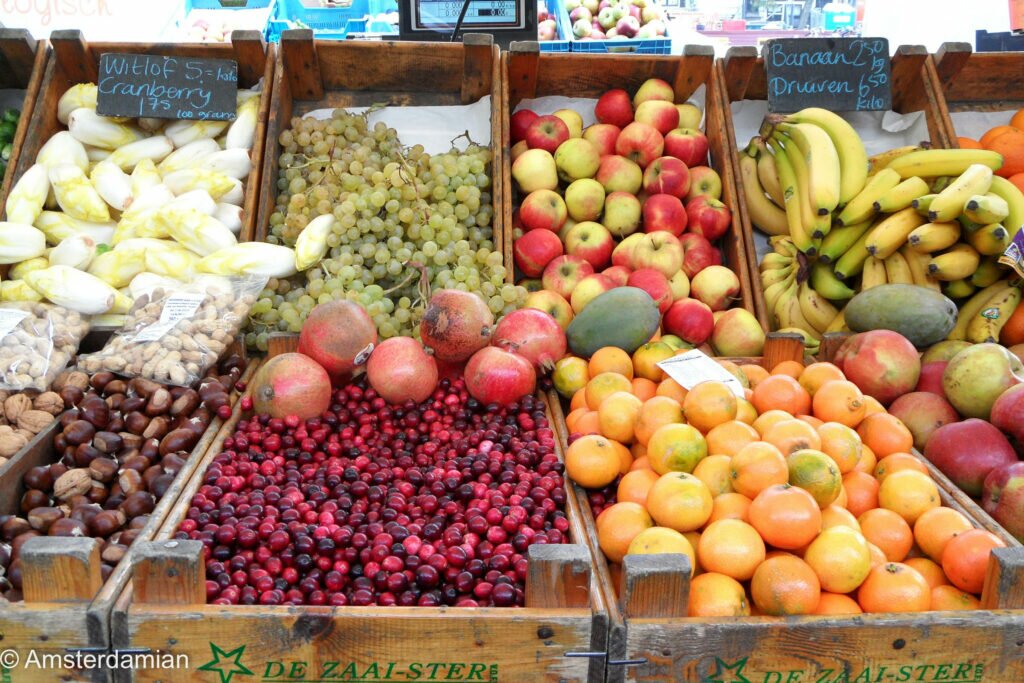 Subscribe to our newsletter!
Where to find farmers markets in Amsterdam
The Biological Market at Noordermarkt. You can find everything from vegetables and fruit to fresh pasta, cheese and honey, gems, bread, fish and mushrooms, and more. This is my favourite market in Amsterdam, maybe because I have lived close to it for several years; but Noordermarkt truly has a lot to offer, and people from all over the city come to it. The mushroom stall is one of the best I've seen and there are very passionate people selling their goods there. The location is great as well — the beautiful Jordaan neighbourhood, and the market is surrounded by many cafés and restaurants. The place known for the best apple pie in town (Winkel 43) is also here, and there's always a queue on Saturdays. The market has also non-food products, like beautiful ceramic or candles and soap.
Every Saturday from 9 am to 4 pm, at Noordermarkt.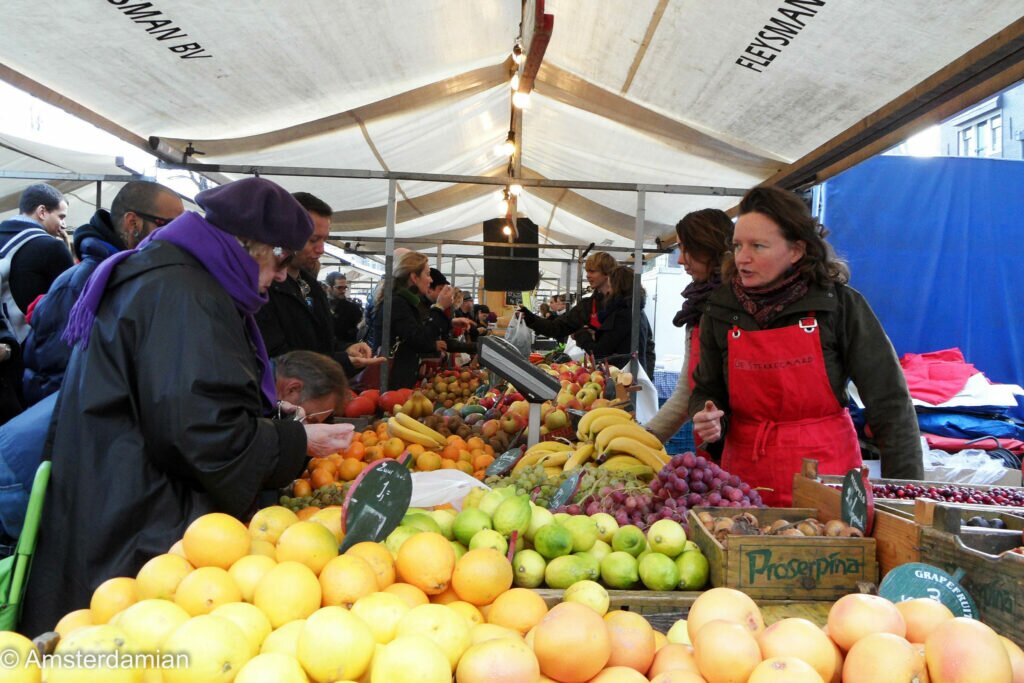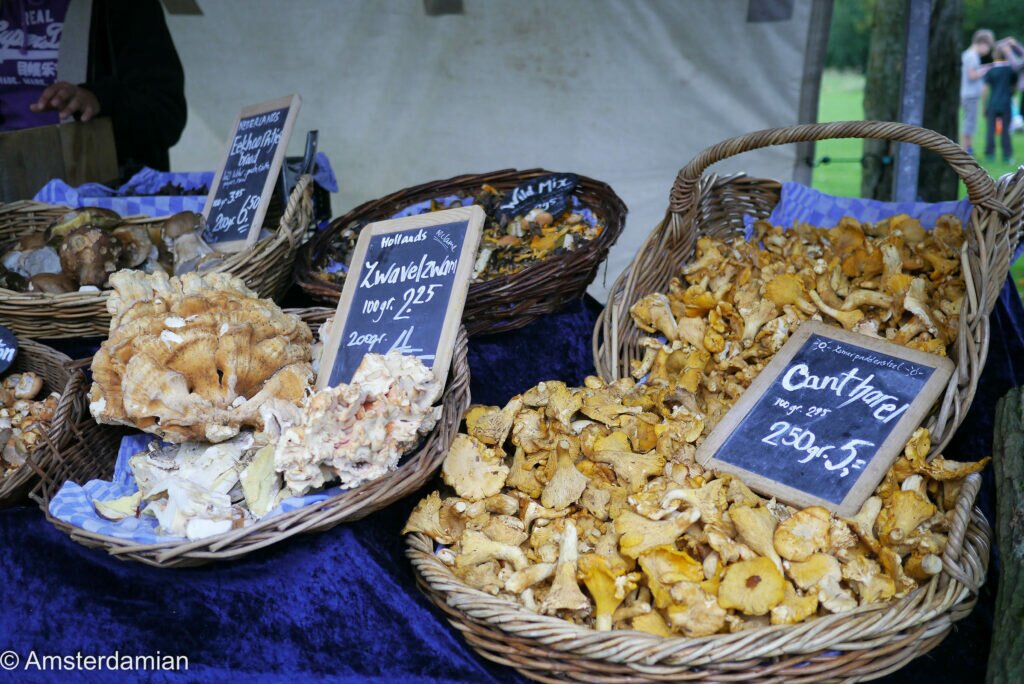 Pure Markt. A traveling Sunday market with three locations: Frankendael Park, Amstelpark and Amsterdamse Bos. This is a mix of food and artisan and designer products, with 70% of the stalls being food-related (although less fruit and veggies and more of already cooked food and other ingredients). The atmosphere is gezzelig, and it's almost like a fair where you can take your family or friends for a few hours of fun. If you have a look at their list of participants, you will understand what I'm talking about. There is always some music around, sometimes dancing, and entertainment for kids.
It's not weekly and you'll have to check the schedule on their website, but it's totally worth a visit.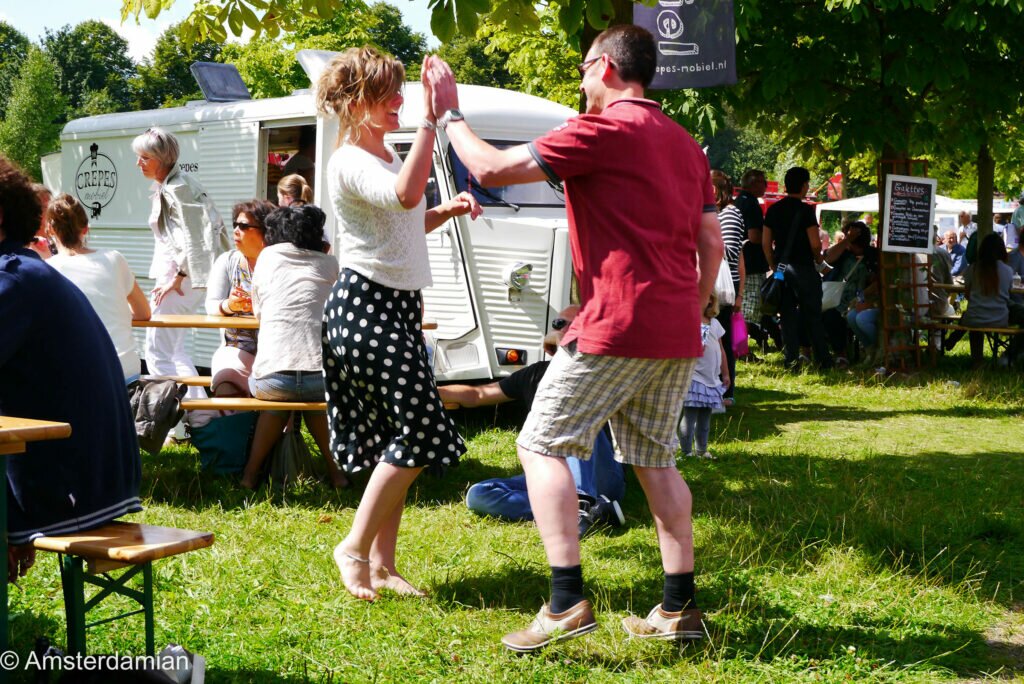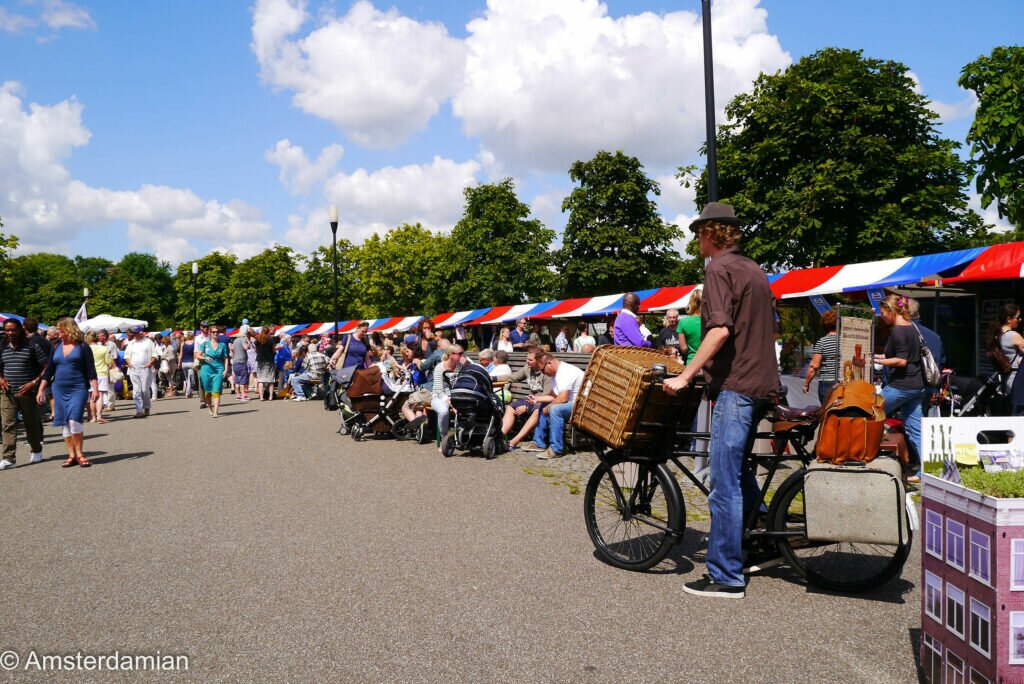 Farmers Market Haarlemmerplein. A small market on Haarlemmerplein, where you can find fresh veggies and fruit, cheese, fish, garden plants and some other local and mainly organic products. The selection is not too varied, but it's good for a weekly shopping trip. Also great for a lunch: I used to work nearby and I would buy my veggie burger there almost every week on Wednesdays.
Every Wednesday from 10 am to 5 pm, at Haarlemmerplein.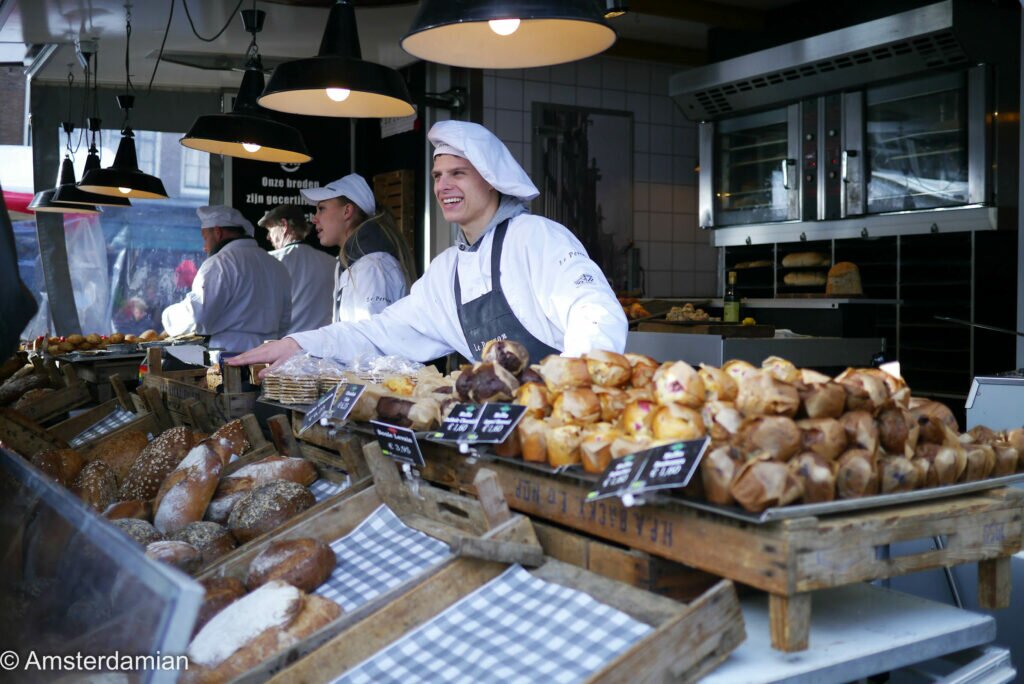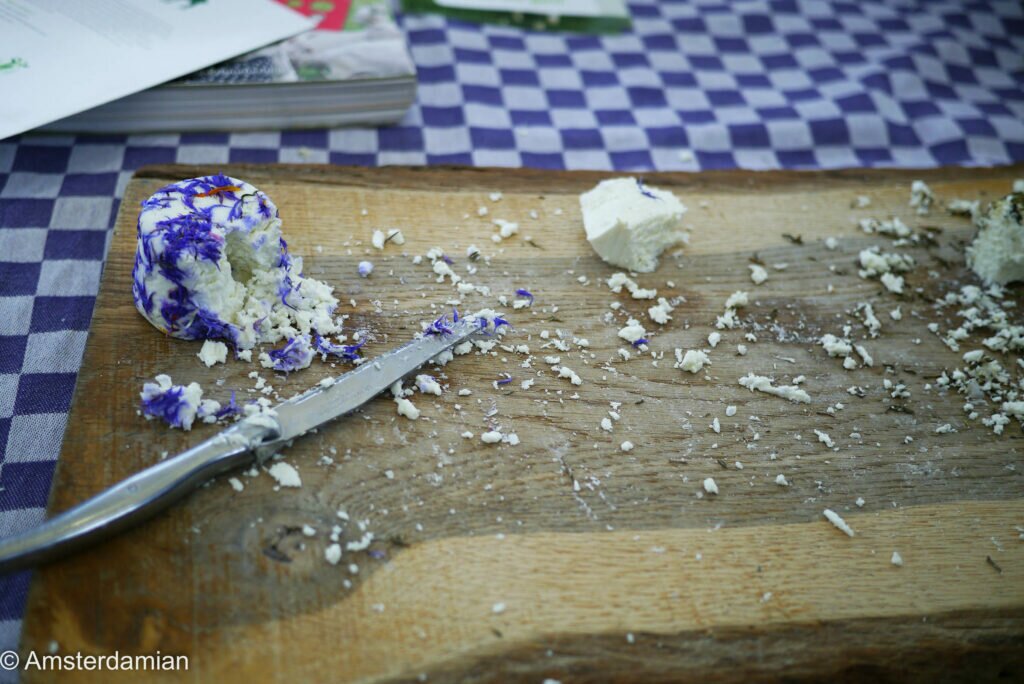 Boerenmarkt Buikslotermeerplein. The place to buy organic vegetables, cheese and meat in Amsterdam Noord. The organic market takes place next to the regular market, and brings a great variety of fresh products like the bakery of Vlaamsch Broodhuys or the honey straight from the producer and flowers from De Pluktuin.
Every Saturday from 8.30 am to 5.30 pm, at Buikslotermeerplein.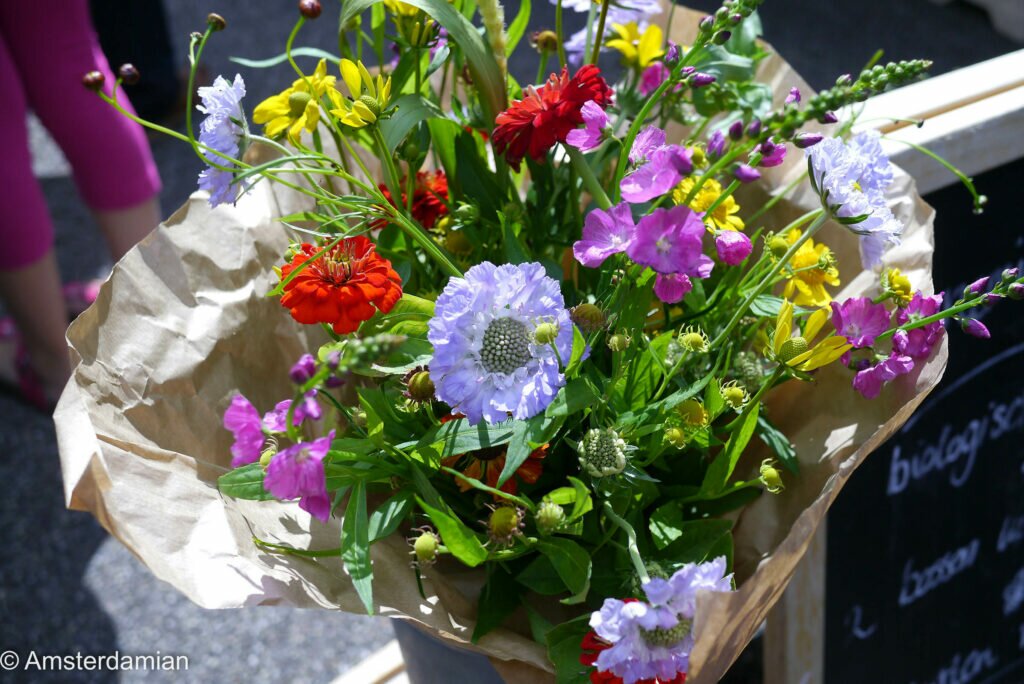 Organic market at Nieuwmarkt. This organic and farmers market takes place in the heart of the city, close to Amsterdam Centraal and the Red Light District. You can buy your fresh vegetables, bread and non-food products and have a stop for a drink afterwards in one of the many surrounding restaurants.
Every Saturday from 9 am to 4 pm.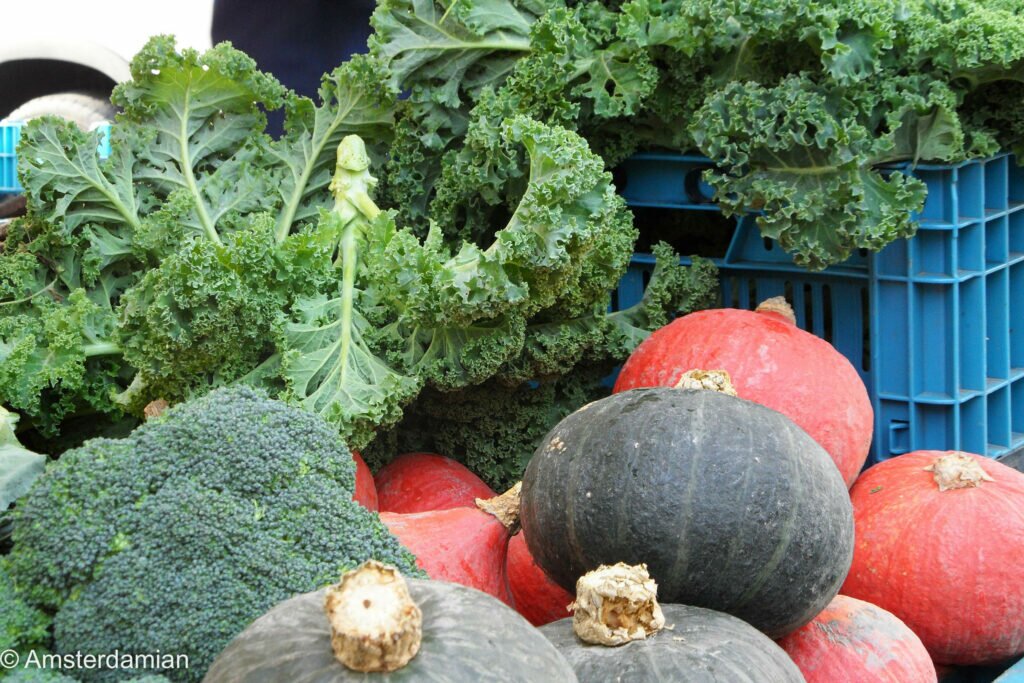 ZuiderMRKT. A small organic market, unique by its cooperative character. The cooperative consists of members – enthusiastic local residents – who give the market a warm welcome and help on the market and in the vegetable stall. You can find here plenty of fresh vegetables, cheese, bread and meat. It's a lovely neighbourhood market.
Every Saturday from 9 am to 4 pm, on Jacob Obrechtstraat, Amsterdam.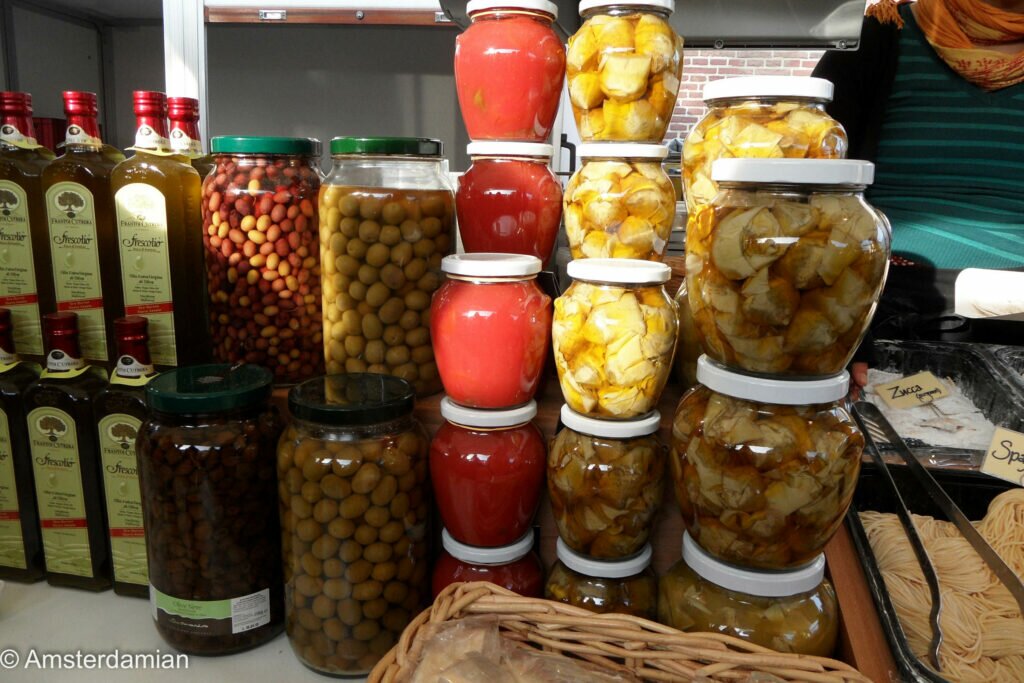 Stay tuned for more and follow Amsterdamian on Instagram and Facebook for daily stories about life in the Netherlands. And please share this post if you liked it!
Check out my photo book here: Amsterdam Through the Seasons!
For prints and other cute objects, browse the store on Society6!
Subscribe to our newsletter!