What to do in Amsterdam if you have only 72 hours to spend?
This month I had a cousin visiting me in Amsterdam for a long weekend. As it was her first time in the city, I wanted to plan her itinerary very well, so that she has a great experience. I had so many ideas but it's quite difficult to choose when you don't have much time at your disposal. But we did what we could, trying not to stress about it. The most important thing was to spend quality time together and enjoy each other's company.
She arrived on Friday evening, just in time for dinner. I took her to Westerpark where she admired the rabbits and the grey herons, and then for a veggie burger and a specialty beer at Troost.
Saturday
The day started with a visit at the Noordermartkt and the mandatory appeltaart and cappuccino at Winkel43. We walked around the beautiful Jordaan neighbourhood, where I showed her a few hidden gardens and courtyards. Then we strolled slowly around the canal belt, the 9 Straatjes, making our way towards Leidseplein and Museumplein. We took a lot of photos, she admired the facades, I tried to be a good guide and show off some of my history and architecture knowledge. We visited the Rijksmuseum to learn about Dutch art and history.
After hanging around in the Rijksmuseum's garden to rest our legs a bit, our next stop was the Spiegelkwartier — the neighbourhood of art galleries and antiques shops. After that we arrived at the Flower Market where we admired the multitude of bulbs and the flowers and, of course, bought seeds to take home as gifts.
Hungry, we left towards the canal belt again, on Prinsengracht we stopped to eat pancakes and poffertjes at the Pancake Bakery. We burned some calories after that, visiting Dam Square and surroundings, we got caught in the rain, saw a pretty rainbow over the houses on Damrak – the most famous and probably one of the most photographed spot in Amsterdam, and went home exhausted.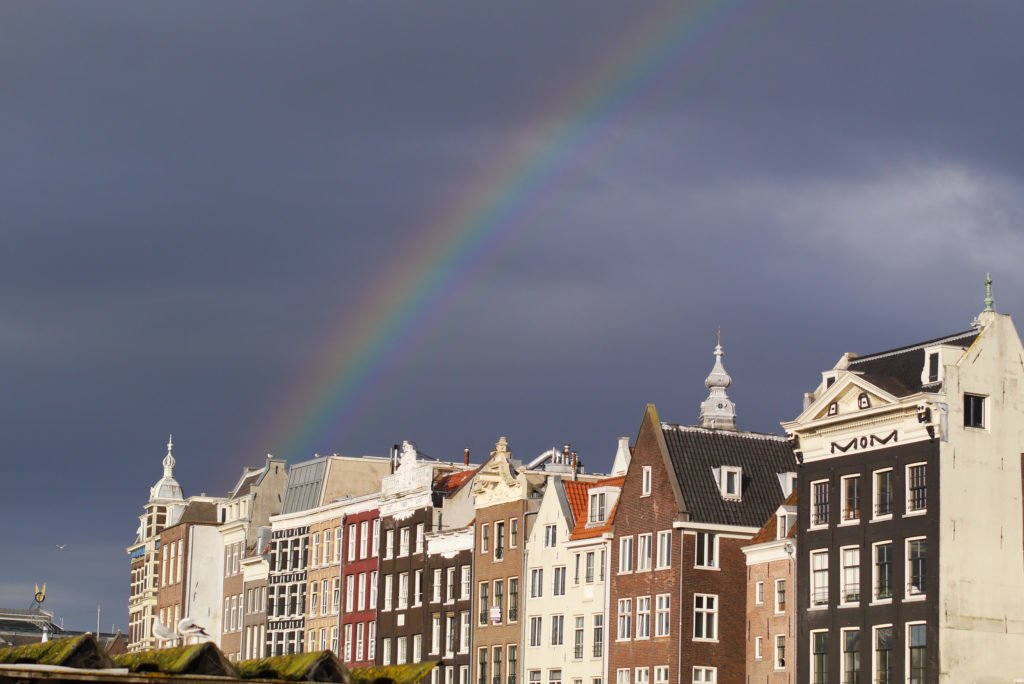 Sunday
We had a nice breakfast at home, took the bus and went to see the Entrepotdok area. We were lucky enough to see the beautiful bridge at Kadijkplein raise to let a boat pass, then we walked and took pictures of the remaining roses in the area. We sat on the edge of the canal and watched the elephants family at the Artis zoo — it seems that if you are lucky, you can see them from outside. We visited de Plantage area and Plantage Café where we admired the flamingos who were casually enjoying their Sunday.
Amstel River and the Skinny Bridge followed, and the Pijp neighbourhood. We had a quick brunch in a café, then ice cream at the IJscuypje, wandered around a few shops and rested a bit in Sarphatipark. A walk in the Oud-Zuid followed naturally, then Museumplein where we spent some time on the grass, soaking up the sun and we took the mandatory photo with the IAmsterdam letters.
The evening was spent in the oldest part of Amsterdam — Oude Waal, Oudeschans, Oude Kerk and Nieuwmarkt area. We had drinks at Stevens Café and then, when it got dark outside, we went to see the Red Light District. After this we walked our way back home, stopping here and there to admire how lovely the canals are illuminated at night and how romantic it looks with the lights reflected onto the water.
Monday
This day was dedicated to non-tourist type of activities, visiting some schools for a change. She works as a psychologist in Romania and she's involved in a few projects with Dutch schools. Her project partners showed her a few schools, gave her a tour of Marken and a sample of Dutch hospitality, before heading to the airport for the trip back home.
There are still places left that I wanted to show her, but they will just have to stay there on the list for the next visit. These 72 hours were quite comprehensive and I think I did my job as a guide quite well —  she loved Amsterdam and she left thinking already about her next visit!