I would have liked to have two months to explore the Zuid-Holland (South-Holland) province! There are so many places I wanted to see and many others to revisit! I did my best and brought to you a couple of places: the charming Delft, amazing Dordrecht, the flower gardens at Keukenhof, the tulip fields, idyllic village of Warmond and the historic Gouda. Traveling in spring is a totally different experience; I could enjoy more of the places I've visited than I did back in January and February, and I was happy to come back home without frozen hands. The weather has also worked in my favour this month; the only drawback was my health, as I'm still suffering from post-Covid symptoms and I don't have my energy back to normal. Given more energy (and more time), I would have loved to explore some of the nature reserves and more of the castles of this province. Zuid-Holland is rich in nature and there are unique areas that worth at least one visit.
I hope you enjoyed traveling with me through this province, and I know you are curious to know which one is next. Your curiosity stops here: the next province is (drum rolls)… Gelderland!
Here's the usual PDF with the main places to visit in Zuid-Holland province (you will receive it as a downloadable file if you are subscribed to my newsletter).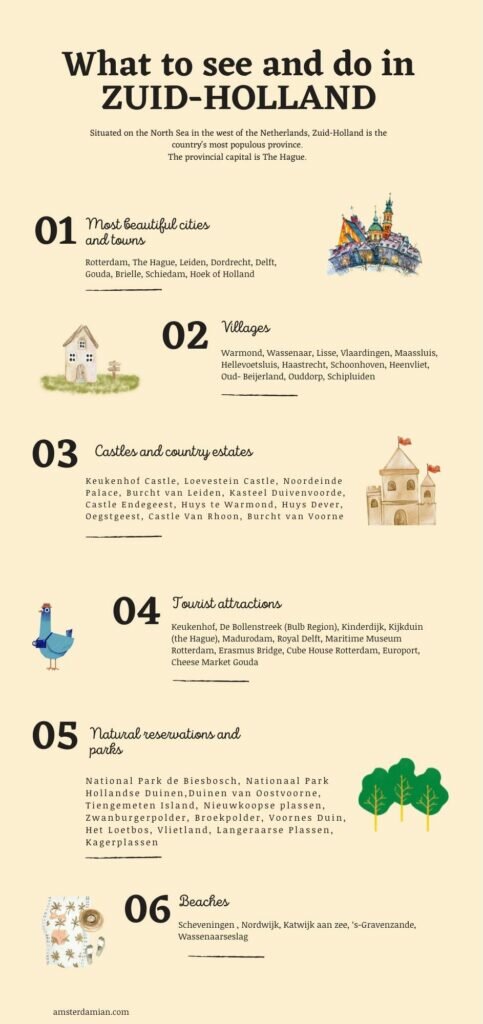 Stay tuned for more and follow Amsterdamian on Instagram and Facebook for daily stories about life in the Netherlands. Please share this post if you liked it!
Don't forget to check out my photo book: Amsterdam Through the Seasons!
If you want to buy prints and other cute objects, check out our store on Society6!