North of Leiden, in the Bollenstreek region, on the lake system called Kagerplassen, lies a beautiful village called Warmond. This was one of my best discoveries during the month of the Zuid-Holland province. I went there with no big expectations (it was a village I've never heard before, after all), and, after a day spent in the sun, strolling around Warmond, I didn't want to leave anymore.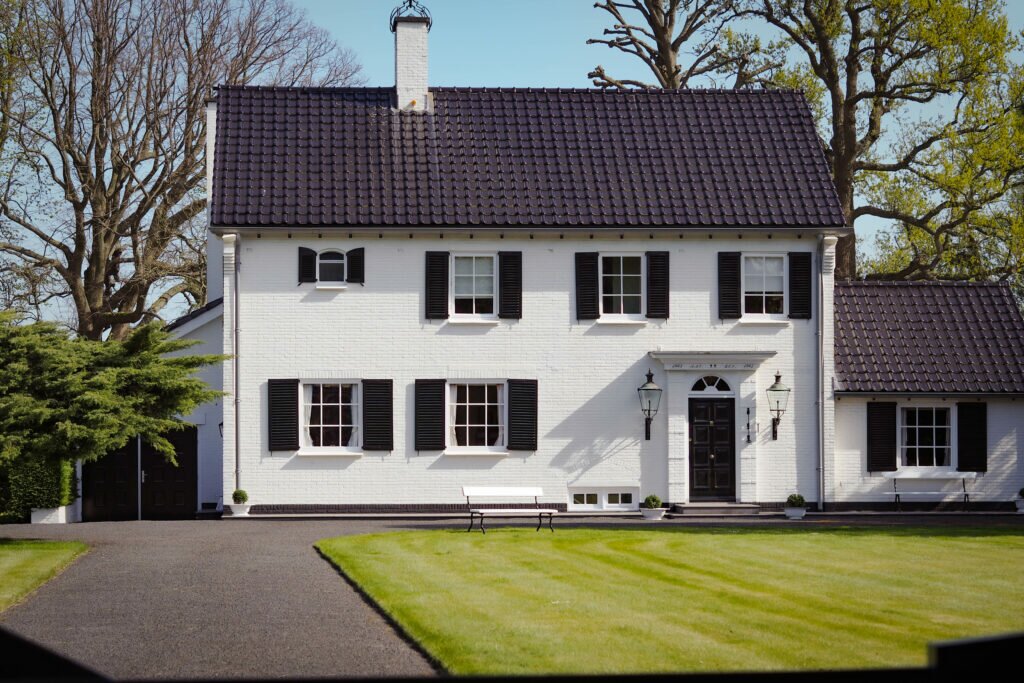 Warmond is known as a very affluent village, with a rich history. Even if you wouldn't know this, you would soon understand it after wandering through the village and seeing the beautiful mansions and the expensive cars and boats. It's a beautiful place, and it's a pleasure to discover it. There are many monuments in Warmond, old houses like the "Old Doctor's House", former schools and quite a few churches for just one small village. Outside the village, a rich nature awaits to be discovered: polders (a piece of low-lying land reclaimed from the sea or a river and protected by dykes) with windmills, lakes and islands.
My visit to Warmond started with Huys te Warmont. This is a country estate surrounded by gardens and meadows, and a park forest, which is very atmospheric. Around 1303, a medieval fortified farm was founded on this location, and the free lords of Warmond lived here for centuries. This was destroyed by the Spaniards in 1574 and rebuilt from 1579. The current building was renovated in 1774. It was under renovation when I got there as well, so I couldn't see the interior, nor admire the gardens. Huys te Warmont seems to spring out straight from the clear water of a lake that reflects it as a perfect mirror. From the edge of the park, you can see the polders and a few windmills.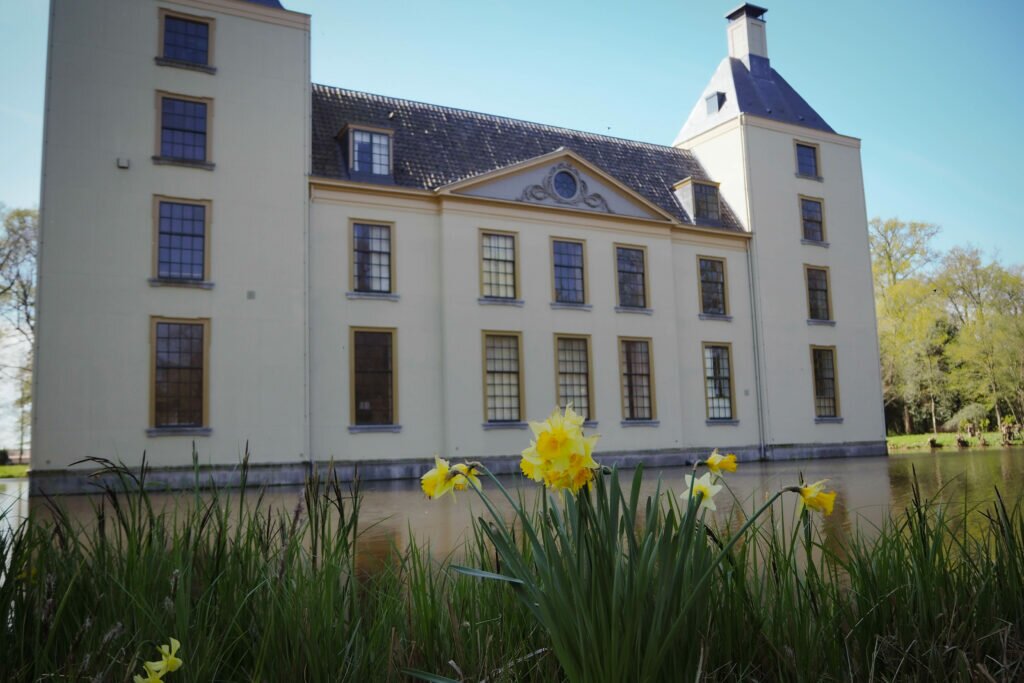 After that, I went for a stroll in the village. It was the cherry blossom time, so there was pink colour everywhere I looked, completed by magnolias at the end of their seasons. To give you an image of the village: think about church bells singing, cherry blossom petals dancing in the wind, a few locals working in their gardens, and a few cyclists, here and there, exploring and stopping for lunch.
One place you shouldn't miss during your visit to Warmond is the Oude Toren and the church ruins. Right next to the Oostergeest estate, on a piece of raised ground, you'll find the Old Towers and the ruins of a former church. The church, dedicated to St. Matthias, was destroyed by the people of Leiden in 1573, during the war with Spain. They didn't want that the advancing Spanish troops to find a safe haven here, so they tore the church apart and never rebuilt it.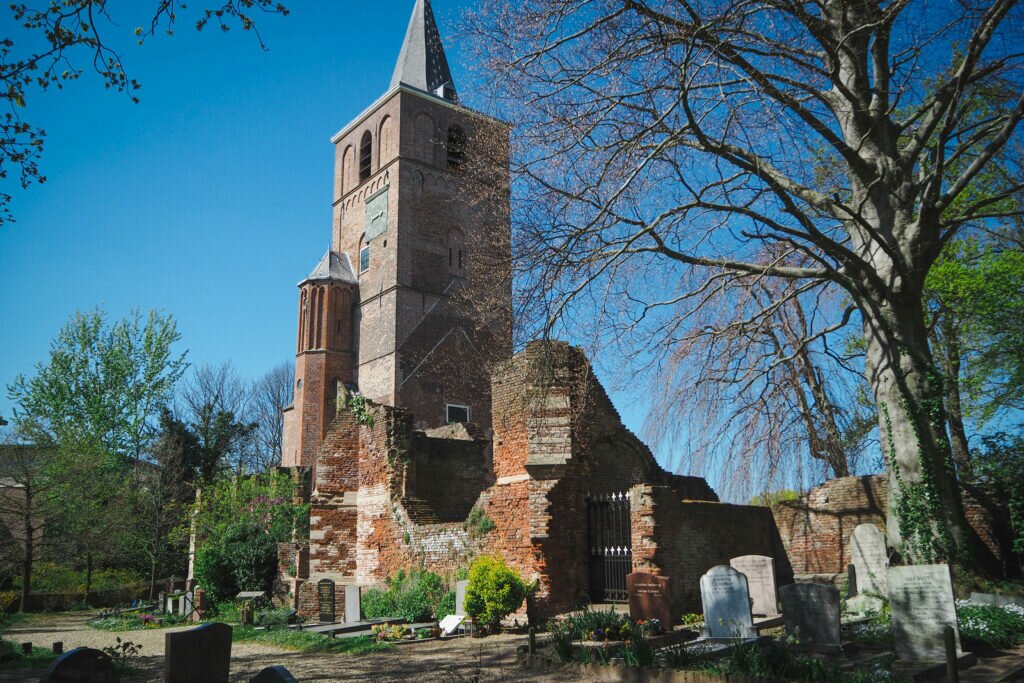 After seeing most of the village, I had a coffee at the Old School cafe, and headed towards the water. Warmond has several marinas and it's a popular recreational area for boating and other water sports. I din't take a boat trip this time, but I would surely like to come back for one. I went, instead, to the Koudenhoorn island.
A beautiful drawbridge connects Koudenhoorn to the village, and the island is a versatile nature area: it features a beach, a petting zoo, a play forest, moorings for boats. It's a great place for a walk or a run, and it offers a good view over the water and Zwanburgermolen (windmills). The island gave me a holiday feeling, and after a long walk, resting on the beach was a super treat. It took a lot of willpower to leave the place before the sunset, to get back to the train station and then home.
How to get to Warmond
Getting to Warmond by train: take a train to Sassenheim, and from there you can either walk the two kilometres to the village (among fields and farms) or take the free 150 minibus. Check out NS website for more info.
And now for the visual tour:
Stay tuned for more and follow Amsterdamian on Instagram and Facebook for daily stories about life in the Netherlands. Please share this post if you liked it!
Don't forget to check out my photo book: Amsterdam Through the Seasons!
If you want to buy prints and other cute objects, check out our store on Society6!
Subscribe to our newsletter!