There are many beautiful villages in the Netherlands, but this one is truly special. Giethoorn, a small village situated in the Overijssel province, also known as the Venice of the Netherlands or the village with no roads, is a place where it feels like you are entering a fantasy world. There is such a peaceful and quiet atmosphere, you will want to stay for a while and forget about everything else. Narrow canals, beautiful gardens, and with the only noise coming from ducks and water splashing, this is not something you find every day.
In the past, Giethoorn didn't have any roads so people used to move around only by boat. It does have some roads now, although in the old part of the village there are only canals, walking paths and bike paths.
The best way to experience Giethoorn is by boat (you can rent one), but also walking along the canals and crossing over the wooden bridges is something worth doing.
I was amazed by the fact that each house (mostly thatched cottages) sits on its own island; a small patch of land around the house, basically the garden, covered in grass and flowers. I'm pretty sure the inhabitants are competing against each other in creating the most beautiful garden in the village, they were all so charming! In front of the house, tied up to a small dock, you'll see the family's boat. I can only imagine how nice it would be to wake up in the morning an take the boat to go to school or to work!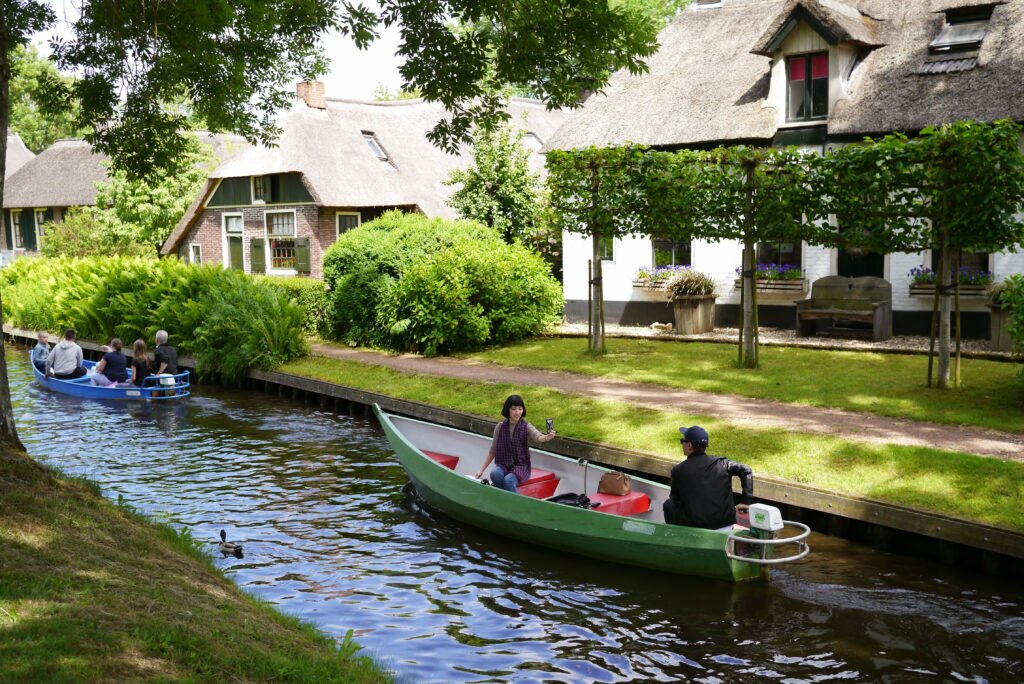 Make sure you reserve a full day when you go to Giethoorn, so you can properly enjoy the place: ride a boat, walk around, eat pancakes or other Dutch specialties, visit a museum to find out more about the village and its history. I want to go back to Giethoorn for a relaxing weekend, to experience waking up in a magical place, drinking my coffee at a small table next to the canal and peony bushes, and to explore the surrounding countryside area.
Fun fact: the name of the place translates to "Goat horn" and it comes from the hundreds of goat horns (gietehorens) that were discovered there by the first inhabitants (around 1230). They were the remains of a huge flood that had devastated the area a few years before.
How to get there: the village is 90 km north from Amsterdam. You can rent a car to go there or take the train to Steenwijk or Zwolle and then bus 70 to Giethoorn. Check out Giethoorn website for more info 😉