If you're looking for a walk in the woods without having to go too far away from the city, the easiest choice would be the Amsterdamse Bos (Amsterdam Forest) — a park situated right outside Amsterdam, in Amstelveen. You could call this "hiking for beginners" or "hiking for lazy people", if you wanted, since it presents no challenges for the hike itself nor for the getting there part. I use the term "park" because Amsterdamse Bos is not a natural forest, it's a man-made one, and it comprises different landscapes, not only forest. This is one of the largest parks in Europe, and its construction started around 1930, but had to be interrupted because of the Second World War, to be subsequently finished only in 1970.
Today, Amsterdamse Bos is a popular spot for outdoor activities for Amsterdammers of all ages.
The varied landscape — wet and dry patches, wooded areas, grassland, reed and open water — provides a great habitat for a diverse flora and fauna to thrive.
Amsterdamse Bos offers quite a wide range of activities too, so don't expect to find yourself all alone there, just yourself and the Highland Cows on the forest path. However, it's the closest to a forest hike you can get if you are not in the mood to go too far away from Amsterdam. It is a beautiful nature area that covers 1000 hectares and provides a few good kilometres (4 to 15) to walk in the forest, where you can admire plants, birds and animals (the Highland Cows I was talking about can be found in the forest area called Schinkelbos). I like to forage for wild plants and berries (this is a good area to do it), look for mushrooms (but I don't like to eat them :P) and I always keep an eye out there for cute little creatures. When you're done with the walk, you can have delicious Dutch pancakes at the Boerderij Meerzicht (Meerzicht Farm) — my favourite way of ending a walk in the forest! They have a few animals in the courtyard, among which deer and colourful peacocks that roam around the tables of the open door restaurant.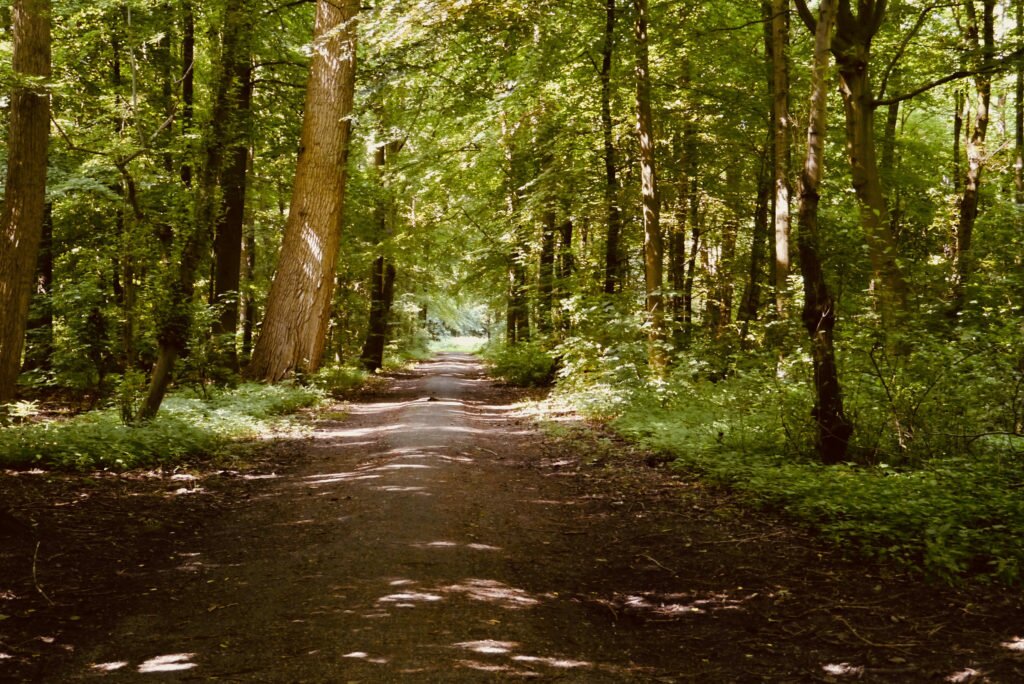 If you are interested in more than just hiking, here are a few of the other activities you can do in Amsterdamse Bos:
Various outdoor sports: horse riding, canoeing, rowing, cycling, stand-up paddle boarding and swimming (in the summer, if the weather allows it); the administration assures us that the water is clean and there are also two outdoor paddling pools for small kids.
Visit the Geitenboerderij Ridammerhoeve (a Goat Farm): situated in the middle of the forest, this is an interactive farm, part petting zoo and part educational centre. Ideal for a visit with kids.
Fun Forest Climbing Park — high rope adventure park.
Open-air theatre or music performances at Amsterdam Bostheater.
Cherry Blossom Park: a round area covered with 400 cherry blossom trees, this is the place where the Cherry Blossom Festival takes place every year, in spring.
Visitors' Centre "De Boswinkel": if you enter the park through the main entrance, you can pass by the visitors centre for maps, info or for the gift shop.
These are only a few of the things Amsterdamse Bos offers, you can check their website for everything else, including a map of the park.
How to get there: cycle from Amsterdam (takes about 45 minutes or more, depending on the starting point and how fast you cycle) or take the bus (use 9292.nl to find the best route for you). Or drive, of course, but why drive to the park when you can enjoy the trip as well?
You can follow Amsterdamian on Instagram and Facebook for daily stories about life in Amsterdam and travels.