Do you like Christmas markets? I know I do! I like them even if they are crazy crowded and make me tired and even if I don't go there to actually buy gifts. What I like about them is the cosy feeling they inspire, the sparkles on the decorations and in people's eyes, the good mood you get when you enter one. 
The first time I went to Cologne was a few years ago, curious to see a proper Christmas market. I visited three of the markets (there are nine in total!) and I was charmed by them, so, this year, I wanted to repeat the experience. I only did day-trips, because one day is enough to see a few markets, eat and drink as much as you can, and then still sleep in your own bed at night. It's not enough to see all the markets. If you want that, plan a weekend trip. That will give you more time also for the city. The train ride from Amsterdam is between 2.40 and 4 hours, depending on which trains you choose, and when you go out of the train station in Cologne, you are right next to the imposing Dome and the first market: Cathedral X-Mas Market.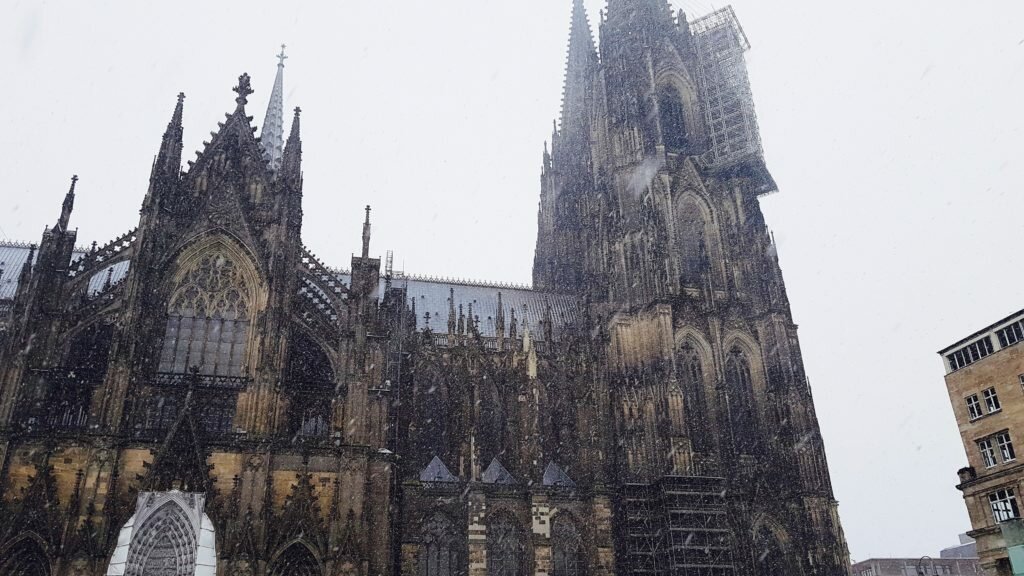 This year, when we went out of the train station, it was snowing: a proper Christmas mood. I danced in the snow until my glasses were wet and I couldn't see anything around me. By the time we ate the first raclette (the best one I ever had) and drank the first glühwein, the snow stopped. We spent the day wandering between markets, eating, admiring the products, buying a few gifts for ourselves. The two other markets we've seen were: Alter Markt – the Old Market and Angel's Market. The Alter Markt is my favourite, with its wooden house gnomes all over the place and the beautiful chandeliers hanging above the alleys. In the evening, when the lights are on, you can see the smoke rising from the cooking stands and surrounding the chandeliers like a dense fog — I find that beautiful! There is also a tree of hearts here, under which people gather to drink the glühwein, egg punch or warm chocolate in peace, away from the overwhelming crowds.
If you want to buy things, the markets offer a variety of stands with tasty sweets, toys, ornaments, house items, handmade soaps, candles and everything your heart desire. The food is absolutely delicious and abundant! I only tried the vegetarian, but I imagine one would need a couple of days to try everything, from the flammkuchen and raclettes to all kind of wurst, baked apples, strudels, etc.
It was a beautiful day and I would like to make this trip a yearly tradition, but we will see what the next winters will bring.