A sunny holiday was an important part of my plan for surviving the winter. As you know, if you live in the Netherlands, winter can be a difficult period, with little light and many grey days. It can bring one's mood down easily and it requires effort to get through these months with a light heart.
For this year's winter break I chose Málaga, the beautiful Andalusian city in the south of Spain, because it was almost certain that the weather would be sunny there, and I didn't want to take any chances with this. Also, I've heard good things about this part of Spain and wanted to see it for myself. Because of Málaga's and the surrounding areas' popularity as beach resorts, I knew I would never visit them in the summer – another reason to go there off-season. So, in the first week of February, I left the gloomy Amsterdam behind and headed towards the land of the sun.
I arrived there late at night and headed straight to the rented apartment. The night air was cold, though not as cold as the one I had left behind. I didn't know I was in for a shock the next morning. When I left the old city streets, narrow and shaded from the sun, and stepped out into the port area, the light blinded me. There were tall palm trees, colourful flowers, birds and butterflies, and it felt like summer. Although the locals were still wearing their jackets (mornings are chill), I was already in my t-shirt. I was happy but I couldn't see anything ahead because I had forgotten to bring my sunglasses. After half an hour I felt nauseous and had to look for shade, to recover. I guess my body needed to adapt to the change in temperature, from zero to almost 20 degrees Celsius. Around lunch time I was all accustomed with the climate and felt great, making my way up the hill to the Gibralfaro Castle. So the mini-summer began!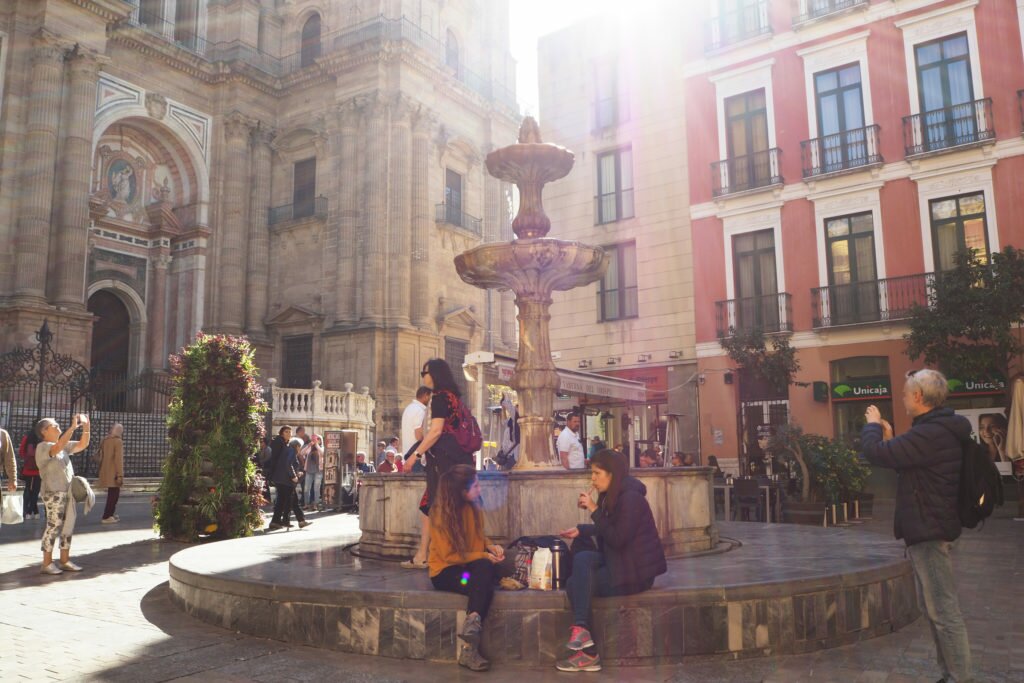 Málaga didn't win me over from the start. It's a big city, noisy, with a lot of traffic. There were construction sites everywhere, hammer drills and scaffoldings, plenty of dust. They do not allow construction work in the summer, I've heard, so all the work is done in the winter months. But after the initial annoyance, I got used to it and managed to see the city for what it was. It conquered me with its chill atmosphere, lively streets, beige-pastel houses, lovely people and amazing pink sunsets. Life here seems to flow peacefully and swiftly at the same time. In the morning, around 9:30 when I was waiting for a café to open so I could get my daily fuel, I couldn't help thinking that in the Netherlands, at that hour, some people already have their second coffee. The agitation started around 10a.m. and it went on till the evening. But then, after sunset, the city seemed to calm down, bit by bit, and the streets were filling with locals going out for a walk, dinner, and after-dinner ice-cream. Everyone seemed to get a well deserved rest after a full day.
Apart from the Gibralfaro Castle, I visited Alcazaba (the fortress palace), the Picasso Museum, the port, the beach and walked around the old city. I loved the view from the Gibralfaro hill (totally worth the climb!), the Arabic beauty of Alcazaba, the orange trees brimming with fruits that ornate the streets. I watched people feeding the fish in the port and marvelled at the green parakeets competing with pigeons for food in the park. I felt safe as a woman travelling solo.
Food was a bit tricky, for a vegetarian, but there were vegetarian tapas to choose from (fried eggplants with honey were my favourites) and the portions were big, so I didn't starve. Many restaurants offered vegetarian or vegan dishes, and, overall, I felt that there were enough options. At least compared to what I remember from visiting Barcelona a few years ago, where it seemed that "jamón" was all that the locals ate, day and night. I had good specialty coffee at Mia Coffee Shop and Bertani Café, but also unexpectedly good coffee at random "tabernas".
All in all it was a lovely holiday, and I also did two day-trips, but I'll tell you about those in another article.
You can follow Amsterdamian on Instagram and Facebook for daily stories about life in Amsterdam and travels.