I can't believe we arrived at the sixth part of this little project! Today's story comes from an Amsterdam teacher.
The idea behind "Life in the time of Coronavirus" project is to illustrate how people cope with the current pandemic situation, how their lives have changed and how they see the future. Just normal people living normal lives.
Debbie, Amsterdam, the Netherlands

Instagram: @dee.a.chapman
Ever had that fantasy where you wished you could push the pause button on life? You know, so you'd finally have time to tackle that pile of books next to your bed? Curl up on your couch and take an afternoon nap? This is so not that.
Week 12/13
Following the press conference on March 15th announcing the closure of schools for a couple of weeks, we receive an email from the head of our school letting us know that we'd be allowed to collect our books in two days. A day later there's another email telling us we have until noon the next day to get the first planners online so that our students can start working. What follows is a whirlwind of online meetings with several groups of fellow teachers trying to decide the what and the how of our new reality. By Wednesday afternoon the madness is compounded by messages from what feels like every single one of my 196 students. All at the same time.
Admittedly, those numbers aren't wholly accurate. But what is true is that I'm at my laptop by 8 a.m. everyday that first week and I don't get up until late afternoon when my bladder threatens to explode. By Thursday night, in a futile attempt to relieve some of the pressure, I decide to turn off my alarm clock and trust that I'll wake up on time. Trying desperately to gain some degree of control over the landfill formerly known as my dining table, I order myself an A3 planner and get rid of the sticky notes and loose sheets of paper I'd been relying on. I make separate piles for each year I teach and by the end of the day Friday I'm cautiously optimistic that I'll be able to handle this.
Week 14
I wake up on Monday to discover I've developed a deep-seated aversion to my laptop. Just the mere act of opening it brings on the mother of all headaches, so I close the screen and instead sit on my couch and mark two sets of long overdue tests. I monitor my messages on my phone and when I sign in for our first online team meeting on Tuesday, I leave my camera off. Though it feels good to be able to see my colleagues again, I've grown weary of my bra and can't quite find the energy to put it back on.
At around half past four my phone rings. It's my aunt Jenny. "Your Dad's not doing too well and we haven't been able to get in touch with them for the last two days". Them is my Dad and his wife, who live in Manhattan. She proceeds to explain and a frantic kind of calm settles in my mind as I try to sift through and interpret the avalanche of information: high fever, difficulty breathing, loss of sense of smell and taste, very weak.
The next few days pass in a haze. The TV, which had been mostly switched off for the first week, is now constantly on in the background. The persistent hum helps to drown out my thoughts and when I'm told that he seems to have lost the will to fight, I close my eyes, go to sleep and silently pray that tomorrow will bring better news. It's only about three in the afternoon.
Week 15
I'm scheduled to go into school for two days this week to assist with the exams and, although I haven't been able to teach any lessons online since early last week, I look forward to getting out of the house. Also, the fact that I wasn't actively working for a couple of days now means I'm impossibly behind and I work extra long days in an attempt to catch up. I fail, but the mental effort it takes is a refreshing distraction from the various worst-case scenarios my mind keeps churning out.
Aunt Jenny calls to report that my Dad managed to speak to her for a couple of minutes today. The news is reassuring as he's been unable to communicate with anyone on the phone for over a week now. When I get a chance to speak to him, I'm rattled by how weak he sounds. I can hear him struggling to catch his breath while he listens and the shock causes me to ramble on mindlessly about my daughter's new car.
Still my spirits are buoyed from our brief conversation and when I receive an invitation from a group of former students to join them in a group chat on Zoom, I'm sad to have to decline as I'm still trying to make up for time lost. Instead they send me a silly video message causing me to burst out laughing and almost choke on my soup. It's the first time I've really laughed in a while.
Week 17
Fast forward a couple of weeks and normal, as I used to know it, has been put on a prolonged pause. Where I used to spend about two-thirds of my day in mostly pleasant, yet at times contentious, companionship with a steadily rotating group of about 28 teenagers, I now spend about 9 hours per day sitting at my dining table staring at a screen. Suffice it to say that my hatred of all screens has intensified. I've given up over enthusiastically video calling my friends and now only reserve that particular delight for my close relatives.
Some days, I wake up full of energy and manage to shower, dress and get out the door in time for a morning walk before my first lesson. Others, I feel like I'm schlepping myself around and struggle to get through my to-do list. A couple of days ago, our prime minister announced that secondary schools will remain closed until June 1st and even as an introvert, the prospect of another 5 or so weeks of lockdown is, at times, almost too much to bear.
This morning I walk downstairs to check the mailbox and find a small brown package addressed to me. Struggling to try and remember if I'd ordered anything, I open it to find a copy of The Guts by Roddy Doyle. The inscription reads "Hi Debbie, this is not as good as the other three… but hey, the story continues…". It's a book from a colleague that we had talked about on a recent work trip and I'm moved to unexpected tears by the kindness of the gesture.
I'm also reminded that unlike so many others I still have a job and colleagues to go back to when all of this is over. I'm also fortunate enough to be sheltering-in-place in a 75 m2 apartment in Amsterdam with not one, but two, balconies. And sure, my Dad was gravely ill and for a while it was truly terrifying. But he survived when, as of today, 211,000 others did not. In short, I'm trying to remind myself, as clichéd as it sounds, to count my many blessings and failing that, I watch old episodes of Gilmore Girls on Netflix. There really is nothing quite like a visit to the fictional town of Stars Hollow, where the inhabitants are all a bit touched and people live to a ripe old age, to take your mind off your rapidly expanding workload and help you forget about the pandemic taking place just outside your third-storey window.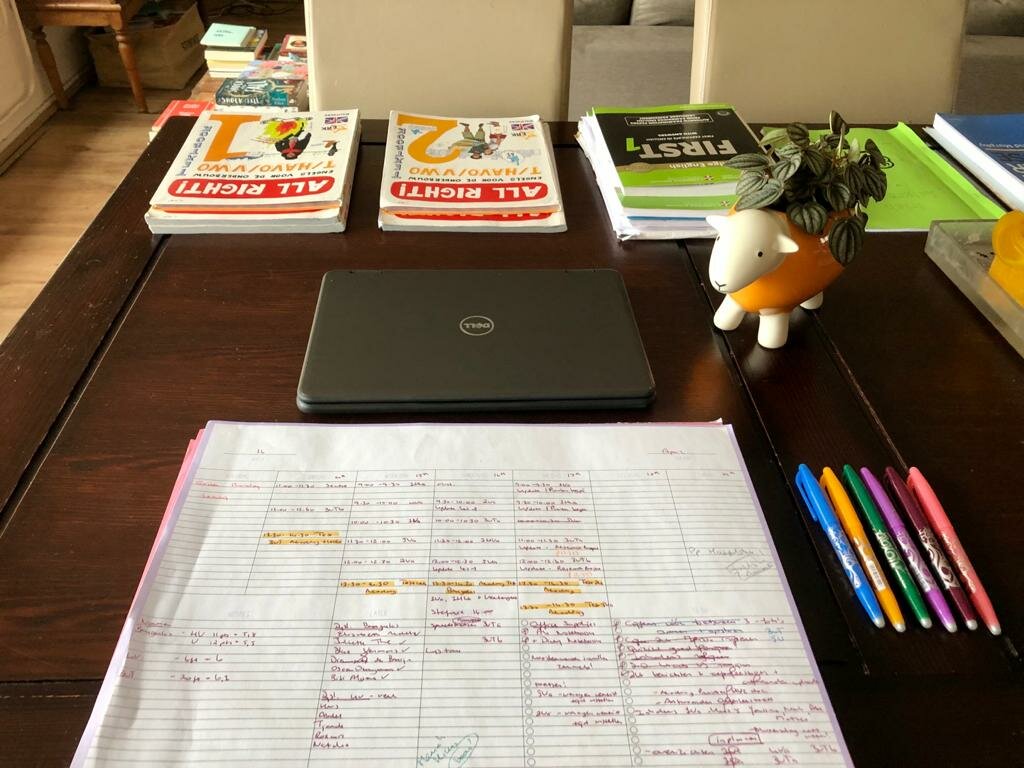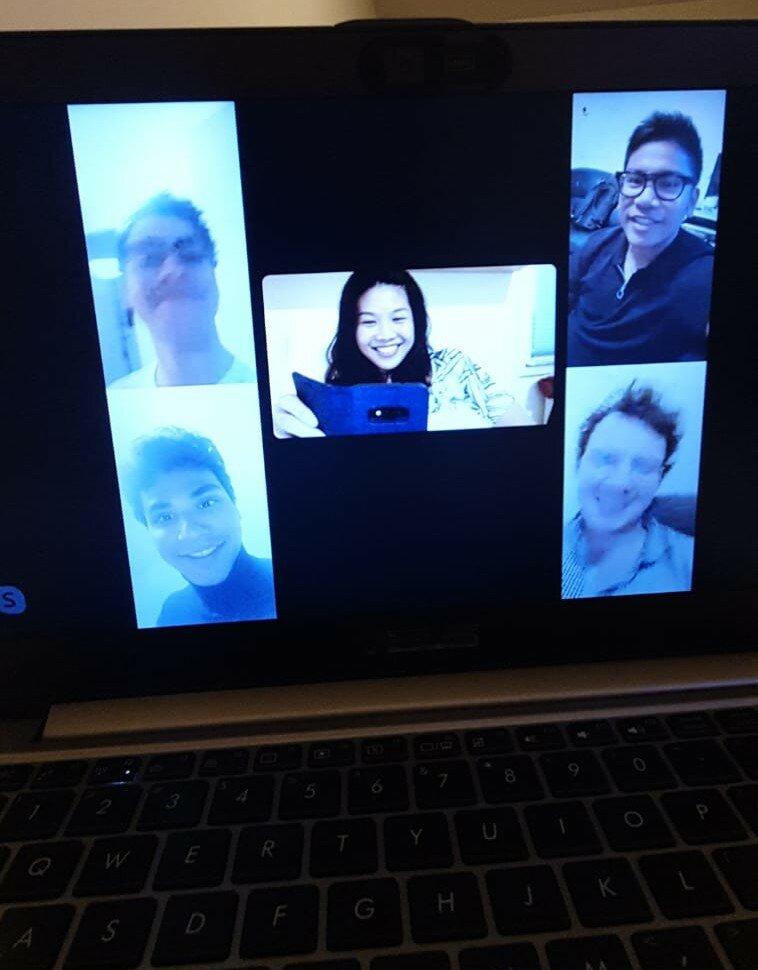 The pictures were provided by Debbie.
Stay tuned for more stories and follow Amsterdamian on Instagram and Facebook for daily stories about life in the Netherlands.