Nerja is a charming village with white houses and a collection of small rocky beaches. Its most famous landmark is Balcón de Europa (Balcony of Europe) — a round balcony built on the cliff, on top of what used to be the watchtower of an Arabic fortress in the 9th century. The balcony offers spectacular panoramic views over the coast. The legend has it that it was King Alfonso XII who gave this viewpoint its current name although others say that the place was known under this name long before the king's visit to Nerja. But I guess it's more fun to have a tale about a king inspired by the place's beauty and a statue of him on the balcony, ready for selfies with a beautiful background.
My plan was to go to Nerja and quickly see the Balcony after which take the bus to the nearby village of Frigiliana. I made my way through the narrow streets, not wasting much time, straight to the Balcony. When I arrived at the small square in front of the Church of El Salvador, I slowed down, because I was immediately immersed into a peaceful holiday mood: a beautiful woman was playing the violin, children were chasing pigeons and I could already catch glimpses of the sea through the white columns on my left. From the square, a palm-lined path invited people to the balcony. I spent some time here, taking in the views, after which I visited the two beaches nearby, where I concluded I don't want to go to Frigiliana anymore.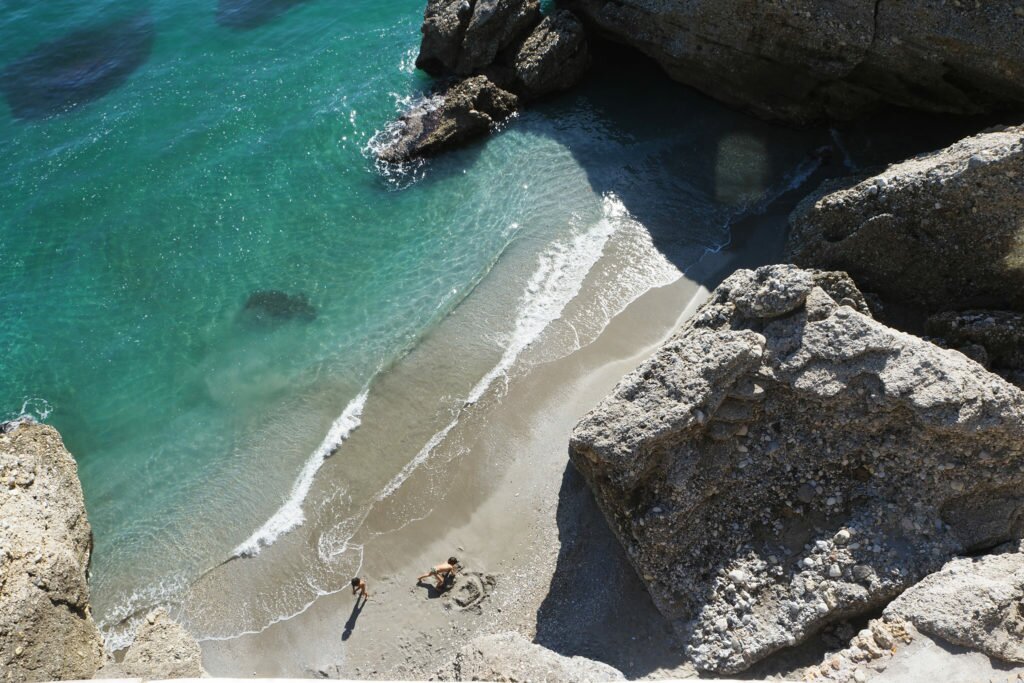 Basking in the sunlight, exploring the rocky area and inhaling the salty air seemed like better ideas. I even tried the water with my feet — it was freezing cold. Later, when I considered I had my share of beach time for the day, I went to see the village and have an early dinner before going back to Málaga. A wonderful orange sunset was colouring the coast and the hills while the bus was taking us back to the city, and I regretted I didn't stay in Nerja to see it. Maybe next time!
How to get from Málaga to Nerja by public transport: take the bus to Nerja from the Málaga Bus Station or from the bus station in the Port (this was a better option for me and probably for everyone as the bus was empty when it arrived there). There are many buses from morning to evening, you can plan your trip using Alsa website.
You can follow Amsterdamian on Instagram and Facebook for daily stories about life in Amsterdam and travels.