I've spent one day of my recent Andalusian holiday in Benalmádena. It's easy to get there from Málaga, by public transport. There is a direct line — train C1 to Fuengirola, from Málaga Alameda Station. At first sight, Benalmádena is just another sea resort with a beautiful beach, like many on Costa del Sol. But it has a secret: if you take a bus up the hills, to Benalmádena Pueblo, you will think you arrived in Paradise. This village, with steep narrow streets and whitewashed houses decorated with colourful flowers, is a jewel. I don't know how it would be in the summer, but in February it was pleasantly quiet, with very few tourists around.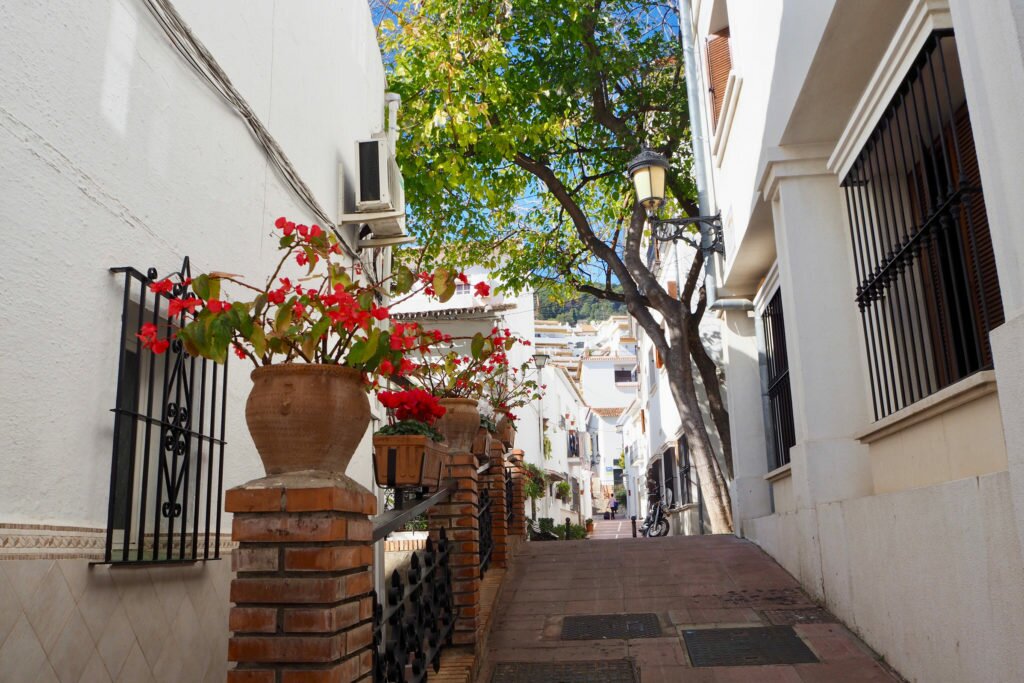 After enjoying half of the day on the beach, searching for little treasures (seashells, rocks) and getting my dose of vitamin D, I visited Castillo de Bil-Bil and headed towards Benalmádena Pueblo. I wandered through the labyrinth of white streets, arriving at the Church of Santo Domingo, which sits on top of a hill. The view from there was amazing, and the place so very peaceful. It was a good spot to rest while listening to the birds singing and looking over the beautiful surrounding area. I wanted to see Castillo de Colomares, but I only did so from a distance. I was too tired to walk there, and I settled for a drink at a restaurant in Plaza Espana, under the orange trees, before taking the train back to Málaga.
This place was so beautiful, I hope I will return someday for a longer visit 🙂
You can follow Amsterdamian on Instagram and Facebook for daily stories about life in Amsterdam and travels.