During the recent trip to Amersfoort, I visited my first museums since the start of the pandemic. It was such a treat! And I have to say that visiting a museum when there are only a few people around – as it happens theses days with the new rules – it's an improved experience. You have the space for yourself and you can admire the art at your pace, without being chased by the line of people behind you.
One of the museums I visited in Amersfoort was Museum Flehite, the historical museum of Amersfoort and Eemland. Located in three historic houses built into the city wall during the Late Middle Ages, museum Flehite welcomes its visitors with a large-scale model of the 17th-century Amersfoort. It's a relatively small museum, but a very pleasant one to visit. I have to say that Dutch people know their museums; I'm yet to visit one that does't prove to be a pleasant experience!
The exhibition I wanted to see was "A Different Light on Withoos – Three Generations Withoos", which is a temporary one, to be seen until 8 May 2022. It showcases a retrospective of the Dutch painter Mathias Withoos, combined with art made by its children and the contemporary photographer (and descendant) Hans Withoos. I loved how the dramatic paintings from the past were combined with dramatic, modern photography. My favourites were the floral arrangement paintings, with flowers so colourful and looking so alive! It was interesting to see how members of the same family produced their own art, at different places in time, in different ways.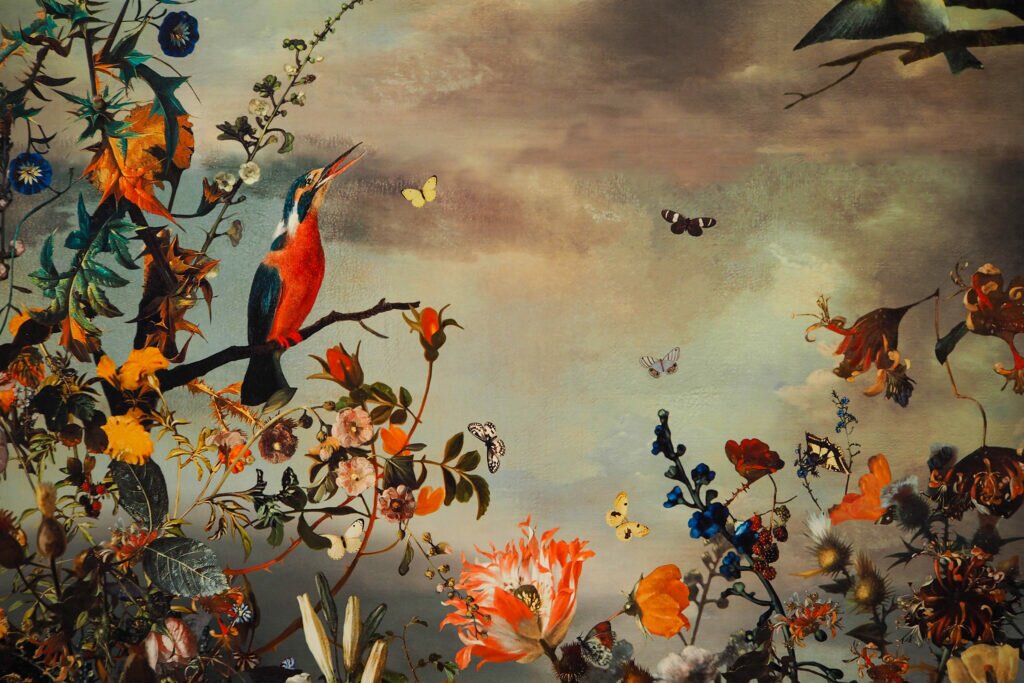 I also admired the headdresses made by Marcel van Dijk, and had fun imagining wearing one of those when going out in the crowded Dutch bars.
Another exhibition that was impressing was the "Eye Witness to the War". In WWII, Amersfoort was an important base for fighting, and the entire city was evacuated for a few days; there was also a concentration camp near Amersfoort. The exhibition tells the story of those days and the eye witnesses tell about their day-to-day experiences during WWII. Reading those stories and seeing little pieces of their lives — like a journal, a piece of wire from the fences –gave me goosebumps.
There are several other exhibitions in the Flehite museum, and the buildings themselves are a special exhibit to be admired. After the museum Flehite I went to see the Mondriaanhuis as well, so if you're thinking of combining the two when you go to Amersfoort, it's totally doable (time-wise, I mean).
Stay tuned for more and follow Amsterdamian on Instagram and Facebook for daily stories about life in the Netherlands. Please share this post if you liked it!
Don't forget to check out my photo book: Amsterdam Through the Seasons!
If you want to buy prints and other cute objects, check out our store on Society6!