The monthly list of cool events is back! This year it will include events happening in Amsterdam and beyond. Hopefully the "beyond" factor will bring more value to my selection. I picked only shows that are accessible to non-Dutch speakers, where language is no problem or the language is English.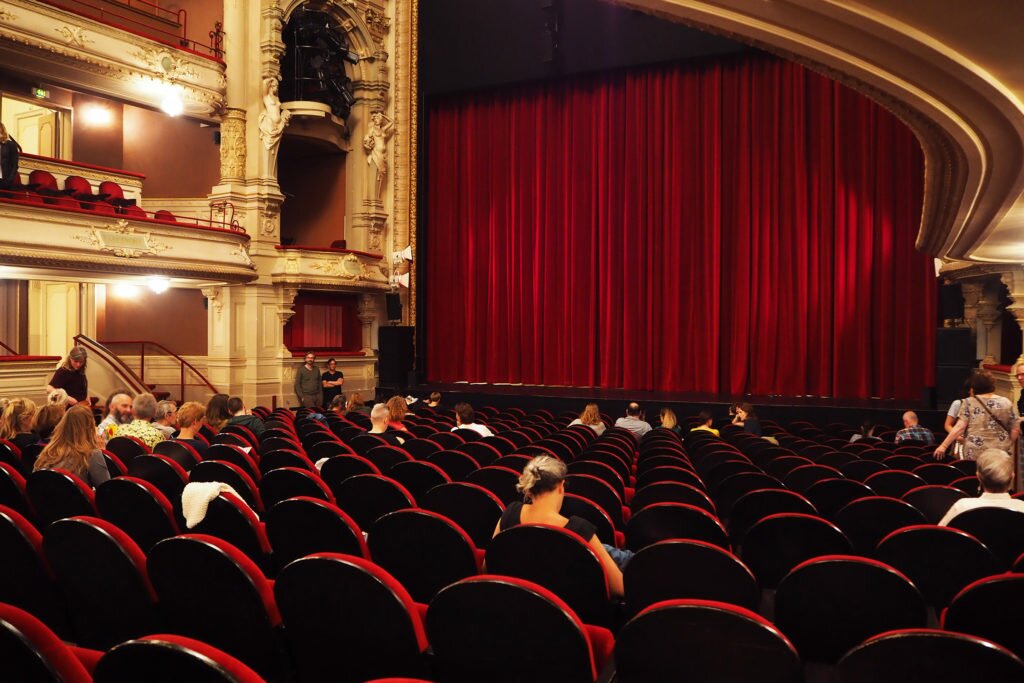 Here are the curated events for February. Let me know what kind of events are you interested in, to add more of them to the future lists.
Amsterdam
Exhibition at Van Gogh Museum: In the picture, a collection of 75 portraits and self-portraits of Van Gogh and many other artists.
Last chance to see Hermitage's fabulous jewellery and fashion collection Jewels!.
What a Genderful World exhibition at Tropenmuseum. What masculine and feminine means for each of us is culturally shaped. Explore differences around the world and be challenged with questions you probably never thought about.
Theatre at ITA. If you're up for a 4 hours show (in Dutch, with English subtitles) Een Klein Leven will be performed from 11 to 22 February.
Dance show: Kirina, a performance about migration of people, or the refugee crisis, from the Burkinese dancer-choreographer Serge Aimé Coulibaly 20 February.
Another dance show: Pearl, a baroque show from Scapino Ballet Rotterdam. Expect amazing costumes and a theatrical dance show. 28-29 Feb.
At the Nationale Opera and Ballet, a dance show inspired by the life of Frida Kahlo: Frida.
Boom Chicago's latest comedy show, The Future Is Here… And It Is Slightly Annoying, promises to entertain us with a robot who learned to do improv … and some of the usual human cast of the theatre as well. From Wednesday to Saturday throughout the month.
Concert at Bimhuis: Shishani&Namibian Tales,on 9 February.
Jazz concert, also at Bimhuis: Jazz Orchestra of the Concertgebouw, on 24 February.
A stunning audio visual kinetic art installation, Skalar, at the Westergas Gashouder, until 5 February.
Animaris, a Theo Jansen exhibition. An opportunity to see his beach beasts up close.
Valentines Market in Westerpark, 2 February.
Chocolate Festival, because everyone loves chocolate: 22-23 February. You will learn everything about the process of making chocolate, from the cacao bean to the bar that you buy in the supermarket, and so much more. Tasting is also very important, and you can definitely do that here.
Little Italy. An event dedicated to Italy and its food, at Westergas on 7-9 February. Expect workshops, cooking lessons, tasting food and wine, and much more.
Alkmaar
Sweet Demon dance performance by LeineRoebana. On 1 February at TAQA Theater de Vest.
Cathedral – Another dance show from Scapino Ballet Rotterdam on 13 February.
A show for the entire family: Efteling musical de Sprookjesboom. On 2 February.
Utrecht
A symphonic tribute to Avicii, on 7 February.
Kirina, a dance performance about migration of people, or the refugee crisis, from the Burkinese dancer-choreographer Serge Aimé Coulibaly 17 February.
Dance: Kiem, by Conny Janssen on 19 February. A show about vitality, about wanting to escape what is holding you back, the urge to break out.
A Korean drum show, Tago, 25 February. This one sounds like a lot of fun!
VeggieWorld Utrecht, 29 Feb – 3 March. The trade fair for a vegan lifestyle.
English-speaking theatre, One Flew Over the Cuckoo's Nest , 8 – 9 February, by English Theatre Utrecht.
Deventer
Irish Pub Festival on 7 February. A festival started as a result of one man's love for the Irish Traditional music — Mr. Wouter Hoffman. For a night the city will be recreating the atmosphere in Dublin city centre. There will be lots of live music.
Bow, from Holland Dance festival, on 5 February. A choreography exploring the asian tradition of bowing.
Hoorn
Flee market on 9 February.
Leiden
Museum De Lakenhal — Young Rembrandt exhibition, until 9 February
Laat me — dance show by choreographer Isabelle Beernaert, on 6 February. The central themes of this show are the passion, the love, the intention behind it, the call of your heart. Exploring why certain things touch us more than others and how we each choose our path.
Meet & Mingle for internationals, on 6 February.
Rotterdam
Object Rotterdam, a fair for contemporary design, on 7-9 February.
Rotterdam Photo Festival: an annual photo manifestation celebrating the wide spectrum of photography as it presents itself in our contemporary image culture.
The Hague
Do you like tango? Then this one is for you: World Tango Congress in Scheveningen, 7 February- 1 March.
The Curious Scrapbook of Josephine Bean, a theatre play from STET The English Theatre.
Kiem, by Conny Janssen on 1 February. A show about vitality, about wanting to escape what is holding you back, the urge to break out.
Maastricht
Groningen
Lostmovements, from dancers and choreographers Marc Vanrunxt and Jan Martens. The focus lies on the motivation of the movement.
More than Human: a fascinating insight into the world of artificial intelligence.
Dance: The Battle from Introdans on 4 February.
Concert: Ásgeir, "Bury the Moon" tour.
Meet and mingle with astronomers at Astronomy on Tap

.
Various locations: Mozart Requiem.
That's all for now, I hope you get some inspiration from my list!