No, the letters in the title of this play don't stand for that, but I couldn't help it. WET is a play brought to Amsterdam by Screw Productions, a female-led theatre company based in London and Amsterdam, that makes funny feminist theatre. It is about women, sex and porn, tackling sensitive subjects in a fun and unpretentious way. I knew about this play from Bryony, she told me about it a while ago, when it had a week-long run in London, and I was happy to hear they want to bring it to Amsterdam. The title and the description, as well as the poster (have you seen the poster yet?!) attract people's attention immediately. Will it be scandalous? Will it tell us what we already think we know about this subject or will it reveal hidden secrets that we never thought possible? I had to ask them more about it, before I'll see it at Perdu Theatre in October.
We had a great talk and a super fun photo shoot, this trio radiates positive energy!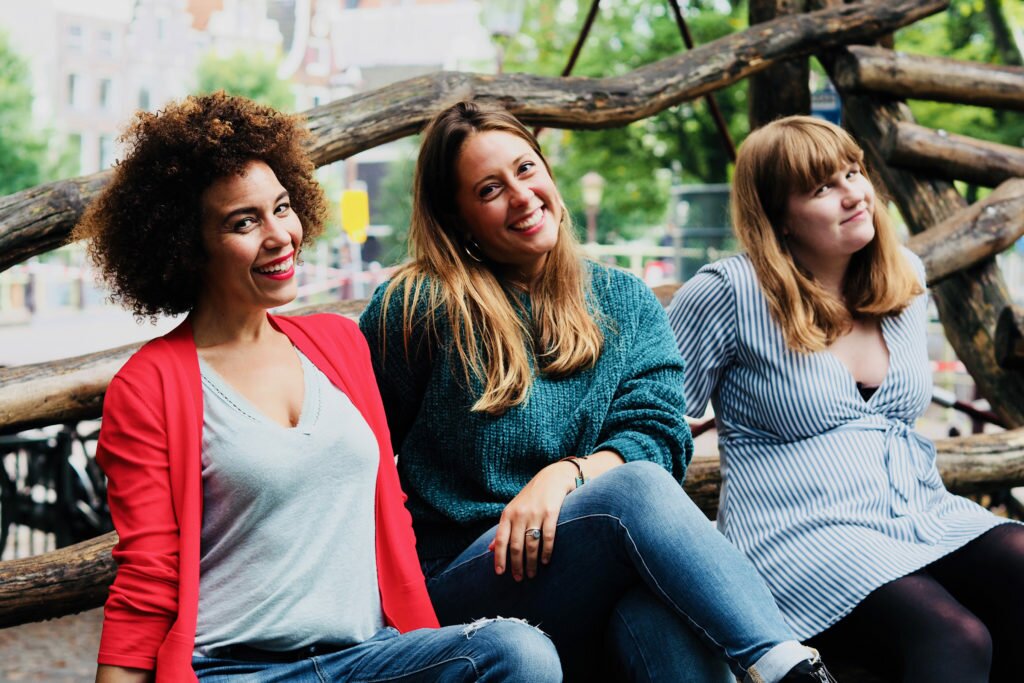 Can you tell us about Screw Productions?
Bryony: Me and Grace have known each other for years, and we set up Screw Productions as we had a mutual desire to see more female-led writing dealing with important issues in a fun, playful way. I can't imagine doing this without Grace; she inspires and champions me and we push each other to create the best work we can. It's great to create something with someone by your side, as writing can be a lonely world. I'm really proud of everything we've achieved so far together, and can't wait to see where Screw Productions goes in the future.
I understand you wrote this play together. Tell me how you came up with the idea. What's the story behind it?
Bryony: Grace and I have always had a really honest and open relationship. So sex was something we could freely chat about, and it was when we began talking specifically about women and porn that we felt we had a lot to say.
It felt to us that women watching porn was still a taboo subject, which is why we sent out an anonymous survey. WET came about from our own experiences, our friends experiences and the results of the survey. We wanted to write a play that conveyed women's attitudes to porn today to open up the conversation about women's sexuality.
Grace wrote a blog post about it which you can check out here.
I think many people would be curious to see the results of that survey. Are they published somewhere? Could you tell us at least a few interesting things that came out of it?
Grace: We don't have it published anywhere I'm afraid, but I can tell you a couple of interesting answers. 47% per cent of our survey respondents watched porn for the first time when they were under eighteen. 26% said they watch porn on a fairly regular basis (once every few weeks). Only 26% of respondents said that the porn industry was "definitely" inherently degrading to women, with most saying "It depends". So I think a lot of ideas are being challenged by those results, when we talk about the influence of porn we mainly talk about how it influences men and not women, so it's interesting that women do watch and engage with porn and most want it to be better.
The answers to the question: "What do you want to see more of in porn?" were varied but something that was mentioned time and time again was realism, intimacy between couples and communication. This is something women wanted to see in all sex in media including film, television and theatre. Which shows you don't have to be a watcher of porn to be affected by unrealistic and harmful portrayals of sex.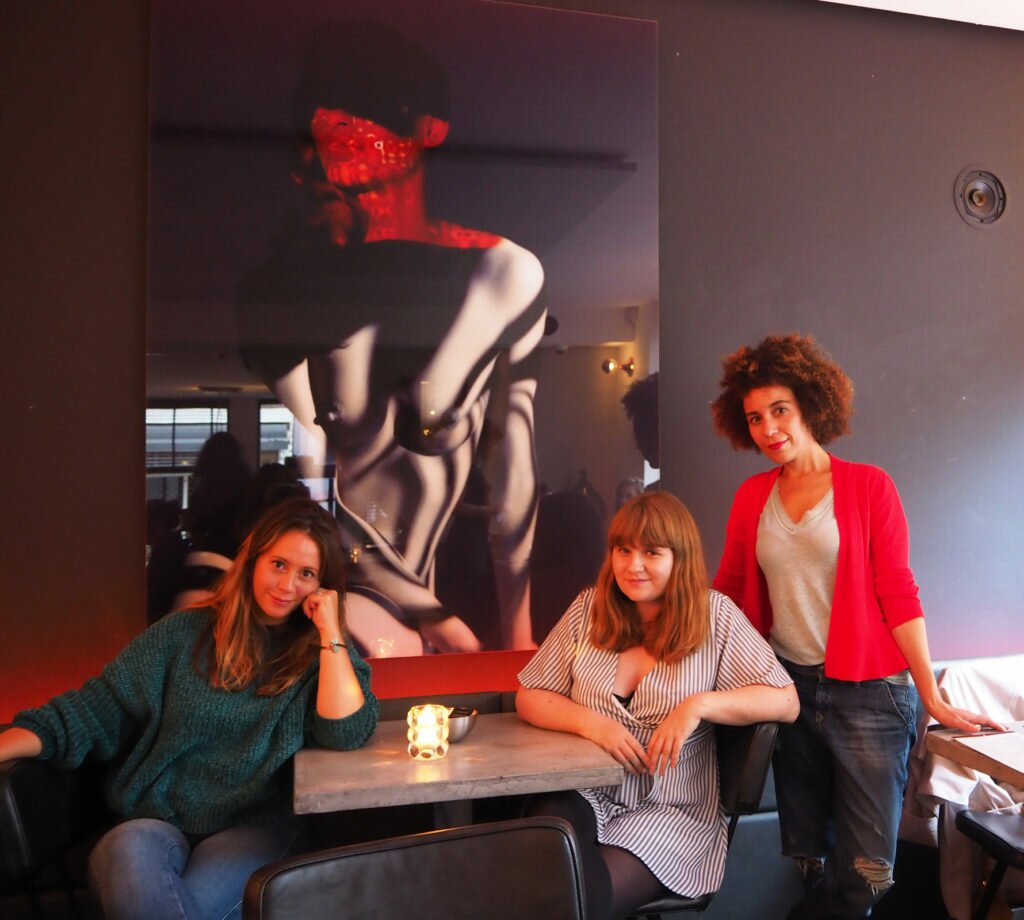 Writing a play about women's attitude towards porn, about female sexuality and desire might seem daring to some. Did you encounter any negative or unexpected reactions from family or friends?
Grace: No, luckily I have a very liberal and understanding family. We're quite British in that we don't actively talk about these topics, but they're always very supportive of the stories I'm writing. My Dad is creative so he understands that you have to write for yourself and not think about what other people might think, because if you're worried about what your Aunt or Grandma think when you're writing you're already limiting yourself. You've just to got to write and deal with the awkwardness later. One friend was a little apprehensive about seeing it because she thought it would be really dirty and in your face, but she really enjoyed it once she saw it. There's this idea that because you're talking about sex you're going to be really explicit, but I think even if you're a little more on the prudish side you can still enjoy this show.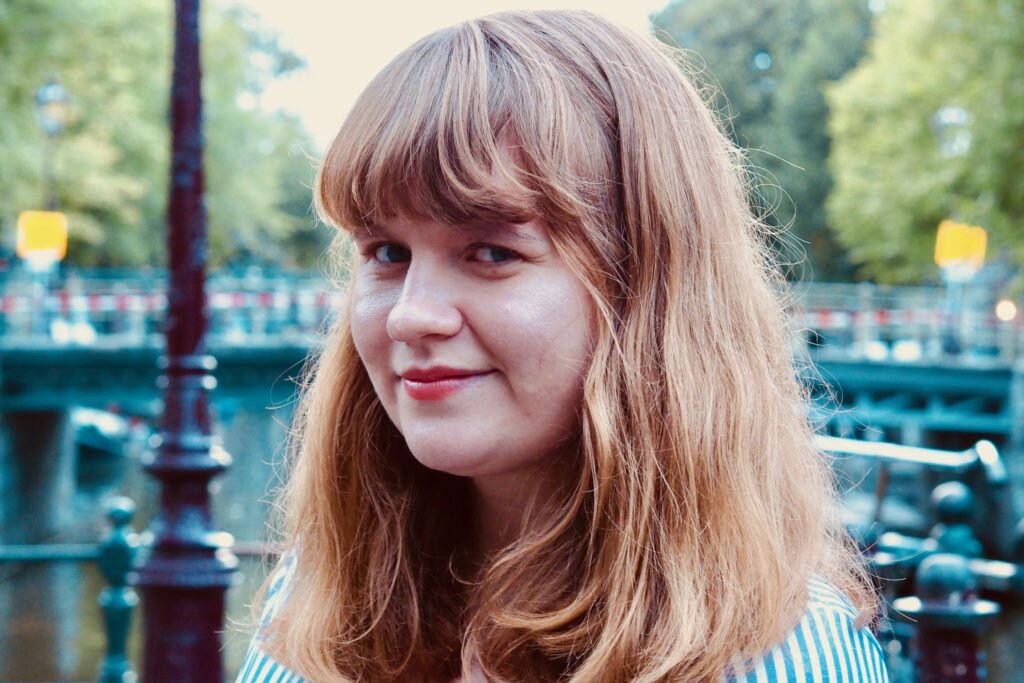 The play deals with women's issues in a fun way. But I am curious if it also contains a manifesto, makes a statement?
Bryony: We want the audience to feel less alone after coming to see WET. We want to counteract the picture perfect depiction of sex and relationships and our bodies we see in mainstream media and on the television. Sex and relationships can be messy, awkward, lonely and often overwhelming. By writing a comedy we want to laugh at the absurdity and awkwardness of sex and reassure people that they are 'normal.' So much of what we see is written from a male perspective and misses the importance of female pleasure. We want to take back the reins and talk about women being free and enjoying themselves, however the hell they want.
Did you write with a certain audience in mind? Who do you think this show will appeal to?
Grace: We didn't really think about it in a very methodical, "we are targeting these type of women between the ages of…", type way when we were writing. We just thought about it as what we wanted to see more of on stage and what we thought our friends would enjoy. A lot of theatre can seem really intimidating and alienating to a lot of audiences, so we wanted to write something that could be fun and accessible whilst still discussing important issues.
I think anyone who's open-minded enough to see a show that deals with women's sexuality could enjoy this show. We do think it will appeal to young women who have struggled a bit with awkward sexual experiences (haven't we all!) and want to see a fun, relatable show that has real believable female characters and relationships.
What should we expect from it? Will it be wild, scandalous, awkward, will it make us blush? What do you expect people to get from this play and to take home with them?
Grace: I think it's less wild than what you might expect. If you're a little bit squeamish or have a tendency to get a little bit embarrassed, you can still enjoy this show. There are awkward moments but they are definitely played for comedy rather than to make the audience feel uncomfortable. It's a hopeful play but one that can start a lot of conversations. We've had people come up to us in tears after saying they faced similar issues to Holly or Sophie (our main characters) but they've talked about it. The main objective of the play is helping women feel more comfortable talking about issues they've had with sex. It's a great play to see before you go out with your friends to a bar, where you can share your own awkward experiences and have a giggle.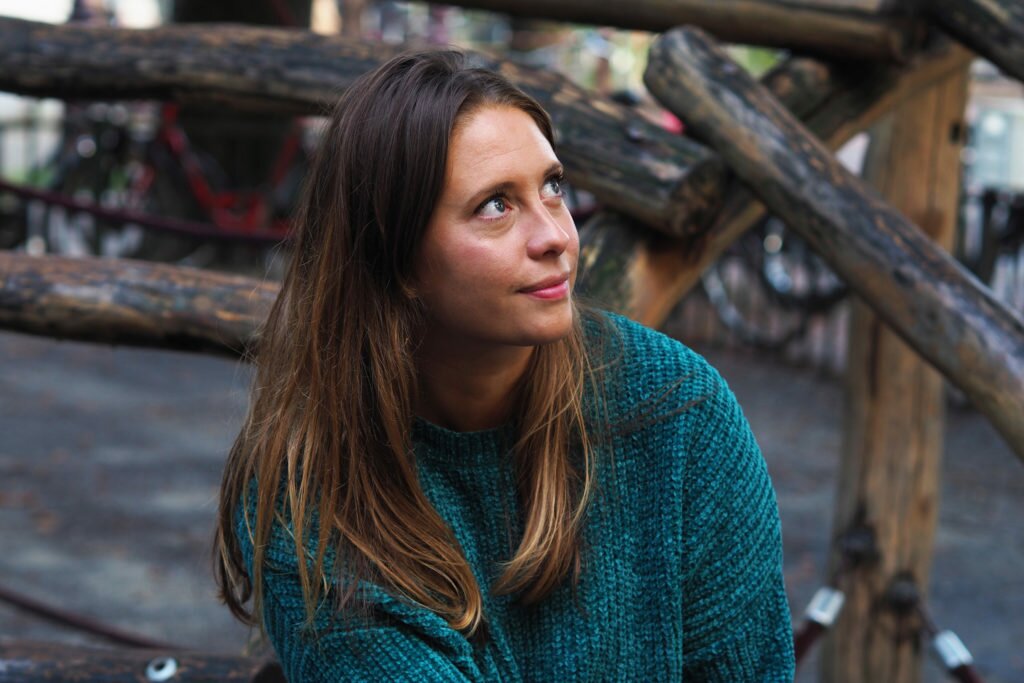 Can you tell us about your creative team for the production of WET in Amsterdam? Who has been involved in bringing the project together?
Bryony: Cíntia Taylor is directing and myself and Grace are producing it. We feel really fortunate to have such a passionate and dedicated group of people on board. Cíntia directing was a no-brainer really; she has been involved in the whole process of WET, and she just gets it. We have a cast of six talented actors on the team: Nastassia Vuursteen (Holly), Tessa Stephenson (Sophie), Amélie Onzon (Elsie), Shane Redondo (Oscar), Hiske Bongaarts (Saskia / Porn Actor) and Errol McCabe (Tim / Porn Actor.) Sitting in on rehearsals has been in equal measures hilarious and also really moving, which actually encompasses the whole feeling of WET. We're so proud of everyone involved and very excited to see this production up on stage.
Cíntia, you mentioned this is the first theatre play you will be directing. Why did you choose this particular play?
Cíntia: Directing theatre has always been on the cards. I had only expected that it would have happened with one of my own plays. I know it sounds cheeky but the truth is that I didn't choose the play; the play chose me. Bryony had asked me to read it back in January and when I was in London I had the chance to see a reading that Grace had organised. So, in one way or another, I felt really close to the process. When they asked me if I wanted to direct it, I didn't even blink, I said yes immediately. It's also a great challenge because it's comedy and I only write dark dramas. It's nice to do something outside my comfort zone.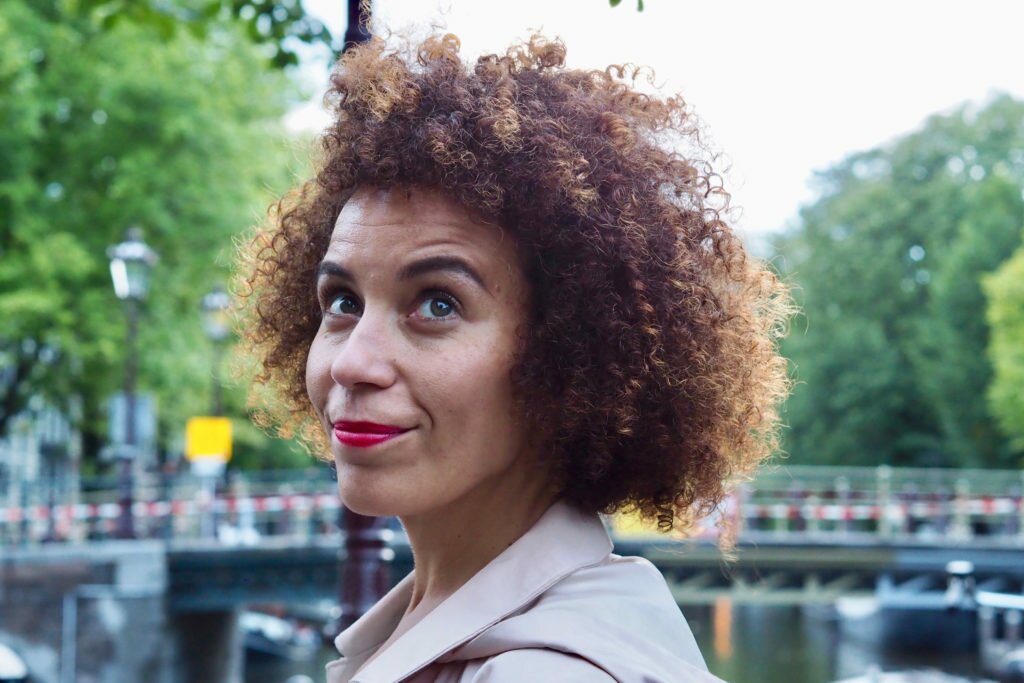 What is your vision regarding WET? Do you already have an idea about how you will be directing?
Cíntia: I grew up in Portugal where the everyday Catholic prevalence of sin and shame overshadow women's identity – and in particular their sexual identity. There's an expectation of how you should behave, how you should dress, how you should be. If you don't conform to lady-like conventions, then you're a slut or a whore. That's devastating. Firstly, because there's nothing wrong in being a whore as long as that's your choice. But it's just the fact that you are being labelled in a negative way for something rather positive: what's better than being yourself and enjoying your sexual pleasure in your own terms?
There is no openness to the possibility of women actually enjoying sex or porn – that's limited to men only. So I am interested in exploring these expectations and what it means to be free of shame, guilt, and notions of sin. Also, from the male point of view. Grace and Bryony wrote a feminist play but that doesn't mean we're excluding men from the story. They're just as important. So I also am interested in exploring how these societal expectations impact male sexuality and how that translates in their relationship with women.
Tell me a bit about your style, your process and aesthetic.
Cíntia: That's hard to say because it's the first play I've directed. I also think each story demands its own language. So now I'm doing a comedy with a very naturalistic tone. That is not to say that I'm exempting myself from directing an absurdist play one day. Who knows what tomorrow brings… At rehearsals I strive for an atmosphere of collaboration, that we're building something together. The actors know more about their character than I'll ever know, so their opinion is valuable. We always start rehearsals with a chat. Either by sharing research or new findings about the characters or personal stories related to the scenes we'll work on that day. We improvise important events that happened prior to the action we're seeing on stage so that we can create memories together and are on the same page. I send actors on dates too so that they've got shared experiences and can build their chemistry.
What qualities do you seek in an actor you work with?
To be honest it's more of a gut feeling than anything else. Sometimes I just look into a photo and think, there's something about this actor that is interesting to work with. I like when actors surprise me. They should have something with which I can work. So at auditions, I really look into their range, how different sides can they play, what choices they make, and how well they take directions and react to the other actor in the scene. Then there are the other aspects: reliability, respect, and a common understanding of the craft and process. I really need to click with the actors but there's no recipe or rule for that.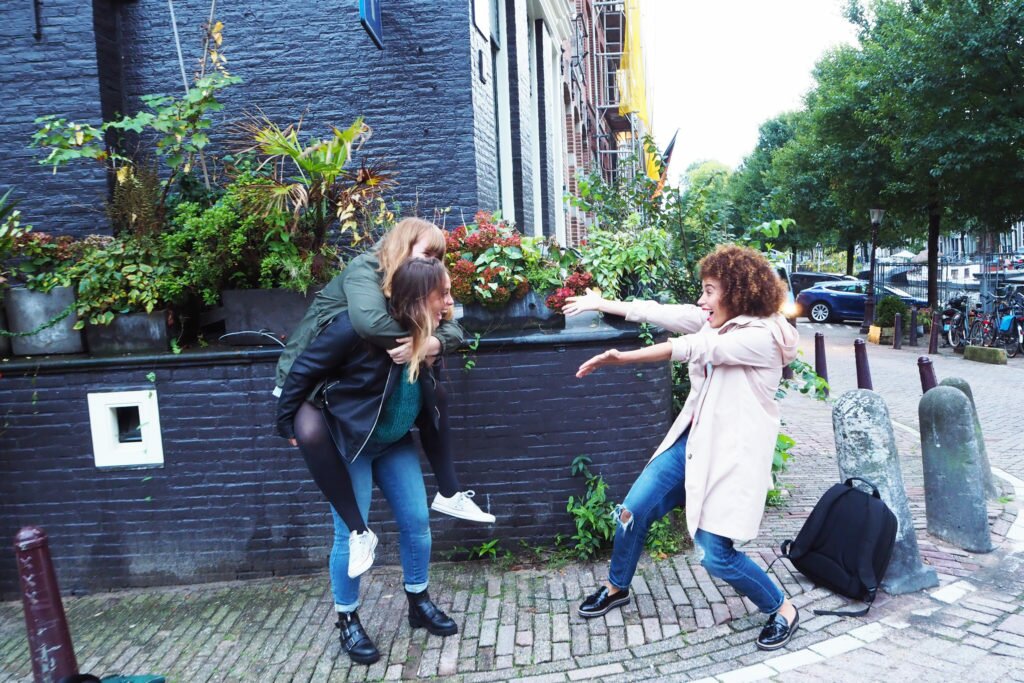 Why do you want to a be director and not an actor, for example, since you also took acting classes?
Cíntia: It's funny because many people ask me why I'm not an actor. I don't get it, really. I never had the ambition to be an actor. To be honest, I find actors quite courageous and brave people. I mean, they stand on stage every night, exposed, open. They get a lot of good energy, but that makes them also vulnerable to judgement and criticism. I don't think people realise how tough this profession can be for a person's emotional health. So I respect actors too much to taint their craft with my lack of ability to expose myself in that way.
My interest in acting classes was purely based on improving my writing and directing. I wanted to understand how actors looked at my text and built on it.
You are a multi-talented person: writing for theatre and journalism, writing poems, making videos etc. What inspires you?
Cíntia: Well, thank you. Writing, storytelling, directing they're all connected really. It's all about sharing stories. Some are my own, others aren't. It's people who inspire me the most. I'm always fascinated by how people think, how they came to be, the choices they make, what drives them to get up every day and do their work. I'm especially drawn towards those with very different backgrounds and experiences from mine. I have come to realise that ever since I was a little girl all I wanted was to connect with people. And the way I found to do that is through telling stories. Perhaps the more we know about each other, the more sense we can make of the world.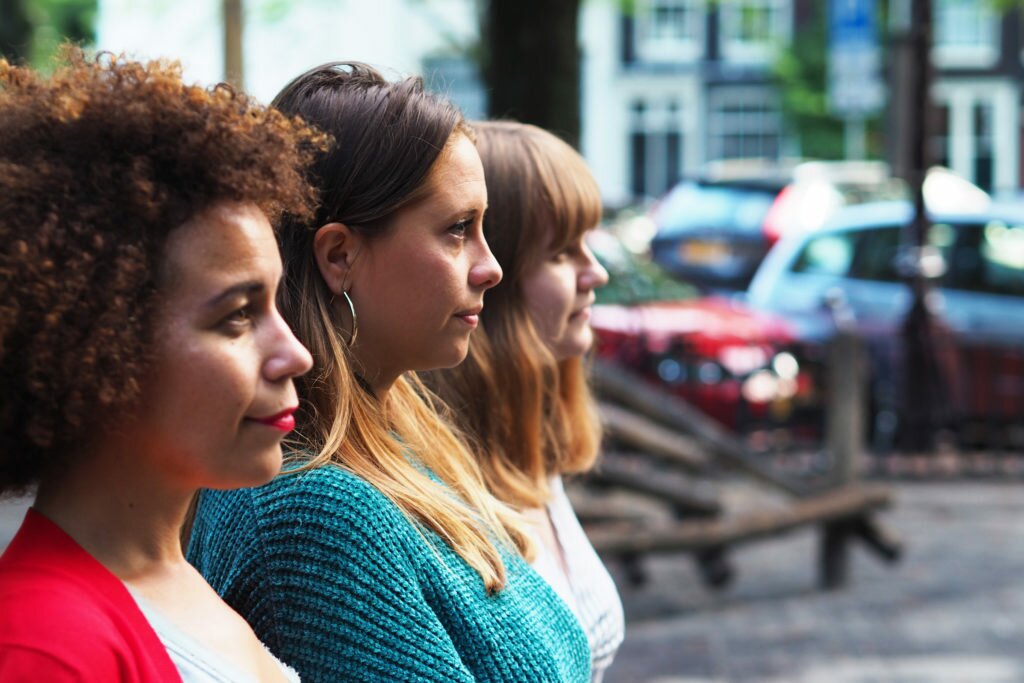 —
Bryony Cole — Writer and Producer
Cíntia Taylor — Director
Grace Carroll — Writer and Producer
Wet – By Screw Productions; A comedy about Women, Sex + Porn

Amsterdam Perdu: Oct 17th (20:00), 18th (20:00), 20th (20:00) + 21st (14:00)
To support WET you can donate to their Crowdfunder campaign.