Queer & Pride Amsterdam 2023, with the motto "#YouAreIncluded", brings many events in the city, from parties to photo exhibitions, workshops and debates, and will culminate with the Canal Parade on 5 August. This dazzling extravaganza held in the peak of summer is a momentous occasion, a mix of activism and festivity, where everyone comes together to celebrate love in all its forms.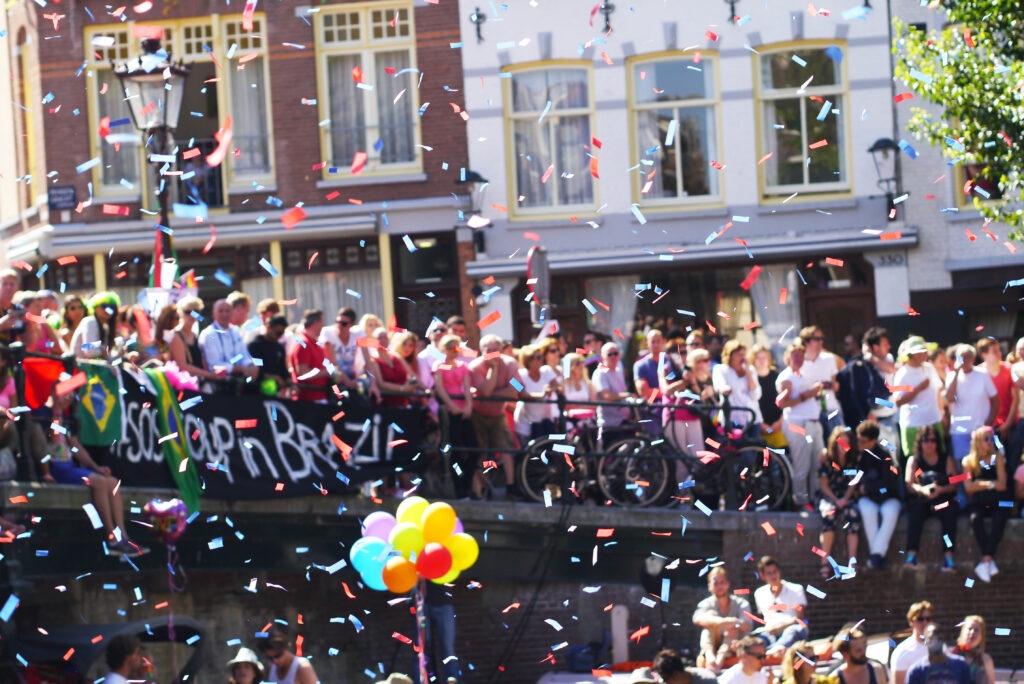 Last week I got the chance to attend a full day of events organised under the theme "Queer Sex Workers' Day". I was invited by the wonderful Adanya Dunn (she/her), from Red Light Arts & Culture (RLAC), whom I wanted to meet for an interview (coming soon!). She thought this occasion will be the perfect opportunity for me to see a collaborative event in action, behind the scenes, while also taking part in the celebrations.
The event on 27 July was co-produced by Queer Amsterdam and Red Light Arts & Culture, in collaboration with Oude Kerk Amsterdam. It involved various activities at the Prostitution Information Centre, the Casa Rosso theatre and Oude Kerk. The event was dedicated to (former) sex workers, their partners, children and chosen family. It was a full day of fun performances, art and sex-worker culture. Queer and trans sex workers took centre stage with a multitude of talents – from photography, performance art and stripping to spoken word.
I first met Adanya at Casa Rosso, where she introduced me to Chandler (they/them) from Queer Amsterdam, the main organiser of the event. I went inside this infamous theatre in Red Light District for the first time and met some of the staff, took a peek in the dressing room and backstage. Then joined everyone for the strip performance brought on stage by Striptopia, before heading to the Oude Kerk for the rest of the program.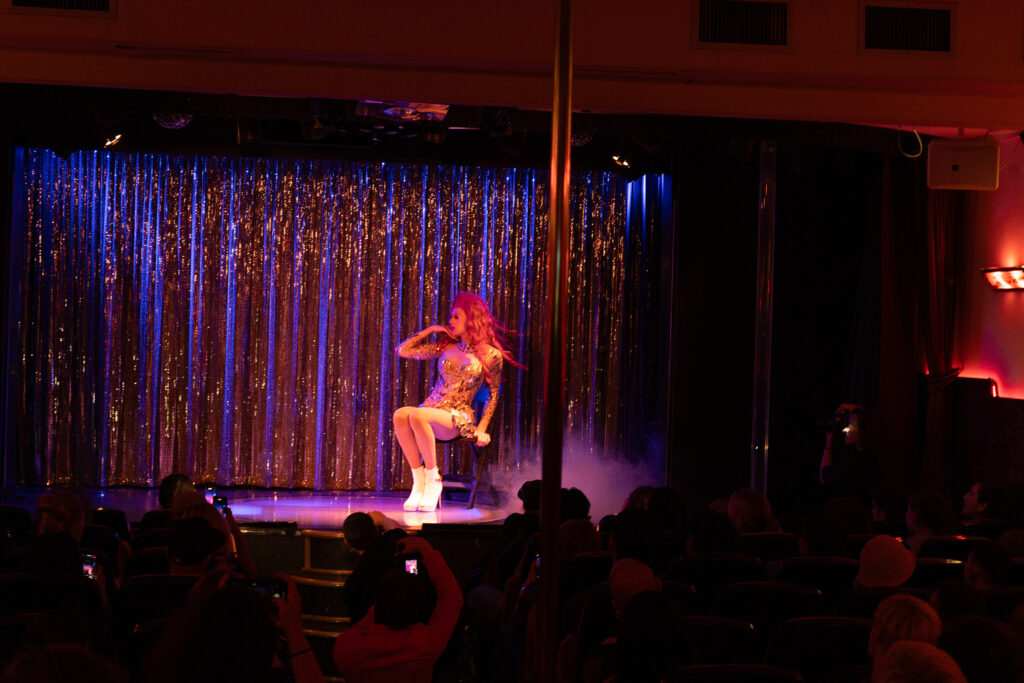 Oude Kerk, the church in the heart of the Red Light District, was the ideal background for this event. In 1306, the Oude Kerk was dedicated to the patron saint of prostitutes, Saint Nicholas. With this program, the church aimed to reconnect with their historical bond with sex workers and offer them a stage where they can share their perspectives and experience with the public.
The program at the Oude kerk included an art market, art performances, pole dancing, the Peep Show Hoes, and concluded with a panel focusing on the intersections of activism, trans sex work and migration.
To best understand this event, I would like to introduce you to Chandler and Adanya and let them share their insight about this event.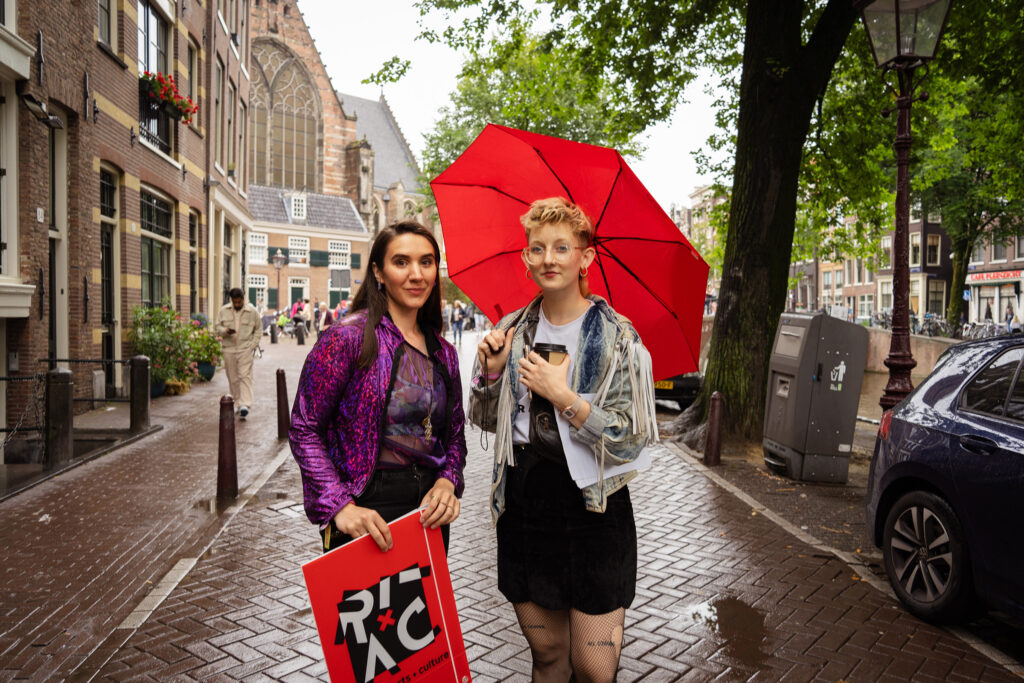 Chandler:
I am an independent community organiser who has been involved in the sex workers rights movement as an accomplice in Berlin, and now Amsterdam, for the last two years.
With the help of RLAC, I worked to develop this program to feature queer & trans sex working artists within the Red Light District as a leading project coordinator, alongside Adanya. I communicated between different SW rights groups, organisations, and individuals + Red Light District institutions to develop a strong message for the day that carried the political and historical importance of SW within De Wallen and the queer community, while also maintaining a celebratory atmosphere.
I would love to mention also how important this was as a collaborative effort between queer folks, sex workers, non-sex working creative folks connected to the Red Light District. I think the manifestation of this particular alliance between these groups is the exact kind of energy and effort that the Red Light District needs in order to protect sex workers' rights & jobs in De Wallen.
Adanya:
My name is Adanya Dunn (she/her) and I am an opera singer, queer intersectional feminist, and creative entrepreneur. I lived in the Red Light District for 3 years and am one of the founders of Red Light Arts & Culture. RLAC was the co-producer with Queer Amsterdam for the SW Programme on July 27th, 2023 as part of the new Queer & Pride Week. I worked closely with Chandler throughout the 6-month process as lead project coordinator (such as curating, producing, and grant-writing), and together with the RLAC Team, we mobilised various parts of the day's program.
Chandler:
The Sex Workers Day on July 27 2023, as a part of the first Queer & Pride Amsterdam, was a historic day that aimed to re-centre queer & trans sex workers at the core of what has become "Pride." Our message was that queer, trans, migrant, and BIPOC sex workers were those who have defended and continue to defend the queer liberation movement & maintaining its sharp edge. The day was meant to also make a political stance, as an allied sex worker AND queer & trans community, against the issues that currently face sex workers in Amsterdam & across the Netherlands — and internationally.
The case right now in De Wallen for sex workers is extremely heated: windows have been closing down in the name of gentrification & sex worker displacement — the most recent legislation mandating windows close three hours earlier each night — which creates a severe impact on the income of window workers in the centre of the city, losing clients during the most opportune hours. With the threat of the Wet Regulierung Sexwerk Act (WRS) mandating that all sex workers risk their data security in an obligatory online data-base, in addition to Mayor Hallsema's proposal to further ostracise and control sex workers in a plan to build an "Erotic Centre" outside De Wallen… we sought to create a space of celebration around sex workers, to re-script the city's current narrative around sex work–through art, performance, and coming together in community.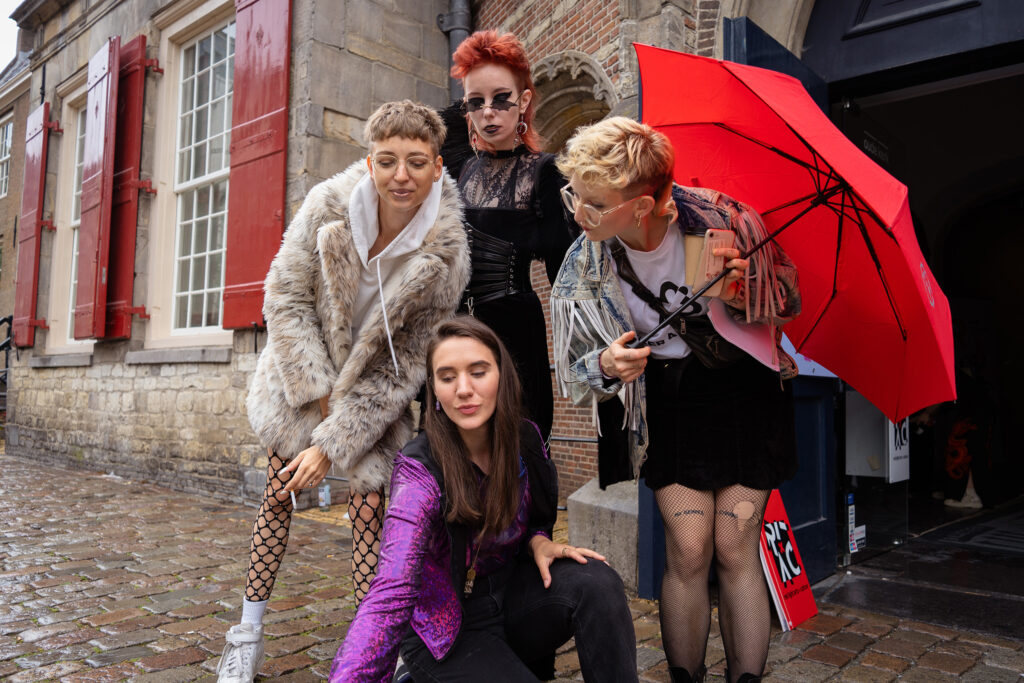 Adanya:
Founded in 2020, RLAC is a not-for-profit organisation comprised of young, locally living and working, professional musicians and creative people based in the heart of Amsterdam. Since our inception, we have been forming partnerships and collaborations with various groups and individuals in the area to highlight the inherent creativity of the District. With an artistic and social mission, RLAC creates events for the diverse communities of the Red Light District to come together and engage in meaningful exchanges and shared experiences through artistic and cultural programming.
There are many intersections that led us to collaborate with Queer Amsterdam for this day. This is one of many topics that is important to us. RLAC has taken a public stance for the rights of the queer community and of the SW-working community since our in the form of producing events, creating programming, and collaborating directly with these communities (ie.  see InsideOut: Red Light Connected episode 3; see project page for Wandelconcert). We are an ally and our advocacy involves an artistic angle.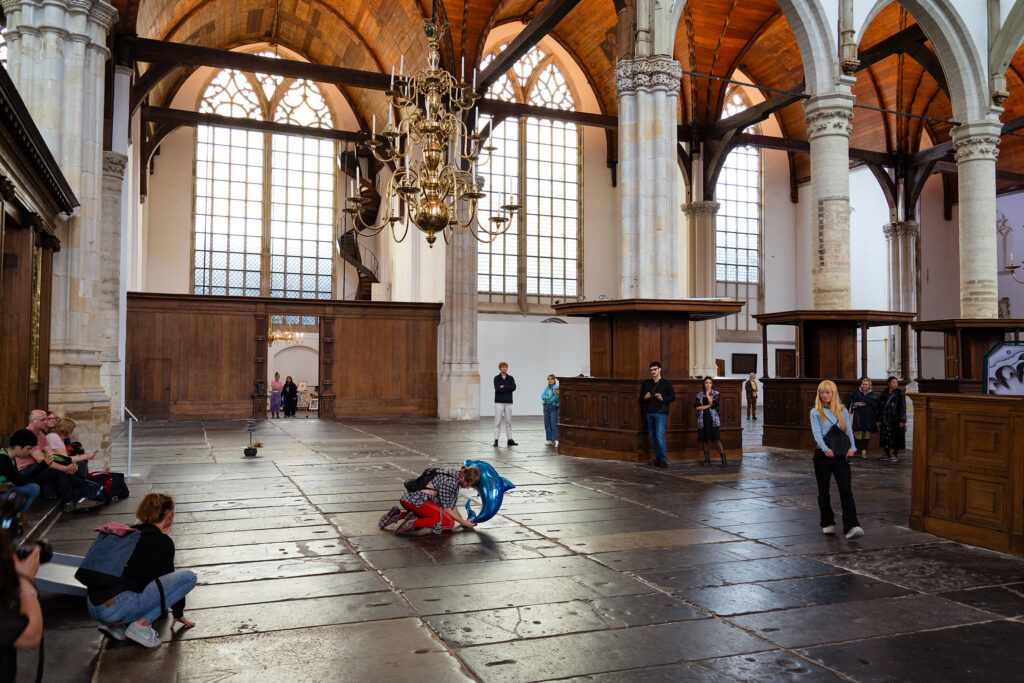 By centring the SW-Day in the Red Light District, our established connections to various venues in and around the area helped us to secure the day's two main locations, Casa Rosso Theatre & the Oude Kerk, as well as our Borrel after-party spot Café 't Mandje with pop-up drag queer performances by two members from the House of Løstbois!
We had worked with these locations several times on various occasions, most notably at our Pop-In Cultural Day (where Chandler exhibited as a photographer!) and at our Wandelconcert. And in true serendipity, one of the curatorial organisations at the Oude Kerk of the It's OK… Circle for July 22-August 4 – exactly during the week when we were to have the day – had also been a past collaborator of RLAC – Gijs Stork's Queer Currents and their curator Alejandra Ortiz, was the moderator of the panel on the 27th! A special thank you to Mariette and the Oude Kerk & exhibition team, and to Jeanne van Heeswijk who leads the Oude Kerk's current 6-month-long installation It's OK…Commoning Uncertainties.
In a politically contentious time, a beautiful and important artistic and cultural event unfolded that centred voices of queer and trans* sex workers and their community. This historic moment stood also as a powerful testament to collaboration through the collective dedication of performers, participants, community members, venue staff, organisations, individuals, teams, and collaborators, and funding by the Amsterdam Fonds voor de Kunst. The celebration of the SW-Day and their enduring history ignited in us a shared vision for vibrant futures, forged forward and together in unity. Sex work is work. BIPOC, queer, and trans lives matter.
Chandler:
Furthermore, the day was also built around education and rallying the greater queer community around SW issues. Much of the time, sex work is still a major taboo within the queer community, and their political strength is geared elsewhere, leaving sex workers behind. We wanted to give space, again, to channel a vision of queer liberation that centred sex workers — specifically BIPOC, migrant, and trans sex workers. By putting these voices at the centre of the struggle for queer liberation, we wanted to ask: What happens when sex workers are at the centre of our fight? And from there, reach for a radical and mutually inclusive future together.
If you'd like to know more about the performers, please check out RLAC's Instagram account and their stories highlights.
Subscribe to our newsletter!