The ❤😐 (Red Heart, Blank Face) movie was shot entirely with an iPhone. The title is actually composed of two emoticons (the text in the brackets merely explains to the less knowledgeable what the emoticons mean). The director is a young, ambitious man who wanted to make his second feature film before turning 30. All the profits from the premiere will be donated to a charity. The movie is about how people look for love these days, how finding human connection is made as easy (or not?!) as a few clicks on a dating app installed on your phone. I haven't seen the movie yet but based on the trailer, it looks like a cool one. Sounds interesting, right? I got my ticket for the premiere at Tuschinski a month ago already, to be sure I wouldn't miss it. 
I also had the chance to ask the film director, Samuel Sheffield, and Amelie Onzon, one of the actresses, a few questions about the movie and about themselves.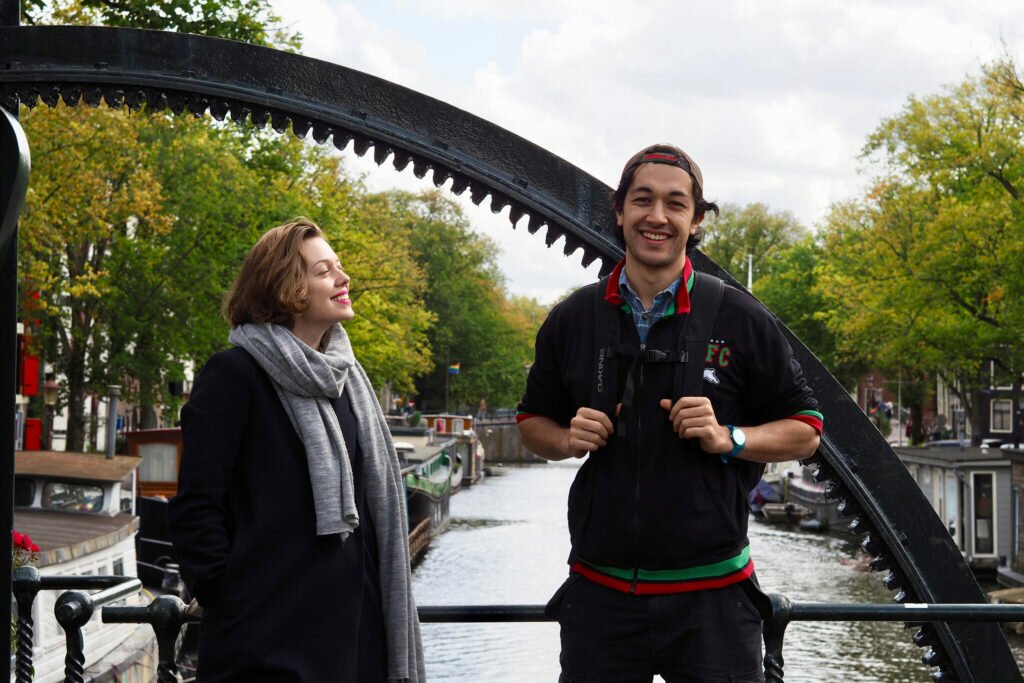 Tell me a bit about yourself. Who is Samuel Sheffield?
Samuel Sheffield is a kid from the suburbs of Sydney. My Mum is Samoan and my Dad is British. They met in New Zealand and then moved to Australia where they had my brother and I. Growing up, my Dad worked as a film distributor so I was constantly exposed to movies and consumed them like an addict. As I got older, my love for film grew. I would make home movies with my brother, cousins and friends. After graduating from the International Film School Sydney (now renamed Academy of Film, Theatre & Television), I moved to Melbourne, where I made my first feature film How To Time Travel, with a group of friends. This was a great experience because we made the film on a shoestring budget and decided that if the film were ever to make money, we would donate it all to the charity beyondblue. This idea of making art to give back to charity sang to my soul. Soon after, I moved to Amsterdam with the goal of making my second feature film in Europe, before I turned 30.
What do you like about being a film director, what motivates you to do this job?
I love telling stories. I love listening to stories. I love watching stories. For me, film encompasses all the mediums of art in one package for me to express myself. As nerve-racking as it is, I love the challenge of putting the audience on an emotional roller coaster from the opening scene to the closing credits. The reason why I love this challenge is because I love riding on the same roller coaster. There is no better feeling than going to see a film at the cinema that touches your heart, awakens your vision and changes the way you see things.
Great film directors of the past have the power to take us to other places, open doors and minds. All I'm trying to do is learn from their skills and give a similar experience but with a fresh new story.
What inspires you?
Love. I know it is a vague answer but love really does inspire me, because there is no stronger emotion than love. Love isn't man-made. Love is powerful. Love is a major driving force in each of our lives and we sometimes have no say in who or what we love. Love is, for me, one of the great mysteries of life that we are constantly trying to understand.
Every day I am inspired by love. If you were to study all my films, you would realise they are love stories, including ❤😐.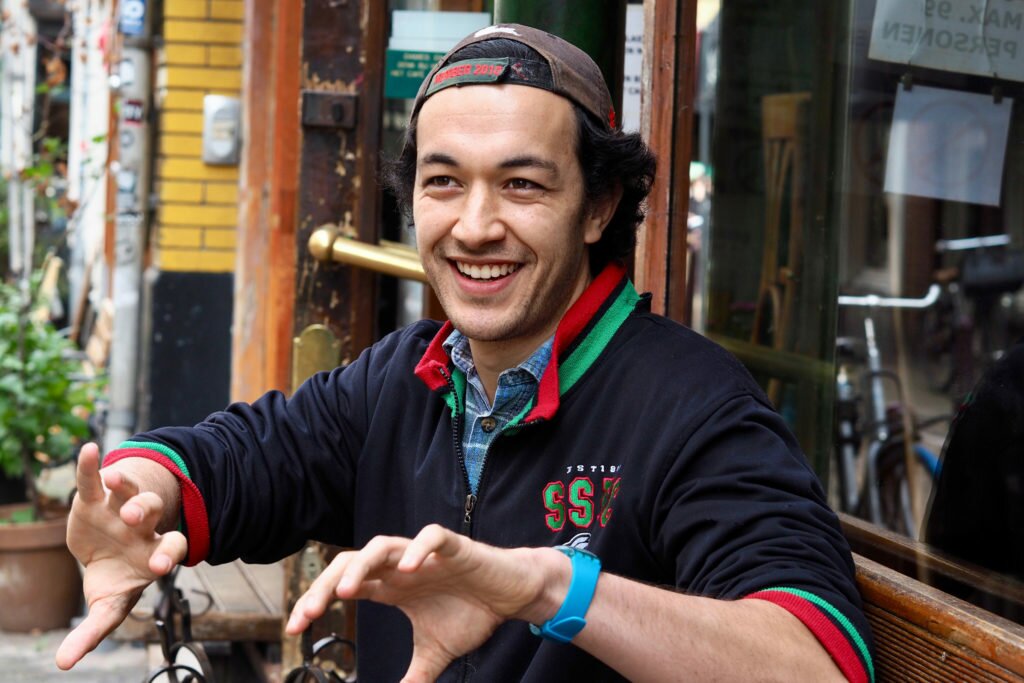 What is the story of ❤😐? How did you come up with the idea of making a movie about Tinder?
The story begins with Rosie, an Australian backpacker who is searching for romance during her European adventures. She uses Tinder for the first time to find her potential soulmate and this causes a domino effect of Tinder dates.
I was single for seven years and during that time I used Tinder. Tinder always fascinated me because it introduced a vastly new landscape for people looking for love (and other things). When I would catch up with other single friends, we would share Tinder stories and over time I had heard too many to count.
But how do you make a film about Tinder? Good question because I didn't know either. One day, after listening to another Tinder story, I realised that the most interesting aspect of these stories is people trying to connect through an app. With this realisation, I used that as a basis for ❤😐 and started to write an ensemble character piece about millennials trying to find love through an app.
Are there any stories inspired by personal experience in the movie?
The whole film is personal, to be honest. A lot of the stories are based on my own Tinder experiences and those of close friends. I wanted ❤😐 to be a reflection of my single life and all the characters I have met during my 20's. Of course, a lot of the movie is fictionalised but you will find aspects of me in the characters and their stories.
What is your opinion about love in Tinder times?
I think Tinder is a great tool for people to connect. Whether it is for love or friendship or sex. Love will always be around and how people find companionship through love will always evolve. Tinder is the most current evolution of that but like all things, Tinder will end one day and humans will find another means to connect.
Can you talk a bit about the production aspects? Was this movie expensive to make and how did you finance it?
❤😐 face was produced on a shoe-string budget. We set out with a moderate budget in mind but unfortunately, the film industry can be tough, and we were constantly pushed back with financing. Luckily for us, we gathered a team of creative and passionate people who loved making art. We all made sure that the money side of things was not going to affect us, and we were going to make the film either way. What my team and I realised is that the limit of money caused us to be more creative in our choices and to be honest, it made us make a better film.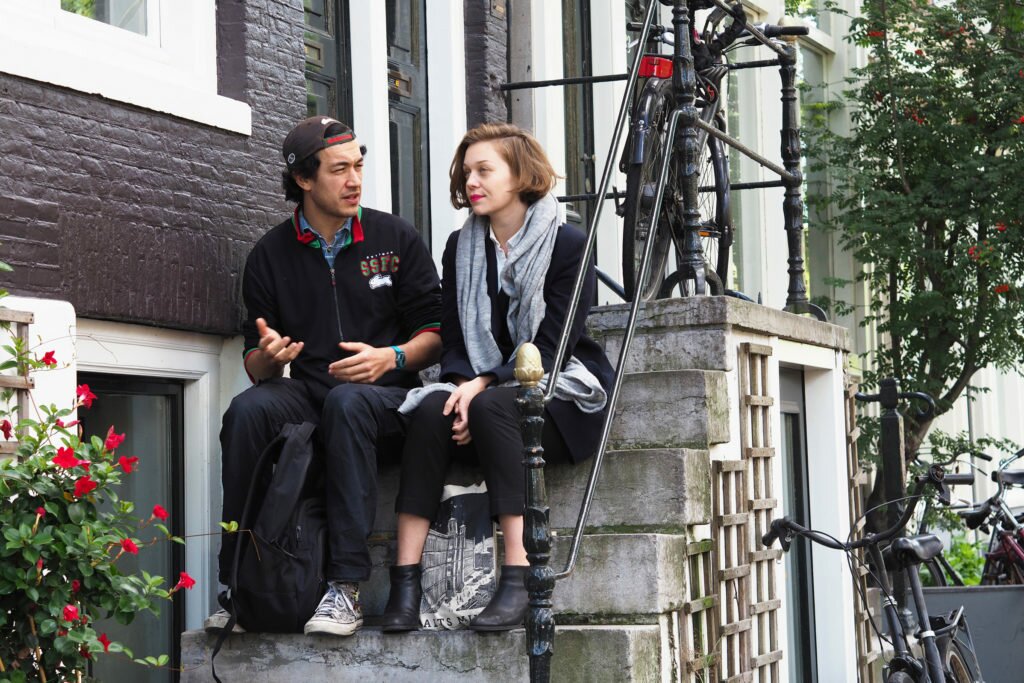 What was the biggest challenge in making ❤😐?
My producer Kat and I had one big goal at the start of the project — "Make a feature film on an iPhone with little money and premiere it at Tuschinski for charity". Now to most people, that is one stupid goal and it was difficult to convince others to join our crusade. Every step forward we took with this project was soon followed by three steps back. Every time we would ask a person or business for help we had less than a 20% success rate.
It did make us grateful for every win we had and for every person that came on board and helped with the movie.
I would like to thank my producer and best friend Kat for never quitting or compromising on our big goal. It's the sort of producer every film director needs.
Why did you decide to make the premiere a charity event and donate all the earnings to the Regenboog Groep?
Our first feature film, How To Time Travel, was made for charity and it resulted in one of the most rewarding experiences of my life. Not only was I able to make a movie about which I'm ultra-passionate but, at the same time, we were able to raise money and awareness for people in need. To me, there is no greater feeling and when I started ❤😐, I wanted to do the same.
My team and I didn't make the movie for money. We made it because we love stories and art. We love movies. The film is about people trying to connect, so it was a no-brainer that we would partner up with De Regenboog Groep, a charity that is also trying to connect the socially disadvantaged.
It's every filmmaker's fear that people will hate their movie. If people leave Tuschinski disliking my movie, at least they leave with more knowledge about De Regenboog Groep and having donated money to their cause.
What do you do when you're not making movies?
When I'm not making movies, I live a very normal life, with a tea in my hand and hopefully family and friends around me.
If you could interview yourself, what is the one question that you would die to ask? (please also give an answer to it)
Q: What advice would you give to young people?
A: Set a goal that you love and don't quit.
What makes you happy?
I'm going to come back to it but love makes me happy. All sorts of love. When I'm down, I listen to love songs. I'm currently binge-watching Love Island. I love to surround myself with people I love. Love makes the world turn around.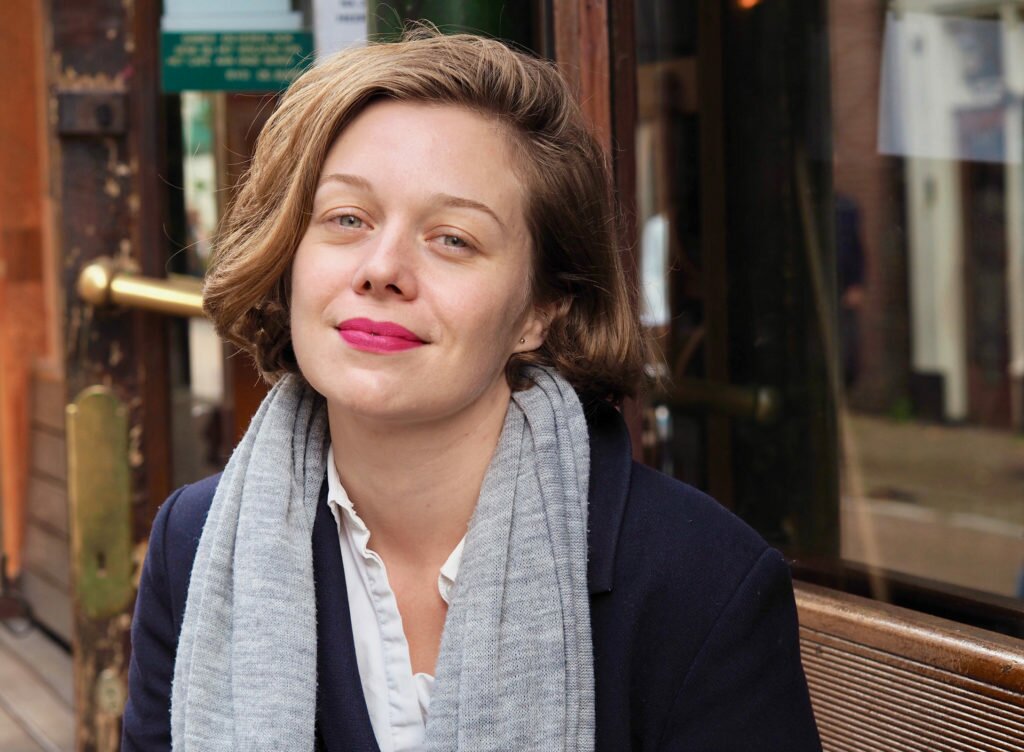 Amélie, could you start by talking about your background?
I was born and raised in France by a French dad and a British mum. I moved to the Netherlands in 2007 to continue my design studies at the Design Academy Eindhoven. In 2012, I was asked to play the leading part in a French-Dutch short film and it suddenly hit me. If I'm going to be a creative, then I might as well do what I really want to do. It was very scary, and it seemed impossible. Luckily, my now husband took me seriously and was immediately supportive. I searched for training and I was very fortunate to meet Steven Ditmyer from NY, who teaches the Meisner technique across Europe.
Why did you want to be part of the ❤😐 movie?
First, it was the script. It was funny and clever. We got to choose who we wanted to audition for and it was difficult to make a decision. I loved them all.
Then I met Kat and Sam at the audition. Because of their passion and Sam's process for creating the characters with the actors… I wanted it even more. It was the most enjoyable audition I've ever had.
Tell me a bit about your character, Becky the Tourist. Was it easy to impersonate her?
Becky comes to Amsterdam for a weekend to escape her problems. She has a tough life and a rather aggressive defensive mechanism. However, she is desperate to love and be loved but always falls for the wrong guy.
I wouldn't say it was easy to play her. It took some preparation and a lot of letting go, but it was thrilling.
How was the experience of shooting ❤😐?
The shooting was organic, well-organised and exhausting… the way I like it.
What other projects are you working on at the moment?
Next, I'll be on stage in WET, a play about women, sex and porn directed by Cíntia Taylor, written by Bryony Cole and Grace Carroll on October 17th-18th-20th-21st in Perdu theatre.
In the next few months, I'm also shooting four different short films and a feature film.
Would you say it's difficult to find acting jobs in the Netherlands, as a non-Dutch speaker?
That's what I thought when I first started six years ago. But if you work hard and you keep doing it, then you'll get work. Although I do want to expand my work to the UK and France. It makes sense since I speak both languages and there is so much going on there.
Do you prefer film or theatre?
I love both. How you get to experience the character's entire journey in theatre. But I have more film experience and I love the scale of it, its intimacy and how much you can express with so little.
What was your most challenging role? And the favourite one?
It's a challenge every time. Acting can be very uncomfortable and it's what I like about it. And I don't have a favourite one, I love all of them, otherwise I wouldn't play them.
What makes you happy?
Family, friends and acting: human connection.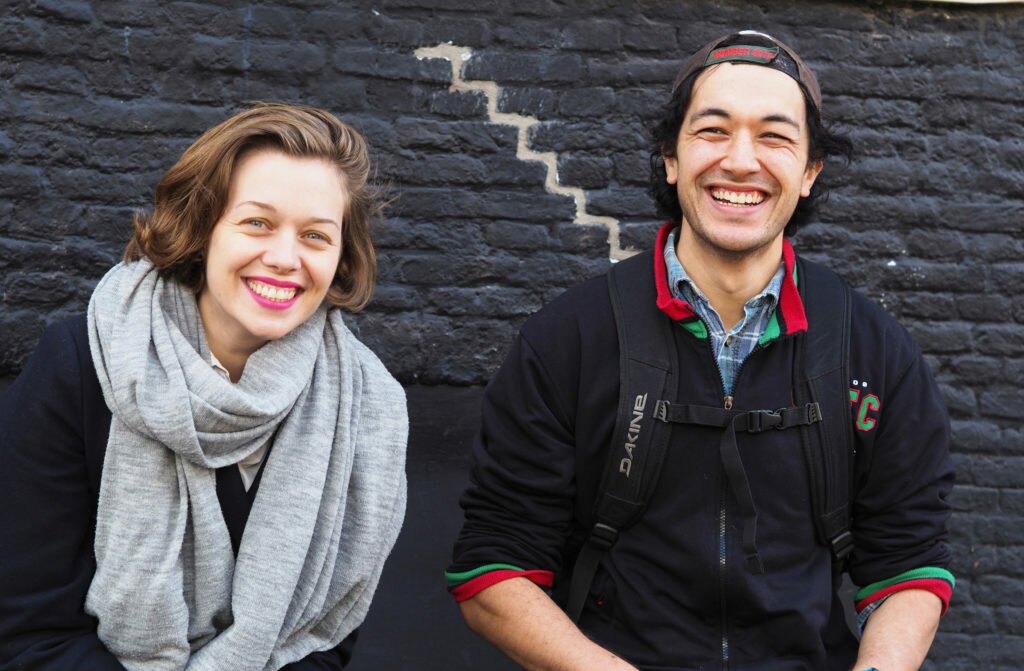 —
Samuel Sheffield — Writer & Director
Amélie Onzon — Actress
www.redheartblankface.com
Premiere: Saturday October 13th 2018 at Tuschinski.