I am excited to announce the start of a new series of articles here, on Amsterdamian: interviews! It's something I had in mind for a long time and it's finally going to happen. We will get to know many interesting people, and hear about their lives, their passions, struggles, successes or failures.
The honour of the first interview goes not to one, but two wonderful women: Sairah Erens (executive director) and Elyse O'Shaughnessey (artistic director), who are the soul of the Orange Theatre Company (OTC). In January 2018 they took the lead of OTC, organised a successful fundraising campaign and started their first season. Being one of their fans (and a theatre lover in general), I was curious to learn more about them and the work they were doing. They are very busy right now with the second play of the season, but they took the time to answer a few questions and pose for my camera, and I am grateful for that.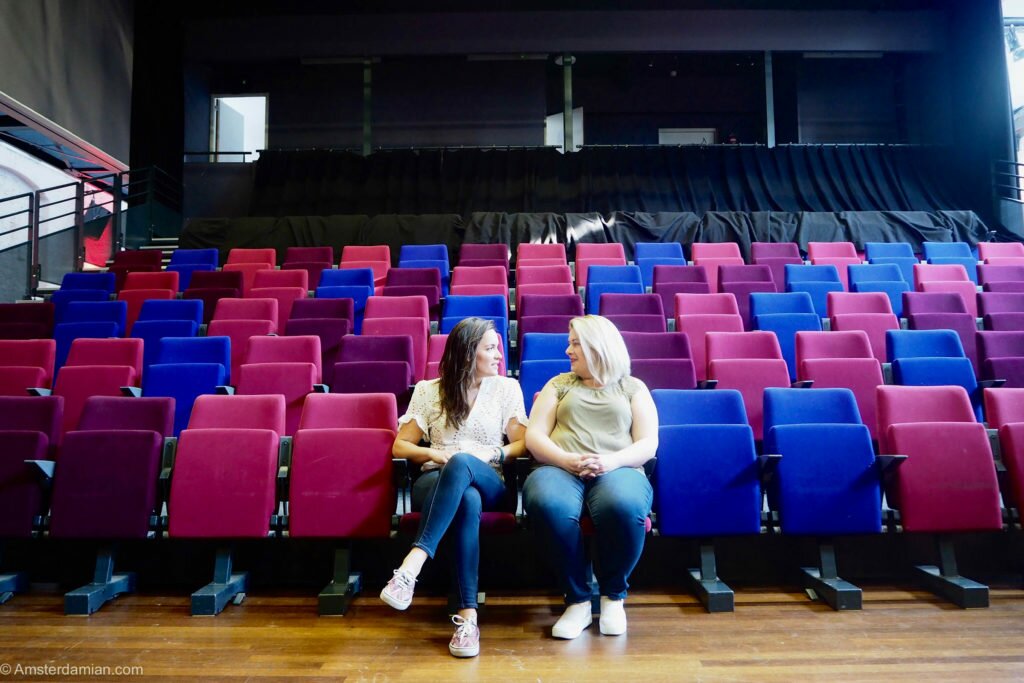 Thanks so much for agreeing to do this interview! I would like to start by asking about your backgrounds. You are now both involved all over your heads in running the Orange Theatre Company (OTC), but what did you do before and how did you arrive here?
Sairah: Thank you for interviewing us!
After studying acting in New York City and London, I moved back to Amsterdam and joined Orange Tea Theatre as an actress. At the end of 2017, the founders of Orange Tea Theatre announced they were stepping down as Artistic Directors. They were going to dissolve the company if they couldn't find someone to take over. I knew straight away that I wanted to take over Orange Tea and I couldn't wait to rebrand it and professionalise the business side of the company. There's a big market in Amsterdam for English language theatre and we have a group of talented actors, writers and directors who can make compelling English language theatre. 1+1=2 right? Of course, it would take a lot of time and effort, but I knew it could become successful if I put my mind to it. I also knew I couldn't do it by myself. Thank god, Elyse had the same idea. When we sat down for the first time, we knew instantly we were going to form a team and get the company off the ground. And here we are!
Elyse: I've been involved with theatre on and off the stage since the age of three. My first experience in professional theatre was as a Stage Manager for a professional Ballet company. After that I attended the American Musical and Dramatic Academy (AMDA) in NYC where I was studying Musical Theatre. Throughout the past six years I've worked as a Stage Manager Off-Broadway and a casting agent for the fashion industry. Three years ago I moved to the Netherlands to be with my partner.
What is the story and mission of OTC?
Sairah: Stichting Orange Theatre Company is not only an English-speaking theatre company, but we're also a melting pot of nationalities. As a theatre company, we pride ourselves in our diverse ensemble and viewership. By producing compelling English language theatre, we want to bridge the social and cultural barriers that day to day life creates and connect our Dutch and international audience in a culturally relevant way. Our annual season will be constructed of multiple productions, giving people a regular schedule to explore their love of English language theatre.
So, our mission is simply: to produce an annual season of contemporary English language plays that inspires our Dutch and international audience.
You seem to make a great team together. Do you have the same working style? Do you think being a Dutch-American duo helped?
E: Sairah and I balance each other out very well! We find that we have different strengths and we utilise each of those strengths to our advantage. The fact that we are a Dutch – American team works to our benefit as well, as it brings two different perspectives together. This is important when trying to appeal to our diverse demographic.
S: We don't have the same working style, but we do have the same work ethic, ideas and ambitions. I think our working styles are very complementary.
Being a Dutch-American team has definitely helped. Having different backgrounds always helps because you bring more to the table (different experiences, views and knowledge). And we are what Orange Theatre Company represents: an international community who wants to connect the Dutch and the internationals.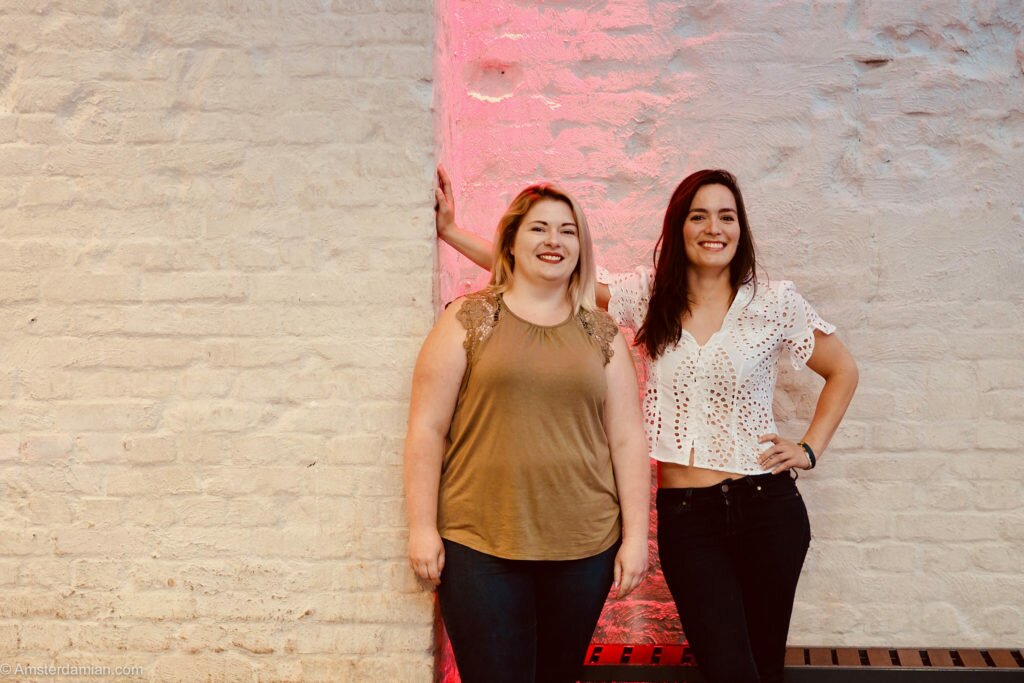 You've done a great job since you took over the OTC. I'm curious what it's like for an English-speaking theatre to make a name for itself in the Netherlands. Would you say that language is an obstacle or do you think the situation is the same as for any young theatre company?
S: I believe it's an advantage because the English-speaking theatre market is not as heavily saturated. It's therefore easier to target our audience, and it's easier for our audience to find us. But, as with any young theatre company, it can be challenging to find the right partners to work with (theatres, (corporate) companies, grants) since we don't have a long artistic and financial track record yet. You need partnerships to develop and grow the company. With ticket sales you can break even on a production, but it doesn't generate enough money to grow the back side of the company.
Who is your target audience? Are Dutch people interested in English-speaking theatre?
E: Our target audience is a mixture of expats, and the Dutch who are interested in the arts. We have found that the Dutch are very interested in English speaking theatre — in fact our audience is 60% Dutch.
Elyse, what was it like for you to move to the Netherlands? Professionally speaking; I imagine this is one of the fields where you can't easily find your place, but maybe I'm wrong?
E: Professionally speaking, Amsterdam has given me the opportunity to become an entrepreneur. When in NYC, I had a great job at a casting agency but never dreamed of starting my own theatre company. Moving to the Netherlands gave me the courage and motivation to truly follow my dreams.
Would you say that theatre, or acting, is your passion? Is it something that you've always known you wanted to do or is it a path that life brought you to? Sairah, I know you first did European Studies and after that turned to acting. What triggered the change?
S: Acting is my passion, it's what I love doing the most. However, I also knew that making a career of acting is very difficult. Talent and hard work do not guarantee a certain outcome in this line of profession. It's such a fickle industry. And I was also very interested in how countries behave, interact, develop and how Europe positions itself in the global arena, hence I decided to go to university and study European Studies. I'm happy I did, because it has informed me in so many ways. It has, for example, inspired me to produce a play about Brexit with OTC, which is written by writers from our ensemble and will hit theatres in November.
What triggered the change was getting accepted to a masterclass at Stella Adler in NYC. Suddenly I was in a class with professional actors and to my surprise, I could meet their level. That's when I started believing I was good enough to pursue a professional acting career.
E: Theatre has always been a driving force throughout my life — my mother was an actress and instilled the "theatre bug" in me from an early age. I've always known that theatre would be a big part of my life, I just wasn't sure in what capacity. In the theatrical world I have two passions: performing and directing. The main thing that attracts me to theatre is its power to take the audience on a journey and maybe even change someone's perspective.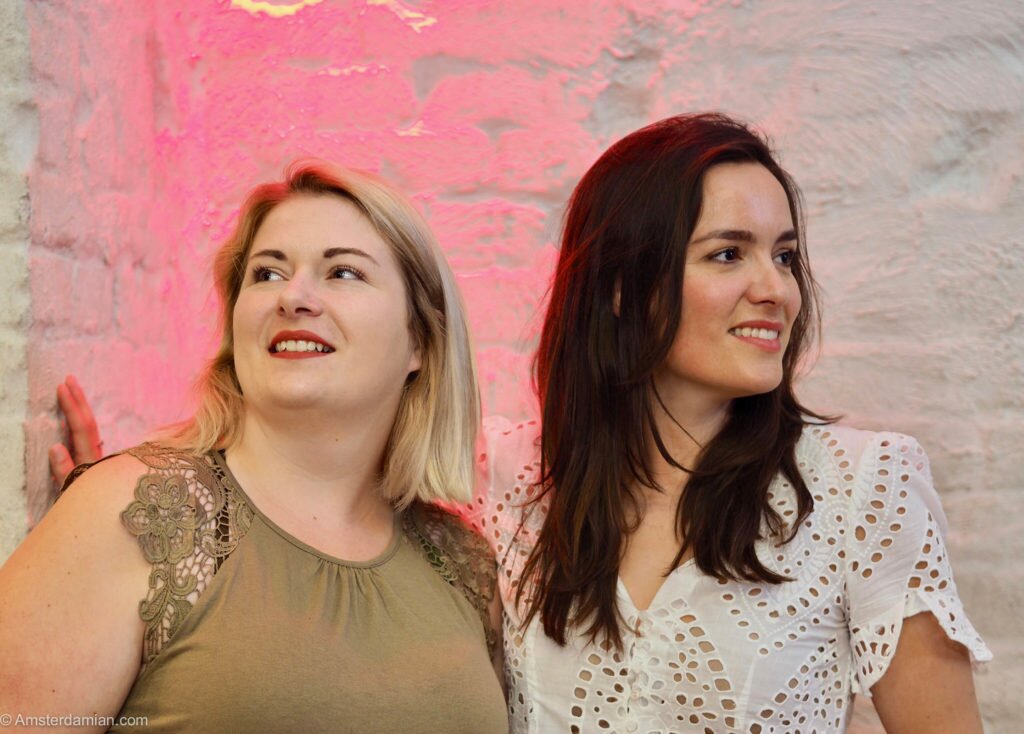 Sairah, how was it for you to combine the role of executive director with acting for OTC's latest show?
S: That was quite something and I wouldn't recommend it. We were still crowdfunding up to a week before the opening weekend of ART, the first play of the OTC season. On the performance dates, I was still answering customer emails an hour before the show started. Next time, I would delegate more of my executive work and make sure I can fully focus on my part and the play. It literally was trying to do two jobs at once. Hopefully the audience didn't notice I was multitasking. And if they did, they are better actors than I am because nobody said anything about it haha!
Well, I certainly didn't notice! Tell me a bit about the current play.
S: The Pillowman is a gripping, witty and thrilling dark comedy written by Martin McDonagh (the Oscar nominated writer of amongst others "Three Billboards outside Ebbing, Missouri" and "In Bruges"). In an interrogation room in an unnamed totalitarian dictatorship, Katurian, a writer, is being interrogated by two detectives. Next door, Katurian's mentally disabled brother Michal waits. The detectives want to know why Katurian's stories feature gruesome plots about infant murder and torture and why they seem to mirror a string of recent infant murders in the area. This brutal dark comedy, poses unanswerable questions. Can stories hold the power to cause atrocities? Where is the line between truth and fairy tale? Is a life of horror worth living at all? Drawing on inspiration as diverse as Grimm's Fairy Tales, Kafka, and Antonin Artaud, The Pillowman is a dark, twisty, and utterly unforgettable masterpiece from one of Ireland's most treasured writers.
Why did you choose The Pillowman to be the next show?
E: We chose The Pillowman for a number of reasons. The writter Martin Mcdonagh (writter of "Three billboards outside Ebbing, Missouri") is a phenomenal writter who knows how to keep the audience on the edge of their seats. This play has so many twists and turns, it's hard to know who is telling the truth or what will happen next. Even though The Pillowman has a lot of heavy subject matter, Mcdonagh finds a way to insert moments that have you laughing out loud.
The OTC cast is an international one. Tell me about it, what was your strategy on finding the right actors?
E: We have a very international ensemble with members from nine different countries. This is something that makes OTC very special. The fact that we are an English-speaking theatre company attracts such a diverse array of people, both in our ensemble and our audience.
When OTC will grow up and won't require your entire energy, what would you like to focus on further?
E: I'd love to be able to focus more heavily on directing and acting.
S: My acting career and working with talented people in film and television.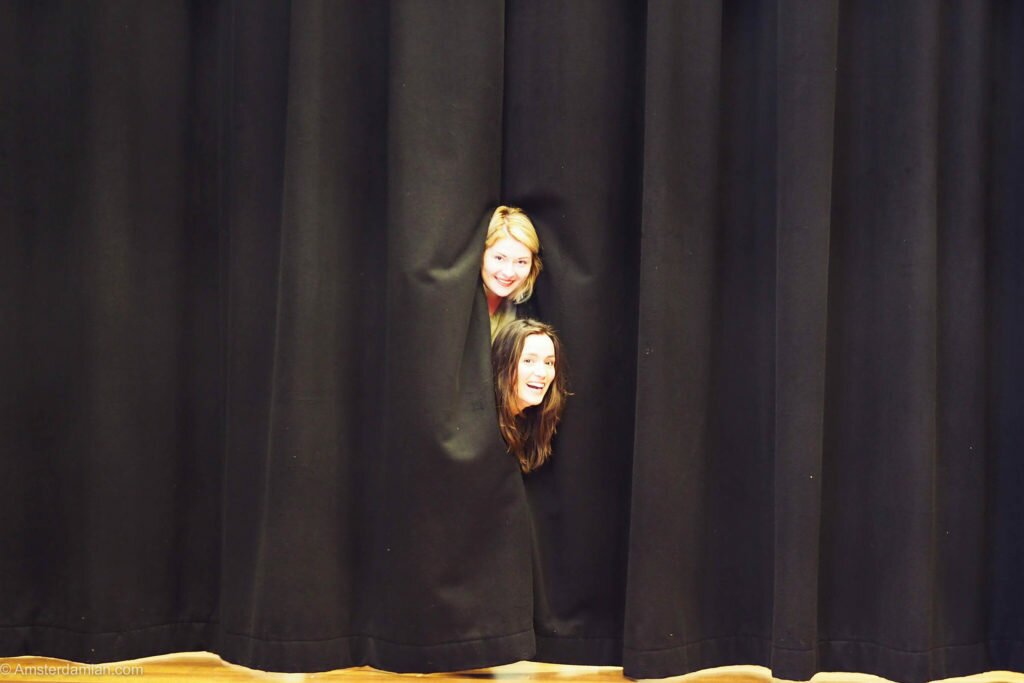 Do you have other projects that you are working on right now?
E: Currently I also own a children's Musical Theatre company called "JEM Performing Arts". This company specialises in teaching children the basics of Musical Theatre. Throughout the year JEM has after school classes and camps where children learn a full Musical in a week's time.
S: I'm going to shoot a short film in July that I'm very excited about.
Do you have any hobbies? Can you find time for them?
S: I love going to the cinema. I have a "Cineville" card which allows me to go as much as I want. Traveling the world and skiing are my other favourite things to do in my spare time.
As a child, what was your answer to the question: "What do you want to be when you grow up?"
E: Growing up I wanted to be a singer and a teacher.
S: Actress.
What makes you happy?
E: What makes me happy is being able to watch a production evolve and watch the actors really understand their characters. It's an incredible process to be a part of, and be able to enjoy.
S: Wine. That sounds terrible but it's true haha! I very much appreciate a good glass of wine. Ok what else… And being unexpectedly caught by Amsterdam's beauty when I bike over the canals. After 12 years, it still surprises me how I sometimes get hit by a sudden rush of beauty. The way the light hits the water, the bridges, the trees and the houses –- it's breath-taking. In that moment, I feel so lucky and proud to be part of Amsterdam.