As a person who's fascinated with how people live, interested in seeing their houses and learning their habits, I always dreamt of going back in time to see how everyday life was back then. I have no nostalgia for it, don't get me wrong, I love our modern days, but I do have a big curiosity. What would their habits be in the morning after they woke up? What would they eat and wear and talk to each other about? Where would they sleep? Unfortunately, time travel is not possible, but there are a few places where part of my curiosity can be satisfied, such as outdoor museums where entire villages are saved or recreated.
One of these museums, in the Netherlands, is Zuiderzeemuseum in Enkhuizen, dedicated to preserving the cultural heritage of the Zuiderzee region.
Enkhuizen is a charming town on the shores of Ijsselmeer, a former important fishing port until the Zuiderzee was closed off in 1932 by the construction of the Afsluitdijk, the dam that cut the connection to the sea. Signs of its past can be seen all over the place, and the town's connection to the water is still an important one nowadays. Enkhuizen has a big harbour, full of modern boats and is a good starting point for boat rides and water sports. The Zuiderzee Museum tries to preserve a part of that life for us to see and for the locals to remember their history. The outdoor part of it is built like a real village, canals and churches and all, including a few animals here and there; many of the houses are the original ones, transported from their location to the museum, others are perfect replicas.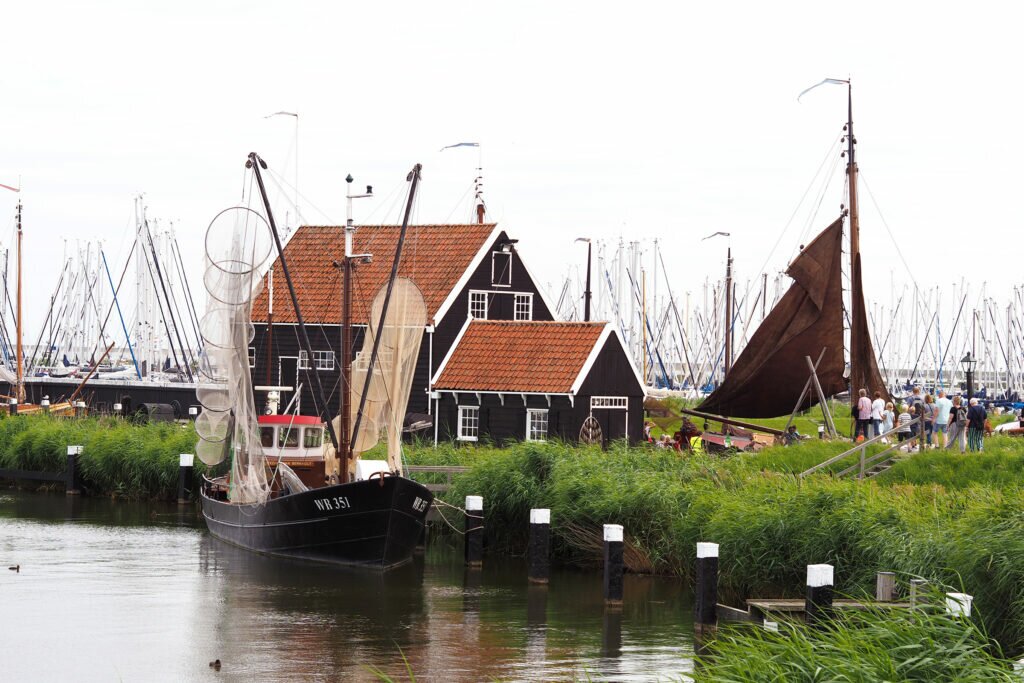 There are over 140 historical buildings in Zuiderzeemuseum, that recreate life in the region as it was a century ago. You can wander around the place and – my favourite part — enter the buildings to see the interiors, which are replicated as well. Of course, the food you'll see on the table is made of plastic, but it looks so real that you expect at any moment to be seated and invited to try it. The museum is peppered with ateliers where you can watch craftsmen at work; they're dressed in traditional costumes and can answer to all the questions a visitor can have about that particular craft. There's even a smokehouse where you can enjoy smoked fish for lunch; kids can wear the traditional costumes and craft boats from a pair of clogs, or learn to milk the (fake) cow, or just run around playing centuries-old games.
One thing I like about Zuiderzeemuseum is the authentic way in which is presented and that there is no regular souvenir shop selling wooden tulips clicheś. You can buy, instead, handmade objects from the ateliers, which I find amazing. You can easily spend half a day there and even longer. I didn't have time to see everything in half a day, also because of the Corona regulations that allowed only two people in a house at a time. Which was good because you could actually see the place, without people stepping on each other toes to get the best pictures. And I can always go back there and see the rest, maybe this time in winter or spring.
How to get there: take the train to Enkuizen and then you can walk from the train station, following the old fashioned street signs (or Google Maps). Don't forget to take a walk in the beautiful town afterwards.
Stay tuned for more and follow Amsterdamian on Instagram and Facebook for daily stories about life in the Netherlands. Please share this post if you liked it!

Here you can find my photo book: Amsterdam Through the Seasons!

If you want to buy prints and other cute objects, check out our store on Society6!