Today it's time for another interview with a creative person from the Netherlands. We will get to know Anouk Potter, from Amsterdam Illustrations, and learn a bit about her creative journey. I hope you enjoy these interviews, the insights into creative people's lives and discovering new artists.
I first discovered Anouk through her watercolours and paintings. They caught my eye on Instagram, with their amazing way of transporting you right in front of the houses or the canals they are portraying. In Anouk's watercolours, the dancing gingerbread houses of Amsterdam are coming to life on your screen; the winter scenes look like coming straight out of a fairy-tale; the reflections on the canals make you feel like you can almost touch the water, and the night scenes are cosy and beautiful. Her paintings are so cool that someone asked her to paint Amsterdam houses on an airplane!
I invited her for an interview and I got to meet her in real life. It's always nice to meet people you know from the virtual world, to feel their vibes, see how they are for real. Anouk is a warm, sunny person, who has a lot of energy. It's no wonder she makes juggling a job, a creative life, and a family life with two kids seem like a piece of cake. We talked about painting, about an artist's life. She gave me some tips and tricks as well, and we had a little photo shoot. She also brought me a gift: some of her Christmas cards, which I absolutely love and can't wait to start sending to my friends and family! I'll let you read our discussion now, and make sure to check her website and social media accounts if you want to see more of her art and maybe get something for yourself!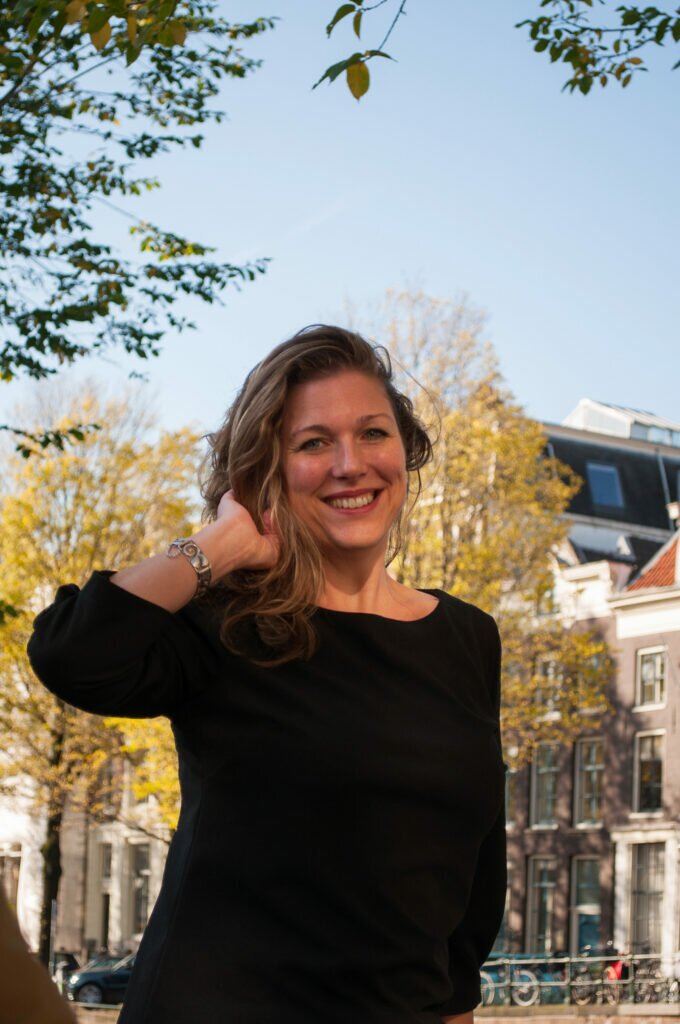 Hi Anouk, Thanks for agreeing to this interview! Can you start by telling us the story of how you became an artist? Do you have studies or are you self-taught?
A: Hi Dana, nice to meet you in Amsterdam for this interview and photoshoot!
I'm a self-taught artist. I started drawing and painting when I was a little child. I come from a very creative and musical family! Art, music and culture were the parameters in my youth. I got my talent from multiple family members. But the most important, I really liked to draw when I was a kid. My mother saved many of my artworks. I was always studying objects for a while, trying to improve myself. I used to draw portraits for a long time. I had a period, when I was around eight, when I drew a lot of twins, triplets and more. Also, a lot of fashion drawings.
My parents recognised my talent at a very early age and were encouraging me with enthusiasm. I was always in my room drawing. Every birthday I got new materials, so they were very supportive. I was allowed to draw on the wall of my room with chalk.
I also got the watercolour pencils that used to be from my great grandfather and famous painter: Johan Briedé. These pencils were of very good quality and that's important for the pleasure of colouring! My great grandfather Johan Briedé was a great artist from which I learned a lot, by studying his paintings.
But despite of all the talent and pleasure I had with making art, I was not convinced to become an artist as for a living, for a couple of reasons.
First of all, I was convinced that because this would be such a nice job, everyone wants this, so there is no chance for me ☹.
Secondly, because my grandmother told me from her experience, being the daughter of an artist, that it's a hard life and a poor living. She advised me to choose a profession like doctor's assistant or ground stewardess… something with a stable income. My mother thought of it as a missed chance and she found a compromise: I could do a one year course at the HKU to try if I liked the art academy. After this year, I lost my interest in being an artist completely at that time and went to do another (more serious) study which gave me a good career, because now I'm an HR manager in a nice company. I always listened very carefully to the advice of my grandparents, because they were so important to me, but in the end I couldn't deny my passion, and I became an artist anyway.
So how did that happen?
A: First, I considered making drawings and paintings more as a hobby.
I thought it would nice to build an online art gallery, to show my work. So I bought the software to design a website and show my art to the world! My website is still managed by myself; it's something I like to do and I change it quite often. The website was a success; I started to have commissions, not as much as nowadays, but more and more over the years.
Now, because it's five years since I have my own business registered as a side hustle, and I can speak of such a success, I can't deny it anymore… I am an artist!
So I think I can consider myself as a self-taught artist and entrepreneur. I also have a big interest in running my business, "Amsterdam Illustrations". Coming up with new ideas, marketing plans give me energy! Being an entrepreneur makes me feel good and proud!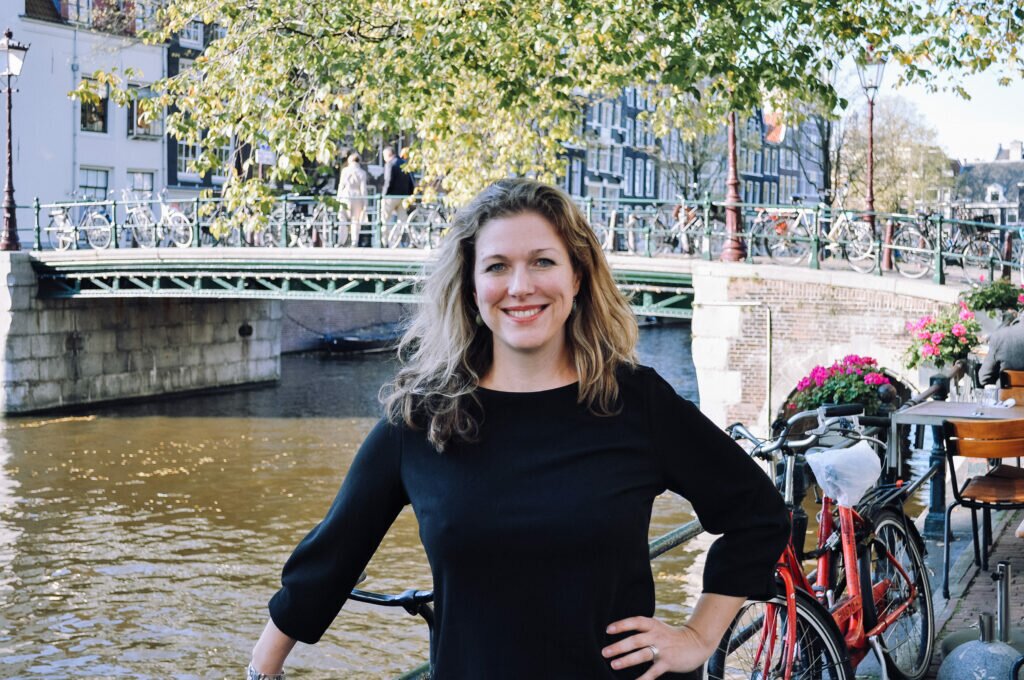 I've noticed this many times: art finds a way, in the end, to express itself, even when you try to leave it behind and do a different job. Can you see yourself ever giving up on art?
A: No I would never give up. I love to do it! For me it is not only work, it is also my way to relax, to express myself and my hobby.
What do you consider to be the biggest challenge for you as an artist?
A: The biggest challenge is balance! I never miss a deadline or a task, but with the increase of all the lovely requests, my children and my regular job, it makes me feel like I should be giving 400%. It is a challenge for me to do all the things that I want in a day! It is in my nature to want to do everything right and as good as possible, for my art, for my job, for my children, friends, and so on… Luckily, I'm also practical, so I can handle a lot in one day! I like to be a busy bee!
What certainly isn't helpful for planning — and I know a lot of artists and photographers are dealing with the same experience: getting no response after a proposal… That's not nice. I can imagine customers could have a lot of reasons to drop their interest, or have found a better offer, but it would be more respectful to just let the artist know, instead of not responding to a carefully composed tailor-made offer at all. Luckily it doesn't happen too often and I nowadays have enough commissions to care about, but I hope by saying this, people would pay more attention: please be aware, you could hurt an artist's feelings very easily, because making art is a passion and there is a lot of dedicated time for each piece.
And what do you enjoy the most about what you do?
A: I love to create paintings, drawings, digital art… I like to make nice colour combinations. I'm inspired by beautiful old historical buildings! They were built with so many details! I dream away when I see nice colour combinations.
What I enjoy the most: happy satisfied costumers! And successful new ideas!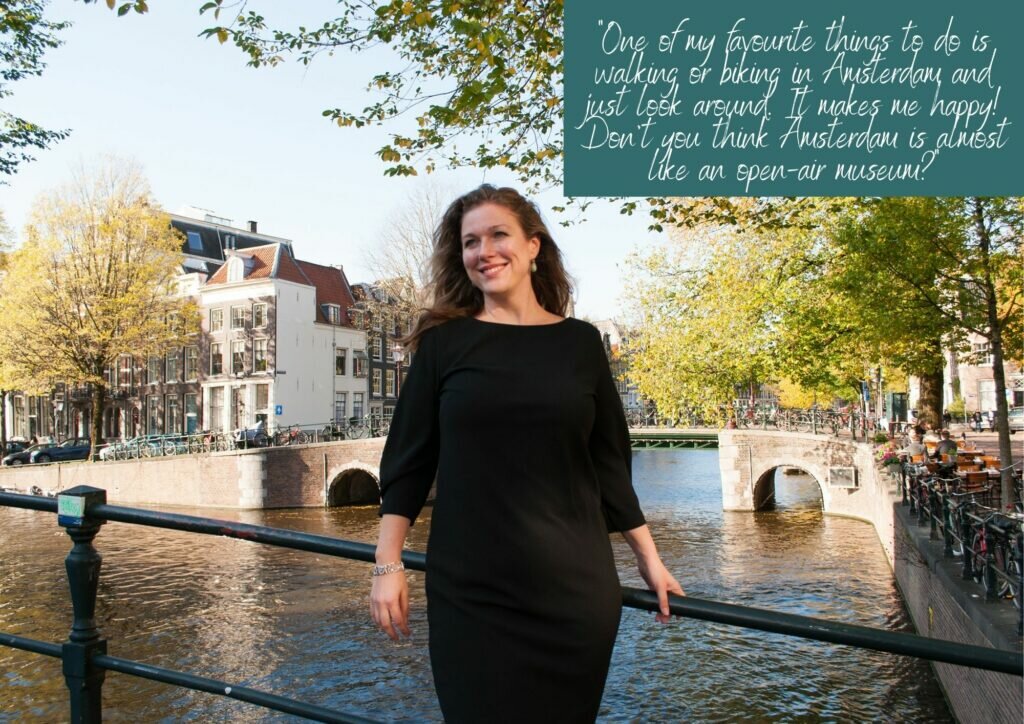 The illustrations and paintings you share right now are mainly of Amsterdam houses and city landscapes. Why did you choose Amsterdam as a subject? Do you (or did you at some point) paint something else as well?
A: My passion for Amsterdam illustrations is because I love the city. I was born and raised here; I like the canal houses and water reflections. One of my favourite things to do is walking or biking in Amsterdam and just look around. It makes me happy! Don't you think Amsterdam is almost like an open-air museum? I also like the diversity of people and their styles. I always felt that in Amsterdam you can be who you are, no judgements and a lot of respect for each other.
I also make other art on request, for birth announcements cards, and all kinds of other requests. Like portraits, animals, nature, portraits of products, shops, pictures for packaging etc.
Is there any special project you are working on right now? Or any special plans for the future?
A: I'm working on a lot of commissions at the moment, a couple of houses in Amsterdam and a few in other cities, two family portraits (both digital this time), three birth announcement cards assignments and a personalised Christmas card.
I also sell a lot of my Christmas cards and birthday calendars during this time of the year. That's just wrapping and sending, but it is nice! I'm almost ready with another project, a new calendar, with black & white pen drawings. It's almost ready. My plan was to have it ready in 2021 and I would like to launch it big!
When I have time left, I'm working on a big painting from Amsterdam.
I always come up with new ideas! And then I think… why did I not think of this earlier?!
In the future, I would like to come in contact with more stores. Because of the pandemic I lost a couple of shops where my cards and calendar were sold.
A few minutes before we met for the interview, I was just drawing this canal and that's something I wish to do more often, make art on the location itself.
I taught myself digital drawing on the iPad, with Procreate, and I'm really handy with it and doing work just digital. Lately, I've made a collage of 20 highlights of a policeman who was retiring. This was a gift from his children. It would have been too much work on paper. I also made birth announcements cards with the iPad. And I made a packaging picture for some local special cookies.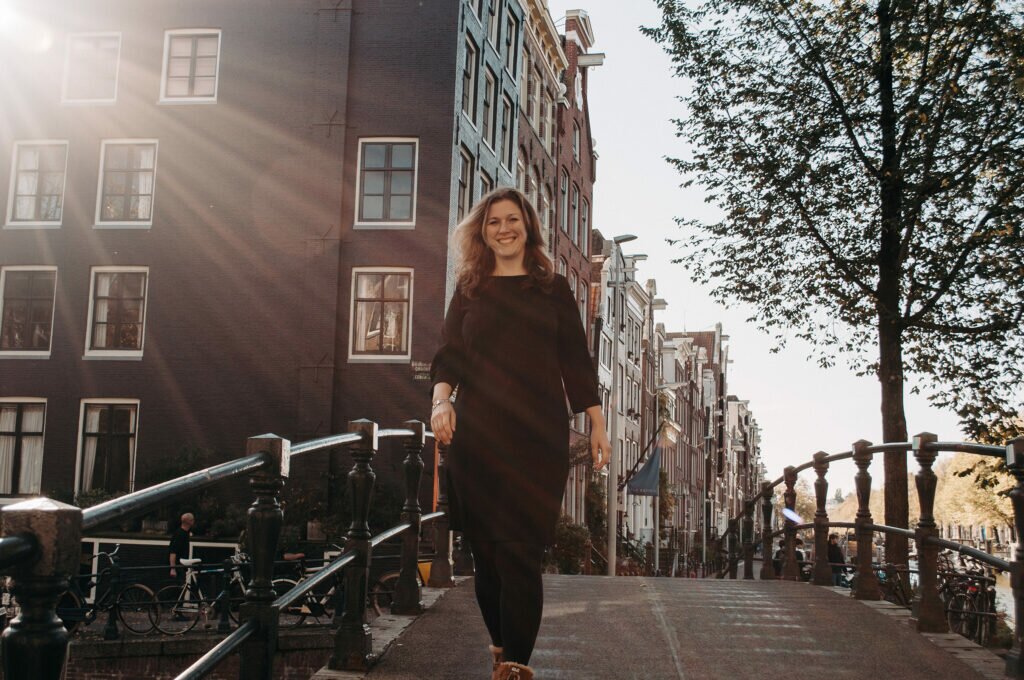 Apart from all the work you're doing as an artist (creation, marketing, etc), you also have another demanding job and two kids. How do you manage to balance all this?
A: Since my art work is my passion and also my hobby, I do it in my spare time and I work part-time as HR manager. Having my kids around me is only more fun and sometimes we draw or paint together.
What advice would you give to someone wanting to do what you do?
A: Go live your dream! If you are talented, do something with it. But understand that being an artist is not easy, unless you become famous… Until you are, it's an unstable income, due to the fact it is most of the time freelance and you make a lot of decisions on your own. For me, combining this with another interesting job keeps it nice. I never lose the pleasure of making art and nice drawings!
You sell your art through your shop but also accept commissions. What kind of commissions do you take?
A: Almost all kinds… But if I don't have a good feeling about it, because it is too far away from my style, I honestly tell and explain why I think they should find another type of artist. Like for example cartoon drawings, that's just not my style.
What memorable responses have you had to your work?
A: Most of the time, I hear people can really feel the vibe in my art, or feel the personality of a portrait.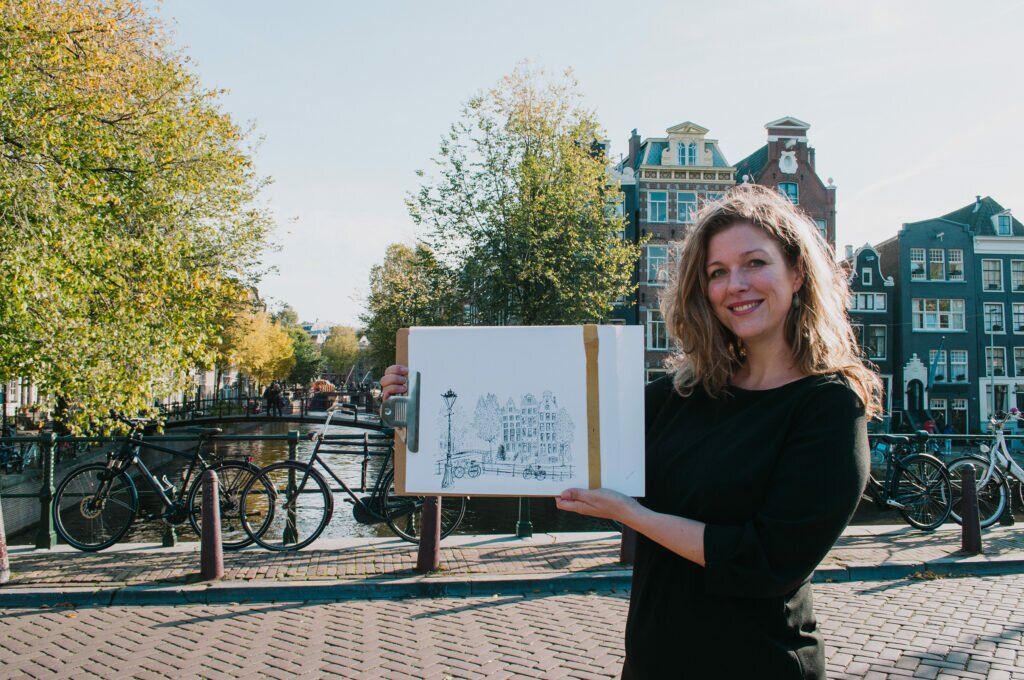 What are you most proud of at this point in your life? This doesn't have to be art-related, but it could be.
A: First of all, of course, my children!
But in artwork I'm also proud of things:
There is an airplane with my drawings on it, 65 canal houses on a row!
When I walk around in Amsterdam, I see a lot of houses that I've drawn.
I sell my art at the Van Gogh Museum shop!!!
I sold more than 100.000 postcards, more than 5000 calendars.
My postcards are bought by a lot of tourists, so my work is all around the world…
That's so cool! What's one thing you want to accomplish in your lifetime?
A: I hope my art will become famous! If I could live from only making art, I think I would be proud of myself. And when it's a real success… I will move to a canal house in Amsterdam!
—
Anouk Potter – artist
Website: www.anoukpotter.nl
Instagram: @Amsterdam_illustrations
Stay tuned for more and follow Amsterdamian on Instagram and Facebook for daily stories about life in the Netherlands. Please share this post if you liked it!

If you want to buy prints and other cute objects, check out our store on Society6!

And here you can find my photo book: Amsterdam Through the Seasons!