The Moco Museum (standing for "Modern Contemporary") is a young, independent museum that started its life in a stately villa on the Museumplein only a few years ago, in 2016.
It was a bold move, to place the museum in between the famous trio of the city: Van Gogh, Rijksmuseum and Stedelijk. However, this new boutique museum quickly made a name for itself and nowadays attracts tones of visitors from around the world.
The home of Moco museum, Villa Alsberg, is a townhouse designed in 1904 by Eduard Cuypers, nephew of Pierre Cuypers (who designed Amsterdam's Central Station and the Rijksmuseum). It's an interesting choice of location for a museum dedicated to modern art, but I think it fits perfectly. Seeing Banksy's work exposed on a vintage wall or next to stained glass windows brought an interesting twist to the exhibition. It also provides some nice views over the area.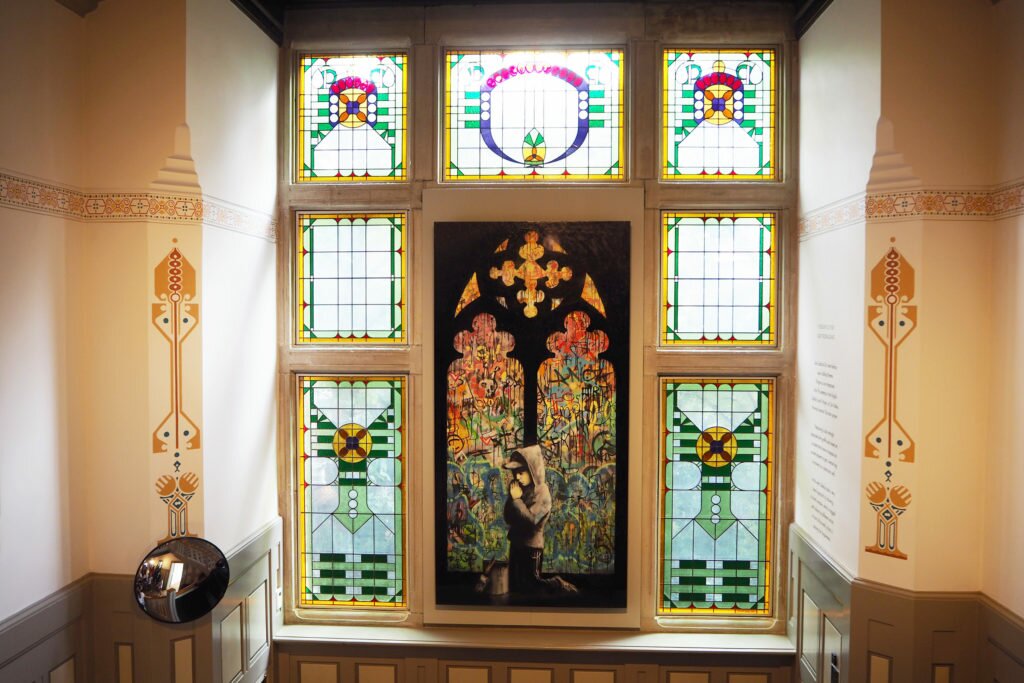 Moco was established with the purpose of bringing modern art to a broad audience, and it focuses especially on subversive, opinionated art.
You will find here fake CCTV cameras, balloon sculptures, street art, a rope-tied Tweety bird, "corrupted" paintings — to mention only a few of the museum exhibits. Modern and contemporary art is present in all its beauty and seemingly nonsensical existence. I can't help but notice the irony of having a museum dedicated to artists who are against the institutionalisation of art, like Warhol and Banksy. In fact, the Banksy exhibition itself is unauthorised — although, how an exhibition of what is otherwise graffiti and would legally constitute nothing more than vandalism can be "authorised" is another meta discussion entirely (I wonder how much fun Banksy is having by abnegating from all the exhibitions of his or her art!).
We started the visit with the top floor, the "Moco Masters" part of the museum, which is a small section, but that's not an issue, as our focus was more on the contemporary exhibits. Moco as a museum seems to have been made for entertaining: it's casual, you can laugh and dance if you want (ok, maybe I am exaggerating a bit here) and you are invited to take as many selfies as you want, if that's your thing. There is no pressure to shape your behaviour into a stiff, all knowledgeable, art-appreciative one. Everything at Moco revolves around humour, irony, and not being afraid to speak or act your mind — or at least that's my impression of it. It was refreshing to be in a museum where one doesn't feel the need to parade in front of the art pieces with a serious face, pretending to be awestruck even when you don't get that art at all. Not that anything stopped me from having fun in the Rijksmuseum through the Middle Ages area, where I found so many amusing scenes in the religious-themed paintings that I took photos of them with the intention of later writing a blog post (still working on that). At the same time, nothing stopped me at Moco from being in awe in front of some pieces I loved.
Now, before you think I'm a shallow, selfie-loving person (and I wouldn't dream of letting you believe that, because I don't even know how to take a proper selfie), I have to say, in my defence, that I also appreciate classic art, I visited the other museums in Amsterdam a couple of times, and Van Gogh is one of my two favourite painters ever. It's just that I don't like when people or institutions take themselves too seriously, when they don't leave space for fun or irony.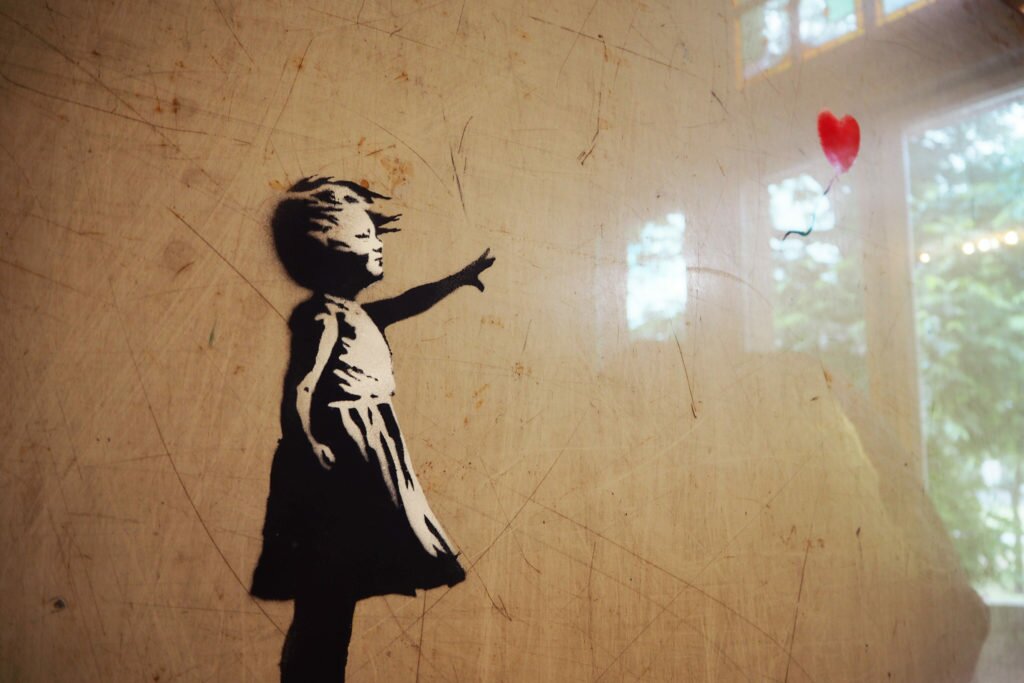 What was our favourite part of Moco?
As I already said, the Moco Masters exhibition (Warhol, Haring, Dali) covers a small part of the museum; it was nice to see it, but it was just like the appetiser on the table, opening your appetite for more. Then we quickly passed by the Kusama room which made me dizzy (something to do with my motion sickness, I think).
Then there was Banksy, with actual street art and some prints. I honestly didn't expect to see parts of the walls, cut and brought to the museum. They say these were parts of abandoned buildings which had been scheduled for demolition, so it's not like someone's living room suffered a redesign by cutting the wall. It was a treat to see the thought-provoking images created by this street artist and actually this was the first time I'd seen a street art exhibition in a museum (one thing I never thought about). But, on the other hand, I also felt a bit sad that something which the artist intended to be temporary had a different fate, decided by others. One of the reasons I like street art is its ephemeral nature — knowing it would be there only for a while makes it that much more interesting and impactful. But I guess there's a price to pay when you become so famous that the whole world wants to see your art: Banksy became too big for their own good. On the other hand, wouldn't this wider spread allow more people to be exposed to the subversive ideas from the stencils, so that, rather than a couple of neighbourhoods in Bristol and London, the revolution could become global? Those are just some of the thoughts provoked by walking through the corridors…
Going back to our favourite exhibition, that was definitely "Connecting time", by Daniel Arsham (a temporary display which can be seen at Moco until September 2019). His work, influenced by archaeology and having as a theme the passing of time, the decaying of the everyday objects or the frozen in time ones, is fascinating: oxidised guitars, crystals coming out of a corroded book, melting walls and much more, are able to transport you to a different world. This world feels like a fantasy or a possible future, where the new gadgets of today's world are abandoned and decaying. Arsham created a special piece for Moco, the "Calcified Room", which was inspired by Pompeii and has a weirdly calm and satisfying look to it. The "Amethyst Ball Cavern" seemed like entering a fantastic world: a room covered in amethyst coloured balls, with mirrors and lights. I would actually like to have something like that at home, maybe for my meditation time.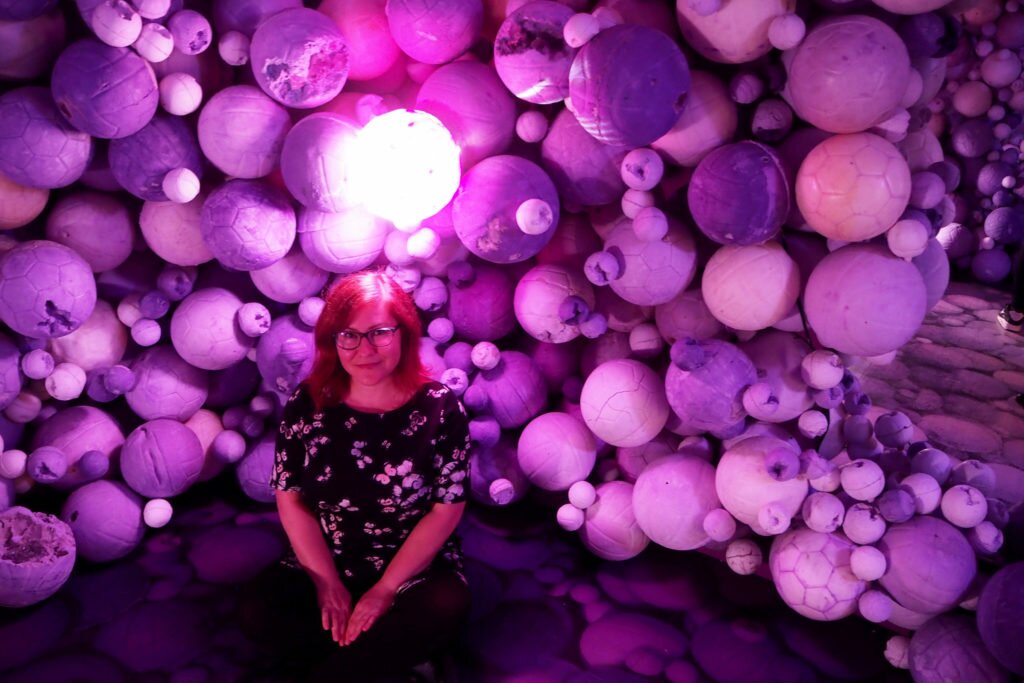 The visit ends with the garden, where there are other art pieces which invite you to play and even to create something for yourself, like Marcel Wonder's "Portrait", where visitors are invited to create their own art with the use of "wish pins"; you have one guess as to what the main drawing ended up looking like.
To wrap up, it's refreshing to see art that tackles today's society issues boldly, not only as an aesthetically pleasing endeavour but one that makes you think and reflect on society, politics and human existence. Having it all captured digitally in our gallery here and in the countless visitor selfies from around the world only fits into the modern and contemporary existence we're all living.
If you want to visit, check the information on the museum's website. I would recommend going earlier in the day, as with any museums in Amsterdam, because it can become quite crowded and the small space can't handle the crowds very well.
This is a sponsored article. However, all the opinions expressed here are my own, as usual.