I met Shea, like many other wonderful people, through my blog. He invited me to a couple of shows he was producing; I attended the shows and had the chance to meet him. He is one of those creative people whose mind is always full of ideas, who is working on multiple projects at the same time. When he talks about these projects, his eyes sparkle and his warm voice captivates you. Having an impressive background — producer for Blue Man Group, owner of a theatre company in New York, actor — he has many stories to tell. Shea traded New York for Amsterdam, pursuing his dream of seeing the world and finding new adventures. Here, together with his partner, Elyzabeth, they founded SE Productions, a company which brings together their expertise in producing cutting-edge events, entertainment and content. In this interview I tried to pick his brain a bit and find out more about the man behind the curtain, about his projects and hopes for the future.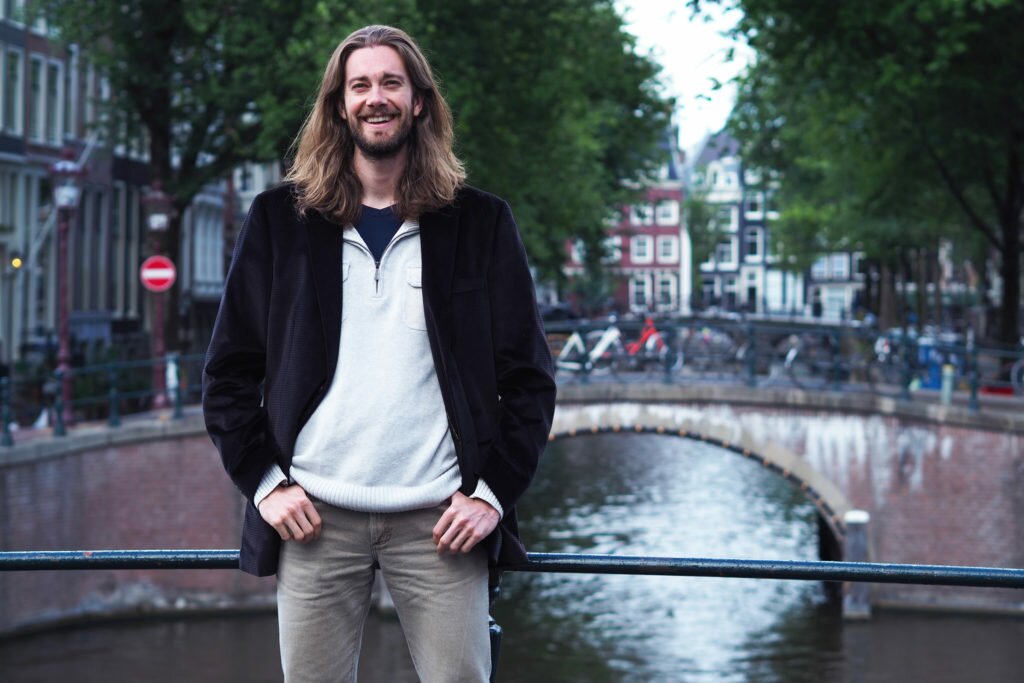 Thanks for agreeing to do this interview! Can you start by telling me about your background?
Thanks for your curiosity, Dana. I was born and raised in South Florida. From there I went to University of Central Florida in Orlando (home of Disney World and Universal Studios) to study theatre, which is where I learned a unique style of interactive performance based on the power of play.
After university, I moved to New York to pursue a career in acting. I started working in the headquarters of the international theatre company Blue Man Group and ended up spending nearly 11 years with them, first as an administrative assistant and working my way up to a head creative producer.
In the meantime, I wasn't finding work as an actor that excited me, so I returned to the interactive performance style I specialised in and started my own theatre company based on this. It was called Playing with Reality, and it was something special for both the team involved and for those that came to the shows.
I've taken my experiences – as a producer, as a performer, as a team leader – and I'm applying them here in the Netherlands.
You moved to Amsterdam with your partner, a year ago, both of you leaving behind successful careers in New York. What influenced this big change in your lives?
Elyzabeth and I have always had the desire to see more of the world. It's one of the reasons each of us moved from our respective hometowns in the US to New York, which was an incredible experience for both of us. But due to a number of factors in the States (such as short holidays and high costs of overseas flights), we never felt we could truly explore the world beyond the superficial tourist hotspots. We wanted to challenge ourselves and our perspectives to see how other parts of the world thrive, so an international move felt like the natural choice for us.
Are you still happy with this decision? How do you feel about Amsterdam now, after living here for a while, compared to the image you had before moving?
It's been amazing. As independent contractors, the majority of the first year had been about making connections and landing jobs in order to extend our limited savings. This was by far the most difficult part of the move, but at the same time it has been rewarding to push ourselves in our possibilities and find work that both inspires and challenges us.
Now that we're seeing some stability in regards to work, we can put more focus on the city and culture. The intentional beauty of Amsterdam is a daily pleasure. It's been a process to understand the nuances of the country (the local bureaucracy, the healthcare system, the general mindset towards work and personal time, etc.), but they seem to make sense in their own way to us now.
It's been fascinating to recognise the contradictory values in the society — for example the innovation and pioneering attitude juxtaposed agains the mindset of "This is how we've always done things" — and then to notice the contradictory values that exist within the US.
The power of perspective has also been eye-opening. Having biked the unsafe streets of New York, biking in Amsterdam provided its own learning curve, but it was manageable. And yet, to hear from someone raised outside of Amsterdam to call the city the "wild west" of biking, one would gather that there are no rules or logic to it. We come from opposite perspectives on this topic which influences how we view it, and it has made me more aware of the power of perspective in other parts of life as well.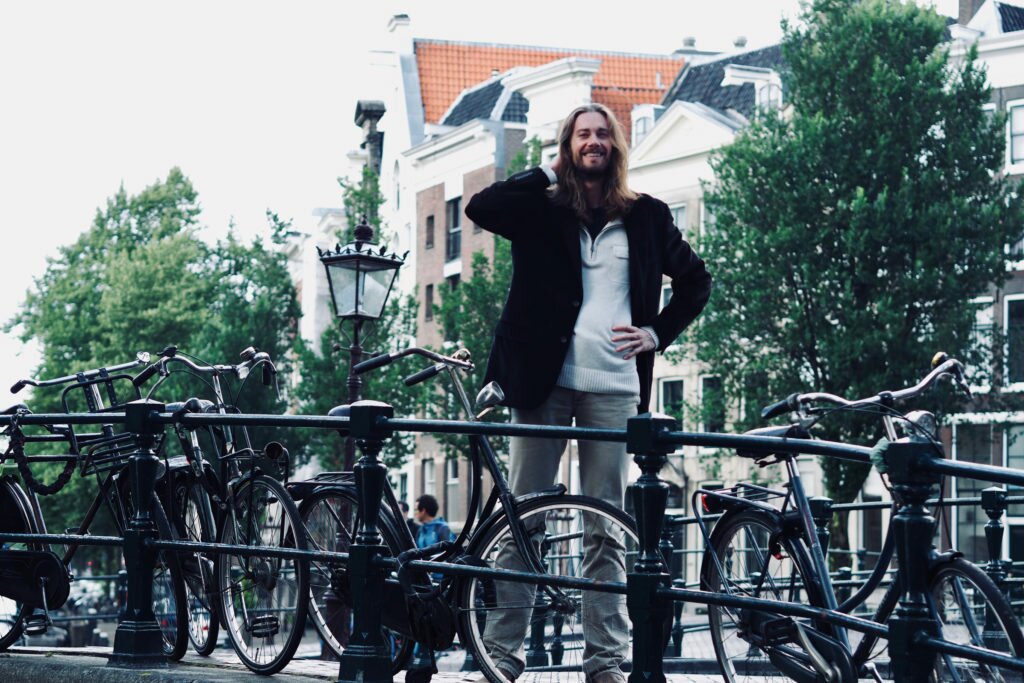 Together with your partner, Elyzabeth, you founded SE Productions. Tell me about it. What does it do?
SE Productions is a VOF (a two-person ZZP or "zelfstandige zonder personeel") with a focus on content development and production.
For myself, I have two primary focuses. As a producer, I work on anything from theatre, film, virtual reality, events, and so on. In this role I'm essentially a project manager that understands the processes and the industries in order to see a project to completion. As an interactive performance trainer and designer, I have given over 30 workshops around the country. I also consult and help design interactive experiences that empower the audience.
For Elyzabeth, she's primarily focusing on her skills as a writer, currently working on various assignments as a copyeditor and copywriter. In addition to that, she created and runs Ask a Badass, an advice column in which modern questions are answered by history's hidden women. It's also home to Badass Tours, in which she shows people the city of Amsterdam through the eyes of the women that helped create this country.
I recently joined you at Mezrab to see "Ready, Set, Play!", a series of interactive performances. Why did you choose this format? And will this series continue?
Sahand & Karl, the minds behind Mezrab, wanted something unique and special to present to their audiences. They had a free night in their schedule (once a month on Sundays, April – June), and I proposed to them this idea of a laboratory of interactive experiments. The nature and power of interactive performance connects with me, and as I made my way in various industries over the past year, I saw others were in the same mindset (Smartphone Orchestra, Project Wildeman, Over het IJ and Oerol festivals, VR/AR designers). My goal was to create a platform that puts the spotlight on interactive artists and challenges them to see how they could push the boundaries, all while allowing the audience to decide if and when they wanted to participate.
I believe the nights proved an inspiration for the artists and the audience, and I've heard from several of the artists involved (and some that didn't have the opportunity to be involved) that they plan to continue developing their ideas. In that sense, the series was a success for me.
Mezrab has their own summer break before starting up the new season in the fall, and I'll have a conversation with them sometime in between to figure out if there's an extended life for the "Ready, Set, Play!" shows. I can't say at this point if they'll continue, but I won't rule it out just yet.
What types of projects do you see yourself involved with in the future? While living in the US, you were working on producing the famous Blue Man Group shows, among others. Would you say you are shifting your attention now towards smaller, local shows but with the potential of becoming something more in the future — rather than big, already well known productions?
I've shifted away from theatre as it relates to a professional career. The industry in the Netherlands primarily works in the Dutch language, and while I'm learning, I won't be able to work in that space with confidence for some time. The English-language companies in town are still relatively small and often don't have the budget for a professional producer at this stage. As I'm still focused on projects that provide an income so we can stay in the Netherlands, theatre isn't my primary focus.
That said, there's something special about live performance, and I know I'll find may way to work on exciting projects before long. I'll likely be driven towards the less established artists that are adding something new to the field, and hopefully I'll be able to help them find that platform.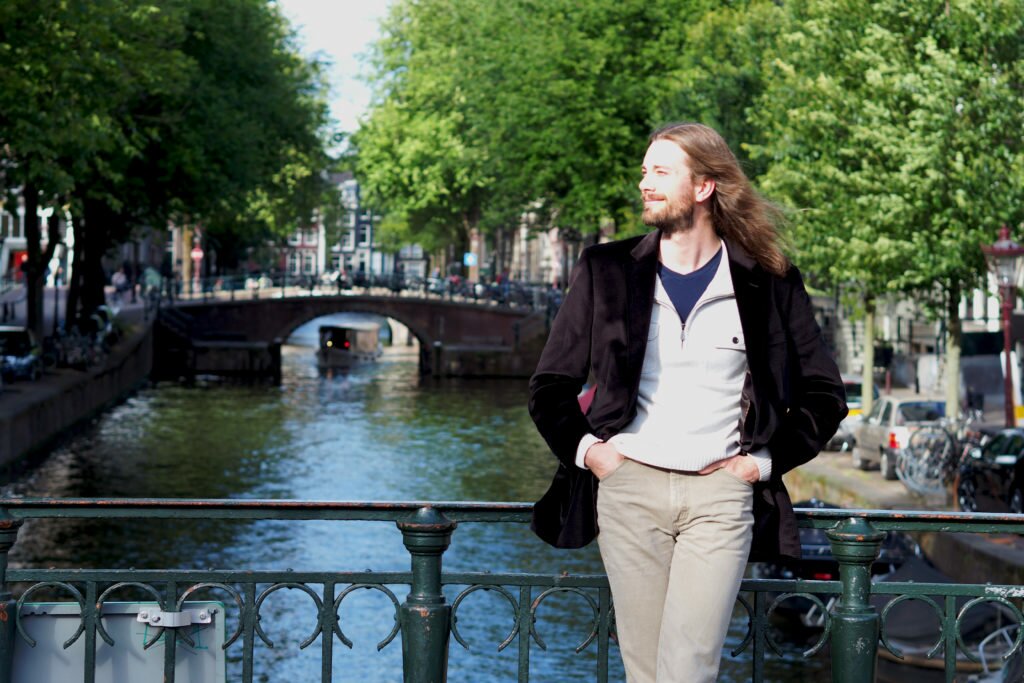 Are you working on any particular projects right now?
I am!
I'm producing a virtual reality video for Lloyd's of London as an industry experiential campaign.
I'm producing an animation campaign for Mister Lee, an Amsterdam-based storytelling company that focuses on positive social and environmental change.
I'm an advisory board member for Orange Theatre Company, Amsterdam's leading English-language theatre company.
I'm a location manager for the production PoroCity as part of the Over het IJ festival.
I'm a co-founder, creative producer and storyteller for a fulldome content studio start-up.
I'm playing with the idea of offering an extended interactive performance course that trains actors and improvisers in the style I specialise in (which includes what I call "naturalistic" improvisation, impromptu storytelling, and social psychology).
There are also a couple potential projects on the horizon that could be a lot of fun, but it's too early to give specifics.
Wow, that's a lot of projects! In our discussions, you told me that you still haven't figured out your path. Do you believe that every person has a "true calling"?
The move to Amsterdam did more for me than just change my geographical location. Blue Man Group provided me steady employment with a (relative) consistency of day-to-day assignments. Having pushed myself into the freelance lifestyle forced me to get involved in an array of projects and open myself up to new possibilities. I've been inspired by every project to date, and as long as I'm able to maintain this lifestyle, I'm inclined to not choose one specific path but rather continue to be involved in a variety of projects as they arise.
I'm finding the struggle comes when pursuing my own artistic endeavours versus spending time elsewhere. I still have a drive to create my own projects, but we made the move to be exploring the world, so I also feel that free time could be spent doing that. It's coming across the balance that's the challenge right now.
In regards to a "true calling", I recognise there are certain things about myself that hold true when it comes to work — my desire to inspire and challenge teams to see beyond what they thought was possible, my ability to stay calm under pressure, my joy in working with people who are committed to creating something out of their own passion. These are traits that I could apply to other fields, but it's within the creative and entertainment industries that I've decided to put my energy and will continue to pursue in some fashion.
I believe that every person has some core traits that make up their "true calling". I think that people can surprise themselves by applying these core traits to pursue a different career, and they could find a better fit for themselves than they ever imagined.
If you had to start over, would you choose a different path for your career?
Nope. I wouldn't. I would have spent more time learning software coding programs, because I'm good at it when I take the time to do so, and it's only going to become more valuable no matter what work I pursue.
But otherwise, I'm really enjoying the path I'm on right now, and I'm excited to see what comes next.
What would your life look like, provided that all your wishes were granted and you would have succeeded in everything you had in mind?
Let's see. I'd have already been to the International Space Station a couple times, but I'd probably currently be in the process of discovering a new species of fish in the Great Barrier Reef, which has to happen during the off-season of professional basketball as I'd be playing for the Miami Heat (I'm 2m tall; I have to make use of this height somehow), and likely also preparing for an Oscar-worthy role in an upcoming Coen brothers film. Oh, and I'd need to find time to stop by one of my restaurants to make sure the staff is maintaining my standards of quality.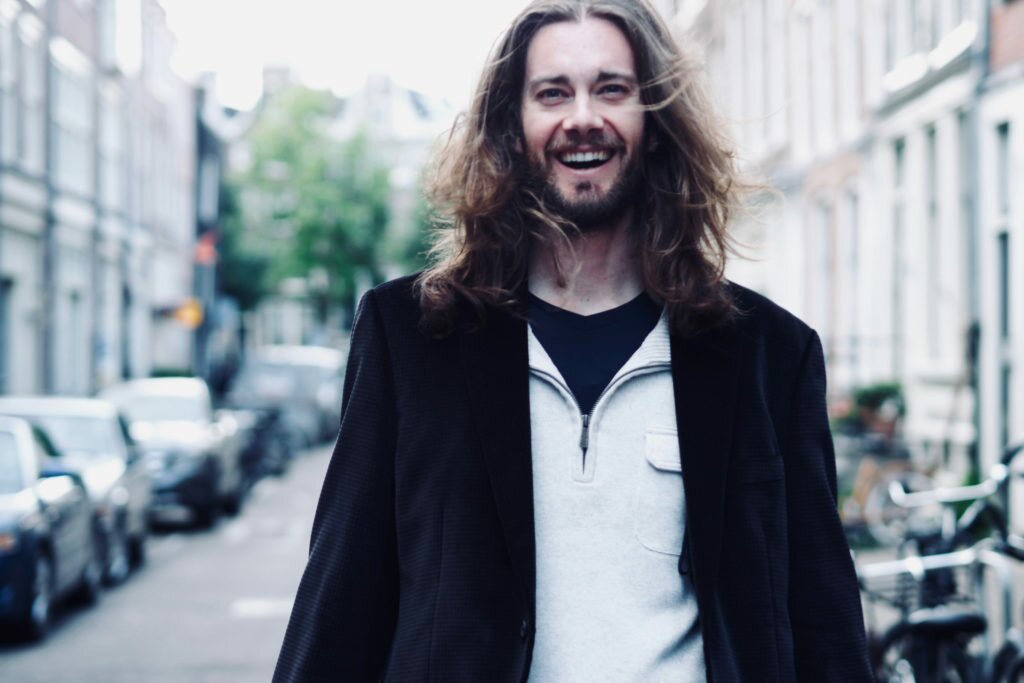 It's fascinating how dreams change over time. I imagine I'd be leading a very different life had my own company Playing with Reality become a commercial success, but that would likely mean I'd still be living in New York, and that's not where my heart's at right now.
I wish I wouldn't have to go through the full process for acquiring a driver's license here, which is necessary based on the type of visa I have, and I wish a couple projects would have come through, but ultimately, I'm fortunate enough to be living the life I want.
Which is your favourite show of all times? Is there any show that you would've loved to produce or perform in?
Growing up in the '90s, Rent was such a formative show. To have produced the original would have been incredible, but I'd also be up for playing Roger or Tom.
Sleep No More changed the landscape in New York and is still the benchmark for immersive theatre. I'd love to know what I could have added to the show as a producer.
For a long time I wanted to be a Blue Man, because it's a challenging and powerful role, but I'm 15 cm too tall (there's a specific height range so the three characters look uniform).
What makes you happy?
Elyzabeth. Our two cats. Sunrises. A great glass of scotch. The excitement of exploring somewhere new. The sense of accomplishment that comes at the end of a production. Reaching the top of a rock climbing wall (we haven't gone climbing since we moved, and we need to change that). Getting back to Florida to spend time with family.
Shea Elmore
Creative Producer
www.seproductions.nl | www.linkedin.com/in/sheaelmore