May was for discovering Gelderland, a spectacular province, where there are so many things to see and do! We visited together the super charming Zutphen and the more modern Arnhem, and a few castles from the many in this province. The month was too short and I didn't have the means to visit more of Gelderland; sadly, I only scratched the surface of this province. I'm already thinking to to the same challenge next year, because I want to see more of all the provinces I've visited so far! It's becoming frustrating to not be able to visit enough places, but there's nothing I can do, as this is a soul project and doesn't bring me more money. I have to spend most of my time trying to get money to finance it (and to pay the bills 🙂 ).
I hope you enjoyed traveling with me through Gelderland, and I know you are curious to know which one is next. Your curiosity stops here: the next province is (drum rolls)… Noord-Brabant (North Brabant)!
Here's the usual PDF with the main places to visit in Gelderland province (you will receive it as a downloadable file if you are subscribed to my newsletter).
Infografic Discover Gelderland: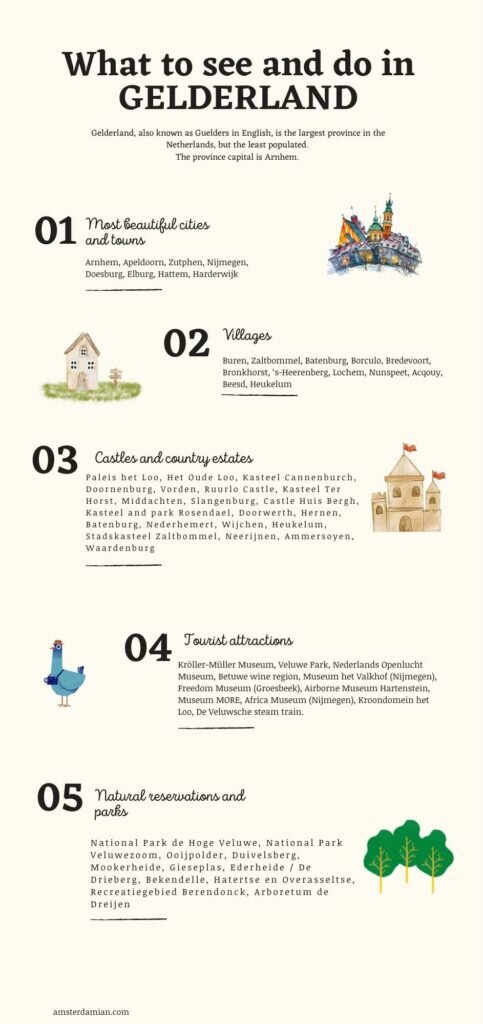 Stay tuned for more and follow Amsterdamian on Instagram and Facebook for daily stories about life in the Netherlands. Please share this post if you liked it!
Don't forget to check out my photo book: Amsterdam Through the Seasons!
If you want to buy prints and other cute objects, check out our store on Society6!
Subscribe to our newsletter!