Guest post by Steff Kulis.
Amsterdam is a very vegan and vegetarian friendly city! There are so many amazing places to choose from across the city so I am ranking my top 10 after eating vegetarian for the last 5 years across Amsterdam!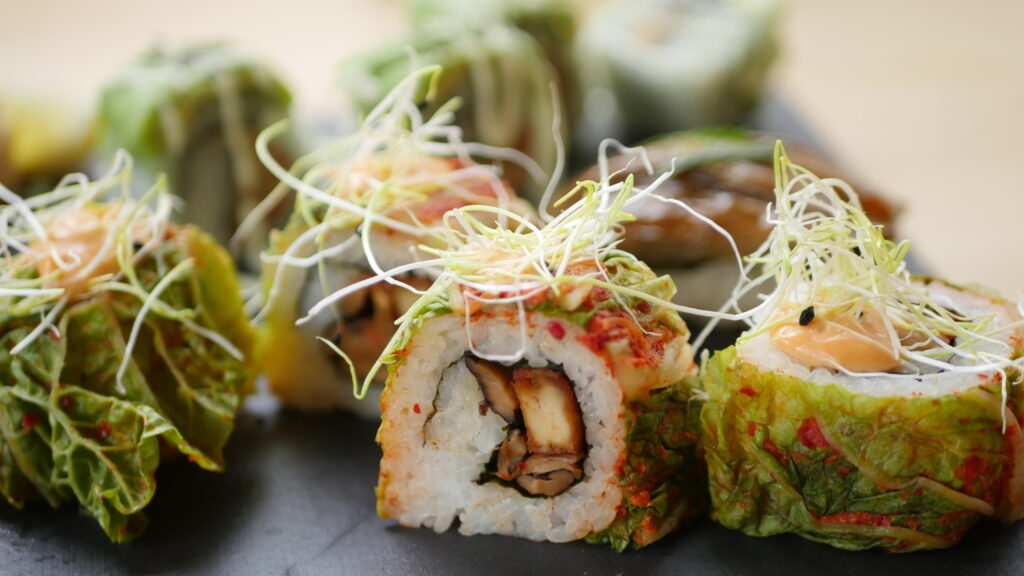 Plant Based Sushi – Best Vegan Sushi and Best Date Night Spot in Amsterdam

The innovation of the sushi here is just amazing. Each roll is a new culinary experience. Order the Chef Special for an adventure through their signature dishes. We paired it with a Sake Tasting, which made for a fantastic date night. Sushi is one of the things I missed the most with going vegetarian so I was thrilled to find an amazing vegan option. They are open just Thursday to Monday for dinner.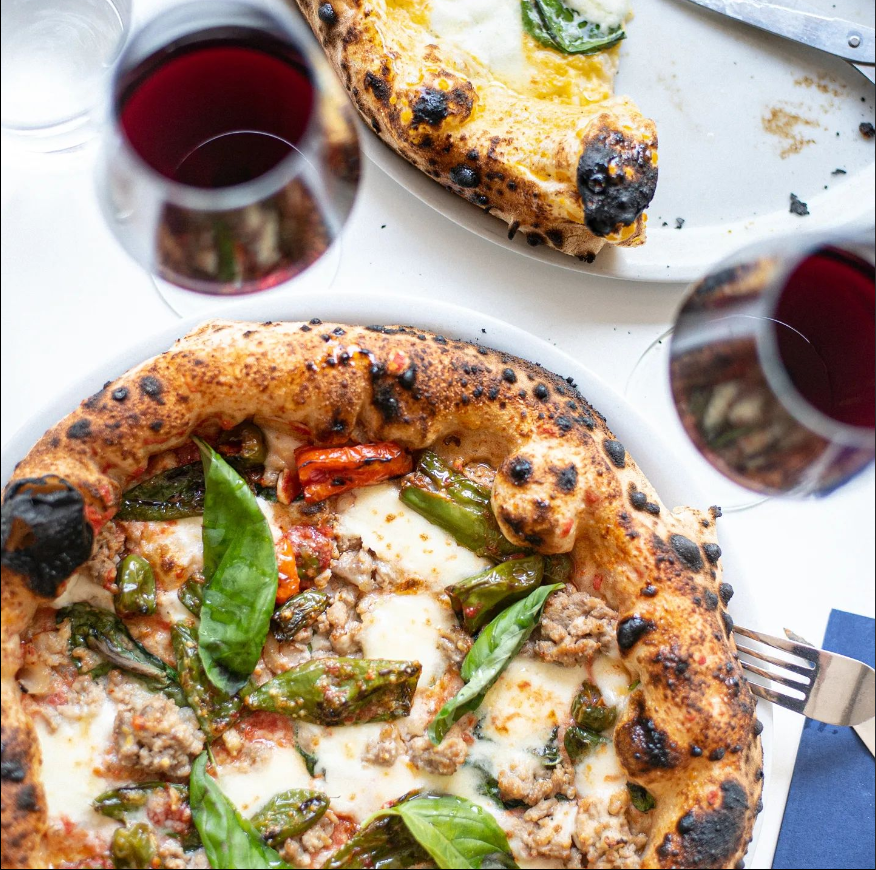 nNea – Best Pizza

That pizza that you say out loud an audible "wow" when you take your first bite. nNea pizza is in the Neapolitan style and has won several awards for their pizza including Top Pizzeria in the Netherlands and ranking #6 for the top 50 Pizza Europe. The restaurant has vegan, vegetarian and non-vegetarian options so it is a great place to go with a mixed group of friends. Reserve ahead of time as they book up but you won't regret it.
Restaurant Tolhuistuin (THT) – Best Place to enjoy the sun with friends

On a sunny day, this is my favourite place to go and enjoy the sun with great food. They have a very large outdoor patio and a large menu. The menu is tapas style so it's the best to enjoy with friends to try more of the menu. Everything I have tried here is fantastic. Their menu rotates seasonally and has a very large vegan and vegetarian menu. They also have some meat options. Their cocktails are excellent. It is on top of Paradiso Noord so it pairs very well for a dinner and concert.

I cannot even begin to count how many times we ordered Indian Food from here. The Tandoori Vegetable Thali is a great value for the amount of food. The food packed with flavour and every dish is unique. The family run business has been around since 2005 and prepares their Tandoori dishes daily in the traditional way. They deliver quickly and the food is hot when it arrives. You can order through their website or on Thuisbezorgd app.
Massimo Gelato – Best Vegan ice cream/gelato in Amsterdam

Massimo Gelato is easily the best gelato in town. They have locations through the city and is beloved by both vegetarians and vegans alike. They have a whole section of Sorbetto (all vegan flavours). The flavours rotate daily but everything I have tried is great. For the vegetarians/carnivores, my friends favourites are Ricotta & Fig, Pistachio, and Nuxxlla. For the vegans, my favorite is to mix the Hazelnut and Dark Chocolate vegan flavours.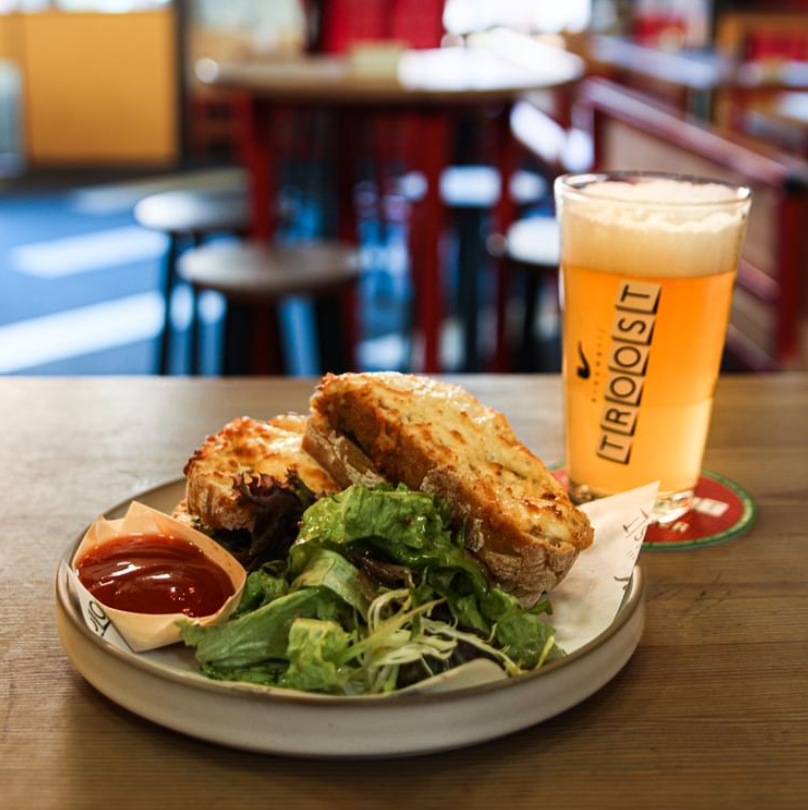 Troost – Best Brewery with Meatless Menu

Troost is everything you want in a brewery, fantastic beer, a full meatless menu and an amazing relaxed vibe. There are locations across Amsterdam but the one in Westerpark is my favorite. Try the New England beer, which is excellent and has won many awards across Europe. All the burgers are fantastic. All have outdoor seating to enjoy some beers in the sun with some delicious bites.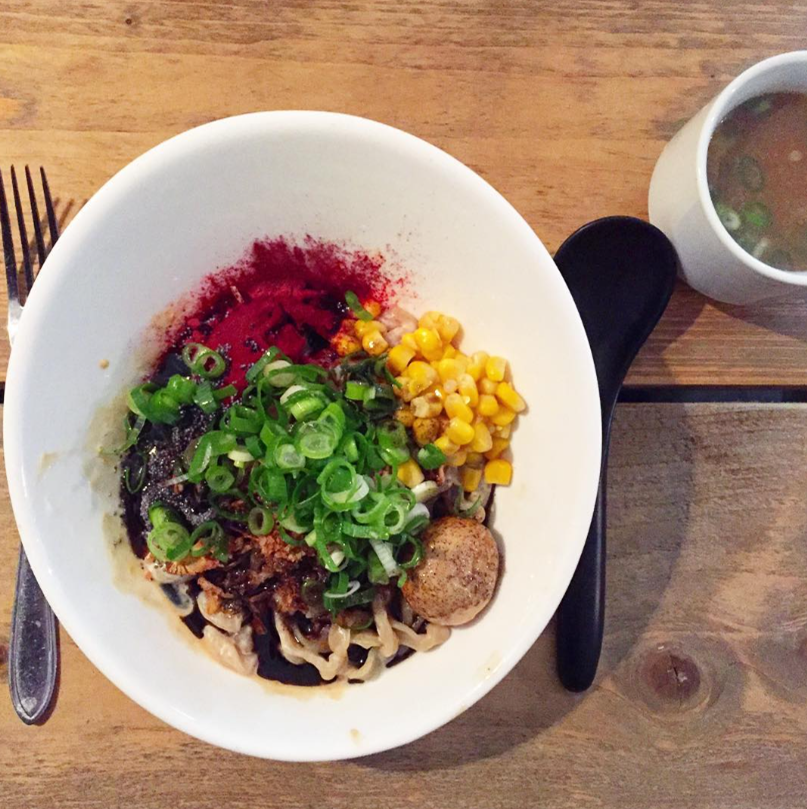 In the heart of Jordaan, Men Impossible serves amazing vegan ramen. The restaurant is small so you definitely need to book in advance. The lunch menu is a great value and a great combination for a day of walking around Jordaan. The chef is super passionate about his menu and the staff is super friendly. Incredible Food and great tasting menu for dinner.
Soil – Best Innovative Vegan Food

Soil is great for an experimental experience into fermentation and smoked vegan dishes. The food is really unique but also all made with natural, real ingredients. They ferment, smoke, cure, pickle and macerate the food to bring a unique flavour to every dish. The have a seasonal menu and a very friendly wait staff to help explain the menu. It has a relaxed neighbourhood feeling to the restaurant.

If you are looking for a quick bite, this neighbourhood spot makes a fantastic gyro. Everything on their menu is vegetarian or vegan with a few different gyro options to choose from. I usually go with the classic gyro but the tikka massala one is also excellent. Great for a quick stop by or they also deliver.
Mana Mana – Best Place to go with a group of Friends

With 3 locations across Amsterdam, it is always a hit with a group of friends. It is a tapas style restaurant so you order many dishes to share. The psychedelic cauliflower is fantastic and the grapefruit adds an interesting twist. They offer both vegan, and meat options so there is something for everyone.
About Steff

Steff is an American Expat living in Amsterdam for the last 5 years. She is a 5 year vegetarian and eats mostly vegan so I asked for her help in writing this article. Check out her blog for travel content, Amsterdam and beyond!
Subscribe to our newsletter!