I met Brian and Anton when they invited me to one of their rehearsals. They wanted to introduce me to their theatre company — Computer Drama — and to the first play they were working on, The International Pastime, which will have the premiere on 5 October 2018. After the rehearsal was over, we sat down and had a long chat about the play, the process of producing it and also about creativity, writing and many other things. I discovered that they were two creative people who like to experiment and play with ideas, passionate about what they're doing (and they are doing a lot of things) — my kind of people.
The first play they are producing is a bit of a darker comedy, meant to "make people laugh, and then make them think". It's based on current issues developing in our society, drawing attention to the organisations that know everything about us. Without judging or pointing fingers, only by illustrating the situation, they let us draw our own conclusions. Brian is playing the main lead in the play, while Anton is directing (and he is also the playwright).
Through this interview, we get to know them a bit and find out why two computer geeks (as they describe themselves) started a theatre company.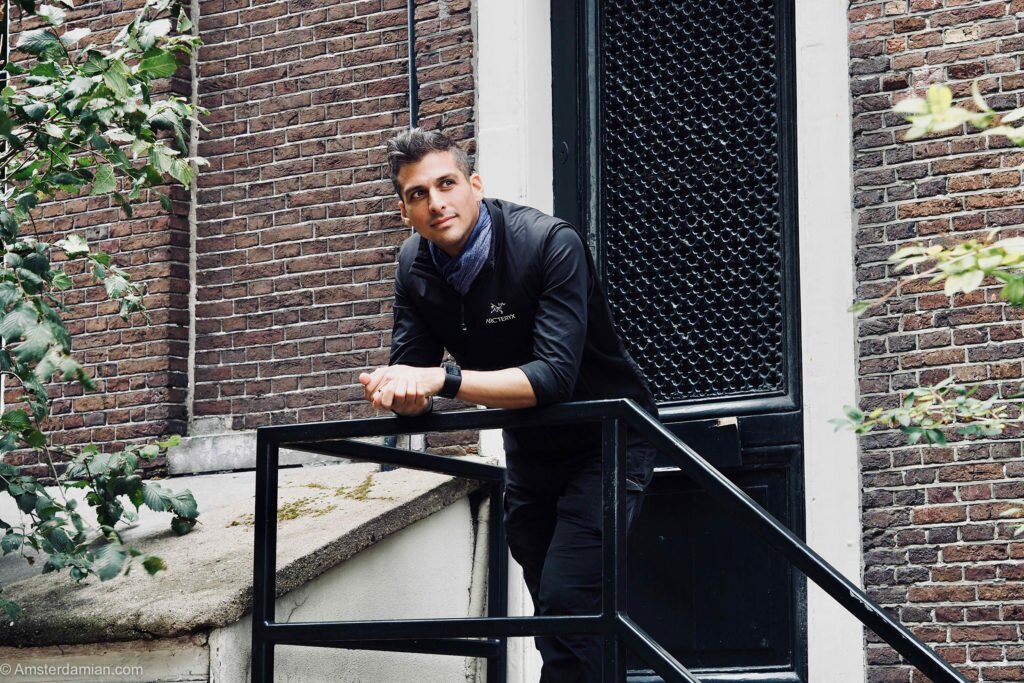 Thanks for agreeing to do this interview! Could you start by telling me about your background?
Anton: I grew up on a farm in the middle of Nowhere, USA. I was lucky to grow up in the States at a time where there was still support for the arts in schools. I split my time between music and sports until at 15 I needed to focus on one to perform at the level I wanted. I picked sports and didn't really do much with the arts for a long time after that. I went to uni and then out to Silicon Valley to work for some iconic valley companies. One of these companies sent me over to Europe. I loved it and decided to stay.
Brian: Thanks for interviewing us, Amsterdamian! My academic background is in industrial psychology, and I'm a human experience designer by profession. My work explores the place where art & science intersect, and the superpowers we can find there.
What is the story of Computer Drama? How did you come up with the idea of setting up your own theatre company?
Anton: Necessity was the mother of invention. I met Brian in 2015 when I cast him in a table read of the IP ("The International Pastime"). We shared a similar history and mindset and became friends. We started looking at the English language theatre companies in Amsterdam and were shocked to see them doing almost exclusively works for the last century or earlier. The times we live in are so interesting, so tumultuous, we wanted to tell stories that hold a mirror up to the world now. We both come from tech and have managed multi-million euro projects for large companies so we decided to produce our work ourselves. It gives us the freedom to tell the stories we want, the way we want to. We don't have to ask anyone for permission. That was the kicker for us and Computer Drama was born — although we didn't call it that yet.
Why did you choose this name for the company? Does it have any specific meaning?
Brian: Anton and I like to go on long walks around the city to riff jokes and get inspiration. They're like walking brainstorming sessions (Brainwalking? Walkstorming?). When the idea to start our own theatre group took shape, we were "walkstorming" different names, toying with the idea that we're both IT geeks who are also story geeks, and how we're bringing those worlds together. When we randomly wandered into the American Book Center, we made our way to the theatre books, and there it was, right in front of us: two book sections, right next to each other, "Computers" and "Drama." The epiphany hit us immediately, and the name Computer Drama stuck!
You seem to make a great team together, at least from what I can see. Do you have the same working style, how do you make it work?
Anton: Brian and I work incredibly well together. He's honest, hard working, smart, caring, nice, trustworthy. He gets me at a very deep level, as I do him. We have our disagreements and disconnects here and there but in those moments we focus on our friendship. That's the most important thing that we have to protect — everything else is just noise.
Brian: Obviously, no meaningful relationship exists without its conflicts. But two philosophies help us manage all that. First, we do improv-esque, additive ideation ("yes, and" rather than "yes, but"). Second, we both know the most important thing is to stay friends and have fun.
You describe yourselves as computer geeks, but you are also creative people. I'm sure the technical work itself requires creativity, but I would like to know more about your artistic pursuits. What do you focus your artistic energy on?
Anton: Geeks are creative, you just can't always tell from looking at them. Tech is akin to music. Both are about building something using a mathematical basis. Music is fundamentally mathematical – there are twelve tones and combining them in different ways gives us music. What sets great tech work apart is the same thing that sets great art apart – putting emotion and the human element front and centre. When I'm not working on Computer Drama or writing, I play a lot of music. I run an open mic night and play music with different groups/people. Having several creative outlets is good for me. When I get stuck or tired of one, I can put it down and pick something else up. It helps to keep the creative channel open and ideas flowing.
Brian: As a designer, I'm blessed to work in a creative profession, so I can really geek out about digital stuff. But I try to be creative in every part of my life. I've drawn some tattoos for people, cut my own hair, edit videos, & write a blog on my website. I'm also putting together a podcast with some buddies of mine about design & coffee.
When did you start exploring your creative side? Was it something you always did, or could you pinpoint it to a specific moment in your life?
Anton: After I stopped with music when I was 15, I didn't do anything with the arts for a long time. I forgot about them somehow. At 28, I had had a very successful career. I knew how the next 40 years of my life would go. I thought, is that all it's gonna be? That thought scared me. I jumped back into the creative with a vengeance and haven't looked back. I like that I am not sure what the future holds. It gives me the freedom of the blank page. Anything is possible.
Brian: I got into performing arts by accident! My mom was in the US military, so we moved every two years or so. When enrolling in my new high school in Mississippi, I had to choose my optional classes, right there on the spot. I picked choir on a whim, which led me to competitions, the school quartet, and eventually drama club.
I like what you've written in the description from your website: "We work so we can make art". I believe it's important to have the freedom to create, without worrying about having to make a living out of it. Still, I wonder, do you ever think about giving up everything else and focusing only on writing and directing/acting?
Anton: No.
Brian: To be honest, I can't imagine myself being focused on only one thing for the rest of my life. I'd love to earn a living with acting, but I'd always be writing, giving talks, or doing something else on the side.
Anton, tell me about your debut play — "The International Pastime". I know you wrote several plays, why did you choose this one to be the first?
Anton: At Computer Drama, we follow Lean Design principles. Therefore, we wanted to pick the play that would be the most straight forward to stage for our first production. The IP is a straight-up comedy set in a single location so that ticked most of the boxes. The characters were tired of living only in my head. They wanted to get out, stir some things up, make people laugh and then make them think. This all made the IP the natural choice for our first production.
Brian, what is it like to play your character, Logan, the man who decides to make a difference through his work, only to find out that things are not what he would have expected them to be? Does it bring back any memories about companies that you worked for?
Brian: I think the power of Anton's vision with The International Pastime is that the imagery is ubiquitous enough for lots of people to relate to, but vivid enough that we can connect it to our own lives. For me, Logan's main tragedy is a struggle that happens inside me, pretty much daily. It's like when Apple stood up to the FBI and refused to compromise the iPhone's encryption, but then acquiesced to the Chinese government to censor certain apps from their app store. Just when I think, "finally, a hero!" they go and do something villainous.
The Computer Drama cast is made up of professional as well as amateur actors. What was your strategy for choosing them?
Anton: I look for talent and culture fit. I try to find actors that are talented and know how to work their instrument — know how to use emotion to create a character and a role. Actors need to bring more to a role than just hitting a mark or regurgitating a line. I work collaboratively so I like actors that are comfortable in this sort of environment. I'm incredibly happy with the cast — talented, hard working, engaged, hella creative.
Do you have any other projects that you are working on right now?
Anton: I'm always playing music somewhere. Right now, I'm producing an album for a singer/songwriter. Other than that, most of my time goes to writing or computer drama or playing sports.
Brian, you own/run another company — The Greatness Studio — which has the purpose of helping people to discover their superpower. What can you tell me about it? Could you help me find out if I can fly, for example?
Brian: Well, you flew to Amsterdam, didn't you? (Rimshot! Anton's the comedian…)
I'm building The Greatness Studio on the idea that greatness comes from combining intellect and emotion when we create things, especially technology. It's one thing to provide someone a seat on an airplane, but greatness can happen when you understand that they're visiting their estranged father or starting a new life after an abusive marriage.
Empathy allows us creators to understand people's needs beyond the functional ones, and storytelling helps us create things people can connect with emotionally. That's why I apply acting techniques to my design work: actors have been engaged in empathy & storytelling for thousands of years. So The Greatness Studio helps creators find their superpowers, so they can create things that give us all superpowers!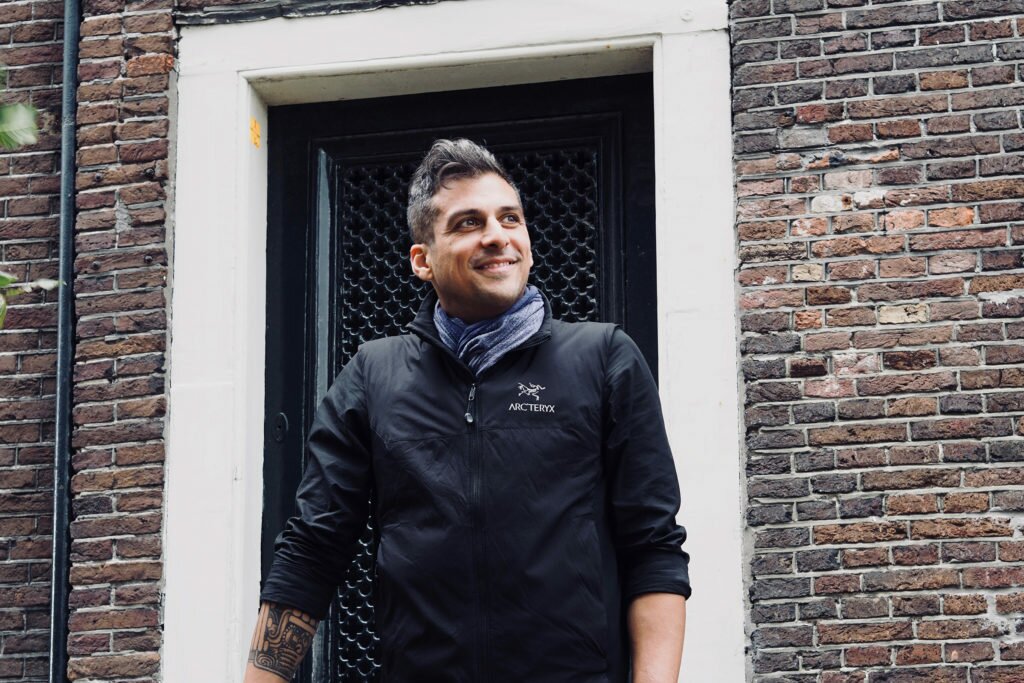 What is your superpower?
Brian: According to my wife Hester, I'm great at recognising my weaknesses and turning them into strengths. During the first talk I ever gave on empathy, I told the story of how I ended up depressed and alone, because I refused to open up and show anyone who I really am. For years, I was incapable of emotional connection, and now that's at the centre of everything I do.
As a child, what would have been your answer to the question: "What do you want to be when you grow up?"
Anton: A Jedi Knight.
Brian: Having a mom in the US Air Force, and having watched Top Gun obsessively as a kid, I wanted to be a fighter pilot! When I joined the Air Force myself though, I didn't have a degree yet, so I became an aircraft technician instead.
If you would have to choose only one (career related) thing to do for the rest of your life, what would that thing be?
Anton: I would buy a small hotel on a beach somewhere it was always sunny. I would have a piano in the bar where I would play and sing in the evenings. During the day on the terrace on the beach, there would be turntables and a mixer and I'd play house music all day so people could dance and chill in the sunshine.
Brian: I fantasise about being a pilot, flying helicopters for mountain rescue teams. (There's your movie!)
What makes you happy?
Anton: Learning something new. Writing. Big Tigers. Playing music. Sunshine. Surfing. Playing Tennis. Beaches.
Brian: The most intense high I've ever felt is the feeling of creating, and becoming immersed in, an authentic Moment on stage. But I'm most alive when my wife & I challenge each other to get out of our comfort zones and grow.
—
Anton Nezabravkov & Brian Pagán, Computer Drama