There are so many places to visit in Amsterdam, and so little time! One of these is Ripley's Believe It or Not!, which opened its doors only a few years ago. Every time I pass by, I thought, "Oh, I should visit it some day". That day came last month when I was invited by Ripley's museum for a personal tour. I knew about them from the Ripley's show that I used to watch on TV. I like weird and curious things 🙂 The foundation of the museum's exhibit collection was set by Robert L. Ripley (1890–1949), a cartoonist, explorer, reporter, adventurer, and collector, who travelled to 201 countries in 35 years seeking the odd, the unusual, and the unexplained. If you search for it on Google, you'll find out that this is a "museum with kitschy oddities on display". Bizarre, strange, unusual, odd, kitsch – all these words can be used to describe it. But also fun. And I think that's the main word that pops to mind.
Ripley's Amsterdam is in Dam Square, in a beautiful building, and it's an impressive collection of odd things. It's a combination of Tropenmuseum and Amsterdam Dungeon, Madame Tussauds and Nemo (with an added splash of toothpaste Van Gogh). The mix is eclectic: apart from Ripley's actual collection, they added various unusual items. From a meteorite to shrunken heads and Justin Bieber's portrait made of candy, to Madonna's panties. It is for those who like strange things but also a place where you can have fun and marvel at the weirdness of our world. A place where you can see different pseudo-scientific curiosities presented in a fun and light-hearted way.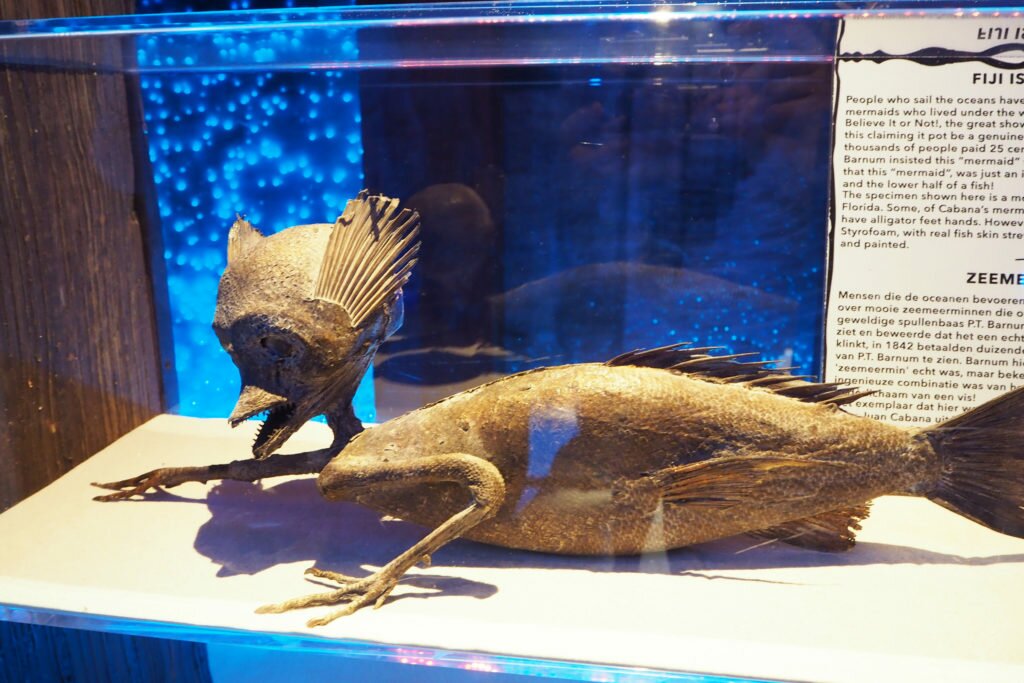 The little anthropological part of the museum surprised me: the replicas of the Kayan woman wearing her neck rings, and the Japanese deformed feet. I learned that Ripley was an amateur anthropologist; he travelled to 201 countries and collected whatever he thought to be weird, or things that were uncommon in Western culture. Nowadays, many are simply common knowledge about fading traditions around the world, but you can understand why they seemed unusual to a person born in the 19th century. The part supposed to display the weirdness of the human body didn't appeal to me. I think we're passed that era of the circus, when we would marvel at the bearded woman.
I liked the robot made of discarded car parts, the mermaid made of knives, the bone motorcycle and other fun pieces of art. Also the scary area, the weird stories. I liked the space tunnel, even if it's not something to try when you are prone to motion sickness. I had fun and went home with a few cool photos of myself.
If you are interested in visiting, you can check out their website and buy the tickets online (they are cheaper). Kids can visit too, they can avoid the scary areas (although I'm pretty sure some kids would consider that part of the museum easy!) and there are special games to keep them entertained.
Here are a few photos to give you a glimpse into the curious world of Ripley's: