It's been a few weeks already since I got back from my short trip to Norway, but I am still excited when I think about it! Norway was one of my dream destinations and I am so happy I finally saw a little piece of it. This is only the beginning. There are many places I want to see in Norway, and I want to see them in summer but also in winter, covered in snow. It was difficult to decide when to go.
I chose to visit Norways in spring, to a place where I would be close to nature, situated more north than I've ever been: Ålesund. I am happy with my choice!
It was a beautiful trip, and it was everything I ever dreamt about when thinking of Norway. I had as a travel companion a good friend who shares the same love for Norway's landscape. We were lucky with the weather, there was no rain for the four days we spent there and it was warm, although windy some days (but that didn't bother me).
Ålesund is not your typical place for a city break. This is a city where you go if you love nature, sea and mountains, hiking and sailing. If that's not you, then one day here is enough. It's a small city, with an even smaller city centre, which you can see in an afternoon. It has a few major attractions, like the Fjellstua viewpoint, up the hills, the art nouveau architecture, the aquarium. This city is a good starting point for visits to other wonderful places in the area. You can take boats and visit the surrounding islands, ride the waves with speed boats, or go kayaking. You could rent a car and visit the mountains, cruise on the fjords (Hjørundfjord and Geiranger), hike or bike to see amazing views.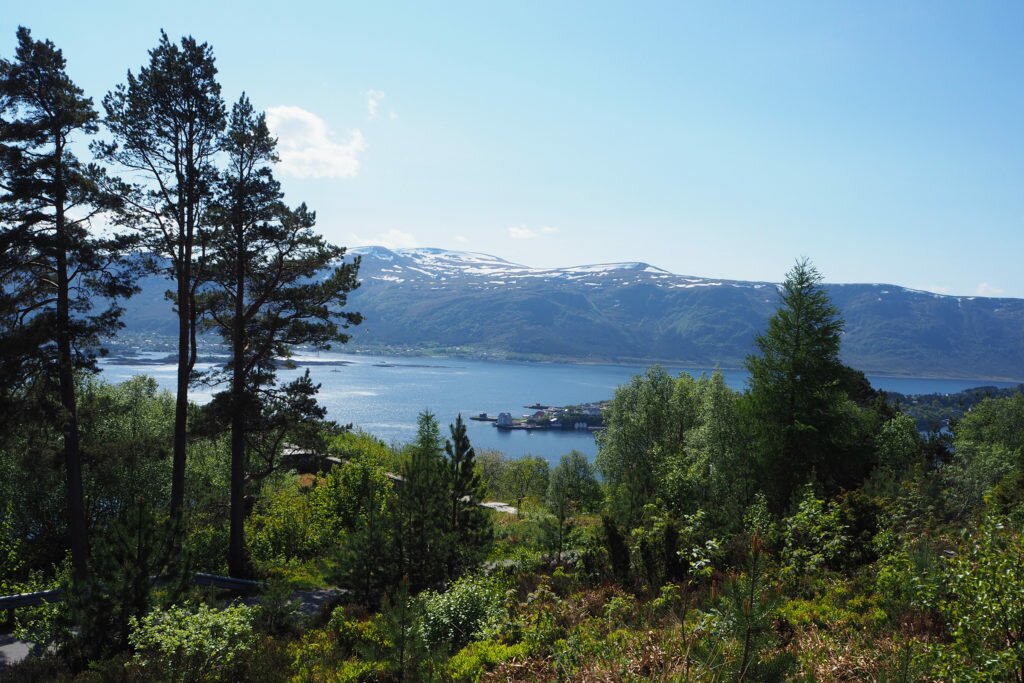 We didn't rent a car; we found our way around by public transport. The timing wasn't perfect — we arrived there during a national holiday and before the official start of the season, so many things were either closed, or had a reduced schedule (including the tourist information office!). But with a bit of planning and help from some very nice people, we did almost all the things we had on the list. We stayed at Hotel Atlantica (I think I've seen this name in every blog post I've read before, but that wasn't why we chose it, it was simply a good deal). It proved to be a better deal than expected. The location was great, the staff was helpful and they have a wonderful breakfast (the Norwegian pancakes I had each morning were a dream!).
Ålesund municipality occupies several islands, and that's one reason I wanted to see this place.
As seen from the Fjellstua Viewpoint, from the height of almost 200 metres, the city seems to be placed in some kind of fairy tale location. As much as your eyes can see, islands, big and small, rise from the sea. From above, especially in the sunset's magical light, they look like gigantic sea animals playing.
When the sky is clear and the sun is up, at afternoon, the view is blue and green: water and forest, peppered here and there by white and red houses. At the golden hour, before sunset, there's a haze embracing the islands, creating a surreal atmosphere. If you are close to the water at this time of the day, the reflection of the sun on the sea is so bright that you can't look at it. I had to look away because my eyes — not used to the northern sun — were hurting, even when protected with dark lenses.
The days were long and there was light even at 11 p.m. I couldn't bring myself to go to sleep, even if I was exhausted. On the first day, I kept checking out the window to see when it gets dark. After 12 p.m. it wasn't still completely dark and I'm not sure if that happened later (probably not), because I eventually fell asleep and woke up to a bright light coming through the clouds.
I loved hearing the seagulls cry in the city, loved the dark blue colour of the water in the sunshine and the multiple nuances of the light, the picture perfect landscapes and the friendly people. I liked this little part of Norway as much as I expected and I'm sure it will be a delight to discover the rest of the country in the future.
Check out the following articles to find out more about what I did in Ålesund 😉
You can follow Amsterdamian on Instagram and Facebook for daily stories about life in Amsterdam and travels. If you would like to purchase any of these photos, please contact me.