My friend and I were planning this trip to Edinburgh for about a year; we wanted to celebrate our birthdays there, because we both have a special affinity for the place. Our birthdays are three days apart in August, but we couldn't arrange the holiday then, so we chose to celebrate in October instead.
Everyone knows that if you go to Scotland, in any season, you can expect dark clouds and rain, so it was no surprise that, when we arrived there, a black sky was waiting for us. The surprise was the cold wind, which sent us straight to the shop, to buy hats and gloves. We picked some silly pink hats, to contrast with the grey sky, and we were off exploring the city.
Edinburgh is one of those cities that look amazing on rainy days.
The dark grey stone of the buildings and the cobbled streets shine when washed down by the rain and the clouds seem so low that you think you can touch them if you climb on one of the hills. Seen from a distance, the old town resembles a huge origami piece, where buildings are piled on top of each other in carefully constructed layers. When you walk the streets of the old town, you understand that houses are not actually built on top of each other, and you can explore a labyrinth of streets, stairs and "closes" (narrow alleyways) while the layers of the city unfold in front of your eyes and you discover cute shops, pubs and cosy cafés. The old town is the perfect setting for all the ghosts stories that make Edinburgh one of the most haunted cities in the world. Given the gruesome history of the place and the darkness of the narrow streets, it's no wonder there are so many ghosts here.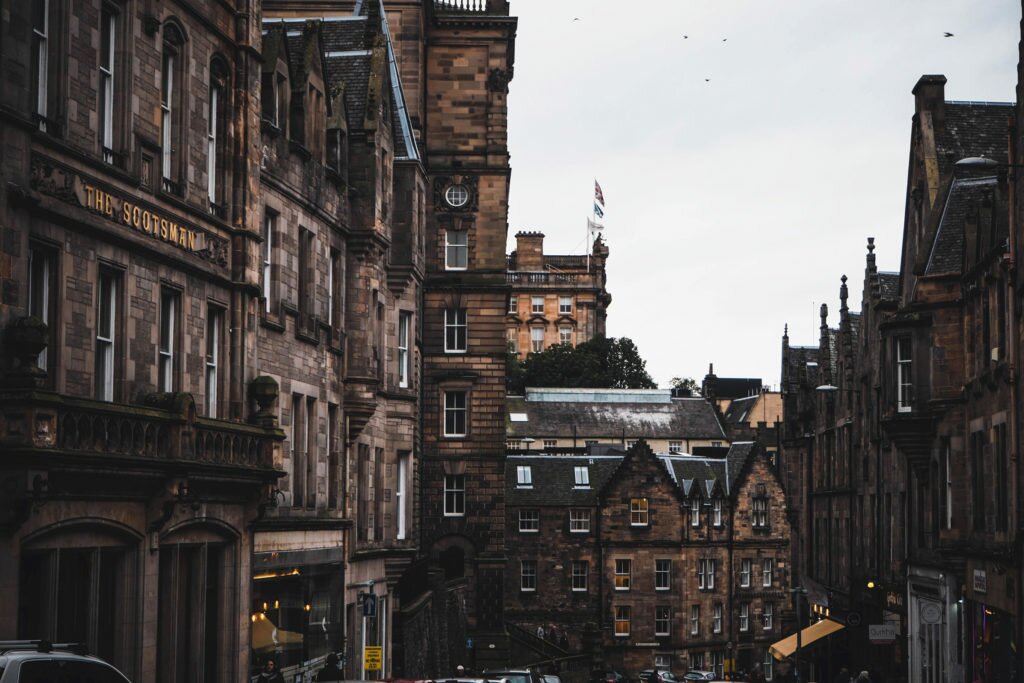 The new town is a different story: wide, airy streets, welcoming houses, green parks where grey squirrels look at you curiously. This is where the locals live and work and hide from the tourists hordes and where the Harry Potter shops didn't show up yet.
I loved the few days I spent in this city. In the morning we would wake up with a view over the castle, shiver a bit in the apartment (from the cold, not the ghosts passing by), have our first coffee of the day at the coffee shop across the street, where we would decide what to do that day. We walked a lot, visited some tourist attractions but also the residential part, we attended a big march for independence, hid in the cosy cafés as often as possible and we spent our evenings in the old town pubs, where bands playing live music were trying to make us forget about the cold and the rain. We also spent some time in front of the fireplace, reading ghost stories while drying our clothes and heating our bones.
It was my first time in Scotland, so I have to admit I stared in admiration at guys wearing kilts and I probably photographed all of them; I loved listening to the crazy sound of bagpipes, which would annoy me if I would hear it in any other situation. I didn't try the haggis but I bought a vegetarian version of it to bring home (and I'm still waiting for the courage to try it). Edinburgh conquered me with its cosy atmosphere and friendly people, its various landscape and great history. Walking the old streets at night, when not many people were around, I had the feeling I was back in time — that is, until I would stumble upon a church lit in bright colours that signalled there was a pub there, and I would look inside and see people watching rugby. That was immediately shaking off my back-in-time-Outlander-like feeling. It was raining and cold, but that didn't stop me from liking this city. Edinburgh is a cold beauty, gloomy and dark. I've heard about sunny days happening here too, and we've seen the Scottish sun for about 30 minutes, so it exists. I guess I'll have to go back in summer to see it for a longer time.
I'll let you now enjoy some of the pictures, but more stories about my trip to Edinburgh are to come, so stay tuned!