If you are like me — an adult who still watches cartoons, who likes adventure, mystery and fantasy books, who plays hopscotch every time they stumble upon one on the sidewalk — then you will enjoy this article. I believe people shouldn't stop playing when they become adults. Playing keeps us young and feeling energetic, brings joy to our lives, relieves stress and keeps our brains alert. If only we'd have the time to play enough… While I'm not really a big fan of board games or society games for example, I do love to immerse myself in VR or the occasional escape room. The invite from Mystery City to test their new mystery game throughout Amsterdam was very welcome indeed! I wasn't sure what to expect from the game — they said it was "a cross between a treasure hunt and an escape room", so I was curious how that would turn up.
I gathered a few friends and went for the game on a Saturday afternoon. We met in Dam square, where Emilie and Geert, the creators of the game, waited for us. They gave us a dramatic and fun introduction to the adventure we were about to experience, and then they ceremoniously passed onto us the red bag containing all the necessary ingredients to play the game. There were a few locked wooden boxes inside, a map, a beautiful book with instructions, a quill pen and some other useful bits and bobs. As the name of this game might indicate — The Mystery of a Secret Sender — the challenge is to discover the identity of a famous member of an occult organisation which operated during Amsterdam's Golden Age. We took our red postman bag and the map and set off at swift pace, since the mystery had to be solved against the clock.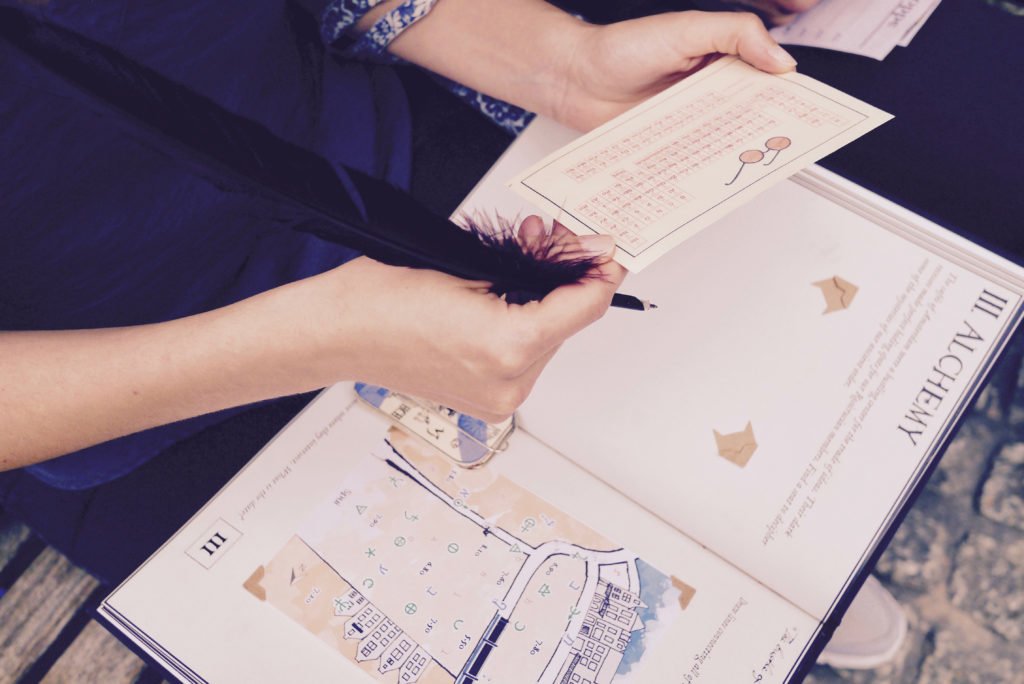 The secret sender guided us on a route through the city centre, gave us clues and revealed himself at the end of the game when we finally discovered the letter he sent to his friend — a beautiful and thought provoking letter at that! While playing the game, we discovered hidden architectural details and learned a few historical facts. There were puzzles and riddles to be solved, measurements to be done and maths knowledge to be used. One great aspect about this game is that it's historically accurate, so all the things you learn are real and not just some anecdotes you might hear about Amsterdam.
I have to say I had participated in a few treasure hunts in Amsterdam before, and at some point they all seemed to me the same, but this game was not your usual treasure hunt. It really keeps you engaged during the two and a half hours that you have at your disposal and offers satisfaction at each step along the way. Another aspect I really liked about the game is that every task was different and the challenges were diverse, yet they were constructed in such a way that you couldn't cheat by searching the answers on the internet — you know what I mean if you've ever been on that boring "team building" exercise where everyone started to search for the answers online because they wanted to finish early and go grab a beer…
If you are interested in playing The Mystery of a Secret Sender, you can have a look at their website for more information, and don't hesitate to contact them with any special requests — they are quite flexible with the times and set-up. To keep things interesting even after you've finished this mystery, they have new games they're working on right now which will be available soon.
Oh, and I forgot to mention that we did win the game, we uncovered the identity of the secret sender — and even received a surprise gift at the end! Now, what are you waiting for?
You can get a 10% discount if you use the code AMSTERDAMIAN when checking out! Have fun!