The year 2018 was a weird year for me. The first half of it was a total blur, because I suffered from a post-viral fatigue syndrome, which, luckily, faded towards autumn, when I started to come back to life. I needed to get my energy back and keep it, and sun is always helping with that, so I booked a trip to a sunny destination at the end of October, when the days become grey in Amsterdam: I went to Nice, in France.
It was my first time in the south of France, and I was excited to go there. Nice was a beautiful surprise. I chose to stay there because it was a good starting point for my day-trips in the area, but I thought the city won't be my cup of tea, because everyone was talking about it as an expensive resort, with opulent luxury everywhere. How wrong I was! There is a part of the city where luxury is in your face, yes, but there's more to Nice than that.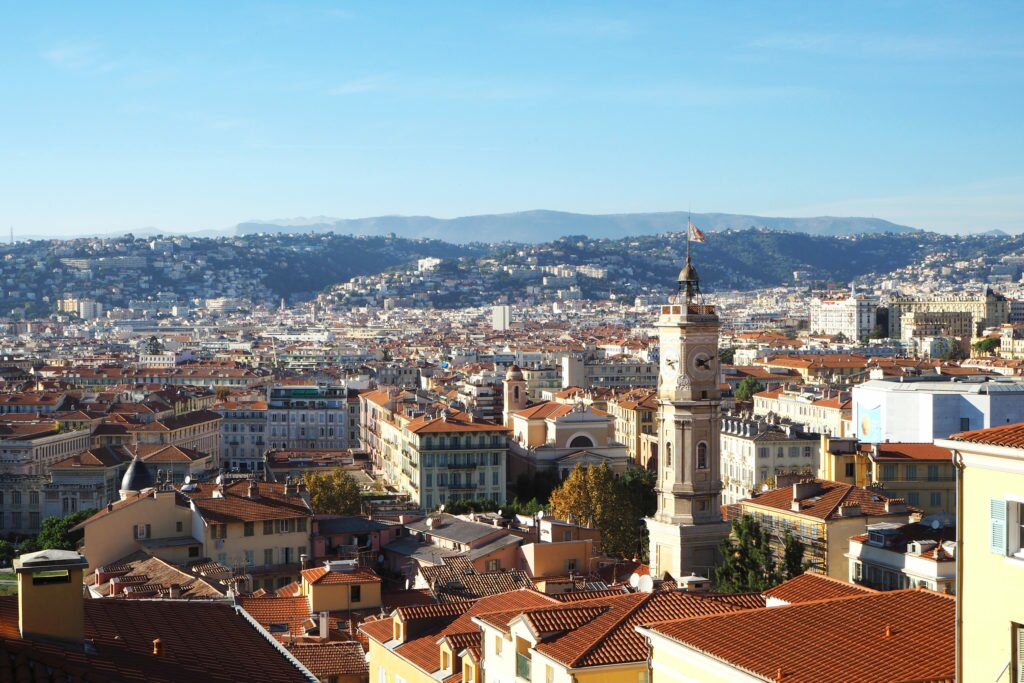 The old city, which is gorgeous, and not too crowded in October, was my favourite. The rest of the city is beautiful too, the residential neighbourhoods have that unmistakable French charm to them: here a patisserie where you can have pain au chocolat, there a bakery where people buy their baguettes, old little bookshops waiting for you to browse their pages. I found the city to be an interesting mix, and it was a pity I didn't have time to explore it properly, because, as I said, I used Nice as a base to travel to other nearby resorts.
What I loved about Nice:
I spent a lot of time on the beach, getting my dose of sun and sea. That was my main goal for the holiday: to stay close to the sea as much as possible. It was warm — 23 degrees C, and I regretted not taking my bathing suit because I could have definitely went for a swim.
In the mornings, I was having my coffee in the shade of the Notre Dame de Nice, where I would plan my daily travel while watching locals going about their lives. In the evenings, I was buying some food and hurry to the beach to catch the sunset. It was so peaceful to eat my dinner while bathing in the last sun rays of the day, watching the light changing colours from yellow to red and purple, before becoming the dark blue of the evening! Then I would walk the Promenade des Anglais, and eventually end up in the old city in search of ice cream and maybe some socca. I've eaten big quantities of socca, the traditional flatbread made with chickpea flour, an interesting taste that becomes addictive very quickly.
The old city of Nice (as well as the other cities in the area), reminded me of the Italian cities I've visited in Puglia. Combine French and Italian charm and you get a wonderful result! I loved the Parc de la Colline du Château, which offers splendid views over the city and it has a waterfall as a bonus.
On Promenade des Anglais, there are rows of chairs where people can sit and watch the sea; I think that should be mandatory on every promenade everywhere.
The rocky beach gives the waves a special sound, made by the restless rolling stones, which I find to be extremely relaxing.
The last day in Nice was a rainy one, but I still walked a lot and went to the beach, where I stayed for a while and marvelled at the emerald colour of the sea. I've never seen the sea to have that colour, it was almost surreal to be there. A lovely gift before my leave, and one of the many incentives to go back.
Stay tuned for more and follow Amsterdamian on Instagram and Facebook for daily stories about life in the Netherlands. And share this post if you liked it!