If you visit the beautiful province of Friesland, you can't miss one of the Netherland's twenty national parks (and one of the most beautiful wetlands in Northwestern Europe): De Alde Feanen. Between Leeuwarden and Drachten, and many small villages with curious fairy tales names (Grou, Suwâld, Earnewâld, Garyp), this park is a jewel due to its unique landscape. According to Alde Feanen website: " De Alde Feanen National Park measures over 4,000 hectares. Once a raised bog, De Alde Feanen is now a low moor swamp like there are few left, with reed land, swamp forest, canals, rivers, lakes, islands and polders. About 450 species of plants grow here, including the now rare bluegrass. Over 100 species of birds breed in De Alde Feanen, such as the bittern, a colony of cormorants and also the huge sea eagle."
The most prominent bird in the area is the white stork, and there is even a stork breeding station there. Much of the park's current shape and landscape results from the peat digging that happened in this area in the past hundreds of years.
The best way to visit De Alde Feanen is by boat – there are 425 hectares of surface water, so you can move in between the little islands (peat bogs), but you can also walk or cycle if you wish. We visited the park on foot, on a windy day and under the menacing clouds, skilfully avoiding the rain. The park was green and the waters dark. The overcast sky was a great match for the swamp forests; you could almost imagine you were somewhere in Louisiana. Nature is amazing!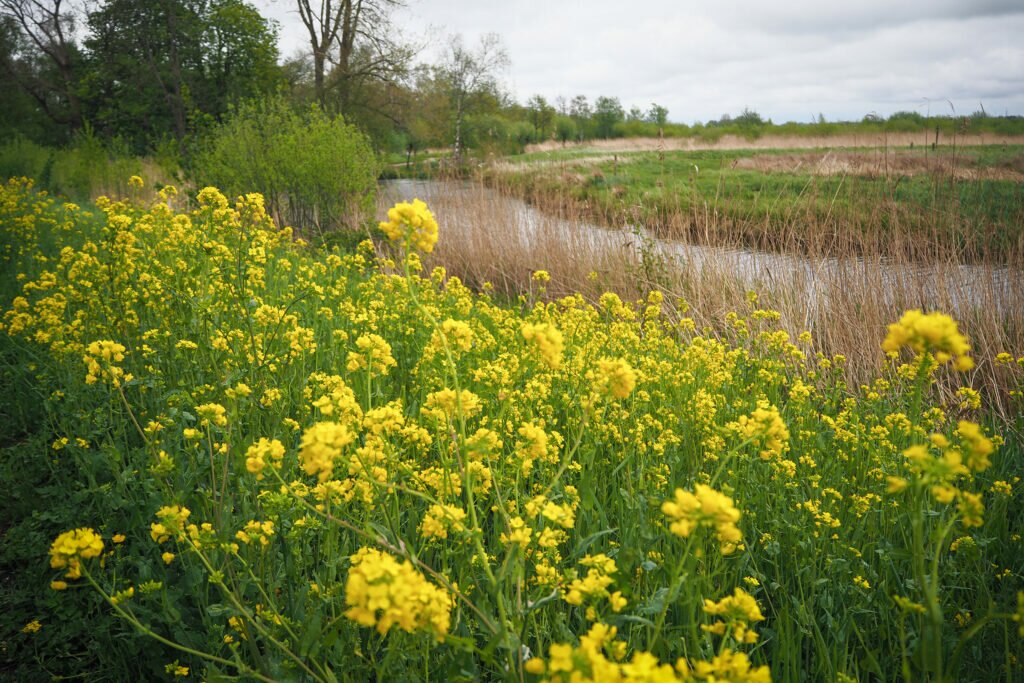 Spring flowers were in full bloom and we've seen some birds but no wild animals. I kept looking for the deer, who remained well hidden. We found a watching tower and loved the view: you could see a big part of the park from there. Another thing I liked in the park were the houseboats parked at the edge of the water; I wouldn't mind having one of those as a holiday home (I assume that's what they were).
I hope I will come back to De Alde Feanen someday to see it by boat. There is also a lot more of the Friesland province to discover, together with the neighbouring Drenthe and Groningen, where I've never been. Staycation never gets boring when you live in the Netherlands!
Stay tuned for more and follow Amsterdamian on Instagram and Facebook for daily stories about life in the Netherlands. Please share this post if you liked it!

If you want to buy prints and other cute objects, check out our store on Society6!

And here you can find my photo book: Amsterdam Through the Seasons!