It appears that I've been very lucky lately in the cultural events I have attended. I've seen some great shows in Amsterdam recently, the latest one being Orange Tea Theatre's interpretation of "Red" by John Logan, a Tony Award winning play, directed by Lora Mander. I went to see the premiere and loved it!
The setting was well chosen — an art gallery instead of a theatre. The Beeldend Gesproken Gallery in de Hallen was a perfect place to watch this play about art and, more specifically, about painting.
"Red" has the painter Mark Rothko and his newly hired assistant, Ken as the main (and only) characters. Ken is there to help Rothko with his commissioned murals for a famous restaurant, and to learn from him, but he ends up challenging the maestro's view about art, about its reasons and purpose.
The entire play is an intense dialogue about colours, memories and feelings, art and life. All accompanied by music from an old gramophone. The performance is captivating, they are constantly moving around and we even get to see art being created. They mix paint, prepare canvases, hammer a few nails and paint a canvas together. That was my favourite part of the show; the two men, forgetting all about the surrounding world, engage in the process of covering a big blank canvas with red paint.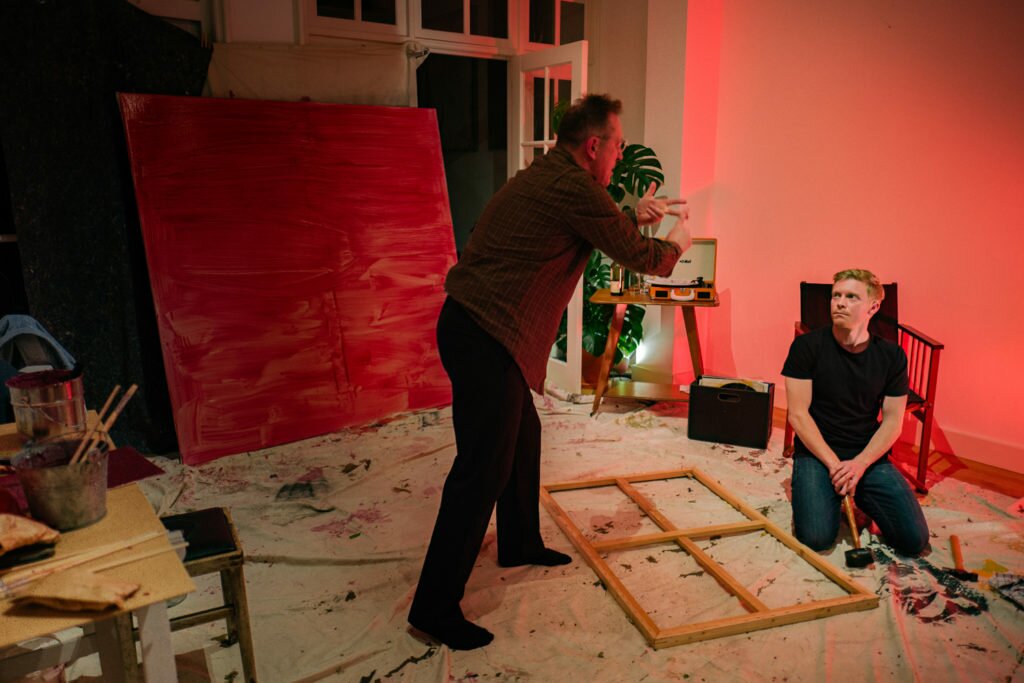 "Red" also addresses the issue of inter-generational conflict, the fight between older artists and the emerging ones, and the eternal inability to understand each other. William Sutton fits perfectly in Rothko's role — I even think he looks like him. He impersonates an eccentric painter who becomes insecure and paranoid about the newly arising artists, about the future of (his) art. He throws tantrums at his young assistant (Matthew Preston), who, although in appearance is shy and overwhelmed by the great artist's presence, still dares to provoke him and tries to convince him to adapt to the new art world. The dynamic between the two actors is constructed admirably. In the end the characters connect to each other and the relationship grows before our eyes, becoming more similar to the one of father-son.
The line that remained with me after the show was, "He didn't have art to protect him anymore … who could survive that?" This is a line that, in my opinion, tells a lot about every artist's life, a line that resonates with my thoughts on this subject. And also, I couldn't help but notice that the young assistant was wearing red sneakers… 🙂